If you want to get into recording guitar, you'll need a DAW (Digital Audio Workstation).
There are a few different DAWs available today and each one can feel very different to use.
Not all DAWs are the same and the best DAW for guitar is one that fits your needs as a guitarist and the type of music you want to record. The best DAWs for recording guitar are Studio One, Logic Pro, Reaper, or Cubase.
Ableton Live is fantastic for guitarists wanting to use a DAW for live performances or jamming at home. FL Studio can be used for guitar, but best suits musicians creating loop or sample-based music.
In this guide, I will explain what to look for in a DAW so you can pick the right one for you.
I'll also go through each of the best DAWs available today and which ones to avoid.
To learn more about recording guitar, check out my Beginner's Guide to Recording Guitar at Home.
What to Look for in a DAW for Guitar
As mentioned above, not all DAWs are the same. While there are some features you expect to see in every DAW, there can be a massive difference between any two DAWs.
Here are a few things to consider when looking for a DAW for recording guitar.
Audio Editing Tools
When you're recording guitar, you will want to have suitable audio editing tools that are easy to use.
All DAWs will have simple audio editing tools such as the ability to trim recordings, fade clips in/out, cut up recordings, etc.
Not all DAWs will go past the simple audio editing tools. Some DAWs such as Ableton Live and FL Studio are designed more for electronic music, so their audio editing tools aren't the main focus.
As an example, the below screenshot shows the audio editing tools available in Studio One when I right-click any recorded clip: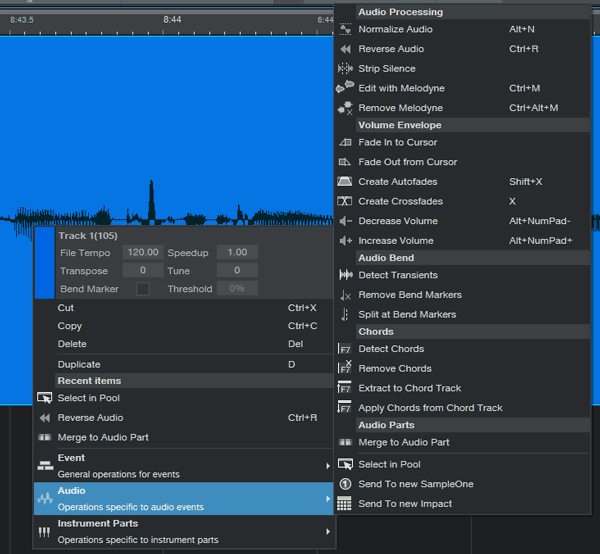 It should be clear from the above screenshot how useful some of these audio editing tools are. You can easily cut, trim, fade, speed up, or transpose your recordings with a single click of the mouse.
The best DAW for guitar will give you a good range of audio editing tools to let you cut up, edit, and transform your recordings in any way you want.
Compare the above audio editing tools with the below screenshot of right-clicking an audio clip in Ableton Live: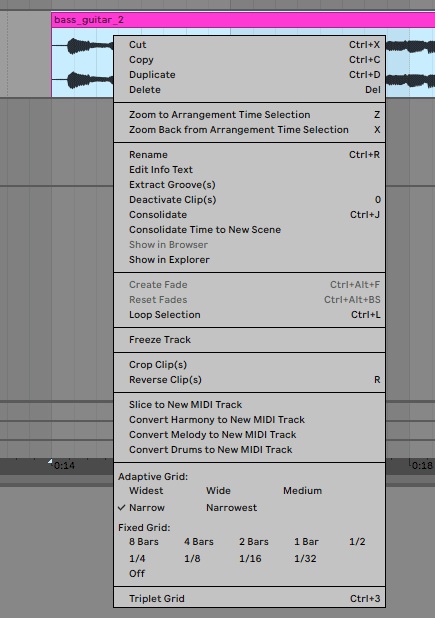 While there are a lot of options here, the only audio editing tool listed is the ability to crop or reverse the clip.
There are almost no audio editing tools in Ableton Live because it was designed with live performance in mind instead of audio editing like other DAWs.
When you choose a DAW, make sure you choose one that has enough audio editing tools to suit your needs.
For some guitarists, simply being able to trim and cut clips is more than enough, while others may prefer deeper editing tools. Have a think about what is important to you.
Plugin Compatibility
There are many useful plugins you can use as a guitarist. Amp and effects modeling plugins such as AmpliTube 5, BIAS FX, or Line 6 Helix Native can provide you with studio-quality guitar tones.
Learn all about free and paid guitar plugins in my Ultimate Guide to Guitar Plugins here.
A plugin allows you to use other effects and software within the DAW. In the below screenshot, I've loaded AmpliTube 5 into Studio One to use on a guitar track.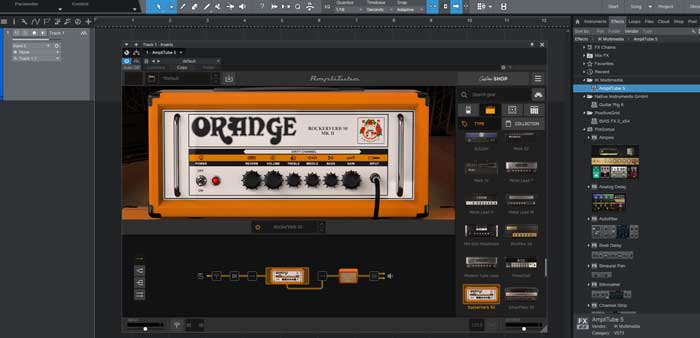 Plugins are great because they give you plenty of control and flexibility over your recordings. You can record a dry guitar signal, then use any amp or effects you like to dial in the perfect guitar tone.
The problem is that some DAWs have limited plugin compatibility.
A good example of a DAW with limited plugin compatibility is Pro Tools.
Pro Tools is a well-known DAW due to its long legacy as the top recording studio DAW. But it only works with its own plugin format: AAX (Avid Audio eXtension).
This means you can't use VST or AU plugin formats without relying on a hack to force Pro Tools to use them.
It's also important to check that the version of the DAW you buy will work with third-party plugins.
Most DAWs sell different version or editions such as 'Lite' or 'Student' editions. These stripped-down versions may not allow you to use plugins.
If you plan on using plugins in a DAW, check the formats compatible with the DAW and make sure you buy a version that allows you to use plugins.
As I go through the best DAWs for guitar later in this guide, I will mention the plugin formats each one can use.
Number of Tracks
Some DAWs sell stripped-down versions that limit the number of tracks you can use.
If you're new to recording guitar, you might feel that 16 tracks are more than enough.
But if you buy one of these stripped-down versions, you'll quickly discover how easy it is to reach those track limits.
Even if you will be recording songs that use an acoustic guitar and vocals, you might be surprised by how quickly you fill tracks up.
Look for a version of a DAW that gives you unlimited tracks.
Ease of Use
Every DAW has a learning curve as you figure out how to use the interface and find all of the tools and features.
The first time you open a DAW, you will probably be overwhelmed by the confusing interface.
Here is an example of how complicated DAWs can get: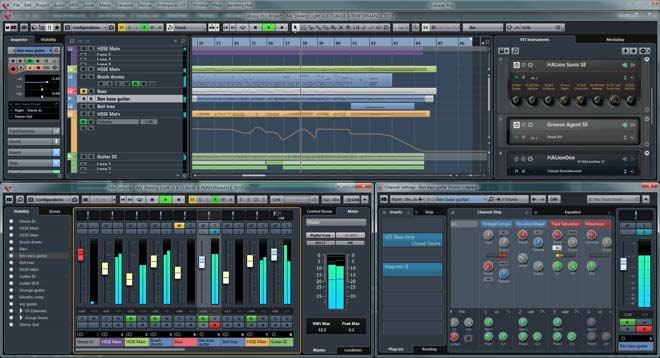 While every DAW might seem intimidating at first, there are avid users for every DAW I will cover below and plenty of tutorials and guides to help you.
Some DAWs are easier to learn than others. The key to finding the right DAW for you is to make sure it matches the way you want to work on your recordings.
For example, if you plan on using a lot of loops or samples in your recordings, a DAW such as FL Studio is ideal because it was designed to make it easy to create loop and sample-based music.
If you plan on only recording live instruments, you may find it easier to learn to use a DAW designed mainly for audio such as Cubase or Studio One.
Before you commit to a DAW, try downloading a trial version so you can see what it's like to use.
For years I used Cakewalk Sonar as my DAW of choice. It was clunky and hard to use. When Studio One came out, I immediately made the switch after trying the trial version and finding out how much easier it was to use.
Even if you're already using a DAW now, it's worth considering other options that may suit you better.
DAW 'Editions'
Most DAWs offer different editions or versions with a big difference in features and cost. It can quickly get confusing when a DAW offers a few different versions at significantly different prices.
For example, here are the current prices (January 2023) of the three different Cubase versions you can buy: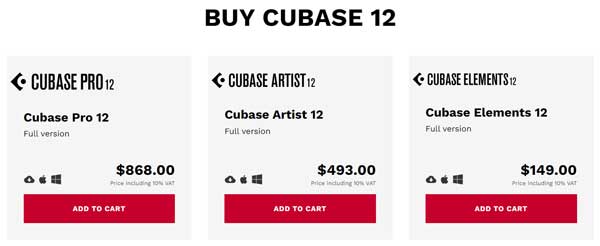 As you can see, there is a massive difference in price between the three versions. So which one should you get?
While each DAW's website will have a comparison table to show you the features you get in each version, it can be tough to figure out which version is right for you.
Some editions limit the number of tracks you can use at once. Other versions may not allow third-party plugins. With some DAWs, the only main difference is how many effects and virtual instruments are included.
When you look through the DAWs covered below, be aware that I'll be talking about the full versions of each DAW. If you buy one of these watered-down versions, make sure you know what features will be missing and that you're sure you won't need them.
USB dongles
Most DAWs will ask you to enter an activation code to register your purchase. Others require you to log in every time you use your DAW.
Some DAWs require you to plug in a USB dongle to operate.
Fortunately, most DAWs have moved away from this terrible approach, but some older versions may still use them.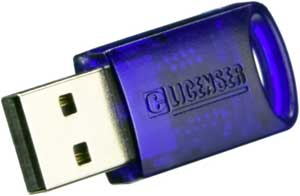 One of my students bought Pro Tools a few years ago and while she had the required dongle plugged in, she could not get it to work. She spent weeks sending emails to support and eventually gave up.
If you plan on using a DAW across multiple computers, make sure you know whether you will be able to run the same DAW licence on them at the same time or not.
Best DAWs in 2023 for Guitar
Before I give my recommendations on the best DAW for guitarists in different situations (eg: beginners, live performers, etc.), let's go through the most popular DAWs.
These are the best DAWs in 2023 you can use for guitar:
Cubase
Studio One
Logic Pro X
Ableton Live
Pro Tools
Reaper
FL Studio
The above DAWs are in no particular order as I will explain my recommendations later.
Let's go through each DAW so you can figure out if any of them suit your needs.
Steinberg Cubase
Cubase has been one of the most popular DAWs for audio recording and editing for many years. If you plan on mainly recording live instruments, it's one of the top choices to consider.
Cubase is good for beginners as it is easy to understand while still providing a great range of tools.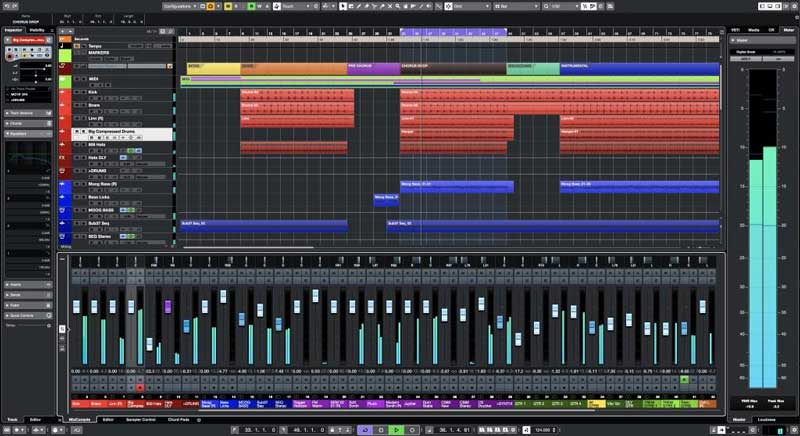 Cubase is currently in version 12 and is a mature DAW that has been refined over the years. The layout has been refreshed over older versions and is now much easier to use.
Cubase Pros:
Easy to use interface
Compatible with 64-bit VST plugin format
Excellent audio editing and recording tools
Windows and Mac support
Stripped-down versions (Artist and Elements) still provide decent features
Cubase Cons:
USB-eLicenser required to use (Steinberg are currently working to phase this out)
Full version (Cubase Pro) is quite expensive
Not compatible with 32-bit plugins
Recommendation: Highly recommended. Cubase is one of the best DAWs for guitar due to great plugin compatibility and audio editing tools.
Check out the different options and prices for Cubase here.
PreSonus Studio One
Studio One (currently in version 6) is a newer DAW compared to some of the other DAWs in this list.
I personally moved from Cakewalk Sonar to Studio One due to the excellent layout and easy-to-use tools.
Be aware that the stripped-down versions of Studio One don't allow third-party VSTs, so you need to buy the full version to use popular plugins.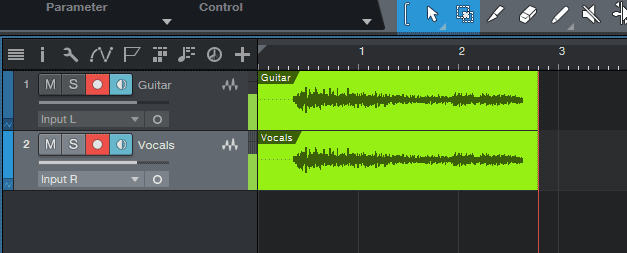 Compared to other DAWs such as Ableton Live, Reason or FL Studio, Studio One was designed for audio recording as the priority.
This means it provides you with an easy way to record guitar or other instruments without having to dig into weird menus and options.
Studio One Pros:
Simple interface
Excellent audio editing tools
Compatible with VST plugins (only the full version)
Studio One Cons:
The cheaper versions don't allow third-party plugins
Recommendation: Highly recommended. Studio One is my DAW of choice as it uses a simple interface and has a great range of features.
Find out how to record guitar in Studio One in this tutorial.
If you read the above tutorial, you'll quickly see why I highly recommend Studio One as one of the best DAWs for guitar.
Check out the pricing for the different editions of Studio One here.
Logic Pro X
Logic Pro X is the go-to DAW for Mac users. Unfortunately, I don't have a Mac so I haven't tried Logic Pro X.
If you do have a Mac, I highly recommend you try the trial version and compare it against the other DAWs in this guide.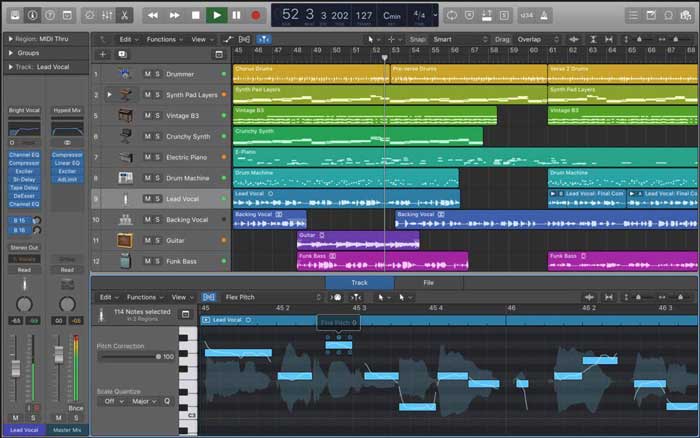 An interesting feature Logic Pro X offers is the 'Logic Remote'. This allows you to use an iOS device as a remote for your DAW.
Being able to use an iPad or iPhone to extend your DAW is an incredibly handy feature I'd love to see in other DAWs.
Recommendation: Recommended for Mac users. Logic Pro X is an extremely popular DAW because it is well designed and packs a good range of features.
Ableton Live
Ableton Live (currently in version 11) is very different from all of the other DAWs in this guide.
As the name suggests, it was designed for live performances in mind. When you open Ableton, the default view is the 'session' view. That should tell you how much focus it gives to live performances.
Whenever you see a laptop on stage during an electronic music concert, you can almost guarantee that they're using Ableton.
This makes Ableton a fantastic DAW to use for live performances, but not ideal for recording and mixing songs as a guitarist.
I recommend Ableton as a DAW for guitarists who plan on using it for live performances. Combining Ableton Live with a guitar using a MIDI-pickup would be a powerful combination. Or if you want to incorporate plugins or complex loops into a performance, Ableton Live is worth checking out.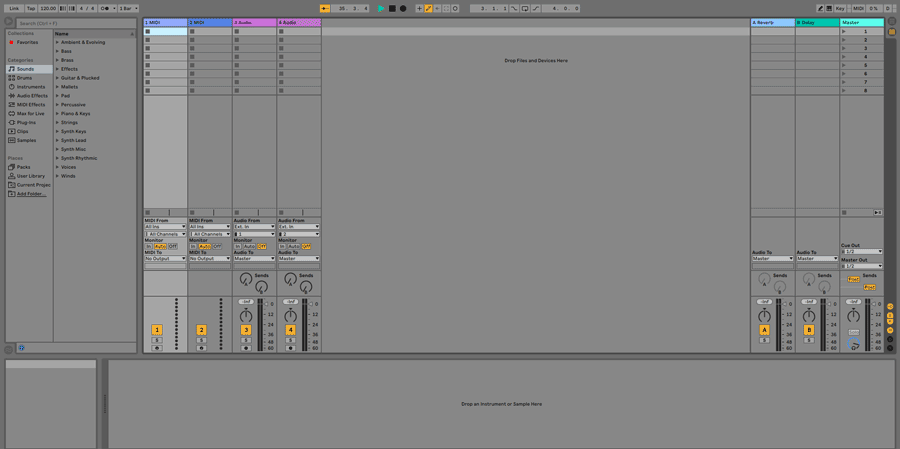 Ableton Pros:
Great way to incorporate samples and loops into performances
Great tool for songwriting or coming up with ideas
Compatible with VST plugins
Ableton Cons:
Lack of audio editing tools
Not designed with guitarists in mind
Recommendation: Recommended for guitarists who want to use a DAW during live performances. Not recommended for purely recording and mixing songs.
Find out how to record guitar in Ableton in this tutorial.
If you're considering Ableton Live, I highly recommend you read the above tutorial to see what it's like to use Ableton to record guitar.
Pro Tools
Pro Tools has been the industry standard for decades. For many years, Pro Tools was the only DAW worth considering for a recording studio. If a recording studio didn't use Pro Tools, it wasn't worth going to.
Times have changed and in many ways, Pro Tools has been left behind. Many people will disagree with this view, but it's clear that other DAWs have made massive improvements over the last 10+ years.
While there are a lot of musicians who still believe Pro Tools is the best DAW today, it should not be the default choice for anybody.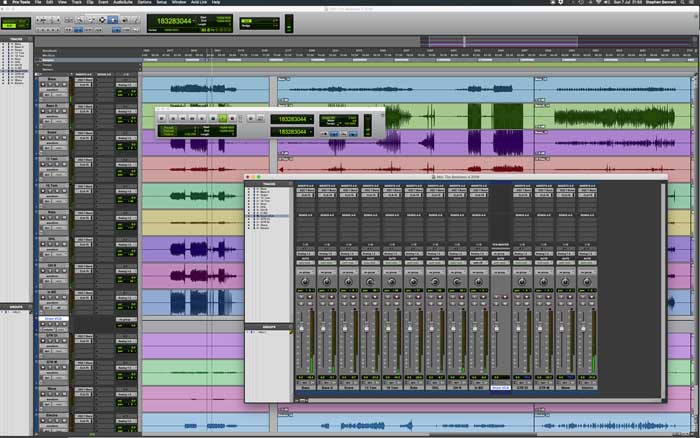 A problem with Pro Tools is that many musicians have been using Pro Tools for decades, which means it's hard for Pro Tools to make changes without annoying their loyal users.
This means Pro Tools is slow to make changes or they avoid innovations that make other DAWs so great to use. The reason Ableton Live is so popular today is that it tried something new. FL Studio is fantastic at what it does because it took a fresh approach. Studio One has created an incredible interface while the Pro Tools interface looks at least 15 years old.
Pro Tools isn't going to take any chances in the future so it will never surprise you with new approaches or innovation.
The only innovation I've noticed recently is they now require subscriptions instead of letting you buy the software outright. As I worked on a tutorial on how to record guitar in Pro Tools, I found out how useful (sarcasm) this innovation really was when my internet temporarily went down and I was instantly kicked out of Pro Tools and completely lost my work.
Pro Tools Pros:
Very mature software with excellent editing and mixing tools
USB-dongle no longer required in latest Pro Tools version (used to be a big pain point for users)
Pro Tools Cons:
Requires a subscription to use (can become expensive over time)
Not compatible with VST plugins
AVID (the company that run Pro Tools) has a patchy history of poor choices that negatively hurt users
Recommendation: Not recommended. While there are a lot of people who still rave about Pro Tools, it has been left far behind by other DAWs.
Check out this tutorial on how to record guitar in Pro Tools to see what it's like to use. You may find that it suits you, but the chances are you'll prefer one of the other DAWs in this guide.
The fact that Pro Tools doesn't support VST plugins makes this a no-go for a lot of guitarists. You can use AAX plugins, but they're nowhere as common as VST plugins.
Check out the different options for Pro Tools here.
Reaper
Reaper is a popular DAW with guitarists due to the very low cost, great community, and simple interface.
While other DAWs offer different versions with stripped-down features and a full version at a high cost, Reaper offers one version with all features intact at a low cost.
This makes Reaper a great option for guitarists who want to use a full-featured DAW but have a limited budget.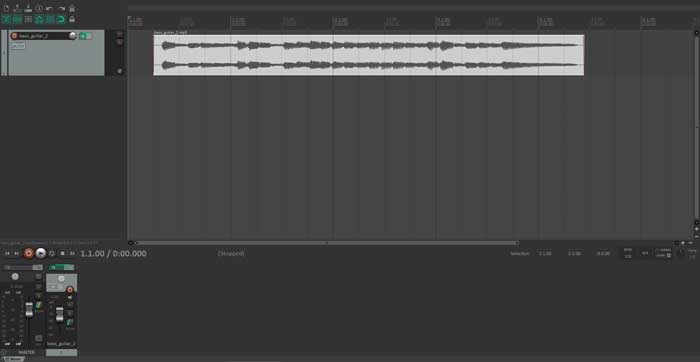 Reaper's excellent interface and easy-to-understand layout make it easier to learn that some other DAWs.
One example of how Reaper is different from other DAWs is how it uses tracks. In other DAWs, you set up separate tracks for audio or MIDI.
In Reaper, any track can be used for audio or MIDI. You simply select the input you want to record from as shown below.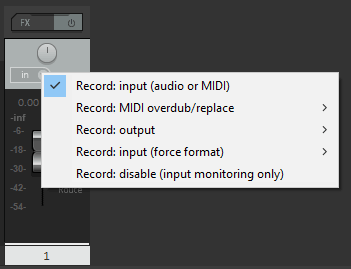 Once you learn how to use Reaper, it becomes clear how archaic some other DAWs like Pro Tools are.
When you consider Pro Tools costs $599 and Reaper costs $60, it becomes really hard to justify more expensive DAWs.
Reaper Pros:
Very low price compared to other DAWs
Great audio editing tools
Easy-to-use interface
Compatible with VST plugins
Reaper Cons:
Haven't come across any possible downsides yet in my testing
Recommendation: Highly recommended. Reaper is a fantastic DAW at a great price.
Find out how easy it is to record guitar in Reaper in this step-by-step tutorial. I highly recommend Reaper and this tutorial will show why it's such a fantastic DAW for recording guitar.
FL Studio
FL Studio started off as 'FruityLoops' in the late 90s. When it first came out, it was focused on loops and sample-based music.
FruityLoops gradually evolved until it became a full-featured DAW and was renamed to FL Studio.
While FL Studio is a full-featured DAW and can record and process audio recordings, it still has a lean towards electronic music creation.
When you open FL Studio, it looks completely different from other traditional DAWs: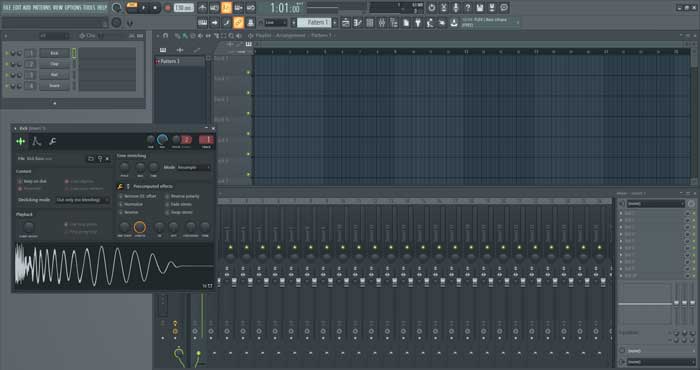 Instead of a standard track-based view, you see a playlist arrangement where you can set up various patterns.
By default, FL Studio starts off with basic drum kit samples loaded so you can start programming drum beats.
This focus on patterns and loops may be enough to turn away some guitarists. But it is still worth considering depending on how you use it.
I absolutely love using FL Studio as a music creation tool rather than a purely recording tool.
You can easily record riffs and ideas, quickly put together drum tracks, and gradually piece together a song.
A quick search on YouTube shows how popular FL Studio is for song creation.
If you're a songwriter, FL Studio is possibly the best DAW you can use to work on your song ideas and write music.
FL Studio Pros:
Fantastic song creation tools
Impressive range of effects and audio processing tools
Compatible with VST plugins
FL Studio Cons:
Very different from other DAWs and may not suit all guitarists
Not as easy as other DAWs to record guitar
Do not buy the 'Fruity' edition as it doesn't offer audio recording
Recommendation: Recommended for guitarists who like the idea of using a DAW to come up with song ideas, create music, and experiment with different virtual instruments.
Find out how to record guitar in FL Studio in this tutorial.
If you're considering FL Studio, I highly recommend you read the above tutorial to see what it's like to use FL Studio to record guitar.
Check out the prices for the different editions of FL Studio here.
Best DAW for Beginners
The best DAW for beginners is Reaper. Reaper gives beginners a full-featured DAW at a very low price. Reaper is easy to use and has a fantastic interface.
Reaper's learning curve is far more forgiving than other DAWs that have complex interfaces.
With Reaper, you simply double-click to create a track, select your input, click the button to arm the track and you're ready to record.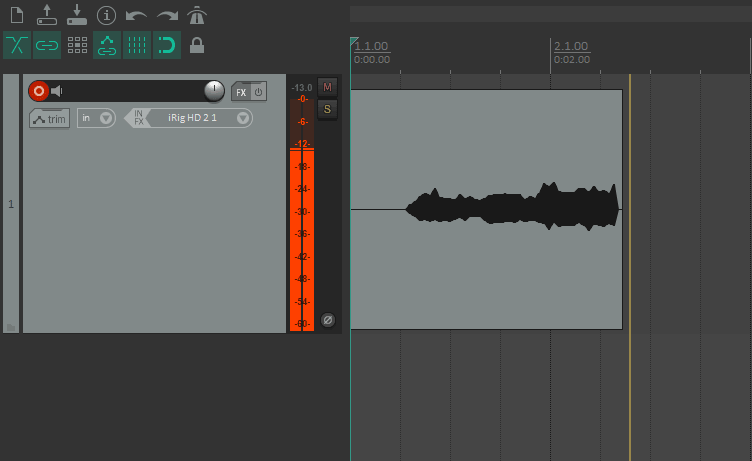 If you're a beginner and want to get started with recording, I don't recommend buying one of the 'Lite' or stripped-down versions of other DAWs.
You'll end up regretting buying a watered-down version.
If you're on a budget, Reaper is the way to go.
Best DAW for Live Performance
The best DAW for live performance is Ableton Live. Ableton was designed specifically for live performances and the session view offers something that other DAWs can't compete with for performances
As a guitarist, you can use Ableton as your entire guitar rig, or to trigger samples, loops, or effects as you like.
You could use a plugin such as AmpliTube 4, BIAS FX, or Line 6 Helix Native, then use a MIDI foot controller to control any aspect of your tone and effects during a performance.
Find out about MIDI Foot Controllers in this guide. Combining a MIDI foot controller with Ableton Live makes it an incredibly useful performance tool.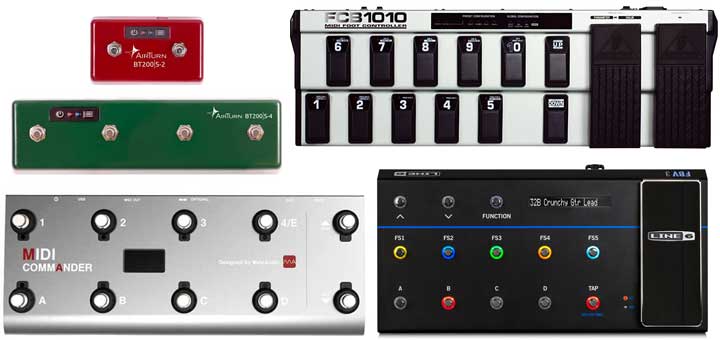 You can even use a MIDI pickup on your guitar to use Ableton to create non-guitar sounds using virtual instruments. Find out about MIDI guitars in this guide.
If you like the idea of adding something unique to your live performances, I highly recommend experimenting with Ableton Live.
Best DAW for Home Studios
The best DAW for guitarists who want to have a full-featured home studio is Studio One, Logic Pro or Cubase. These DAWs provide you with fantastic audio editing tools and a simple interface.
I personally prefer Studio One, but every guitarist has different preferences. Reaper is also worth considering as your go-to home studio DAW.
Any of the main DAWs covered here will provide you with everything you need to record and edit full songs and use plugins as you like.
Best DAW for Simple Recordings
The best DAW for simple recordings is Reaper. Reaper gives you a simple way to record anything you need, but it also has all the features you may want in the future.
If you really only need something simple to record guitar or vocal parts, you may prefer using Audacity.
Audacity isn't a DAW. It's a free and very popular audio recording and editing program.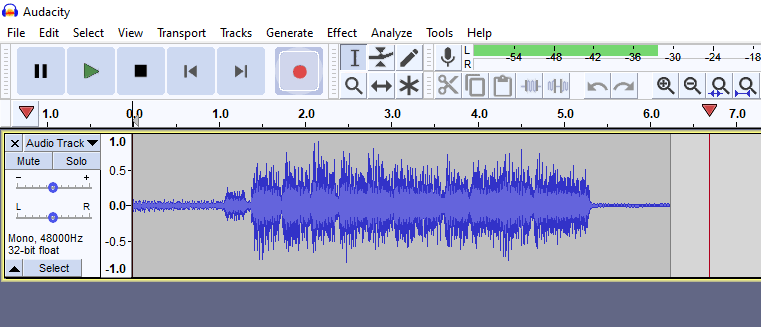 Using a DAW for simple recordings can be overkill and Audacity does a perfectly good job at giving you a simple way to record and edit your tracks.
Audacity does support VST plugins, so you can even use it with something like AmpliTube or BIAS FX to add effects to your recordings.
Find out how easy Audacity is to record guitar in this tutorial.
Best DAW for Songwriters
The best DAW for songwriters is FL Studio. FL Studio is designed around music creation and provides you with an impressive range of tools and ways to come up with song ideas and piece together a song.
While other DAWs may be better suited to recording songs using only real instruments, FL Studio is perfect for songwriters.
When I want to work on song ideas or experiment with some riffs, I use FL Studio. As a songwriting tool, it is a valuable resource that other DAWs can't come close to.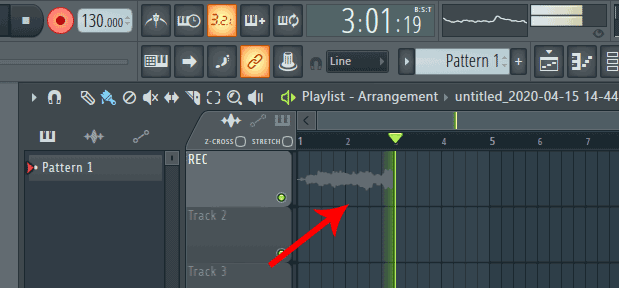 In FL Studio, you can quickly and easily lay down a drum track to jam with, load some plugins, and start recording your ideas. Then you can easily piece your recordings together for jam tracks or songs.
I highly recommend FL Studio if you're a songwriter and are looking for different ways to capture and work on your song ideas.
Control Any DAW With a Controller
If you're new to recording guitar in a DAW, it can seem intimidating as you learn all of the different features and functions.
One way to make recording easier is to use a DAW controller. Sure, you can use a mouse and keyboard, but controllers give you a lot of flexibility.
DAW controllers come in all shapes and sizes with a variety of different features as shown below: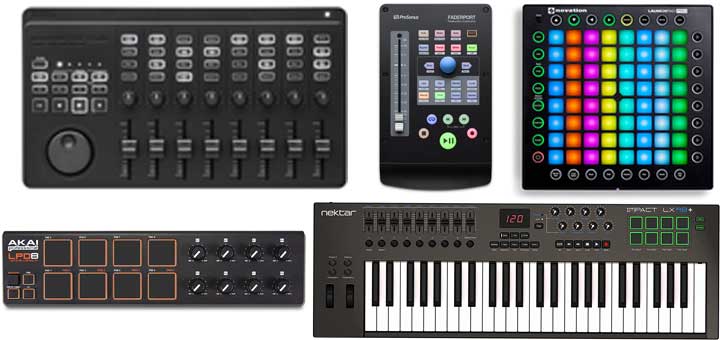 The basic idea with these controllers is that instead of using your keyboard and mouse to control the DAW, you can use a controller with dedicated buttons, knobs, sliders, and pads.
These controllers are handy when recording, editing, mixing, or recording virtual instrument parts. You can even use controllers to control settings within a plugin such as amp and effects settings.
Find out everything you would want to know about DAW controllers in this guide.
A simple DAW controller can instantly make your recording setup feel more like a professional studio. It's hard to emphasize how useful a few sliders, buttons or knobs can be when editing or recording.
Best Free DAW
If you want to try out a free and full-featured DAW, check out Cakewalk by BandLab.
As mentioned earlier, some free versions of popular DAWs are stripped-down versions that limit what you're able to do. Cakewalk by BandLab isn't limited in any way.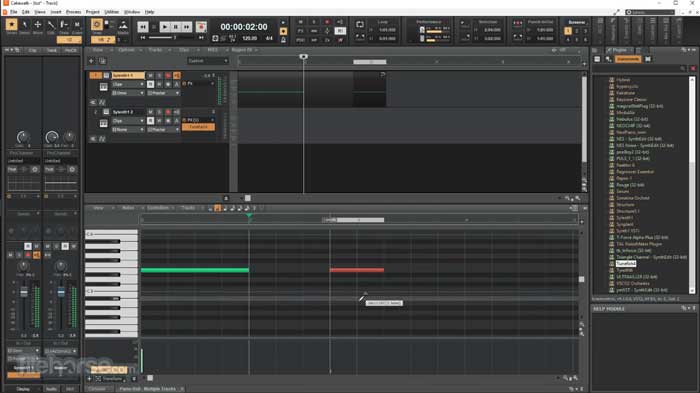 While I still recommend the other DAWs in this list over Cakewalk, this is a perfectly fine DAW to use if you're on a tight budget.
Check out my Ultimate List of Free Guitar Plugins and Software here to load up on free studio software.
Here are some helpful guides to get you started recording guitar at home: