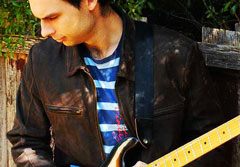 My name is Aaron Matthies and I'm a guitar teacher living in Australia. Guitar is a big part of my life and this website is my way to help other guitarists out there.
My life as a guitar teacher
My guitar students regularly bring in their new gear purchases and ask me to help them get the most out of it. Whether it's a small practice amp or a fancy effects pedal, my students have quickly discovered that there's a lot more to gear than just plugging it in and expecting great sounds. So I'm fortunate in that I regularly get to test out new gear and get to really understand how to get the most out of a piece of guitar gear.
This website is my way of helping people out there who aren't able to receive my direct assistance with gear. So if you've wondered how certain guitarists achieve a certain sound or just want to know what's the best guitar/amp/pedal for you, I'll do everything I can to help you out in my guides.
Why guitar gear is important
Getting my hands on a new piece of gear and experimenting with its sonic possibilities is a great experience. I'll happily sit with a new pedal for hours jamming along and tweaking every single control to see how it shapes my tone.
Guitar gear is more than something you buy to make you sound better or to impress other guitarists – gear can be a way to discover new creativity, think about guitar in a new perspective and to attempt things you haven't attempted before.
While there is some truth in the saying "tone is in the finger", that saying misses a key ingredient. People tend to use that saying to suggest that gear isn't important. Gear is important. There is no tone without your guitar. There would be no Voodoo Child if Jimi Hendrix didn't have a wah pedal.
Finding the right gear
We're lucky as guitarists because new products are always being developed and fortunately a lot of products available today are fantastic quality and very affordable. The challenge comes with finding the right gear for you. What seems like a simple decision such as buying a wah pedal quickly becomes a nightmare when you see the sheer number of different models out there.
For example, let's say you want to get a wah pedal. Do you get a simple pedal like the popular Original Crybaby Pedal by Dunlop or do you go for a signature model by your guitar idol such as Kirk Hammett's Signature Wah? What about a really versatile wah with heaps of extra controls and options such as Ibanez's Tone-Lok WD7 Weeping Demon Wah Pedal? See how quickly a simple decision becomes a nightmare?
The right gear for you is one that fits with what you want to achieve as a guitarist. Get the right gear the first time by doing proper research. The reviews and guides I write should help you work out what's the best option for you. So in this example, if you were thinking of getting a wah pedal, you could read through my guide on wah pedals to learn what is important in wah pedals and compare the different options.
How I rate guitar gear
When I test out new gear, I always keep in mind what type of guitarists would benefit from this gear and what type of guitarists wouldn't. Because I teach a wide range of students, I'm always considering which students would benefit the most from the gear. Then, once I finish testing the gear out, if I think it would suit a certain type of guitarist, I'll take the gear to my students and see how useful they find it. If they enjoy it as I expected, I know I've assessed the gear properly. If they don't seem to connect with it, I know I'm not reviewing it properly.
The end result is that the reviews you read aren't just what I think of the gear, it's almost like a big group review where I work out who would like the gear the best. You should notice that the reviews all follow a similar format and that's because that's the type of review I (and my students) would want to read.
I'm not a fan of the reviews you see in guitar magazines for various reasons so I'll just say that I want my reviews to be 100% unbiased and 100% useful to my readers.
How to get the most out of this website
There are three main types of resources available on this website to help you out:
Gear Reviews
Whenever I get my hands on a piece of gear I give it a thorough workout then write a review on it. I've read plenty of gear reviews in the past and know how to write a review that's actually useful thanks to my experience as a guitar teacher. I'll provide you with recommendations on why a certain product may or may not be for you and I'll provide suggestions on alternatives. The gear reviews will be useful if you're looking at a certain type of gear but aren't sure which products are worth considering.
Guides
Gear reviews on their own won't help you work out what's the right gear for you. The guides I write will help you understand guitar gear and be able to make a proper decision on what features and benefits are important to you. If you want to know the ins and outs of solid-state and valve amps or simply want to know what true-bypass means in the real world, the guides are for you.
Lessons
As I mentioned earlier, there's a lot more to a piece of gear than plugging it in and expecting great results. To be able to use a piece of gear properly, you may need to learn new techniques or try new things you haven't tried before. The lessons I write will help you get the most out of your gear by learning how to adjust your playing to suit your new gear. You can learn how to use a wah pedal, set the perfect tone for your amp, or even learn to imitate a guitar hero.
To get the most out of this website I encourage you to subscribe to the Guitar Gear Finder Newsletter.
Supporting this website
Every article and lesson on this site takes 1-3 days to write. It's a massive time commitment to create these free guides, lessons, and resources.
It also costs a lot of money to stay on top of the latest guitar products. So any support you can offer me will allow me to continue to add more reviews, lessons, and guides to this site.
There are a few ways you can help me out:
Buy the Guitar Effects Course
All of the guides and lessons on this website are free to access. To support the free learning resources on this website, consider buying the Guitar Effects Course. The funds I receive from the course are reinvested into creating all the free guides, lessons, and reviews you see on this website.
The Guitar Effects Course is the biggest and most comprehensive resource available online on guitar effects and tone. So if you're interested in learning about different effects pedals or dialing in different guitar tones, you might learn a lot from it.
Spread the word
If you like a review, find a guide helpful, or learn something from one of my lessons, share it with anybody else you know who might find it useful.
Every like, share, tweet, or email helps out because it means that more guitarists like you will learn something new.
Buy your gear
If you read a review on a piece of gear and decide that it's the right choice for you, consider purchasing it by clicking on the Amazon link on this site. It won't cost you any extra and at the same time, it will help me. I receive a small fraction of the cost of any gear you purchase on Amazon after clicking a link on this website which I then use to purchase more gear to share with my students.
Of course, you don't have to buy your gear on Amazon – it's totally fine to buy your gear from your local music shop. Buying your gear after clicking on a link on this website means a lot to me and will help me offer the best advice and reviews possible.
Subscribe to my email newsletter
By subscribing to Guitar Gear Finder's Newsletter, you will receive future updates on reviews, guides, and lessons as well as receive bonus downloads and advice. It's a good way to stay up to date on new guides and reviews.
You can unsubscribe at any time but hopefully, you will find the emails useful. Simply fill out the form below to join the list:
Contact Aaron
If you have any questions for me, simply fill out this contact form and I'll reply via email.