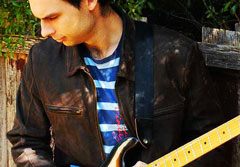 I'm Aaron Matthies and I write all of the lessons, reviews, and articles on Guitar Gear Finder.
I have been teaching guitar in person and online for 20 years. Over the years I have taught a wide range of skill levels in music styles such as rock, blues, metal, and similar genres.
Outside of teaching guitar, I also coach guitar teachers at Live and Teach Guitar. Helping guitar teachers understand best teaching practices and helping them with their students has helped me develop a strong understanding of teaching techniques and methods. I use all of this knowledge to write useful and practical guides, tutorials, and lessons you can find on this website.
Advice from a Guitar Teacher
My goal with this website is to bring high-quality advice and guidance to anybody wanting to learn guitar or improve their understanding of guitar.
Reading my guides and listening to my guitar podcast will help you grow as a guitarist and get the most out of your guitar gear.
More Than Just Guitar Gear
This website started off focused completely on reviewing guitar gear.
I first built this site as a way of writing detailed and unbiased reviews because I was often disappointed by the poor quality of reviews found in popular guitar magazines at the time.
I eventually expanded to writing detailed guides, tutorials, and lessons as a way of sharing useful advice and information with my students.
I try to write my guides and lessons with a focus on practical advice. You should be able to read a guide on a topic and finish it knowing all of the important details and steps to apply the advice with your guitar playing.
Check out this list of guides to get an idea of the wide range of topics you can learn on this website.
How to get the most out of this website
There are four main types of resources available on this website to help you out:
Guides
The guides I write cover everything you would want to know about different gear, guitar rigs, techniques, and more.
While other sites might crank out generic 'top 10 pedals' articles, the goal with my guides is to help you understand guitar gear and be able to make a proper decision on what features and benefits are important to you.
If you want to know the ins and outs of solid-state and valve amps or simply want to know what action height or intonation means and how to improve it, the guides are for you.
A good starting point to get an idea of how useful these guides can be, read this guide on Guitar Amp Settings. The guide explains why so much you'll read online about guitar amp presets is terrible advice and a waste of time.
Gear Reviews
Whenever I get my hands on a piece of gear I give it a thorough workout and then write a review on it. I've read plenty of gear reviews in the past and know how to write a review that's actually useful thanks to my experience as a guitar teacher.
I'll provide you with recommendations on why a certain product may or may not be for you and I'll provide suggestions on alternatives. The gear reviews will be useful if you're looking at a certain type of gear but aren't sure which products are worth considering.
Lessons
While written lessons on a website aren't the same as a real lesson with a teacher in person, they give me a way to share a lot of information with students around the world.
The lessons I write lean more towards helping beginners, but the principles and ideas I cover can help you improve your skills at any level.
Podcast
Most people find this site after looking for specific advice such as what guitar pedals Jimi Hendrix uses or how to adjust your guitar's intonation.
But what about the topics you don't know you should search for? What about all the tips and advice that could help you become a better guitarist that you don't know about yet?
My Bite-Size Guitar Podcast is a way of sharing topics that you may not have thought about before.
Each short episode (5-15 minutes) is like a mini one-on-one guitar lesson. I'll share with you useful insights or advice on a topic you may not have thought about and explain how you can use that advice to become a better guitarist.
While other podcasts can drag on and ramble for hours or waste your time with sponsored messages, this podcast is carefully thought out to give you the key points and advice in the shortest time possible.
To get the most out of this website I encourage you to subscribe to the Guitar Gear Finder Newsletter.
Supporting this website
Every guide, review, or lesson on this site takes 3-5 full days to write. It's a massive time commitment to create these free guides, lessons, and resources.
The 400+ guides, tutorials, and lessons on this site are free for everyone to access. But it costs a lot of time and money to write and update the hundreds of articles on this site.
So your support will allow me to continue to add more reviews, lessons, and guides to this site. Any way you can support me and this site is greatly appreciated.
There are a few ways you can help me out:
Buy the Guitar Effects Course
All of the guides and lessons on this website are free to access and always will be. To support the free learning resources on this website, consider buying the Guitar Effects Course.
Buying my course directly helps me out as well as gives you access to the most comprehensive resource I have created.
The funds I receive from the course are reinvested into creating all the free guides, lessons, and reviews you see on this website.
The Guitar Effects Course is the biggest and most comprehensive resource available online on guitar effects and tone. So if you're interested in learning about different effects pedals or dialing in different guitar tones, check it out.
Whitelist This Site (if you use an Ad Blocker)
The main reason I'm able to continue working on this site and continue to write free guides and lessons for you is thanks to displaying ads.
I know ads can be annoying, but this site would not be able to continue without them.
If you use an AdBlocker (and I don't blame you) and you would like to support this site, consider whitelisting this site to allow ads.
Spread the Word
If you like a review, find a guide helpful, or learn something from one of my lessons, share it on social media. Tag somebody who might find it useful or just share it with a community such as Reddit or a guitar forum or group.
Every like, share, tweet, or email helps grow this site and helps more guitarists learn something new.
Buy Your Gear With My Links
If you read a review on a piece of gear and decide that it's the right choice for you, consider purchasing it by clicking on the Amazon or Sweetwater link on this site. It won't cost you any extra and at the same time, it will help me. I receive a small fraction of the cost of any gear you purchase on Amazon or Sweetwater after clicking a link on this website.
Of course, you don't have to buy your gear from my links – it's totally fine to buy your gear from your local music shop. Buying your gear after clicking on a link on this website means a lot to me and will help me continue to offer the best advice and reviews possible.
Learn more about how the affiliate links work here.
Subscribe to my email newsletter
By subscribing to Guitar Gear Finder's Newsletter, you will receive future updates on reviews, guides, and lessons as well as receive bonus downloads and advice. It's a good way to stay up to date on new guides and reviews.
You can unsubscribe at any time but hopefully, you will find the emails useful. Simply fill out the form below to join the list:
After you hit the submit button, check your email for a confirmation email. Click the button in the email to confirm your subscription and you'll start receiving emails from me.
Contact Aaron
If you have any questions for me, simply fill out this contact form and I'll reply via email.