The Bite-Size Guitar Podcast is a short and to-the-point podcast for all guitarists.
This podcast aims to give guitarists of all skill levels useful advice and suggestions in the shortest time possible. Instead of sitting through long intros, sponsored messages, or irrelevant rambling, these bite-sized episodes will give you something practical you can immediately work on with your guitar.
What to expect from the Bite-Size Guitar Podcast:
Short 5-15 minute episodes every week
Straight to-the-point discussion without any sponsors, ads, long intros, or rambling
Actionable advice and ideas you can immediately use
Links to useful resources, guides, and lessons
Subscribe to the podcast using your favorite podcast app (search for 'Bite Size Guitar') and if you find the podcast helpful, please leave a review.

Ask a Question
You can ask any question you have about learning guitar, questions about a past episode, or general guitar advice and I'll answer your question in the podcast.
Use your Android/PC/Mac (iOS doesn't work) to record your question below and send it to me to be included in a future episode.
Tips for asking a question for the podcast:
Introduce yourself at the start (eg: Hi, I'm Aaron from Australia …)
Try to record in a quiet environment to avoid background noise
You have up to 90 seconds to record, so take your time providing any details you want
If you want to send me a question in text instead of voice, you can send it here.
Episode Resources
For each podcast episode, there is a dedicated page filled with links to useful resources and guides.
Check out the resources for each episode below. Here are the latest episodes: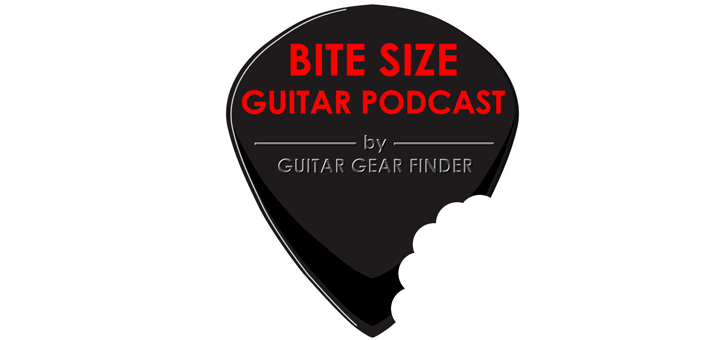 Improve your sense of rhythm and grow the types of strumming patterns you can play by working on this simple exercise.