If you have enjoyed any of my lessons, guides or reviews, join my email newsletter to stay up to date on more guides and lessons.
As a subscriber, you will receive:
Bonus downloads only available to subscribers
Extra tips, advice and mini-lessons
Updates on new gear, guides and lessons
If you like the guides, reviews, and lessons I'm writing, please support me by joining my newsletter:
Get Email Updates Here
Get weekly guitar tips, advice, lessons, and guides by entering your email address below. You can unsubscribe at any time.
After you click the Submit button, check your inbox for a confirmation email. Once you click the confirmation button in your email, you will gain access to bonus content as well as my newsletter.
Get Browser Notifications
While you will get the most from my email list, you can subscribe to browser notifications for any new guides, reviews, or lessons I publish.
If you see this at the top or bottom of your screen, click or tap the allow button to subscribe to browser notifications.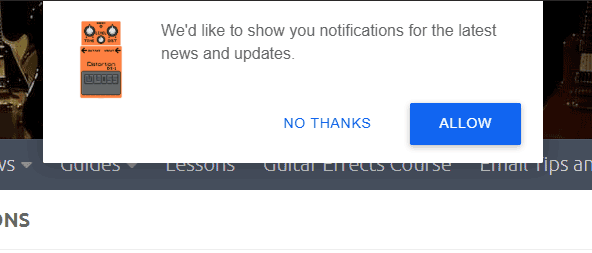 If you do this, any time I publish something new, you will instantly receive a notification.
How to Unsubscribe from Browser Notifications
To manage your notification settings, click or tap the padlock icon on the top of your browser bar: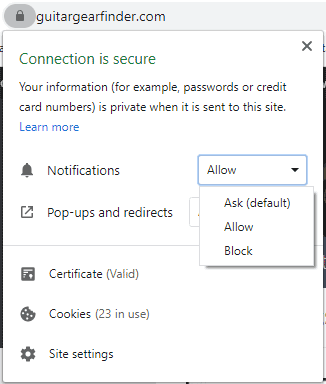 Under notifications, you'll see options for Ask, Allow (if you have already subscribed), or Block.
At any time you can unsubscribe to notifications by changing allow to ask or block.
Note: the options you see depend on your browser and device. Notifications aren't available on all browsers, so if you don't see an option to enable notifications, I recommend joining my email newsletter.