So many drum plugins are available that you can use to create incredibly realistic sounding track tracks for your recordings.
In this guide, I'll go through some of the best drum VST plugins available today for both free and paid options.
Whether you want to quickly create drum tracks to jam with or create professional-sounding tracks for your recordings, get yourself one of these drum plugins. While nothing beats a real drummer in a well-equipped studio, you might be surprised by how good drum plugins can sound.
While this guide is written with guitarists in mind, any musician can follow the advice and tips.
After you read this guide, check out these other helpful guides to make the most of your plugins:
Understanding Drum Plugins
If you've never used a drum plugin before, let's go over the basics so you know what to expect (skip this section if you already know about plugins).
What is a Drum Plugin?
A plugin is a separate piece of software that can either run on its own (called standalone) or run inside of a DAW (such as Ableton or FL Studio). Plugins allow you to access different sounds or process your recordings in different ways.
Guitarists usually use plugins to simulate guitar amps and effects, but plugins can do far more than that.
Drum plugins are like having a virtual drummer on your computer. You can write drum parts and the plugin will play those parts using real drum samples.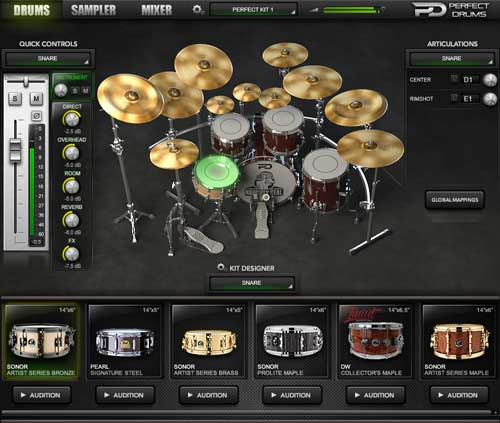 The above screenshot is a great example of a typical drum plugin covered in this guide. You can see that you can change out different parts for each piece in the kit, you're able to adjust the mixing of the kit, tweak reverb and other room effects, and more.
Many drum plugins also include MIDI libraries, which include a wide range of beats and grooves in different styles. This means you can create realistic-sounding drum tracks without knowing how to write drum parts.
Drum Plugin Formats
There are a few different formats plugins come in and the format you use depends on the DAW (Digital Audio Workstation) you use.
The four types of audio plugin formats are:
VST: used in most DAWs
AU: Ableton Live, Logic Pro
AAX: Pro Tools 10 and later
RTAS: Pro Tools 10 and earlier
Each of these plugin formats can come in different versions, so you may see mentions of VST2, VST3, AU2, etc.
The reason most musicians talk mainly about VST plugins is that they're the most common across DAWs.
The good news is that when you download a free or paid plugin, most of them will allow you to choose which format you want to install. That way you can install the format that suits the DAW you use.
Plugin Bit Versions
Plugins are available in two different bit versions: 32-bit and 64-bit. When you see mentions of different plugin format versions (eg: VST2 and VST3), the difference is due to bit versions.
VST2 comes in 32 and 64-bit, while VST3 is only 64-bit.
The plugin bit needs to match the bit of your DAW. If you run a 32-bit DAW, you won't be able to use 64-bit plugins (there are ways around this using a plugin wrapper).
If you run a 64-bit DAW, you should be able to use 64-bit and 32-bit plugins without any issues. Using 64-bit plugins is ideal, but 32-bit plugins should also work.
You can find out the bit of your DAW by going to the 'About' section in your DAW (check the Help menu dropdown or similar). You'll see an 'x32' or 'x64' somewhere to let you know whether it is 32-bit or 64-bit.
DAW Limitations
Most DAWs come in different 'editions' which may or may not be compatible with third-party plugins.
Most 'lite' editions of DAWs don't allow you to use third-party plugins. Lite editions are typically bundled as freebies with hardware such as audio interfaces or microphones. They may come with their own plugins, but you may not be able to add any extras.
If you got a free version of a DAW after buying some hardware, you probably have a lite version. If you can't load a plugin, you may need to upgrade to a full-featured DAW.
Check out my guide on the Best DAWs for Guitar to learn more about DAW editions and plugin compatibility.
How to Use Drum VST Plugins
There are two ways you can use drum plugins. You can either run the plugin on its own as a standalone program or add it to a DAW. Some drum plugins don't offer standalone versions, but you can find out how to run any VST plugin as standalone here.
Let's go through the two ways you can use a drum plugin and explain why you may use one or the other method.
Standalone Plugin
While most of the time you'll be using drum plugins in a DAW, there may be some situations where you want to run the plugin on it's own.
Many plugins can be run as a standalone program. You can even force any plugin to run as standalone as explained in this tutorial on running VST plugin as standalone.
Running a drum plugin as standalone can be handy if you don't need to record anything.
For example, if you have an electronic drum kit, you can jam using the sounds from the plugin. Or if the plugin includes a beat and pattern library, you can jam with your guitar along with those patterns without having to open a DAW.
Plugins in a DAW
Most of the time you will use a drum plugin in a DAW for your recordings or help you with songwriting.
Once you install your drum plugin, your DAW should automatically detect it the next time you open it. Otherwise, you can add it manually in the DAW's plugins manager area.
Unlike guitar plugins, drum plugins are considered 'Instrument' plugins because they are used to create a virtual instrument instead of merely applying an effect on an instrument.
Some DAWs will list these plugins along with all of your other plugins, while others will list them in a separate section.
In the below screenshot, you can see that in Studio One, the drum plugins are listed in the 'Instruments' section: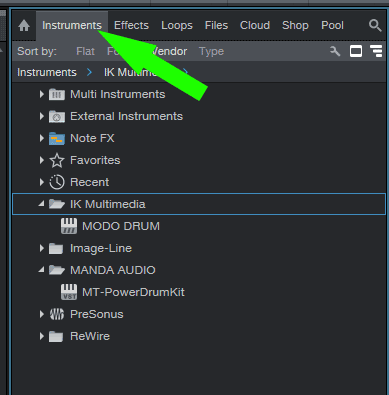 At any time, I can drag one of these plugins onto a MIDI track.
To learn how to add plugins to your DAW, check out my tutorials on DAWs here.
Once you have a drum plugin set up in a DAW, you can use it to create virtual drum tracks for any recordings you want. There are a few different ways you can create drum tracks in a DAW and I walk through each method in this tutorial on creating drum tracks in a DAW.
Best Guitar VST Plugins
There are a lot of drum libraries and plugins available that cover a wide range of music styles and types of drums.
You can get plugins that sound like standard drum kits you would find in any studio, or you can find plugins to give you very different percussive sounds.
You can find modern-sounding drum kit plugins, vintage-style kits, jazz kits, kits designed for metal, electronic kits, and anything else you might want in your music.
The plugins covered below focus on standard drum kits to suit guitarists but other musicians can still use these plugins.
Superior Drummer 3
The two most popular options for easy-to-use drum plugins seem to be Superior Drummer 3 and Addictive Drums 2.
Some musicians seem to feel that Superior Drummer provides the most realistic sounding drums, while others prefer Addictive Drums. Both sound amazing when used properly, so compare the features and price to work out which one may suit you best.
Addictive Drums 2 is three years older than Superior Drummer 3, which becomes obvious when you compare the below screenshots. Superior Drummer 3 has a slick and easy-to-use modern interface. The plugin packs in more features than Addictive Drums 2, but it isn't cluttered or hard to use.
Superior Drummer 3 comes with a massive 230GB library of drum samples with both electronic and acoustic drum kit sounds.
For some people who only need a simple drum kit, it's overkill. But for musicians wanting to play around and tweak a lot of different kits, it's amazing to have such a massive library.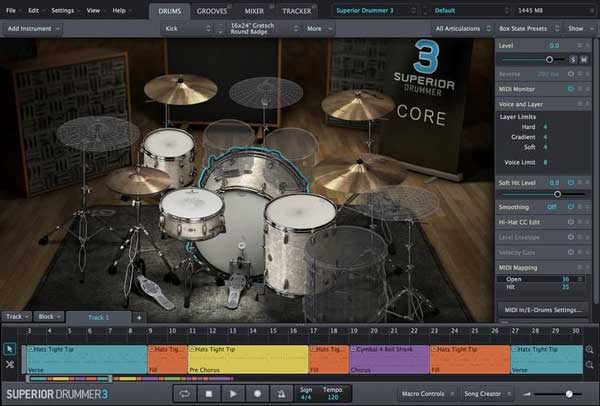 You can see from the above screenshot that the interface is easy to use. You can assign different hardware for each piece of the kit as you like and fine-tune any aspect of the kit.
One of the aspects I like about Superior Drummer 3 is how you're able to build up an entire song using MIDI grooves all within the plugin. You can use the standalone version as an easy way to jam along with drum tracks without having to open a DAW.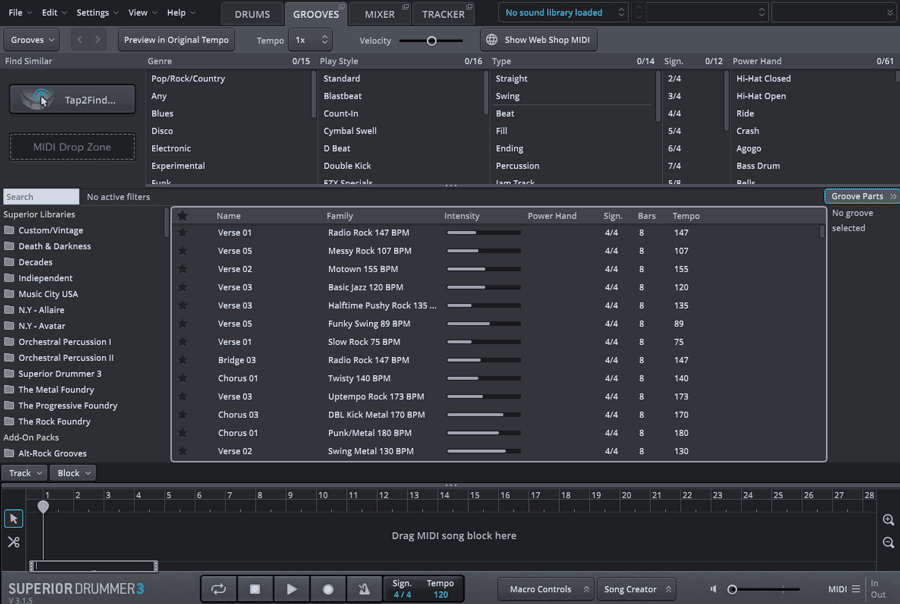 In the above screenshot of the 'Grooves' section, you can see the massive library of drum parts and grooves you can build a song with.
You can select parts from a wide range of genres, adjust the tempo as you like, and build up a drum track to suit your needs.
Creating a drum track within the plugin is as simple as dragging any of the grooves to the bottom song section: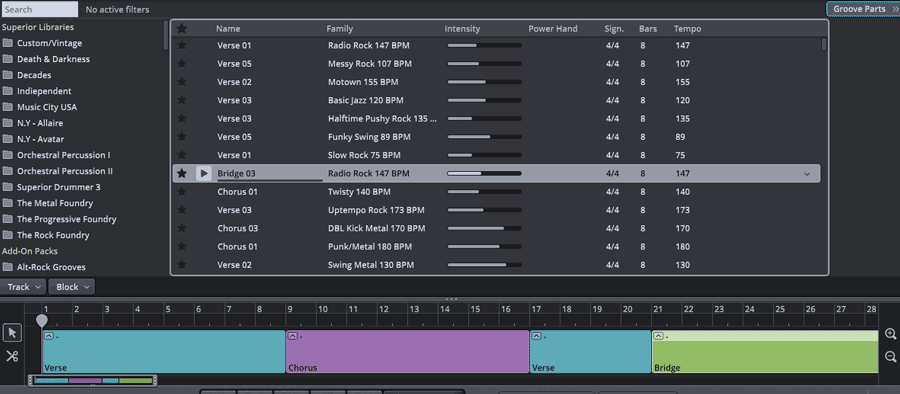 The color-coded sections give you an easy way to see the track you've built up. You can easily trim the drum parts, move them around, or swap them for other drum parts.
I really like that you can build up a fully customizable drum track to jam along to in under a minute.
Addictive Drums 2
One of the reasons many people choose to use Addictive Drums 2 is that it's incredibly easy to use. You can quickly get a realistic-sounding drum kit without any tweaking or changing settings.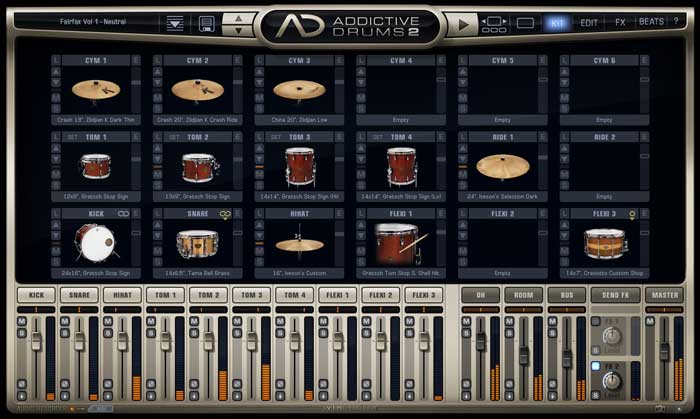 You can see from the above screenshot that Addictive Drums 2 has a simple layout with easy access to the levels and options for each piece of your drum kit. It's an older plugin compared to other options such as Superior Drummer 3, but it's still the go-to option for a lot of musicians.
On the top right of the plugin, you can see different screen options including Kit, Edit, FX, and Beats. The Edit screen gives you a lot of control over every aspect of your kit's sound.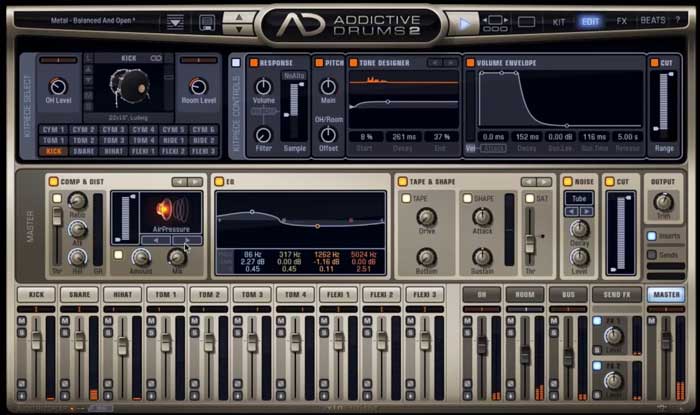 You can adjust EQ, compression, pitch, and other controls if you really want to tweak the tone of your drums. The drums definitely sound great without needing to adjust anything, but these controls are handy if you need slight adjustments for your recordings.
Just like Superior Drummer 3, Addictive Drums 2 includes a beats library where you can jam along with grooves in a range of styles.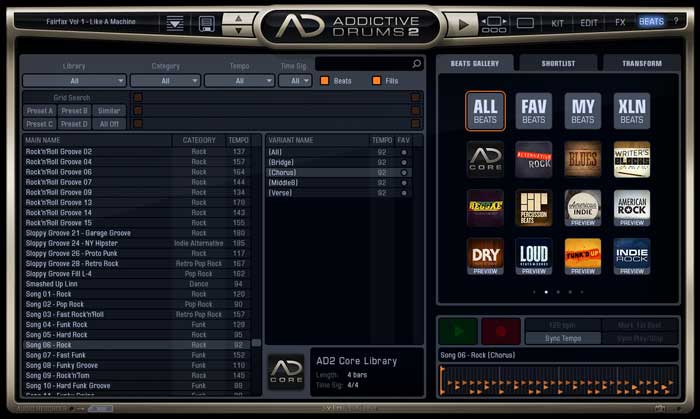 If you're a songwriter, having a wide range of beats is a great way to find inspiration for your music and come up with new ideas. If I'm ever stuck for ideas, I'll load up some random beats and jam along with them until I come up with an interesting riff or lick.
While Superior Drummer 3 may pack in more features and is nicer to look at, Addictive Drums 2 is seriously quick and easy to use. You have plenty of ways to tweak and dial in the perfect drum kit for your needs and the samples sound fantastic.
EZDrummer 2
EZDrummer 2 is an old plugin at this point, but many people (including me) still use it and don't feel a need to upgrade.
It's made by Toontrack, the same company that makes Superior Drummer 3.
Compared to the other options in this guide, EZDrummer 2 is basic in features and sounds, but very quick and easy to use.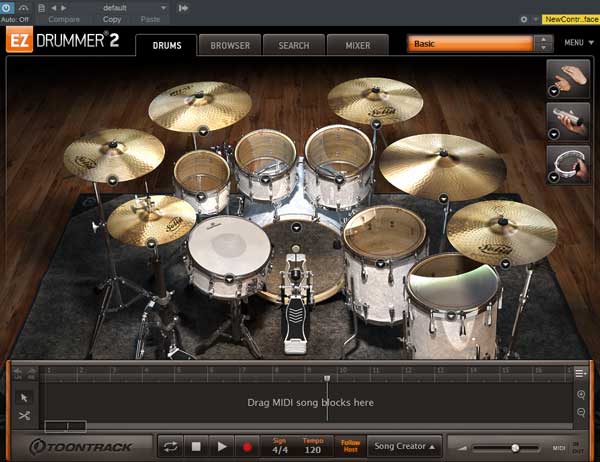 In the above screenshot, you can see that it includes many of the features you've seen in the other plugins such as the ability to build up a full song using MIDI blocks.
EZDrummer 2 is my go-to option when I just want something quick and easy to jam along with or work on a drum part in a song.
One of the reasons I like EZDrummer 2, despite it being an old plugin, is that it only takes up around 3GB of hard disk space. That's tiny compared to the 230GB of space you need for Superior Drummer 3.
Having such a tiny plugin can be handy for some people with limited disk space, but that tiny size does mean the plugin is limited in the variety of sounds it can offer you and the versatility in each kit.
Expansion sound libraries are available to buy if you feel limited by the range in the plugin, but if you're after a variety of kit sounds, you may find that one of the other plugins gives you a better range of sounds at a better price.
There are definitely better plugins available, but EZDrummer 2 does have its place when you need something quick and easy to use. If you don't want to spend hours tweaking each individual drum sound, then you may prefer a basic plugin like this one.
If you're thinking about buying EZDrummer 2, I suggest first trying out the free drum plugins covered below. You may find that one of the free plugins gives you everything you want.
MT Power DrumKit 2 (Free)
If you've never used a drum plugin before, you might hesitate at the idea of spending money on one. The good news is that there are a couple of great free drum plugins you can use.
MT Power DrumKit 2 is completely free and easy to use.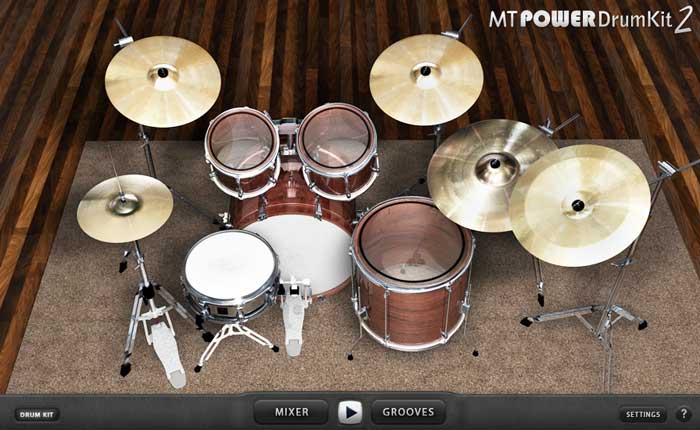 I mentioned earlier that EZDrummer 2 is a great option for anybody who wants something quick and easy to use without needing to fiddle around with settings. Well, if that's what you're after, MT Power DrumKit 2 is as simple as it gets.
You can see in the above screenshot that the plugin is simple. You have a few buttons at the bottom to switch between a mixer and grooves view, but that's it.
The plugin does include a composer view, where you can drag any grooves into to build up a jam track. It's great to see this feature in a free plugin, so try it out to see why it's so useful.
I recommend everybody download this plugin to get a feel for what virtual drum plugins are capable of. You may find that this plugin is exactly what you need. Otherwise, trying out this plugin will let you know what features you want and are happy to pay for.
Steven Slate Drums 5 (Free and Paid)
Steven Slate Drums 5 (version 5.5 now available) is worth checking out because there is a free and a paid version depending on the range of sounds you want.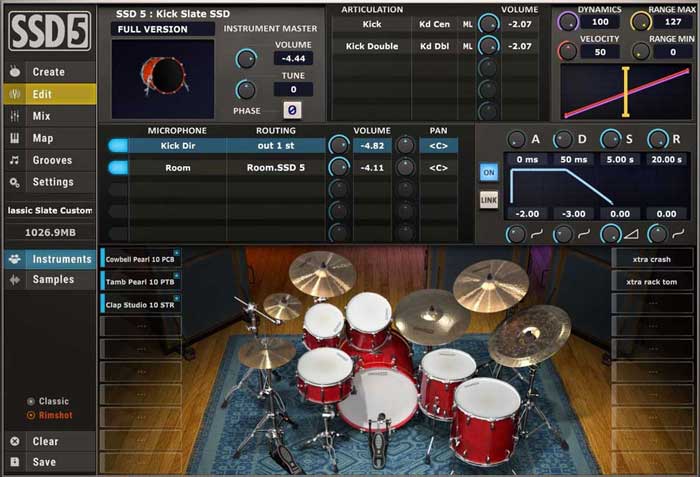 As you can see from the above screenshot, it packs in a lot of ways you can tweak and adjust the sound of your kit.
As you might expect from a paid plugin, you have features such as a mixer and a groove library.
One of the reasons I wanted to include this plugin in this guide is due to the excellent free version you can get.
The free version is a 'never-expiring demo' and includes the 'Deluxe 2' kit and a few presets. You can download the free version and keep it or you can use it as a way to figure out whether you want to buy the full version or not.
What makes this free demo so popular is that it doesn't water down the features compared to other demos. When you open up the free version, you still get the full range of features
To get the free version, you need to set up a free account on the Steve Slate Audio website. Once your account is set up, you can download the free plugin in the 'Your Products' area.
Making Drum Plugins Sound Real
All of the above drum plugins sound fantastic when used properly. But the quality and realism of the samples are only half of the picture. The other half is how you set up your drum tracks.
You could buy the most expensive drum plugin and end up with lifeless parts if the parts are set up poorly. Learning to create natural-sounding drum parts using a plugin takes some practice, but it's an easy skill to learn.
In this tutorial on how to create drum tracks in a DAW using drum plugins, I talk about how to create realistic-sounding drums. Read the advice to avoid your drum tracks sounding robotic or artificial.
USB MIDI Pads
One of the ways you can make your drum tracks sound more realistic is to record the parts using a MIDI pad.
When I switched from programming drum tracks in a DAW to recording the parts using a MIDI pad, I noticed the drums suddenly felt far more 'human'.
The below AKAI USB/MIDI Pad (link to Sweetwater) is an example of a MIDI pad that is perfect for working on your drum tracks.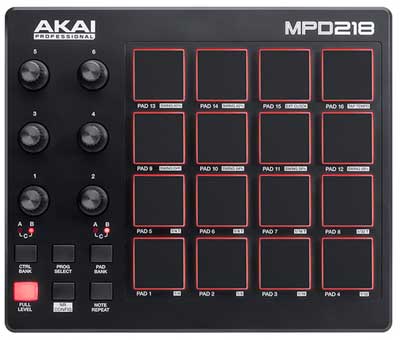 The basic idea is that you set each pad to a part of the drum kit. Then you can hit record and tap out your rhythm patterns on the pad.
The big advantage with creating drum tracks this way is that you add a natural feel to the rhythm instead of every hit being unnaturally lined up perfectly in time.
It might sound strange to say that slight imperfections in your timing are a good thing, but it's what will make your drum parts sound natural.
A nice bonus with having a MIDI pad is that you can use it to control any aspect of your DAW. You can set the knobs, buttons, and pads to adjust the volume of different tracks, assign it to your guitar plugin to control amp settings or pedal settings, or you can create easy shortcut buttons such as record, stop, play.
While you can control everything in a DAW from a computer keyboard, a MIDI controller feels a lot nicer and easier to control.
There are a lot of different styles of MIDI pads and controllers with different knobs, sliders, buttons, and keys you can use to control your DAW and plugins.
Learn more about the different types of DAW controllers you can get in this detailed guide.
Drum Plugins FAQ
Here are some common questions you might have about drum plugins. If you have a question about drum plugins, ask it here.
What is the Difference Between VST and VSTi?
VST is the most popular plugin format and it stands for Visual Studio Technology. VST plugins can cover everything such as reverbs, delays, compressors, guitar amp simulators, or EQ tools. VSTi plugins are virtual instrument plugins that generate sound. The 'i' in VSTi stands for 'instrument'. VSTi plugins allow you to create virtual instruments such as pianos, drums, guitars, synthesizers, or even a full symphony.
All drum plugins are virtual instrument plugins and are VSTi plugins. Other formats are available to suit different DAWs.
What is the Best Drum Plugin?
There is no one best drum plugin. Some people prefer simple drum plugins such as EZDrummer 2. Other people prefer full-featured drum plugins such as Superior Drummer 3 or Addictive Drums 2. Other musicians may prefer drum plugins with a more electronic feel.
The best drum plugin for you is the one that matches your needs as a musician. Think about what features and sounds you want in a drum plugin and it'll be easier to find the best one for you.
More Recording Resources
A good drum plugin is extremely handy to have in your home studio. To get the most out of a drum plugin and produce better quality recordings, check out these other helpful guides: