Once you learn how to connect your guitar to your computer, you can start recording or jamming using a massive range of guitar plugins and software.
There are a lot of great apps and plugins, but many of the best options are extremely expensive.
This guide will give you an ultimate list of free plugins and software you can use with your guitar.
The free guitar plugins in this guide will give you a quick and easy way to transform your guitar recordings or jam with countless amp models and effects.
Here are some useful tutorials and guides to help you get the most out of these plugins and software:
If you know of any great free guitar plugins or guitar-related software I should include in this list, let me know here.
Check Out My Guitar Effects and Tone Course
If you want to get the most out of the plugins and effects covered in this guide, you might want to check out my Guitar Effects and Tone Course.
The course walks through all the common types of guitar effects you may use including drive, dynamics, modulation, filter, pitch, and time.
My goal with the course is to teach you how to identify any effect in a song by ear as well as show you how each effect works.
Check out my Guitar Effects and Tone Course here. Thank you to everybody who purchases the course and helps support this site.
Free Guitar VST Plugins
The free guitar plugins below give you a massive range of high-quality amp and effects models.
While some of the best guitar plugins are paid options, many of these plugins are extremely high quality and rival many popular paid plugins.
Note: if you want to use any of the below plugins as a standalone program instead of in a DAW, check out this guide.
Neural Amp Modeler (Amp Modeler)
Neural Amp Modeler (NAM) is a free and open-source plugin that allows you to capture and share incredibly realistic amp models, drive pedals, compressors, preamps, and more.
It's essentially an open-source alternative to TONEX, which also has a free version covered later in this list.
The fact that I've placed this plugin first should highlight how impressed I am with it. It's a must-have if you're interested in jamming or recording with a range of high-quality amp and pedal models.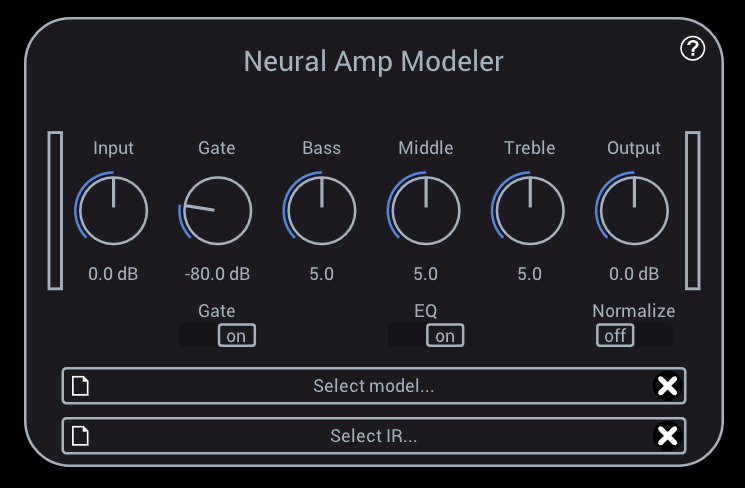 If you haven't read my TONEX review, the basic idea behind these AI-based amp modelers is that they use neural learning to capture and recreate amps and pedals. These types of plugins are very different than typical amp modelers, which are based on algorithms.
The quality of the models I tried out in NAM is absolutely incredible. Users have shared blind comparisons between NAM profiles and the real hardware and it's impressive how hard it is to hear the difference between them.
You can download profiles for a massive range of gear shared by users in this Facebook group. There are currently around 9000 members in the group and it's growing every day, so you can expect to see more and more shared profiles as it becomes more popular.
If you don't use Facebook, you can download some of the shared profiles here.
How to install Neural Amp Modeler (NAM): the plugin is shared on GitHub, which can seem confusing if you haven't used it before.
To download and install the plugin, go to the NAM GitHub Releases page here.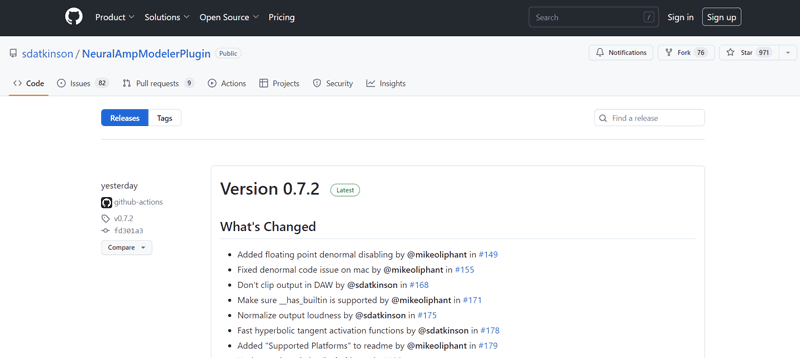 The latest release will show at the top of the page (currently Version 0.7.2 as at April 2023). Scroll down to the 'Assets' section.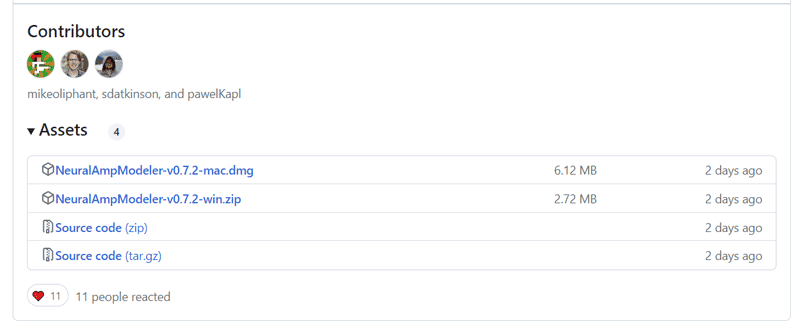 Download the '.dmg' file if you use a Mac and the '.zip' file if you use Windows.
Open the downloaded file and run the installer. You can choose whether to install the standalone version, plugin version, or both.
Once the installer has finished, you can load NAM in any DAW or use the Standalone version.
NAM doesn't come with any models, so download some here or join the Facebook group to get started.
Impulse Response Loader (IR Loader)
If you haven't used impulse responses yet, you need to download this plugin and try them out.
Impulse responses (or IR for short) are a clever way of capturing and recreating the sound of any cabinet and microphone setup. You can use IRs with any guitar amp plugin to produce incredible sounding cabinets for your recordings or for jamming.
Learn all about Impulse Responses in this guide including free downloads of IRs to try out.
Pulse by Lancaster Audio is a free IR Loader. An IR Loader is a simple plugin where you can load any Impulse Response you want and use them with your other amp models and effects.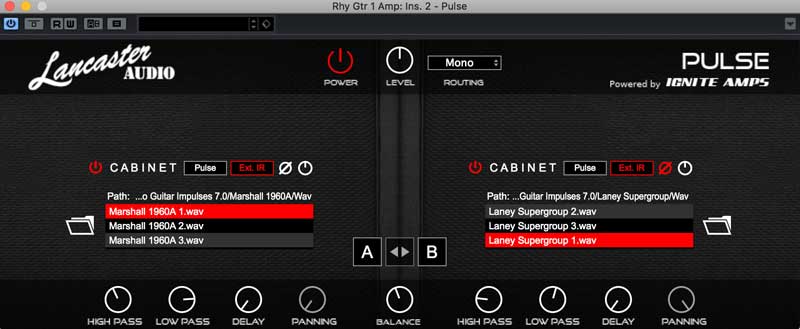 As you can see from the above screenshot, in addition to loading IRs, you can tweak your sound with different EQ controls.
Being able to A/B test different IRs is a great way to narrow down the type of cabinet sound you want in your recordings.
Check out my guide on Impulse Responses to download some free IRs and learn more about this technology.
Ignite Amps (Amp Modeler)
Ignite Amps are well-known for its range of free and impressive guitar amp plugins.
What I find the most interesting about these plugins is that they're based on real hardware custom-built for guitarists. In other words, they're using free plugins to give guitarists a high-quality preview of what their amp builds will sound like.

The above screenshot is from the 'Emissary' plugin, which I often enjoy jamming with.
In addition to some high-gain amps, there are other plugins such as a dual IR loader, drive pedals, bass amp, and various preamps.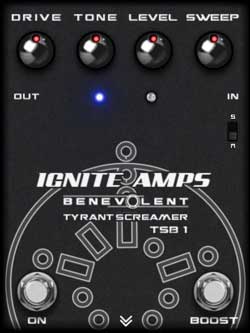 Having a few of these plugins available in your list of plugins gives you a quick way to try out different amp tones for your recordings or a simple way to add some extra gain with the stompbox plugins.
The Ignite Amps plugins are available in VST, VST3, AU, and AAX formats (each plugin may not offer all versions).
Valhalla Supermassive (Reverb and Delay)
A good quality reverb can breathe life into your recordings and turn a dry and dull track into something far more interesting.
Valhalla Supermassive is a free reverb and delay plugin that gives you lush, expansive, and otherworldly reverb effects.
It features 18 presets that cover everything from subtle room reverbs to massive cosmic washes.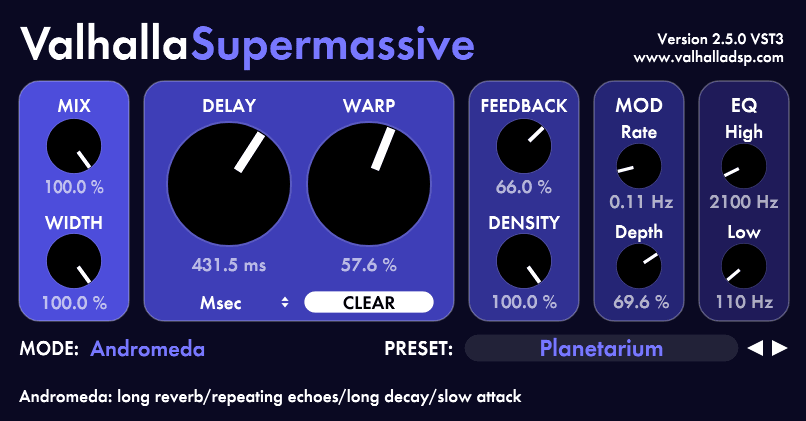 The simple interface is quick and easy to learn and you can hover over any control for pop-up explanations. It may take some time to get used to the feel of the different presets, but once you learn which ones suit your style, you'll find out why I say it's a must-have plugin.
Overall, Valhalla Supermassive is a must-have reverb plugin that can add a rich sense of space and depth to any recording.
Valhalla DSP produces some great plugins (more free ones covered later in this list) worth checking out on their website. If you like Supermassive, you might want to check out their Shimmer plugin.
LePou Amp Simulations (Amp Modeler)
LePou has released a range of separate plugins for different amps as well as a cabinet simulation plugin to use with any of the amp plugins.

I love that there is a separate cab sim plugin as it means you can swap that out for any IR loader or cab sim plugin you want.
These plugins have been popular for many years and while AI-based plugins such as Tonex or Neural Amp Modeler usually produce superior tones, these plugins are still worth checking out.

Some of the amp plugins are based on real amps (the above screenshot is clearly based on a Marshall), while others aren't based on real-life amps.
ML Sound Lab Amped Roots (Amp Modeler)
ML Sound Lab produces a range of amp modeler plugins as well as some virtual drum plugins (including a free drum plugin covered here).
The Amped Roots Free plugin is a freebie offered to preview the paid version of the Amped Roots 2.0 plugin.
This plugin was made in collaboration with YouTuber Ryan "Fluff" Bruce based on his personal amp collection.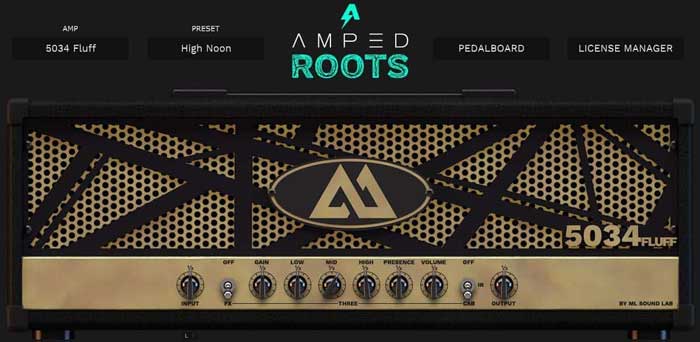 The free amp "5034 Fluff" gives you modern metal tone with plenty of gain.
If you like the quality of this amp, check out their "Stevie T" plugin as it also includes a free amp model based on another YouTuber.
Valhalla Space Modulator (Flanger)
Valhalla Space Modulator is a free flanger plugin that can be used for extreme doubling, detuning, flagging, and twisted delay effects.
A flanger is a type of modulation effect (learn all about modulation effects in my Guitar Effects Course).
While flangers aren't very popular with guitarists, having one handy is a great way to try out different effects to give you inspiration. There have been many riffs I've written thanks to the inspiration of a flanger – even if the song didn't end up using the flanger.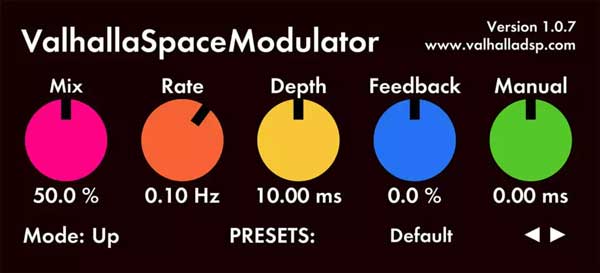 There are 11 algorithms included in the plugin that give you a great range of flanger-like effects.
While you can use this plugin for subtle effects, it really shines when you crank it up for something extreme.
Valhalla Freq Echo (Echo)
The third free plugin by Valhalla DSP is Freq Echo – a modulation and echo emulator that can produce some swirly and smooth effects.
You can dial in a nice range of effects from a subtle chorus to psychedelic echos. While you can dial in some great echo effects, it's a great modulation plugin for swirling chorus sounds.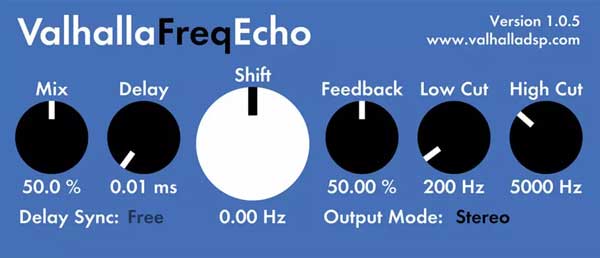 Unlike the other two free plugins by Valhalla, this one doesn't include a range of presets, but what it does it does very well. If you found the Space Modulator plugin a bit too extreme, you may prefer this one. It's a simple plugin and works very well.
Mercuriall Plugins (Pedal Modelers)
Mercuriall Audio Software has an entire page on its website for freebies to add to your plugin collection.
There are a few stompbox models such as a BOSS Metal Zone MT-2, an Ibanez Tubescreamer TS-808, a stereo chorus, and an American overdrive.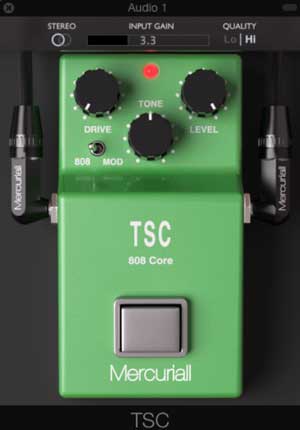 As you can see from the above screenshot, the plugins are designed to look like pedals so they're very easy to use.
There are also preamp models based on various Marshall amps, and cabinet models.
AmpliTube 5 CS (Amp and Pedal Modeler)
AmpliTube 5 by IK Multimedia is one of the best-quality guitar plugins available today.
I have written a detailed review of AmpliTube 5 here that covers every aspect of it. While the paid version of AmpliTube 5 is worth considering, you can get some great tones out of the free version.
The "CS" (Custom Shop) version of AmpliTube 5 gives you 42 amp, pedal, speaker, cab, mic, and rack FX models.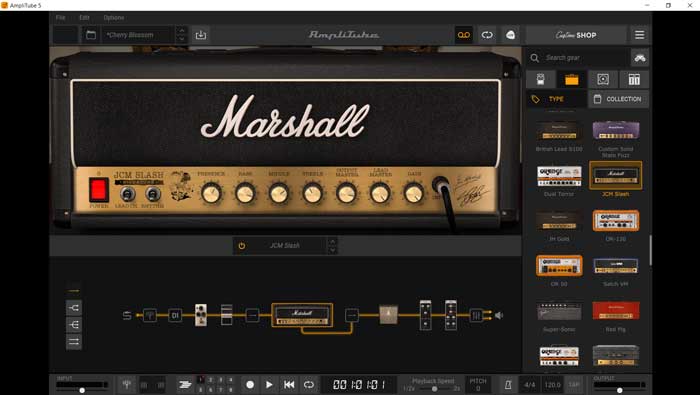 You're also able to try any other amp or effects model and purchase it separately if you want. You may find that the free models are all that you need, so it's worth trying out this version before considering buying the full version.
I recommend reading my review of AmpliTube 5 here to learn more as well as tips on how to get the most out of it.
TONEX CS (Amp Modeler)
TONEX by IK Multimedia is an AI-based amp and stompbox modeler that has completely changed how many guitarists use guitar plugins and software.
I reviewed TONEX when it was released and it has been one of the most impressive-sounding plugins I've ever used. It immediately replaced many of my go-to guitar amp plugins and I still use it heavily today.
Just like AmpliTube 5 and the CS version, you can access a free version of TONEX with TONEX CS.
The main limitations with the CS version are that you only get 20 premium models and you can only save 20 user-uploaded models.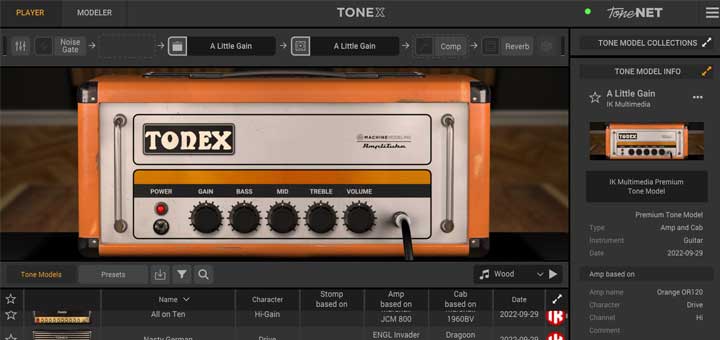 The CS version is a great way to try out TONEX and if you like it, you can consider upgrading to the paid version. The paid version removes the limitation of only being able to save 20 user-uploaded models, which is a big benefit considering there are already over 10,000 user-created models available to download.
The Neural Amp Modeler (NAM) covered earlier is similar to TONEX, so if you liked the tones that plugin produces, it's worth trying TONEX out.
Check out my full reviews of TONEX and TONEX Pedal here.
Guitar Rig 6 Player (Amp and Pedal Modeler)
Guitar Rig 6 Player is the free version of the popular amp and modeling plugin Guitar Rig 6 Pro (link to my full review and tutorial).
This free version includes an amp and cabinet model as well as 13 effects.
I personally find Guitar Rig 6 Pro one of the more inspiring guitar-based plugins when you want to experiment with a wide range of effects and soundscapes.
The range of models in the free version are quite basic, but it gives you a good idea of what the full version would be like to use.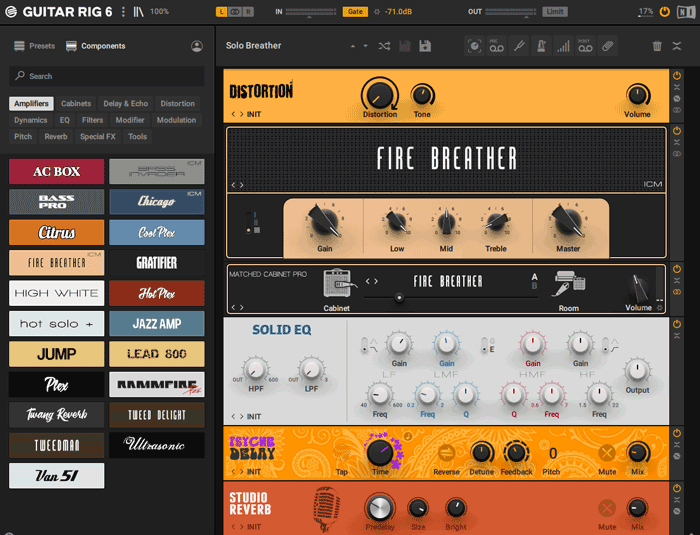 Check out my full review and tutorial of Guitar Rig 6 here to learn more.
Amplistortion 2 (Amp and Pedal Modeler)
Amplistortion 2 is a basic amp and pedal modeler plugin that includes a compressor, tube distortion, amp/cab/mic sim, stereo chorus, stereo delay, stereo reverb, and stereo enhancer.
If you want to try out a few different basic stereo effects, this plugin is a great starting point.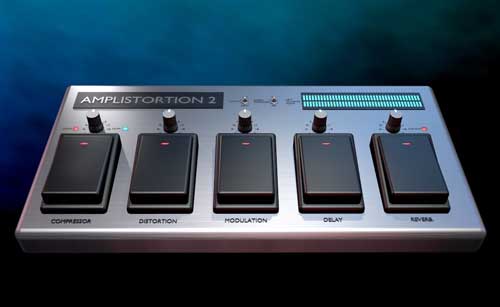 Many of the plugins in this guide focus on mono effects, so I recommend this plugin so you can experiment with some common stereo-based effects. You may even find that you like stereo effects so much that you decide to modify your rig to include some.
Voxengo (Many Studio Plugins)
Voxengo has a page full of free plugins you may want to check out. If you want to learn about different ways to improve your recordings, I recommend trying some of these plugins out.
Here is a list of some of the free plugins you can download:
Spectrum Analyzer
Stereo Widener
Guitar Cabinet
Tube Warmer
Tempo Delay
Tube Graphic EQ
Plate Reverb
If your DAW doesn't already include tools such as a spectrum analyzer or graphic EQ, these types of plugins are must-haves. There are plenty of alternatives for each of these plugins, but these give you a good starting point.
While most of the plugins covered in this guide focus on guitar amps and effects, these plugins give you a taste of the wider world of studio plugins.
Blue Cat Free Amp (Amp Modeler)
Blue Cat's Free Amp is a simple guitar amp modeler plugin that includes an IR loader (learn about impulse responses here).
Three classic amp models are included: classic clean, classic drive, and modern drive. For a free plugin, it packs in some good options to tweak the tone as well as using IR-based cabinets and reverbs.

While you shouldn't expect sound quality on the level of modern AI-based plugins such as Tonex or NAM, it's still a decent-sounding free plugin worth trying out.
Free Guitar Software
The below software will give you free options to record your guitar and use all of the above plugins.
Cakewalk by BandLab (Free DAW for Windows only)
A DAW (Digital Audio Workstation) is a must-have piece of software if you want to get into recording or using plugins.
I have written a detailed guide comparing the most popular DAWs for guitarists here. I recommend reading it to learn all about DAWs. The guide includes tutorials for every major DAW covered.
Cakewalk by BandLab is a completely free and full-featured DAW that gives you an easy way to get into recording.
While there are free versions of the most popular DAWs, these 'lite' versions are usually stripped-down versions that leave you extremely limited in what you can do. The great thing about Cakewalk is that you're getting a completely full-featured DAW without any limitations.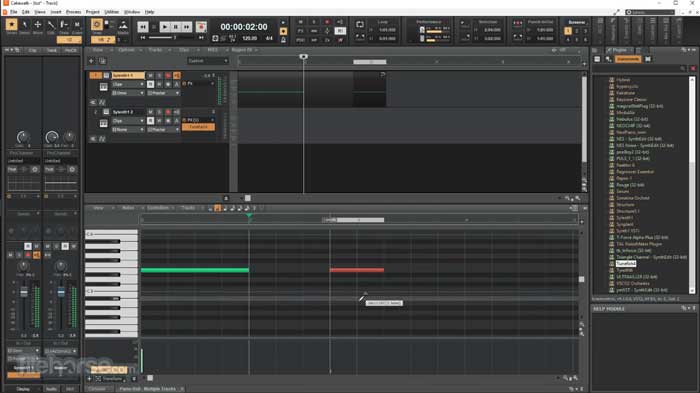 The first time you open up any DAW, it can seem overwhelming. The sheer number of buttons, lists, and options makes any DAW intimidating.
But if you take your time and start with basic features (eg: just learn how to record a basic track), you'll get the hang of any DAW. As you learn more features, you'll see why every recording musician uses a DAW instead of basic recording programs such as Audacity.
If you don't already have a full-featured DAW, I highly recommend downloading Cakewalk.
Audacity
Audacity is a completely free audio recording program. It's widely known among musicians because it's free and easy to use.
While Audacity doesn't come close to offering the wide range of features found in any DAW, it's a great program worth downloading.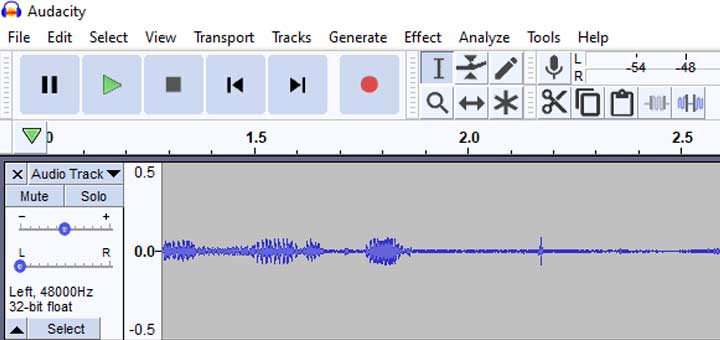 Sometimes I use Audacity when I want to quickly edit an audio file (eg: trim off some silence at the start) instead of loading up a DAW. There are times when using Audacity is quicker and easier than using a DAW.
Check out this tutorial on how to record guitar in Audacity to get started.
Other Free Guitar Software
Know of any other free plugins or software I should add to this list? Let me know here and I'll add it.
Here are some useful tutorials and guides to help you get the most out of these plugins and software: