While 2020 has been a wild year, a silver lining is that there have been a few interesting guitar pedals come out.
Not all of the pedals that came out this year have been inspiring though. It seems every year we see boutique pedal companies (and some big companies) release yet another clone of a Tubescreamer, Klon, Plexi, or other classic overdrive.
While I love reading and hearing about new pedals, my eyes glazed over so many times this year looking at run-of-the-mill 3-knob pedal releases. So while there have been more popular pedals come out this year than the ones I'll cover, I'll focus this guide on pedals that actually grabbed my attention.
Here is a quick look at some of the best guitar pedals in 2020 you might want to check out.
BOSS Loop Station RC-5 and RC-500
The BOSS Loop Station range is possibly the most popular and well-known range of looper pedals for guitarists.
In past years, if you saw a busker playing with loops, you could almost guarantee they would be using a BOSS RC-30.
While there's a lot of competition for looper pedals now (check out my Ultimate Guide to Looper Pedals to see the best options), BOSS have done a good job at updating their range.
BOSS released two new Loop Station pedals in 2020: the RC-5 and RC-500.
BOSS RC-5 Loop Station
The RC-5 is a compact looper that can be thought of as an upgrade over the popular RC-3.
They're both priced around the same and use the same size enclosure, but the RC-3 is nine years older than the RC-5 and it shows when you directly compare them against each other.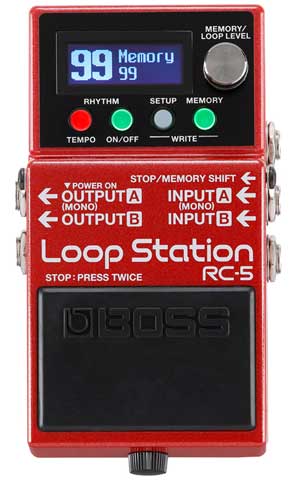 Here are the main features of the BOSS RC-5:
32-bit signal processing
RGB graphic LCD display
One footswitch to record/overdub/delete
Up to 13 hours of recording
99 memory slots
Stereo input/output
External footswitch support
MIDI control (with a compact TRS style jack)
USB connectivity
9V battery or external power support
The big change is the RGB display, which creates a completely new way of setting up, controlling, and understanding what your pedal is doing. Compared to the RC-3, this is a very nice improvement.

The display uses different colors to let you know what the pedal is doing. This is similar to what Line 6 do with their pedals and it works so well. When playing, you can glance at the pedal and know whether it's recording, playing, or overdubbing just from the color of the display.
If you're looking for a compact looper that packs in a lot of features, the RC-5 is worth checking out.
Check out the price and details of the BOSS RC-5 here (Amazon) or here at Sweetwater.
BOSS RC-500 Loop Station
The RC-500 is a clear step up from the RC-5 and packs in a lot more features as well as more control as you can see from the pedal below: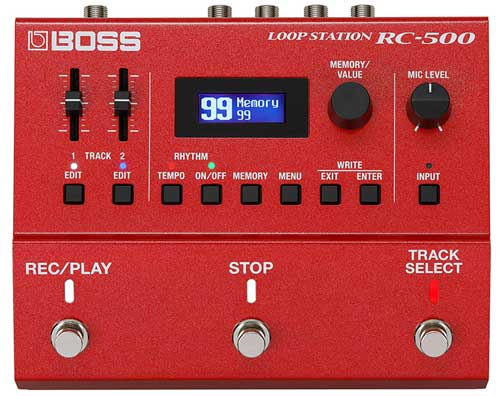 It includes the same RGB interface used on the RC-5 so you get the same color-coded information to know what the pedal is doing at any time.
While the RC-500 packs in a lot more features, it basically takes the brains of the RC-5 and puts it in a bigger enclosure with more footswitches to give you better control over the loops and rhythms.
Check out the price and details of the BOSS RC-500 here (Amazon) or here at Sweetwater.
To see how the new pedals compare against the other BOSS Loop Station pedals, check out my BOSS Loop Station Comparison here. The guide compares the entire range of Loop Station pedals to help you figure out which one (if any) is right for you.
FLAMMA FS02 Stereo Reverb
The FLAMMA FS02 Stereo Reverb truly surprised me when I tried it out. It's a low-cost reverb pedal that packs in more reverb effects and better features than pedals that cost double or triple what the FS02 costs.
For a budget reverb pedal, it sounds surprisingly high-quality. You can dial in subtle room, hall, plate, or spring reverbs, or you can crank it up for some ambient or atmospheric soundscapes.
With stereo inputs and outputs and the ability to save seven presets, this pedal is a great way to explore different reverb sounds.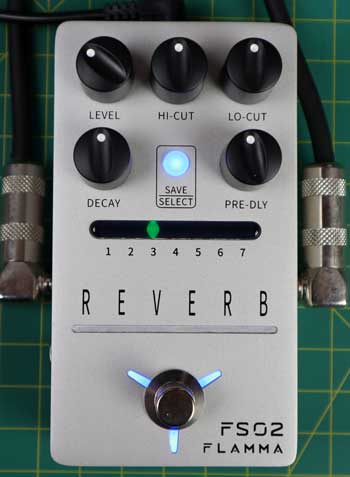 Check out my full review of the FLAMMA FS02 Stereo Reverb here which explains the pedal in full as well as showcases all of the reverb sounds.
While there has been a lot of talk about Amazon's range of cheap pedals (that are merely Lux brand pedals with the Amazon name slapped on them), I feel the pedals FLAMMA has released this year are worth far more attention. Check out my reviews of their FS06 Preamp pedal and their FS05 Multi Modulation pedal to find out more.
TC Electronic Plethora X5
It was only a matter of time until TC Electronic created the Plethora X5. They've covered pretty much every type of effect you might want in their single-effect pedals, so it makes sense for them to offer a unit that combines all of the algorithms they've built over the years.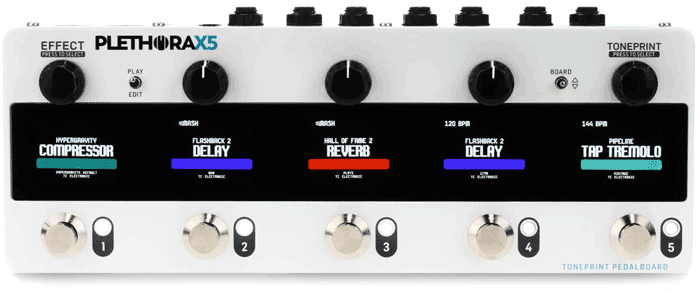 As you can see from the above photo, the Plethora X5 allows you to combine various effects together such as the popular Hall of Fame 2 reverbs, the Flashback 2 delays, or the Hypergravity compressor.
Instead of having to buy a bunch of TC Electronic pedals, you can buy the Plethora X5 and have access to pretty much everything you would want in one unit.
The Plethora X5 reminds me of a simplified version of the popular Zoom G5 (link to my review). The G5 was designed as a multi-effects pedal that acts like a series of stompboxes chained together.
While some guitarists like building up pedalboards filled with individual pedals, it can quickly become a pain when you want to switch between different combinations of effects. The advantage of something like the Plethora X5, the Zoom G5, or the Line 6 HX Effects pedals is that you can build a complete rig using one pedal.
I haven't had the opportunity to spent time testing out the Plethora X5 and I don't plan on buying one, but I can see how appealing it will be for a lot of guitarists. Being able to replace an entire pedalboard for live performances with this one unit is something a lot of guitarists might want to consider.
Check out the details and price of the Plethora X5 here (Amazon) or here at Sweetwater.
Strymon NightSky
Strymon produces some seriously-high-end pedals with seriously-high price tags to match. The Strymon Timeline is one of the best delay pedals you can get and the BigSky has been a popular reverb pedal for many years.
The Strymon NightSky instantly grabbed my attention as somebody who loves experimenting with lush and atmospheric reverbs.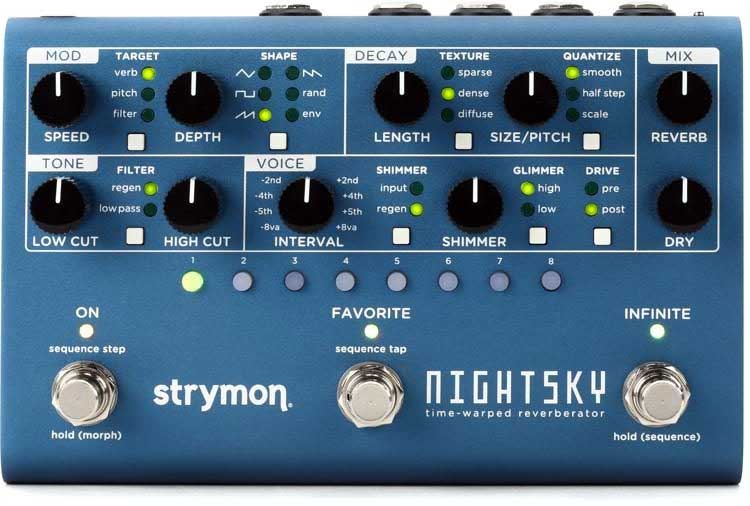 One look at the above pedal and it should be clear that this isn't for everyone. If you like the idea of a simple reverb to add a bit of color to your guitar tone, this isn't for you (check out the FLAMMA FS02 above instead).
This pedal is for guitarists who want to dig into experimental soundscapes and shape their reverb with modulation to suit each song.
I would personally be happy if the pedal only included the various modulation controls, but it also packs in an 8-step sequencer. If you've never experimented with sequencers before with your effects, they can produce some wild sounds (check out my review of Guitar Rig 6 as an easy way to get into sequencers).
Check out the price and full run-through of the Strymon NightSky at Sweetwater here.
BOSS GT-1000CORE
The BOSS GT-1000CORE is an interesting pedal. It basically takes the brains of the GT-1000 and packs it into a smaller enclosure.
You lose out on the expression pedal and you only get three footswitches instead of ten, but you still get the same tones and effects.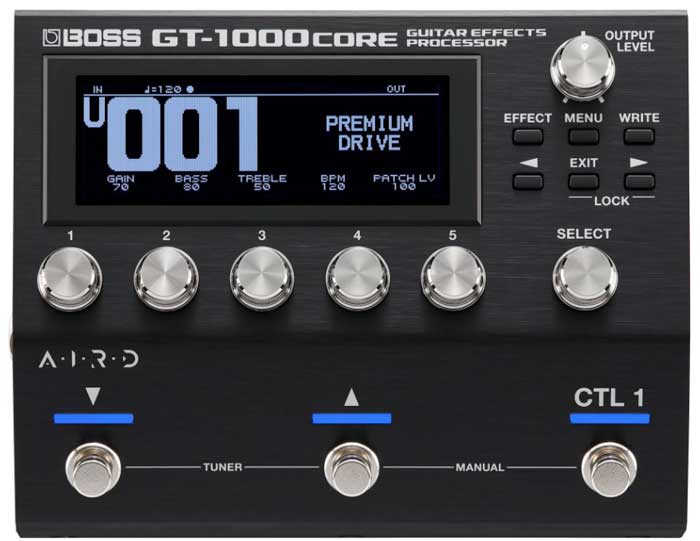 With the big success Line 6 have had with taking their Helix algorithms and packing them into smaller enclosures such as the HX Stomp, it makes perfect sense why BOSS would want to do a similar thing with their very popular GT-1000 pedalboard.
Having a smaller pedalboard while keeping the same quality tones and effects makes this a great option for any guitarist wanting to start simple and build up from there.
You could get the GT-1000CORE and add an external expression pedal to access the pedal's wahs or other expression effects.
Alternatively, you could add the GT-1000CORE to your existing rig in the same way that some guitarists add a HX Stomp to access a wider range of effects or amp models.
Check out the price and full details of the BOSS GT-1000CORE at Sweetwater here.
Line 6 POD GO
I was surprised when Line 6 announced the POD GO. It seemed so unnecessary when they already have the HX Stomp, HX Effects, and Helix pedalboards.
Check out my comparison of Line 6's multi-effects pedals here for more information on how each pedal compares and which one might suit you best.
The main difference between the POD GO and other pedalboards such as the HX Stomp or HX Effects is that the POD GO was designed to be an all-in-one unit. The HX Stomp or HX Effects were designed to work with any existing rig. You can easily add one of those pedals to any rig and get great results.
The POD GO is meant for guitarists who only have a guitar and an amp right now. You can buy the POD GO (instead of the more expensive Helix pedalboards) and do everything with this one unit.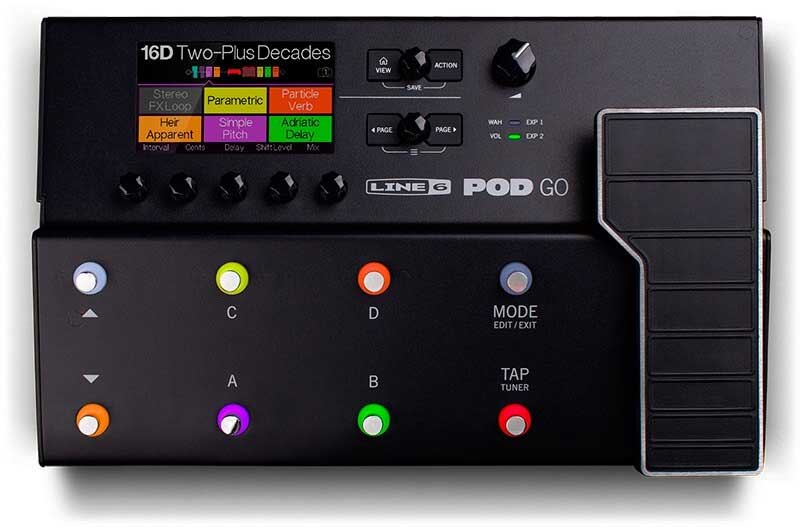 As you can see from the above photo, the POD GO is a simple pedalboard compared to other units such as the Helix. It packs in all the essential features and a clear color-coded system that makes it easy to figure out what your pedal is doing.
While I was skeptical of the POD GO at first, I can understand why Line 6 created it and why it will appeal to some guitarists.
Check out the Line 6 POD GO at Sweetwater here.
Best Pedals of Previous Years
One thing to keep in mind with brand new releases is that they also come with a lot of hype. Every new pedal is sold to us as the best thing they've ever done and a must-buy.
Some of the pedals covered above will probably be popular for many years into the future. Some of them may fade away within a few months.
There are some pedals from a few years ago that are still raved about today. If somebody is still raving about a pedal from 2018 or earlier, it means the pedal is actually good – it's not just due to YouTubers or marketing pushing up the hype for a brand new pedal.
That's why if you're interested in getting a new pedal, I suggest checking out some popular pedals of previous years.
Check out my picks for the best pedals of previous years here:
The best news about best pedals of previous years is that you can usually buy them at a serious discount (new or used). Don't just look at brand new releases when looking for something to add to your rig – some slightly older pedals may end up the better choice for you.