The FLAMMA FS02 Stereo Reverb is a low-cost reverb pedal that packs in a lot of different reverb effects. Find out in this review whether the FS02 is the right reverb pedal for you.
Check out my Ultimate Guide to Reverb Pedals to learn more about reverb as well as other reverb pedals.
FLAMMA FS02 Stereo Reverb Features
Here are the main features of the FS02:
Seven reverb types: Room, Hall, Church, Cave, Plate, Spring, Mod
Stereo input and output
Preset storage for all seven reverb effects
Hi-cut and low-cut knobs
Buffer bypass to allow reverb trails
Check out the price and full details of the FS02 here (link to Amazon for price and reviews).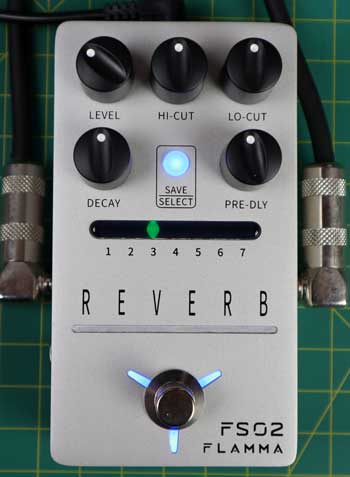 FS02 Ease of use
What I like the most about the FLAMMA pedals I've tried is the seven-segment preset strip in the middle of the pedal:

In this pedal, the seven segments are used to select the seven different types of reverbs. You press the Save/Select button to toggle between the reverb types and a different colored light appears for each position.
The different colors mean you can look down at the pedal and instantly know which preset or reverb is active. Of course, you do need to memorize what reverb matches the colors and positions. As the reverb types aren't labeled on the pedal, this can be a bit confusing.
Here are the seven reverb types as numbered on the pedal:
Room
Hall
Church
Cave
Plate
Spring
Mod
Unlike other guitar pedals that offer multiple reverb types, you can actually save presets for each reverb on the FS02. The seven reverb positions also allow you to save one preset per position.
If you dial in the perfect reverb setting, you hold down the Save/Select button to store the preset. The preset indicator will flash a few times to let you know you have saved a preset.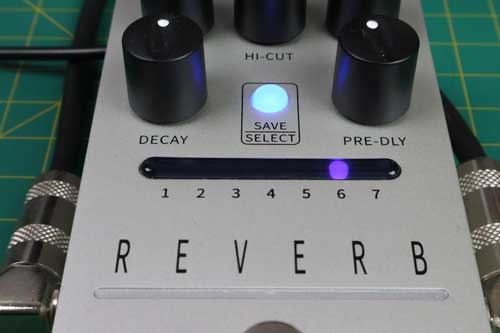 This means you can dial in the perfect reverb for each of the seven positions. This is much better than other pedals where every time you change the reverb type, you need to tweak the other knobs to dial in the right settings for that reverb.
If you tweak any knob, you'll see the preset indicator start flashing to let you know the settings you're using are unsaved.
The only downside is that once you save a preset, there's no way to find out what the settings were when you go back to it in the future. So if you wanted to slightly change one knob's setting for a saved preset, you need to figure out all of the knob positions or else you'll completely change your preset. It's not ideal, but still better than typical reverb pedals.
Overall, the FS02 is simple to use once you learn what all the seven positions are. You can dial in the perfect settings for each reverb, save the preset, then toggle between the reverbs as you like.
It's a simple pedal that offers more than some pedals at double the price.
FS02 Sound Quality
For a low-cost pedal, the sound quality is surprisingly high. Some of the reverbs sound like typical basic room or plate reverbs you hear in any other pedal. But other reverbs like the church, cave, and mod truly surprised me.
Reverb Types
Some reverb pedals only offer one type of reverb while others offer a range of types. The FS02 has seven types of reverb built-in, which is more than enough for most guitarists.
Here are my thoughts on the seven reverb types:
Room: typical basic reverb that works well in a lot of different guitar tones
Hall: creates a larger and longer reverb sound that suits clean tones and some drive tones
Church: I really enjoy the shimmer sound this effect creates. Works really well for ambient tones and lush soundscapes
Cave: as you might expect, this reverb adds an interesting color to your tone and works well with clean tones
Plate: a typical short reverb sound that works with everything
Spring: does a good job at recreating the classic spring reverb you hear in vintage amps
Mod: adds a subtle modulation to the reverb and sounds great with clean tones or playing lead
I personally like to use lush ambient-like reverbs on my clean tones, so it should be no surprise that I really enjoyed the Church, Cave, and Mod reverbs. The other reverbs are typical types that you expect to see in any reverb pedal. For me, this pedal shines when you make use of the shimmer in the Church reverb, the way the Cave reverb colors your tone, and the modulation in the Mod reverb.
The FS02 has a buffer bypass to allow reverb trails to continue after you turn the footswitch off. This is a great way to gently stop the reverb rather than having a hard cut in the reverb when you hit the footswitch.
You can turn the trails function off by holding the footswitch down then powering up the pedal (the footswitch LED will be red when trails are disabled and blue when enabled).
Tweakability
A simple reverb can produce a wide range of sounds if you're given enough control over different parameters. Load a professional-grade reverb plugin into a DAW and you might be shocked by how many parameters you can tweak and change.
The FS02 gives you five knobs in total to dial in your reverb sounds: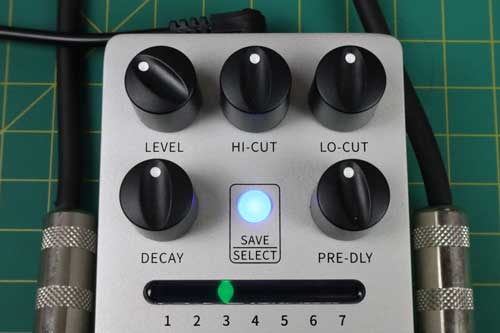 Compare this against the popular Hall of Fame Reverb by TC Electronic, which only gives you three knobs to tweak the sound: level, decay, and tone.
The decay knob and pre-delay are common on other reverb pedals and you can get a nice range of reverb sounds out of those two knobs.
Where the FS02 really shines is with the Hi-cut and Lo-cut knobs.
These two knobs allow you to control the frequency range the reverb will use behind your guitar tone. You're able to go from your reverb working over the full spectrum, or narrow it down to a specific area.
I'll try to explain why this can be so useful. Imagine you're arpeggiating some clean guitar chords and you want a lush reverb to make those chords feel massive. With a normal reverb pedal, the reverb and the guitar signal will blend together and clash.
But what you can do with the Hi-cut and Lo-cut knobs is change where the reverb sits behind your guitar. You can cut all of the high frequencies so you end up with a very warm reverb that clearly sits behind your guitar tone. It's sort of like giving your guitar tone room while still providing an underlying lush soundscape.
Most reverb pedals will have a tone knob where you can do something similar, but being able to actually dial in both a low and high-frequency cut is a massive improvement over how much control you have over the sound.
This is the first reverb pedal I used that was able to achieve this level of control outside of a reverb plugin in a DAW. Other reverb pedals such as the Strymon Big Sky give you plenty of control over your reverb effects, but it's great to see a budget-level pedal offering this level of control.
Stereo Input and Output
While the chances are you play a completely mono rig, it's good to know you have the option of switching to stereo in the future if you want.
Pedals towards the end of your effects chain such as modulation, delay, and reverb often offer stereo inputs and outputs. The FS02 includes both stereo inputs and outputs.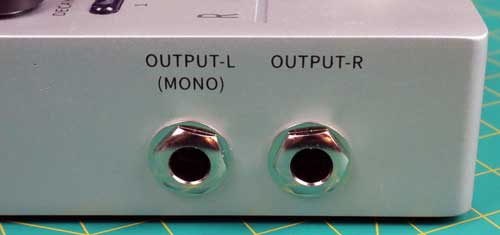 This means if you wanted to run a stereo rig, you can make full use of the FS02 in your pedal chain.
How much of a difference you hear when going from mono to stereo depends on what type of reverb you set. If you're using a short and subtle reverb, you're not going to hear any difference between the two signals. But when you use long and lush reverbs, the stereo effect starts to become obvious and you notice how the sound fills the room.
Overall impression of the FS02 Reverb Pedal
I was pleasantly surprised by the FS02. I didn't expect a low-cost reverb pedal to sound as good as it does. The long and lush reverb soundscapes possible in this pedal sound just as good as pedals that cost twice as much.
I like the seven-segment preset selector, but it's a shame the reverb types aren't labeled on the pedal like other FLAMMA pedals.
Being able to save presets for every reverb type is a big plus. You can dial in the perfect sound for each type of reverb, then easily change between them as you like. I prefer this over other pedals where you need to start from scratch any time you change the reverb type knob. It's a great feature to have and more pedals should use it.
If you use a stereo rig, you'll be able to make full use of the FS02's stereo input and output capability. I'm always disappointed when I see a reverb pedal without stereo input and output, so it's great to see a proper stereo reverb pedal at the budget-level.
Check out the price and full details of the FS02 here (link to Amazon for price and reviews).
FS02 Reverb Pros
Great range of reverb effects with excellent sound quality
Stereo input and output
The ability to save presets for each type of reverb is incredibly useful
The hi-cut and lo-cut knobs are great tone-shaping tools
Very low cost compared to other reverb pedals
Pedal construction and knobs feel solid
FS02 Reverb Cons
Requires a 300mA power supply (not included)
No battery power option
The different types of reverbs aren't labeled on the pedal
Who is the FLAMMA FS02 Stereo Reverb for?
The FS02 is a fantastic reverb pedal for anybody who is serious about reverb but doesn't see the need in spending hundreds on a massive unit. The Strymon Big Sky might be an incredible reverb pedal, but it's overkill for most guitarists.
If you like the idea of switching between different types of reverbs for different songs or tones, the FS02 may suit you. You can easily switch between seven presets (one per reverb type), which is far more useful than most other reverb pedals.
If you want to experiment with atmospheric or ambient soundscapes, the FS02 does a great job. You can use this pedal for basic reverbs as well, but it really shines when you crank it. The Hi-cut and Lo-cut knobs allow you to shape the reverb tone in a way that many other reverb pedals can't match.
Who isn't the FLAMMA FS02 Stereo Reverb for?
While the FS02 does allow you to store presets, you need to use the preset button to toggle between them. If you need to easily switch between different reverbs in a live performance, you may prefer a reverb pedal that has an extra footswitch for preset selection.
How to get the most out of the FLAMMA FS02 Stereo Reverb
Here are some tips to get the most out of the FS02:
Play in stereo if possible. Combining stereo reverb with other stereo effects can give you a massive sound
Learn to use the hi-cut and lo-cut knobs to shape your reverb tone
Learn when to use each type of reverb effect. Once you know when to use a plate vs hall reverb, you start to find reverb becomes far more useful
Use the right power supply. If a power supply is only rated at 100mA, don't use it with this pedal
If you want to get the most out of the FS02 or any other pedal, check out my Guitar Effects Course.
The course covers reverb as well as every other type of effect in detail. You'll learn how to order your pedals, how to combine effects, set up different tones, and more.
Hear the FS02 Reverb in Action
Here's a walkthrough of all 7 types of reverbs and the different features in the FS02:
The above demo only uses the pedal in mono as I didn't have a suitable audio interface on hand. The pedal works in both mono and stereo.
Subscribe to my YouTube channel here for updates and new videos.
Alternatives to the FLAMMA FS02 Stereo Reverb
A close alternative in terms of features is the TC Electronic Hall of Fame Reverb pedal. Keep in mind that it is significantly more expensive than the FS02, but it does pack in a lot of reverb types and offers stereo input and output.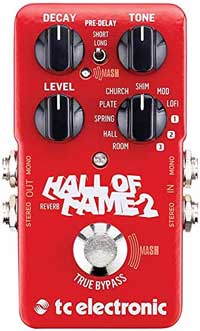 The Hall of Fame Reverb has been popular for many years as one of the best reverb pedals. But when you compare the price of it against the FLAMMA FS02, it might leave you wondering what extra you're getting for the much higher price tag.
Of course, there are plenty of other pedals to choose from, so if you're looking for something else in a reverb pedal, check out my Ultimate Guide to Reverb Pedals for more recommendations.
Summary
Reviewer
Review Date
Reviewed Item
FLAMMA FS02 Stereo Reverb Pedal
Author Rating





Product Name
FLAMMA FS02 Stereo Reverb Pedal