How to find the best reverb pedal for you
Here is the most important point I would like you to remember when reading this buyer's guide or any other 'top 10' list: There is no one best reverb pedal
The type of reverb pedal that's the best for you will be different to what's the best for other people. Keep this in mind when somebody claims that X is the best reverb pedal or if you see a 'Top 10 Reverb Pedals' list somewhere online. This is the same advice I give in my Delay Pedals Buyer's Guide – the best pedal is the one that fits your individual needs as a guitarist.
This buyer's guide will help you work out what type of reverb pedal will be the best for you. I will explain what options there are, what features to consider and whether a pedal may or may not suit you. By the end you will know exactly how to find the right reverb pedal for you.
What is important to you in a reverb pedal?
There are so many reverb pedals available today that it can be overwhelming trying to find the one right for you. There are quite a few different types of reverb effects available and each give a very different sound. Some reverb pedals even mix in different effects in the one pedal such as delay or modulation.
Have a think about what you want your reverb pedal to do. Do you want it to be simple so you can just leave it on and forget about it? Or do you need a lot of flexibility so you can get the perfect reverb for different songs?
Do you want to have different types of reverb such as spring, plate or hall or are you looking for one unique sounding reverb to give your tone something fresh compared to other guitarists? Everybody will answer these questions differently which means everybody will have a different 'best reverb pedal'.
Here are a few important things to consider when working out what is the best reverb pedal for you:
Value: how much do you want to spend on a reverb pedal?
Simplicity: do you want an easy-to-use pedal or are you happy to deal with a more complex pedal to get more out of it?
Flexibility: are you looking to achieve one main reverb sound or do you need to be able to tweak and switch between different reverb types?
Presets: do you like the idea of saving different presets or are you happy to need to manually adjust the pedal to change to different settings?
Quality: do you want the best quality pedal, regardless of cost or are you happy with a good quality pedal at a great price?
Size: does the size of the pedal matter to you? How much pedalboard space do you have available for a reverb pedal?
Think about the above points before you continue so you know what's important to you in a reverb pedal.
Reverb Pedal Features to Consider
Let's go through the most common reverb pedal features so you can decide which ones are important to you. Not all features will be relevant to you and no pedal will have every feature covered here. So think about which features are the most important to you and which ones you don't need.
Types of Reverb
Just like delay, there are quite a few different types of reverb – especially when they're mixed with effects. The main types of reverb worth thinking about are Hall, Plate, Room & Spring.
Spring reverb is where a long metal spring vibrates and a pickup captures that vibration. It has a very distinctive sound and if you shake the spring reverb device you can usually hear the metal spring shaking.
Some amps (especially vintage amps) have built-in spring reverbs while today it's usually emulated digitally (it's not very practical to have a real spring reverb pedal in most pedalboards!).
Plate reverb is similar to spring reverb with the main difference in that it uses a sheet of metal instead of a spring. The sheet vibrates from a transducer and a pickup captures that vibration.
Hall & room reverbs emulate what you naturally hear in large empty rooms or halls.
Most pedals that offer room or hall reverb allow you to control the size of the room to achieve anything from a small subtle effect all the way to a massive church like reverb.
Here's a great video showcasing a few different types of reverb so you can get a feeling for what's available:
The pedals I will cover in this guide are all digital pedals. Digital pedals produce excellent reverb effects. Just keep in mind that if you're looking for the best spring reverb pedal for a vintage sound, you might want to look at devices that actually use a spring to produce the reverb. As most guitarists prefer the convenience and practicality of stompboxes, I won't cover analog spring reverb pedals in this guide.
To learn more about the different types of reverb (along with every other effect type), check out the Guitar Effects Course here.
Stereo
This is an important feature to consider as not all reverb pedals are stereo. As the reverb pedal is often one of the last effects in a guitarist's effects chain, whether it is stereo or not will impact your entire signal chain. If you don't want to run a stereo rig, then you don't need to worry about this. But if you do run a stereo rig or might in the future, you will need a stereo reverb pedal.
Take a look at your current pedals and how many are stereo. This should give you a good indication on whether you might want to get a stereo reverb pedal. So if all of your pedals are mono, then it's not going to impact you. But if you have a stereo delay pedal, stereo chorus or any other late in your signal chain, consider getting a stereo reverb pedal.
True Bypass
Whether the reverb pedal you choose uses True Bypass, a buffer or allows you to switch between the two is important – more than other types of effect pedals. Remember that reverb creates a sound that trails off even after you stop playing (similar to delay).
If you have a reverb pedal that uses True Bypass and you hit the bypass footswitch as the reverb trails off, it will cut the effect off before it naturally fades away. It's very jarring to hear a reverb cut out all of a sudden.
So while True Bypass is usually recommended with other types of effect pedals, it can create a problem with reverb. Alternatively, when a reverb pedal uses a buffered bypass, this problem doesn't apply. The reverb will continue to naturally trail off after you hit the bypass footswitch.
If you plan on having your reverb pedal active all the time, then this isn't an issue at all and True Bypass won't cause a problem. But if you plan on only using reverb at certain times and will be turning it on and off regularly, then keep this in mind.
The Best Reverb Pedals by Category
There are countless reverb pedals available today and it's impossible to pick out the best one. Instead, I'll split them up into different categories you might want to think about. In each category, I'll give a pedal that's worth looking at if that category fits your needs.
The pedals I list below are all excellent quality and highly recommended. But as I've mentioned, there are countless reverb pedals available so use my suggestions as a starting point and if you find another pedal that meets your needs, then that pedal is the best for you. This is a buyer's guide so use it as a guide.
Best Reverb Pedal for Simplicity
As you will see in the reverb pedals later, there are a lot of different features that can be crammed into a reverb pedal. The Holy Grail Nano by Electro-Harmonix stands out as one of the simplest reverb pedals you can get.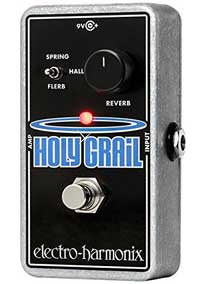 It has two controls: a knob to control the level of reverb and a toggle switch to choose between three reverb types (spring, hall, 'flerb'). The Flerb mode is a combination of reverb and a flanger which can produce a very unique tone when used at the right time.
Holy Grail Nano Pros:
Compact size fits on any pedalboard
Easily switch between three distinctly different reverbs
Holy Grail Nano Cons:
Not stereo
Only True Bypass
Check out the Holy Grail Nano here for pricing and full details (link to Amazon).
Best Reverb Pedal for Flexibility
This was a hard choice between the BOSS RV5 and the Hall of Fame Reverb by TC Electronic. Both offer a similar set of features and both are extremely popular. The RV5 has been around for a long time and has stood the test of time as an excellent reverb pedal.
The reason I recommend the Hall of Fame for this category is that it contains more modern features. The RV5 has 6 different modes while the HOF has 11 modes. Those extra modes give you the ability to find the perfect reverb type for any song you want.
As with all modern TC Electronic pedals, the HOF also has the TonePrint feature which allows you to tweak and customize your own preset.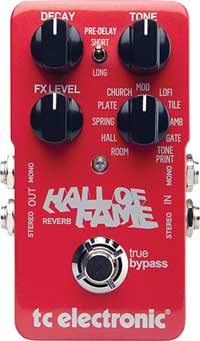 I also feel this would be the best reverb pedal for acoustic guitar. With acoustic guitar, the ability to tweak your effects to just the right level can make or break your overall tone. As this is a stereo pedal, it would also suit acoustic guitarists looking at producing a wide sounding stereo tone for gigs.
The modulation effects mixed in with some of the reverbs could help you craft a unique tone most other acoustic guitarists wouldn't think about. If you're looking for a reverb pedal for acoustic guitar, I recommend the Hall of Fame Reverb.
Hall of Fame Reverb Pros:
Wide range of modes
Stereo
Ability to switch between True Bypass or Buffered bypass
Hall of Fame Reverb Cons:
If you don't have a smartphone or want to connect the pedal to your computer, it's best feature won't be useful to you
Check out the Hall of Fame pedal here for pricing and full details.
Best Premium Quality Reverb Pedal
If you want the best quality reverb pedal available and don't care about the cost, there are two choices worth considering: BigSky by Strymon and Space by Eventide. Both pedals are highly praised and have a large following of guitarists who use them.
I recommend the Eventide Space as the best in this category as it has a few advantages over the BigSky. But either pedal can produce amazing results.
I also feel the Eventide Space would be the best reverb pedal for ambient sounds. The ability to store countless presets and mix and match different effects allows you to create anything from lush soundscapes to unusual or quirky effects.
While some of the other reverb pedals here might be suitable for ambient sounds, the Eventide Space gives you much more flexibility, quality, and tweakability.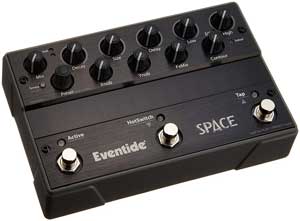 Eventide Space Pros:
Large range of studio quality reverb effects
Stereo
Massive number of presets and the ability to create your own presets
Highly tweakable so you can dial in the perfect reverb
Plenty of flexibility such as expression pedal input, aux switch, USB for updates and line level adjustments
Able to switch between True Bypass and buffered bypass
Eventide Space Cons:
Bigger learning curve than other pedals
Check out the Eventide Space pedal here for price and full details.
Best Reverb Pedal for Quality & Value
The Cathedral by Electro-Harmonix is an excellent quality reverb pedal. While it may not be on the same level as the Space of BigSky pedals above, the reason this pedal stands out is that it's less than half the cost of those pedals. That means the Cathedral gives you excellent quality reverb at a much lower cost than what you would pay for the Eventide Space.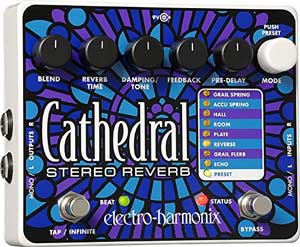 Cathedral Pros:
Excellent quality
Stereo
A wide range of different reverb types
Excellent control over the effect
The Infinite feature is very useful
Cathedral Cons:
Large size may take up too much room on some pedalboards
Check out the Cathedral pedal here for price and full details.
Best Reverb Pedal under $100
Most budget reverb pedals offer you one or two types of reverb with basic controls. Most of the options I saw weren't stereo and had minimal controls.
A surprisingly flexible reverb pedal well under $100 is the FLAMMA FS02 Stereo Reverb (link to Amazon for price and details).
This pedal packs in the features you would typically only see in pedals two or three times the price.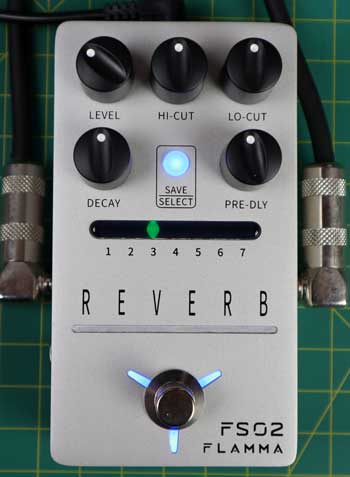 This reverb pedal includes seven types of reverb effects and even allows you to save a preset for each reverb type. If you're interested in playing around with different types of reverb effects but don't want to spend a lot on a pedal, this is an option worth considering.
FLAMMA FS02 Reverb Pros:
Great range of reverb effects with excellent sound quality
Stereo input and output
The ability to save presets for each type of reverb is incredibly useful
The hi-cut and lo-cut knobs are great tone-shaping tools
Very low cost compared to other reverb pedals
FLAMMA FS02 Reverb Cons:
Requires a 300mA power supply (not included)
No battery power option
The different types of reverbs aren't labeled on the pedal
Check out my review of the FLAMMA FS02 here for full details.
Other Reverb Pedals Worth Checking Out
The chances are at least one of the above pedals will suit your needs as a guitarist. But if you're looking for something a bit different, the following reverb pedals are all excellent quality and worth checking out:
As I mentioned at the start of this guide, there are countless reverb pedals out there. It's very easy to get lost in all the features and brands so sticking to the pedals listed here will help you save a lot of headache.
Think about what features are most important to you then check out the pedals I recommend above.
Found this guide useful? Please share it on social media to help support this site (if you use Pinterest, please pin the below photo).