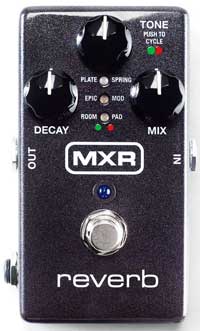 Reverb is an effect that can turn a stale clean tone into an epic and lush soundscape. Or you can use it to enhance your lead tone in a way that just can't be achieved with a delay pedal. Because delay is so popular, using reverb instead in some situations can really give you a unique feel. In this review I will look at the MXR M300 Reverb and how you can use it to give your tone an inspiring and unique edge.
Also, check out my Ultimate Guide to Reverb Pedals to find out more on reverb and some alternatives to the MXR M300 Reverb.
MXR M300 Reverb Features
Check out the price and full details of the M300 Reverb here. Here are the main features worth mentioning:
Six reverb types: Plate, Spring, Epic, Mod, Room, Pad
True Bypass or Trails Bypass modes with 100% analog dry path
Wet Mode: only sends the wet signal to your amp
Stereo mode available by setting an internal switch and using TRS cables
Cycle through the reverb types by pushing the tone knob
Optional expression pedal to blend between two settings of your choice
Ease of use
As you would expect from a pedal with only three control knobs, it's very easy to use the M300 Reverb. You select the type of reverb you want by pushing the Tone knob down. The three LEDs in the middle will cycle through the six reverb types which is a nice way to instantly see what type of reverb is selected.
Pushing down on the Tone knob does mean you could potentially switch between different reverbs using your foot rather than having to bend down and use your hand. While that sounds handy, I don't really see many situations where it would be important to change reverb types in a song. But it does mean there are fewer buttons and knobs to deal with so it's a nice feature.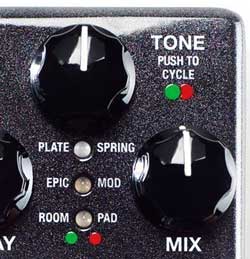 For many guitarists, it's pretty important for a reverb pedal to accept a stereo input and output. As reverb will usually be one of the last effects used, if you run a stereo rig and use other stereo pedals, you will want to make sure you get a stereo reverb pedal.
The M300 is a stereo pedal although it might not look it at first glance. Unlike other reverb pedals which give you two inputs and two outputs, the M300 only gives you one of each. To run it as a stereo pedal, you first need to set an internal switch to stereo. Then you need to run TRS cables to and from the M300.
While TRS cables are a very clean and tidy way to run a stereo rig, it isn't very common with guitar pedals. Guitarists are used to running two cables in and out of stereo pedals so if you buy the M300 and want to run it stereo, make sure you buy two sets of TRS splitter cables so you can connect to your other gear.
Find out more about TRS cables in this Guide on Audio and Data Cables for Guitarists.
If you want to connect an expression pedal to blend between two different settings (not reverb types), the DVP3 (shown below) or DVP4 is recommended. It's an expensive addition, but if you're looking for ways to dynamically change reverb on the fly, it's a nice feature to have.
The M300 is set to True Bypass by default, which isn't ideal for a reverb pedal. While True Bypass may suit some situations, it's generally better to use the Trails Bypass mode so your reverb will never cut off unnaturally if you bypass the pedal.
To switch to the Trials Bypass mode, you need to put the pedal through a start up sequence explained in the manual here. It's disappointing to see this as other pedals tend to simply use an internal switch. But as you will probably only set it once if you want to use that bypass mode, it's isn't too big a deal.
Sound
The below video is an excellent showcase of the different reverb effects you can achieve with this pedal.
In my review of the MXR Carbon Copy Analog Delay, I was impressed with the sound quality. It was a warm and inspiring delay that can sometimes be lacking in other delay pedals. When I tried the M300 Reverb I expected it to be just like any other reverb pedal. In a way it is – you know what a plate, spring or room reverb sounds like and that's what you get.
But what I really enjoyed were the other reverb types – the Epic, Mod, and Pad reverbs. Each one really impressed me. I've played other pedals where there were quite a few 'gimmicky' or impractical reverb types thrown in to make it look better. But with this pedal, I really felt inspired by each one and could easily use them on various songs.
Here is a quick overview of the different reverb types:
Plate: a typical studio-style plate reverb. Pretty standard reverb and it does the job well.
Spring: a classic guitar amp reverb instantly recognizable by guitarists. If your amp doesn't have a spring reverb and you want to get that vintage sound, it's a really fun reverb to use.
Epic: this is actually multiple delays interconnected and modulated to form a lush hall-like reverb.
Mod: a modulated plate reverb. If the Plate reverb sounds too plain or dull, try Mod instead. I feel it adds a nice amount of color into the effect without it feeling overwhelming.
Room: simulates reverb you would hear in a small room. The simulated reflection gives a nice slapback sound but not quite like a slapback delay.
Pad: my favorite reverb when noodling. This reverb adds in an octave up and down synth style effect. You can adjust whether you hear the octave up, down or both with the Tone knob. As you can hear in the above video, it's a very lush effect. Of course you can tone it down using the Decay knob if you want a subtler effect.
While other pedals such as the Hall of Fame Reverb may have more types of reverb, I feel the M300 covers all the important bases and should fit most guitarists' needs for reverb.
Overall impression
I think about the M300 Reverb in a similar way as I do with the Carbon Copy. Sure, there are plenty of other delay pedals that have more features than the Carbon Copy, but there's something about how it sounds that just grabs you. The Carbon Copy is an incredibly popular delay pedal because it delivers a great sounding delay.
Likewise, the MXR M300 Reverb delivers six excellent sounding reverbs that just grabs your attention. For some guitarists, the range of reverb or the level of control over each effect may not be enough. There are other pedals where you have greater control over different parameters. But if you're not too concerned about fine-tuning and just want a great sounding reverb, it's hard to go past the M300.
Check out the price and full details of the M300 here (link to Amazon).
Pros
Outstanding sound quality
Nice variety of reverb types
Choice between True Bypass and Trails Bypass modes
Cons
Stereo input/output requires the use of TRS cables and setting of internal switch
External power only (no battery)
Setting Trails Bypass or Wet mode is annoying
Who is the MXR Reverb for?
If you want a simple reverb pedal that covers all the main types of reverb, then the M300 should suit you. The pedal is easy to use and sounds fantastic. The types of reverb available are inspiring and give you plenty to play around with.
Who isn't the MXR Reverb for?
If you need a wide range of reverb types or a lot of control over the effect, the M300 may be a bit lacking for your needs. Other pedals such as the TC Electronic Hall of Fame or Eventide Space will give you more features and control.
How to get the most out of the MXR M300 Reverb
The video earlier is an excellent showcase of how you can use the MXR M300 Reverb. I recommend slowly working through each type of reverb and try to play in a style that suits each reverb type. For example, when you play the Room or Spring reverb, try to play some surf rock riffs. When you use the Pad reverb, aim for a more ambient style of playing.
After you get a feel for each type of reverb, you can then move to your normal style of playing and see which types of reverb suit your style.
Finally, experiment with adding other pedals into the mix. Start with a plain Plate reverb and add in a chorus pedal. Or use the Spring reverb with a fuzz distortion. See how many different combinations you can come up with and how it changes the way you play.
Alternatives to the MXR M300 Reverb
A close alternative worth considering is the TC Electronic Hall of Fame Reverb pedal. It's worth comparing to the MXR M300 as it has a wider range of features and a lower price. So if you want more flexibility, features, and control, it's a good alternative.
Of course, there are plenty of other pedals to choose from, so if you're looking for something else in a reverb pedal, check out my Ultimate Guide to Reverb Pedals for more recommendations.
Summary
Reviewer
Review Date
Reviewed Item
Author Rating





Product Name