Every year a lot of guitar pedals come out and there have been plenty of interesting pedals in 2017 worth checking out. Let's have a look at some of the best guitar pedals in 2017 and whether you might want to add some of them to your pedalboard.
Electro-Harmonix Canyon Delay and Looper
While there are already a lot of great delay pedals to choose from, EHX's Canyon grabbed a lot of attention in 2017. It's an incredibly flexible pedal that offers quite a few different types of delays, looper and effects. It's a similar pedal to TC Electronic's Flashback delay, but a lot of guitarists seem to prefer the Canyon for its sound quality and effects.
Here are the modes available on the Canyon (as shown to the right):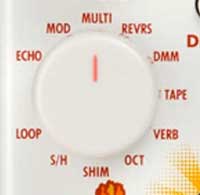 ECHO: digital delay
MOD: modulated delay
MULTI: multi-tap delay
REVRS: reverse delay
DMM: Deluxe Memory Man
TAPE: tape delay
VERB: reverb plus delay
OCT: octave delay
SHIM: shimmer
S/H: sample and hold
LOOP: looper mode w/max loop length of 62 seconds
In the below video you can hear the above modes in action:
If you're looking for a very flexible and high-quality delay pedal and don't need stereo output, the Canyon is an incredibly solid choice.
Check out the price and full details of the Canyon Delay and Looper here.
TC Electronic Hall of Fame 2
TC Electronic's Hall of Fame has been an incredibly popular reverb pedal since it first came out. The wide range of high quality reverbs you could get out of it was a no brainer for a lot of guitarists.
The Hall of Fame 2 (click link to Amazon for the price and details) adds some extra features on top of what made the first version so good:
Three TonePrint slots to save your own custom reverb patches
Shimmer algorithms mix in some pitch shifted reverb sounds (up one octave)
Mash footswitch – turns the footswitch into a pressure-sensitive expression pedal (see video for examples)
Switchable True Bypass and Buffered Bypass modes
The below video gives a good overview of the Hall of Fame 2 with some clips of it in action as well as seeing how the Mash can be used:
If you already have the Hall of Fame, these features may not be enough for an upgrade, but if you're looking at buying a reverb pedal, the Hall of Fame 2 has some great sounds and features.
Check out the current price and details of the Hall of Fame 2 here.
BOSS RV-500
If you're looking for a reverb pedal but you're not sure whether the Hall of Fame 2 above is right for you, the BOSS RV-500 is a good alternative to compare.
Here are the main features of the RV-500 worth mentioning (check price and full features here):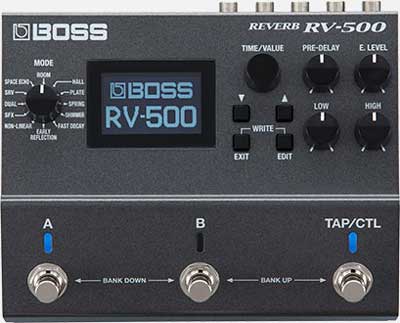 32-bit AD/DA and 96kHz sampling rate
21 modes with 21 reverb types
A/B Simul mode lets you use two reverb patches at once
Switchable between True Bypass or Buffered Bypass
MIDI I/O
Here are the modes available on the RV-500:
Room: small, medium, large, and ambience
Hall: three sizes
Plate: classic studio reverb
Spring: three different springs
Shimmer: two voices of pitch-shifted reverb
Fast Decay: quick decay for increased clarity
Early Reflection: four types with envelope parameters
Non-Linear: gate, reverse, and granular types
SFX: Lo-Fi, Slowverb, and Storm
Dual: two independent reverbs that can accept a full-range or frequency-divided input
SRV: recreates the Roland SRV-2000
Space Echo: recreates the Roland RE-201 Space Echo
As you can see, there's plenty of options available and each mode has plenty of editing capability to dial in the exact sound you're after.
As you can hear from the above video, the RV 500 suits guitarists looking at building up some ambient sounds and effects. While the Hall of Fame 2 does have some modes that might suit that need, the RV 500 is far more suitable.
Check the current price of the RV-500 here.
DigiTech FreqOut
For something a little different to typical delay or reverb pedals, the DigiTech FreqOut recreates feedback effects you can normally only achieve with a high amp volume.
My first impression of the FreqOut (before I tried one) was that it would be a gimmick that would get old very quickly. While feedback is fun to play with, I didn't think it was worth having a pedal dedicated to reproducing that sound. The below video shows how wrong I was and how useful the FreqOut can be:
The FreqOut is far more than just recreating feedback, it's about controlling your sustain, creating interesting sounds similar to an eBow and different ambient effects.
If you're looking for a way to add some texture to your tone, along with different sustain and pitch effects, I highly recommend the FreqOut. It's far more useful than I thought and a lot of fun to use.
Check out the price and details of the FreqOut here.
Electro-Harmonix Synth9
From the first time I tried the EHX B9 Organ Machine, I loved the way you could achieve non-guitar sounds with such authenticity. EHX have added quite a few pedals to this range and the EHX Synth9 takes things to the extreme by focusing on synthesizer sounds.
The clips in the below video will give you a good idea whether this pedal suits your style of playing or not:
If you listen to music that makes use of different synths, this pedal is worth checking out. Being able to reproduce some iconic synth parts on guitar is a lot of fun and a head-turner when playing live.
Check out the price and details of the Synth9 here.
HeadRush Pedalboard
While the Line 6 Helix LT also came out in 2017, I wanted to highlight the HeadRush Pedalboard as an alternative. The HeadRush is very similar to the Helix in terms of design and ease of use, but at a lower price point. For many guitarists it's a more sensible alternative to the Helix or the Helix LT.
As you would expect from a modern multi-effects pedal, it has a wide range of effects, amp models and features. What I want to focus on here is how easy it is to use. The main touchscreen is possibly the easiest way to set up and edit rigs than any other system I've seen. As we're all used to touchscreens in smartphones, it's very easy to figure out how to drag and drop pedals around in the chain, change parameters or assign foot controls.
In the below photo you can see the color coding and digital labels for each footswitch: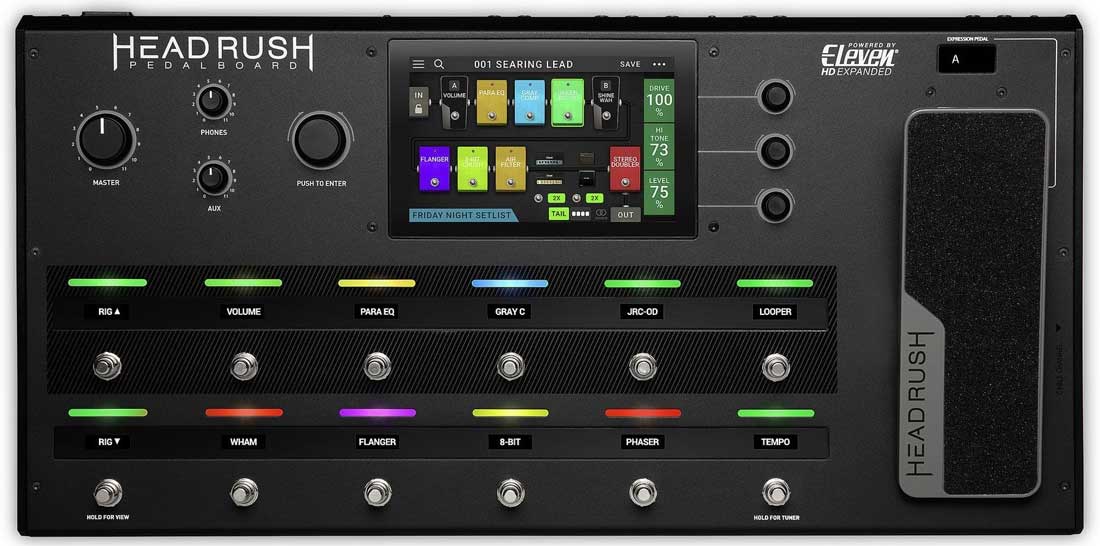 All of this can be customized to your liking from the color coding to touchscreen view. While the Helix and Helix LT are very easy to use, there's something about being able to drag pedals around with your finger rather than using knobs that just makes this pedalboard quicker and easier to learn.
It's also incredibly easy to edit parameters using your feet thanks to the color coded and digitally labels footswitches. For example if you wanted to change a distortion pedal's gain settings, you simply hold down that pedal's footswitch, then tap the gain footswitch (labelled digitally), then use the expression pedal to change the setting. It's nice to know there's an alternative to having to use your hands to make minor changes. Check out the below video at 6:30 to see this in action.
The below video shows how easy it is to use the pedal as well as a nice variety of sounds you can get from it:
While I haven't had the opportunity to spend enough time with the HeadRush to give a full review, the short time I had with it did leave a very lasting impression on me. If you're sick of learning how to navigate small menu screens and confusing layouts, the HeadRush is a very welcome change.
Check out the price and full details of the HeadRush Pedalboard here.
Best Pedals From Past Years
While the temptation is to get the latest and greatest pedals, a lot of pedals I've covered in the past are still incredibly popular today. Check out the pedals in these guides for some great options worth considering:
To stay up to date with new reviews, guides and lessons in 2018 and beyond, subscribe to my email newsletter here.
Summary
Article Name
Best Guitar Pedals in 2017
Description
Check out some of the best guitar pedals in 2017 and whether they deserve a place on your pedalboard.
Author