In this short guide I'll go through the best guitar pedals I've played in 2015. Last year I shared the best guitar pedals of 2014 based on pedals either I or my students own. I've managed to play around with quite a few guitar pedals this year and a few of them really stood out to me.
I have no doubt there are many other pedals worth adding to this list, but I'm only going to go through the pedals I've managed to play with. Some of these are pedals I haven't had the opportunity to write a review on but are still highly recommended.
BeatBuddy by Singular Sound
While there are plenty of drum machines out there, BeatBuddy stands out for it's excellent design and features. The ability to go through a massive range of patterns and switch in different fills intros/outros makes it very versatile and useful as a guitarist.
The quality of the kits are fantastic and the fact that the beats are non-quantized means you get a more human feel out of them. One of the best features is that you can create your own patterns and songs on PC/Mac and load them onto the pedal.
Other important features include MIDI Sync, SD card, external footswitch input, USB. Singular Sound have done a great job in planning out the features for this pedal.
Why the BeatBuddy is worth considering:
Large LCD screen with visual metronome & color coding (eg: yellow for fill, red for intro/outro, etc.) is very useful while you're jamming along
Compact stompbox format is far more practical for guitarists than most drum machine devices
Ability to create your own songs/patterns and load them on to the pedal gives you plenty of flexibility over what is already included
The online library and community content gives you plenty of sources for inspiration
If you don't already have some sort of drum machine, then I highly recommend the BeatBuddy. It's far more flexible than playing along with backing tracks and can be an excellent songwriting/creativity tool. It's one of those things where you don't know what you're missing out on until you get one.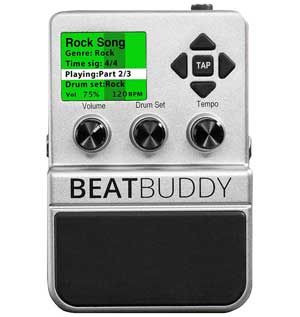 Check out the price and full details of the BeatBuddy here.
Extra tip: to get the best sound out of the BeatBuddy, I recommend sending its signal to a full range speaker (eg: PA or stereo system). A guitar amp isn't designed to sound good with drum machines and will sound muddy.
It might be a bit of extra cabling, but it's definitely worth it. If you don't have another speaker system available, use your amp's effects loop if it has one.
TC Electronic Viscous Vibe
As I'm a Hendrix and Gilmour fan, I love experimenting with Uni-Vibe pedals. If you want to play around with a Hendrix/Gilmour-type tone (check out my guides for David Gilmour and Jimi Hendrix for detailed tips), then having a vibe pedal is crucial. While I've enjoyed most vibe pedals I've played, the Viscous Vibe stood out in my opinion. I dig into the details in my thorough review of the Viscous Vibe here so if you want the full explanation on why it's such a great vibe pedal, check out the review.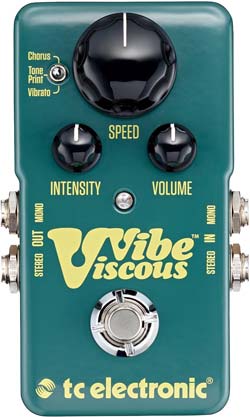 The main reason I love the Viscous Vibe is thanks to the TonePrint feature. Being able to tweak the effect to exactly the way you want it is something that can be difficult with other vibe pedals.
Vibes can be difficult to control depending on how you use it in your rig (eg: some of them don't play well with certain fuzz pedals) and the TonePrint feature allowed me to find the perfect setting that works with the rest of my rig.
When you consider that many vibe pedals only have three control knobs, TonePrint gives you far more control over the effect.
Why the Viscous Vibe is worth checking out:
Ability to fully tweak and control the effect with TonePrint
Can switch between True Bypass or Buffered Bypass to best suit your rig
Excellent sound quality
If you're interested in getting a vibe pedal, I recommend the Viscous Vibe (link to Amazon) because it gives you flexibility not possible with many other vibe pedals.
EHX KEY9
I was blown away when the B9 Organ Machine was released as the quality was incredible. Being able to create an authentic sounding organ with a guitar was so inspiring and my students and I really enjoyed using it for songwriting (I even included it in my list of Best Guitar Pedals in 2014). Check out my review of the B9 Organ Machine here to learn the details of the B9. The KEY9 focuses on producing electric keyboard tones rather than organ tones.
In my opinion, it produces more variety than the B9 or C9 but whether it's for you or not really depends on what style of music you like playing and whether you want to try to produce keyboard like tones. Check out the video below to get an idea what range of tones are possible with the KEY9:
Why the KEY9 is worth considering:
Produces incredibly authentic keyboard-like tones
9 presets to emulate classic sounds such as a Wurlitzer electric piano, vibraphone with tremolo, steel drums, wood marimba, Rhodes electric piano
Some presets include relevant effects such as tremolo, phaser, chorus and octaver
Each presets gives you two control knobs to tweak the effects and tone
Check out the price and full details of the KEY9 here.
It's important to point out that to get the most out of this pedal, you can't play your guitar like a guitarist. You need to be able to switch into the mindset of somebody playing an electric piano and adjust your playing technique to suit that instrument.
So if you buy this pedal and strum some chords expecting it to sound good, it won't. You need to really understand the instruments it's trying to emulate and think like that type of musician.
For that reason, it's also a great learning tool. If you feel your playing style is stuck in a rut, this pedal will teach you to play in a completely fresh way. You will learn how to play chords, arpeggios and even simple melodies like a keyboardist instead of a guitarist.
If you're looking for a way to give your playing style something new or unique, this pedal (or the B9 or C9) will help you achieve it.
DigiTech TRIO
The DigiTech TRIO is a rhythm pedal but it's completely different to a pedal like the BeatBuddy. The big difference is that the TRIO listens to what you play and generates drum and bass parts that suit what you're playing.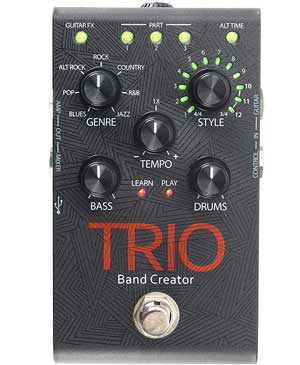 So instead of selecting different drum patterns and finding one that suits what you want to jam with, you simply play a part, set a style and it will generate the parts for you. It's promoted as a sort of 'band in a box' and as a guitarist who likes to simply sit back and jam for 10 minutes at a time, it's a handy device.
The TRIO stands out because it offers you something very different from any other pedal available today. In the future I hope to see more pedals like this and hopefully as they evolve they become even more valuable as songwriting tools.
The TRIO isn't perfect, but when used properly it can be a great songwriting tool or a good way to jam and come up with creative parts.
You do have some control over what the TRIO generates. There are knobs to control tempo, genre, independent volume of bass and drum parts, time signatures and pattern styles. It can learn up to 3 different song parts which can then be recalled as the song plays back. So unlike most looper pedals where you can only record one part, the TRIO can give you a verse-chorus style track to play along with.
The below video gives you a good idea how the TRIO works and how you can use it at home:
Just like the BeatBuddy, the TRIO sounds best when the drum and bass parts are sent to a full range speaker system. You will see there are two outputs – amp and mixer. While you can definitely send everything to your guitar amp, it's not going to give you the full experience.
This pedal won't suit everybody so if you like the idea of having simple rhythm parts generated for you and don't want a drum machine like the BeatBuddy, this is a handy alternative.
Check out the price and full details of the TRIO here.
The pedals I've focused on in this list revolve around creativity and songwriting. While it's always fun to play around with the latest distortion or overdrive pedal, the pedals above can help you develop as a musician. Writing songs with a drum machine, jamming with the TRIO or learning to play like a keyboardist can have a big impact on your creativity. Even the vibe can teach you to come up with riffs and licks in a completely different way. So if your pedalboard currently lacks the type of pedals covered above, getting at least one will give your musical abilities a boost.
As I mentioned at the start, I'm sure there are plenty of other pedals this year as good or better than the ones I've covered above. But these pedals stood out in my opinion and are worth checking out.
Found this guide useful? Please share it on social media to help support this site (if you use Pinterest, please pin the below photo).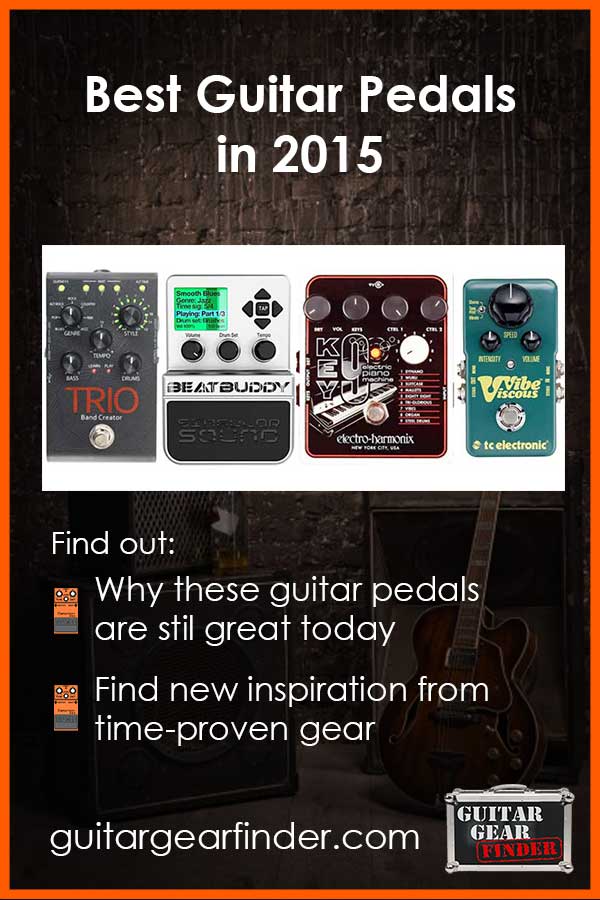 Summary
Article Name
Best Guitar Pedals in 2015
Description
I go through what I thought were the best guitar pedals in 2015. These pedals focus on creativity and songwriting so if you feel a bit stuck with your creativity, these pedals are worth checking out.
Author