WireTap Riff Recorder Features
The WireTap Riff Recorder by TC Electronic is a compact pedal that allows you to instantly capture any riffs, licks and ideas directly from your pedalboard. The pedal can be used standalone or in combination with an iOS or Android device with the free WireTap app.
Here are the main features of the WireTap at a glance (check out the full features and price here):
8 hours of recording time at 24-bit 44.1kHz audio quality
Playback, looping and selection of different riffs all from the pedal
Free iOS & Android WireTap app allows you to record, sync, save, sort and trim recordings
Bluetooth syncing with iOS & Android devices
Mini USB output to save recordings to PC/Mac and firmware updates
Requires external power supply (9V 100mA)
Ease of use
Capturing inspiration
Being able to capture your riffs, licks and ideas when inspiration hits you is so important. If you've ever come up with a great idea only to forget it moments later, you know how frustrating it is.
There are quite a few different apps and devices you can use to capture your riffs and ideas. You can use a smartphone and record using it's microphone, but that will typically produce a fairly poor quality recording. Alternatively, you can connect your guitar to a computer or mobile device using an audio interface. That will produce high-quality recordings, but requires switching gear.
The issue with the above methods is that they require extra steps to record your ideas. You either need to set your smartphone in the right position to capture a decent recording, or you need to plug in an audio interface and load a recording program.
The difference with the WireTap Riff Recorder is that it sits in your signal chain ready to go. If you have an idea, you simply hit the footswitch and you're recording. Have another idea you want to record? Simply hit the footswitch again and the WireTap will save the new recording while keeping the existing one.
After a day of owning the WireTap I already had over 60 recordings saved on the pedal. Many I would eventually delete, but the point here is that without the WireTap, I probably wouldn't have captured these ideas. It might not feel like much to plug your guitar into something like an iRig and hit record, but in the moment of inspiration, it feels like setting up a completely new rig. From now on, I know I'll be able to capture all ideas as soon as I come up with them.
Pedal Playback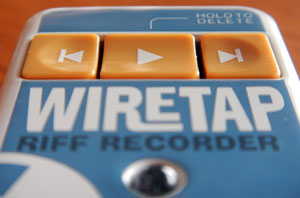 To play the recordings back, you simply push the play button on the pedal. This will play the recording in a loop which is a nice feature. To stop playback, press the play button again. While the WireTap can loop playback of your recordings, it's really important to explain that this is not a looper pedal. So many people online seem to think this is a looper pedal. As I explain later in this review, the WireTap is very different from a looper.
To delete a recording, hold the play button down for three seconds while a recording is playing.
To move between different recordings, use the back and forward buttons. When you reach the last recorded track on the pedal, the LED will blink so you know it's the last one.
The only negative when it comes to ease of use is that the play button isn't raised so you can't use your foot to hit it (barefoot playing works fine 🙂 ). It would have been nice to be able to play back riffs by foot, but that's not what this pedal was designed for. This pedal focuses more on recording rather than playback. So if you're looking for something for live use to play loops and riffs, there are other options better suited.
WireTap app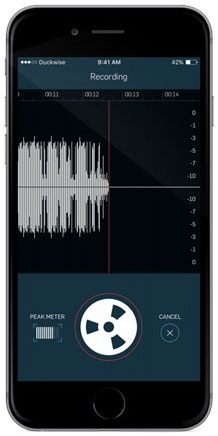 While the pedal is great on it's own, you can combine it with the free WireTap iOS or Android app for more control. The app allows you to sync your pedal and phone via Bluetooth and save, edit and organize your recordings.
To connect your pedal to your phone, hold the back and forward buttons until the LED starts flashing between green and red.
Even if you don't already have a WireTap pedal, I recommend downloading the WireTap app to see what it's like. It comes with a few example riffs so you can see how the app works:
The WireTap Riff Recorder iOS app is available from the App Store here
The WireTap Riff Recorder Android app is available from Google Play here
The app also allows you to record directly from your phone using the phone's microphone which is handy for acoustic guitarists. You can record your ideas and transfer them to your pedal which would be an interesting way to experiment with acoustic and electric parts.
The app is quite easy to use and contains some good features. You can trim the recording which means you don't need to be perfectly precise when hitting the footswitch to record like you would with a looper pedal. You can easily edit the recording and send it back to the pedal.
You can name and add tags to each track which is a great way to sort out different types of riffs and ideas.
A feature some people may find useful is the ability to email your recordings. If you're in a band it's an easy way to send ideas to other band members to work on.
If you don't have a smartphone, you can connect the WireTap directly to a PC/Mac with the mini USB on the side of the pedal (shown below right). This allows you to save your recordings without needing the app. Please note the pedal uses a mini USB output which is far less common than micro USB (eg: typical Android phones use micro USB).
Find out more about mini-USB and other types in this Guide on Audio and Data Cables.
Sound
The WireTap Riff Recorder records a mono signal at 44.1kHz 24 bit. This is perfectly good quality for capturing riffs and ideas. It's not quite studio quality audio, but that's not what the WireTap is designed for. The goal is for it to provide you with a very quick and easy way to capture your ideas. When you want to record full songs, you're better off recording using a good quality audio interface and DAW (read my guide on recording guitar at home for more details).
This is a mono pedal so you need to consider it's placement on your pedalboard if you run a stereo rig. If you don't run a stereo rig, you have the freedom to place the pedal anywhere you prefer in your signal chain.
It's also a True Bypass pedal, so you won't need to worry about the pedal affecting your tone when it's not used.
Reliability/Quality
The WireTap Riff Recorder is a very compact and well-made pedal as you would expect from TC Electronic. As you might expect from a compact pedal, it requires an external power supply which does not come with the pedal. In short – the pedal is well made and works flawlessly.
It's also important to talk about the WireTap app as it's a big part of this pedal. Yes, you can use the pedal without the app and simply use USB to save your recordings to a computer, but the app is pretty handy.
The iOS app requires iOS 8 or higher on iPhone 5 and up (no mention of iPad). I tested the app out on my iPad 2 running iOS 8.1 and while the app loads and works perfectly fine on it's own, it couldn't connect to the pedal. So if you own an older iOS device, even if you run a supported version of iOS, the WireTap app may not work on your device.
The Android app requires Android version 4.2 and up. Worked perfectly fine on my fairly old Android phone and was quick and easy to use.
If you read other reviews you may notice that some people have been having issues with the WireTap app. It looks like a lot of those issues have been addressed in a recent update. I tried to replicate some of the issues other people had and didn't experience any of them.
WireTap Manual
While the WireTap is pretty straightforward to use, it's handy to have a quick read through the manual before you get started. Here is a link to the WireTap Riff Recorder Manual.
The manual also explains how to update the pedal's firmware as well as using the WireTap app.
Overall impression of the WireTap
Before I received the WireTap, I had doubts on whether it would be useful or not as I already have a looper. There are looper pedals out there that can save multiple recordings, so why would I want the WireTap. I quickly realized that comparing the WireTap with a looper is the wrong idea. A looper focuses on playback while the WireTap focuses on recording. Yes, there are some loopers that also save recordings, but I feel the WireTap does a better job at recording.
Having a pedal in your signal chain where you can instantly record your ideas is a blessing if you do any songwriting. Being able to record up to 8 hours means I can record as much as I want without worrying about hitting a limit. Then I can easily sync those recordings to my phone and edit and categorize them.
The WireTap isn't a replacement for a looper and a looper isn't a replacement for a WireTap. I now have both in my pedalboard because each one has a specific purpose. You could use a looper to save riff ideas, but the WireTap will do it far better and easier.
Overall, TC Electronic's WireTap Riff Recorder is an excellent value for the low price. When I think of all the riffs and ideas I've lost over the years because I didn't have a quick way to record them, I'm really glad I have the WireTap now.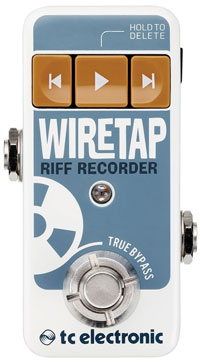 Check out the price and full details of the WireTap here.
WireTap Riff Recorder Pros
Very easy to use
8 hours of recording time on pedal
Being able to record ideas directly from your pedalboard is incredibly useful for songwriters
The WireTap app is simple and works well
Excellent value compared to looper pedals that save recordings
WireTap Riff Recorder Cons
Unable to play back recordings using your foot
Older iOS devices and iPads may not connect to the pedal
Uses less common mini-USB (if you use PC/Mac)
Who is the WireTap for?
Songwriters – if you write any of your own music, you'll find the WireTap incredibly handy. Just imagine next time you come up with a great idea, all you need to do to save it is hit a footswitch. Compared to recording using a phone or switching to an audio interface, it's ridiculously quick and easy. Stop losing your ideas and get a WireTap.
Band members – if you play in a band, the WireTap is a great way to record any jamming you do, ideas you come up with or even listen back to parts you want to work on. The difference between using a phone to record a band session and the WireTap is that the WireTap will record only your signal. So you can listen to a crystal clear recording what you played without the other instruments or room noise. Being able to instantly record your ideas while you're jamming is a great way to keep the creativity flowing.
Guitar teachers – I now use the WireTap in my lessons as a guitar teacher. It's really handy to be able to record a riff, lick, solo or exercise for a student and email it to them to play along with at home. In a couple of minutes I can have a set of exercises and riffs in the student's inbox ready for practice.
Who isn't the WireTap for?
If you don't write music and aren't interested in recording, then the WireTap isn't for you. While the WireTap can be used as a looper, don't get it if you want a looper. You'll be much happier with a dedicated looper like the Ditto by TC Electronic.
How to get the most out of the WireTap
Place the pedal in the right position
The position you place the WireTap in your signal chain will determine what type of recordings you produce. For example, if the WireTap is the first pedal after your guitar, you will record a completely dry signal. That's really useful if you want to take those recordings to a DAW and use software such as AmpliTube 4 to experiment with different tones. But that also means you won't hear any effects or gain tone when listening to the recordings on the app.
If you place the WireTap at the end of your pedalboard or in an effects loop (if you use the 4 cable method), your recordings will include all your effects. That means you can capture any ideas that use effects and hear those effects when using the app.
The right way for you depends on your rig and what you want to capture. All you need to decide is whether you want to record your ideas with or without effects.
Tip for stereo rigs
If you use a lot of stereo effects but still want to record those effects using the WireTap, I recommend placing the pedal at the end of your signal chain on one of the outputs. For example, place the WireTap on the Left output from a delay pedal and run the Right output to the amp. The recordings will still be in mono, but you will still be able to capture your ideas without messing up your stereo rig. Remember that the idea behind the WireTap is to capture your ideas, so you can always re-record your ideas later on in stereo. Capture your ideas now in mono so you don't forget them.
Alternatives to the WireTap Riff Recorder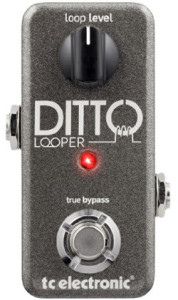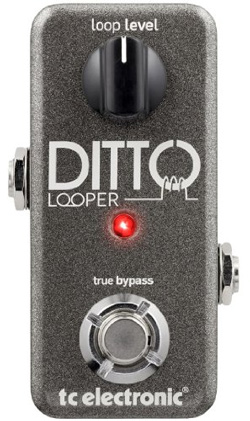 I've seen a lot of people dismiss the WireTap because there are looper pedals that also record and save your ideas. While they have some similar features, they're really two different pedals. A looper is designed for playback (and some have the ability to save recordings) and the WireTap is designed for recording (with some playback features).
If you're not sure whether the WireTap is right for you, I'll explain two possible alternatives to help you figure out what you're really looking for:
Ditto Looper by TC Electronics
If you're looking for a compact pedal that allows you to playback loops, the Ditto is probably what you're looking for. The Ditto has great playback features that can all be controlled with your foot. So if you're looking for something more suited to live use, the Ditto is probably what you're after.
The Ditto doesn't have the ability to save any of your ideas, so it's not a direct alternative to the WireTap.
BOSS RC-3 Loop Station
The BOSS RC-3 is a looper pedal that also allows you to save up to 99 recordings. Like all other looper pedals, the focus is on playback rather than recording. With the WireTap, if you want to record a new idea, you simply hit the footswitch and it will save the recording to a new file. On the RC-3, you need to manually change the slot to save the recording or else you'll just overwrite your existing recordings. It's not too big a difference, but it does highlight why the WireTap is different.
The RC-3 doesn't have Bluetooth or a dedicated app so if you want to use your recordings you need to connect it to a PC. If you don't already have a looper pedal and want to be able to record ideas as well, the RC-3 may be what you're looking for. Also keep in mind that the WireTap is less than half the price of the RC-3.
Useful Resources
If you're looking for information on finding a looper pedal with the right features for you, check out my Guide on Looper Pedals here.
The WireTap is a great way to get started with recording your ideas. To take those ideas further, you will need to think about recording software and equipment. Have a read through my Beginner's Guide to Recording Guitar at Home to learn how to get started with home recording.
See information on pricing, availability and other reviews on the WireTap by TC Electronic here.
Summary
Reviewer
Review Date
Reviewed Item
TC Electronic WireTap Riff Recorder
Author Rating





Product Name
TC Electronic WireTap Riff Recorder