The iRig HD was a significant improvement over the original iRig. It offered a serious upgrade in sound quality and a better set of features and flexibility. IK Multimedia have now released the iRig HD 2 which brings in a range of much-needed features and flexibility.
iRig HD 2 Features
Here are the main features the iRig HD 2 offers (check out the price and full features here):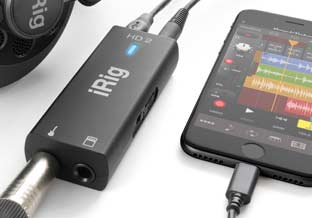 96kHz Digital Audio with 24-bit A/D conversion
Input level LED indicator
1/4″ output for amp with FX/THRU switch
1/8″ output for headphones with dedicated preamp and volume control dial
Compatible with iOS devices with included lightning cable
Compatible with PC/Mac with included USB cable
Input gain control dial
Microphone stand mounting clip and velcro strap
Includes full version of AmpliTube 4 for PC/Mac and full version of AmpliTube for iOS
As you can see from the image below, there are quite a few new features in the iRig HD 2 compared to the first iRig HD: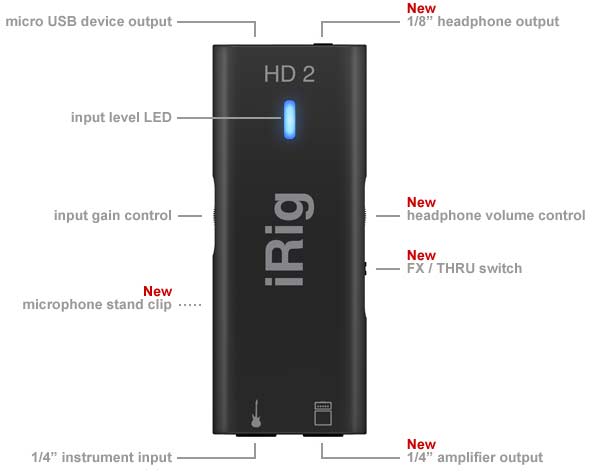 Many of these features were sorely needed from earlier versions of the iRig (as well as other products).
In many ways, the iRig HD 2 is far more future proof than other similar devices. For example, you're no longer forced to use your device's headphone jack which means iPhone 7 users will be able to use the iRig HD 2 but won't be able to use earlier models.
As technology continues to change, the iRig HD 2 is in a good position to stay on top thanks to using micro-B USB and including separate headphone and amp outputs. Find out more about micro-B USB and other types in this Guide on Audio and Data Cables.
A big part in what you get when buying the iRig HD 2 is software. Upon registering your iRig, you receive a serial number for the full version of AmpliTube 4 (read my review of AmpliTube 4 here). If you have an iOS device, you can also unlock the full version of AmpliTube for iOS.
Ease of use
The iRig HD 2 is essentially a plug and play device. Simply connect it using the appropriate cable (lightning and USB cables included) and you're good to go.
As the iRig HD 2 comes with the full version of AmpliTube 4, I was curious how easy the process would be to get it up and running. Here are the steps I went through to get my full version of AmpliTube 4:
I went to the IK Multimedia registration website by following the instructions on the serial card
Filled in the details to register the iRig HD 2
An account was set up for me and I immediately received a confirmation email with login details
Logged in to the user area and clicked to download AmpliTube 4
After it downloaded and installed, I registered AmpliTube using the serial number provided in the user area
The whole process took around 5 minutes from start to finish. I was pretty impressed with how easy their website and registration system was to use. Compared to other product manager style software I've used by other brands, this was a breeze.
Getting the full version of AmpliTube for iOS was even easier. Simply download the free version from the App Store, connect the iRig while AmpliTube is running and the app will unlock the amps and effects you get in the full version.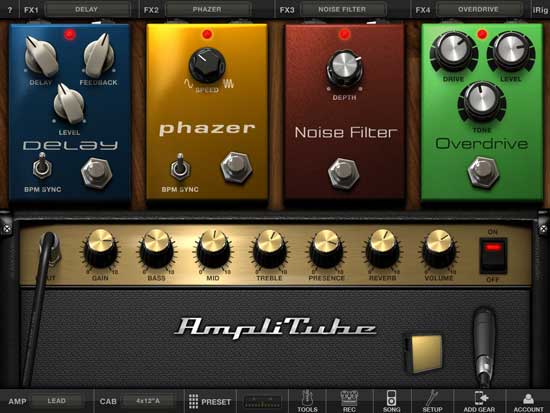 When it came time to start jamming, I quickly realized how much flexibility the iRig HD 2 gives you compared to other units. Here are a few scenarios possible:
Play in silence using headphones connected directly to the iRig
Connect the iRig to your amp and feed it the effects processed signal (FX mode on the switch)
Connect the iRig to your amp and feed it an unprocessed signal (THRU mode on the switch)
Plug the iRig to stereo speakers or studio monitors
The reason I feel this flexibility is important is that it allows you to use it in many different situations.
For example, when I'm jamming or practicing, I prefer to have the iRig send the processed signal to my guitar amp. When I'm recording, I prefer to send the signal to my studio monitors instead. If I wanted to use AmpliTube live, I could either send the signal directly to the mixer, or send it to my amp.
The point is that the previous version (and other similar devices) don't offer this flexibility so it limits what you can do.
The other feature I feel is worth mentioning is the LED input indicators. It might not sound like a big deal, but quite often it's difficult to set the right input level on audio interfaces. There's either no indicator at all, or only one LED for when the signal is too high.
With the iRig HD 2, the LED changes color from blue (low signal) to green (good signal), orange (high signal) and finally red when the signal is clipping. So if you're constantly seeing orange and red, you know the signal is too high. Alternatively, if you're constantly seeing blue you know to turn the gain dial up.
It's such a basic feature to have, yet so many devices don't have it. It makes life so much easier when you can quickly dial in the perfect input level before you hit record.
Sound
The first iRig HD was quite a step up in sound quality compared to the original iRig. With a firmware update, it provided a 96kHz sample rate and 24-bit A/D conversion. The iRig HD 2 offers the same professional studio quality audio out of the box.
If you're new to recording gear, 96kHz is basically overkill in terms of recording quality. You will see high-grade professional gear at 192kHz, but the general consensus is that there's no benefit to going that high. 96kHz is perfect for excellent quality recording.
In other words, the sound quality of the iRig HD 2 is exactly what you want it to be. It allows you to record with excellent clarity or jam away without affecting your tone negatively. Also, the latency is so low that it's no longer an issue compared to audio interfaces in the past. I spent time with the iRig both on PC and iPad and both felt perfectly responsive.
The intuitive input level LED means that you can easily adjust the gain to get the perfect level. I mentioned this earlier, but getting the right input level plays a big role in perceived audio quality.
AmpliTube 4
As the iRig HD 2 also comes with the full version of AmpliTube 4, it's worth talking a bit about how that sounds. I've been using AmpliTube (and Guitar Rig by Native Instruments) since the very first version. Each version has brought a massive improvement in quality. AmpliTube 3 was the first version that came close to feeling like recording a real guitar amp and effects. AmpliTube 4 adds so much to the realism that it sound significantly better than when I record my actual amp with a microphone. At this point, I doubt future versions will be able to add much more to the quality because it's so high now.
When I first plugged the iRig HD 2 into my PC and loaded up AmpliTube, I cranked my monitors up and went through the different presets. The first impression I had was the same feeling I get when I try out a nice amp at a guitar store – it just feels so right. The clean amps had the clarity and warmth you expect from tube amps while the various high gain amps provide the definition that AmpliTube 3 just didn't give you.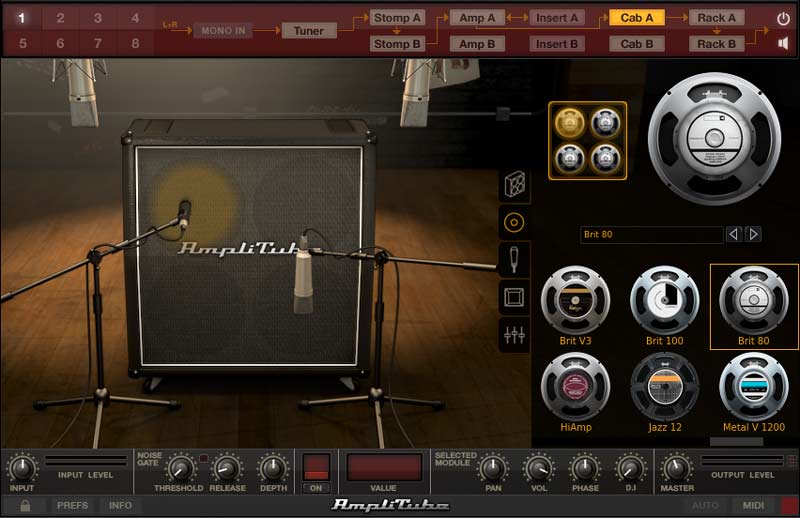 I'm a guitarist who enjoys recording my own music and AmpliTube 4 offers a lot of great options such as a range of cabinets, speakers, mics and rooms. As shown above you can even change individual speaker selection. Everything you see in the above screenshot can be customized and switched around. In other words, it's like having access to a full studio and being able to instantly switch between different rigs, rooms and gear.
It was great to be able to swap out different speakers in the same cabinet and hear how they affected the tone. Switching and mixing between different mics helped me strengthen my understanding of the characteristics of dynamic and condenser microphones. The fact that you can do all of this instantly makes it a fantastic learning tool. Want to understand how mic placement affects your tone? Simply drag the mic to a different location. Want to change from a highly reflective room to an isolation booth and keep the exact microphone placements? One click and you're done. When you consider how much effort that would take in an actual studio, it's pretty amazing that we can do this all from home instantly.
The only downside I feel with AmpliTube 4 is that you only get a limited number of effects and amps. It comes with 10 stompboxes, 9 amps, 10 cabinets, 4 mics, 2 rack units, and 2 tuners. While that is a lot, as you look through the options, you can't help but notice the massive number of pedals and amps you're missing out on. In the screenshot below, you can see just how many options are missing just under the Distortion stompbox category: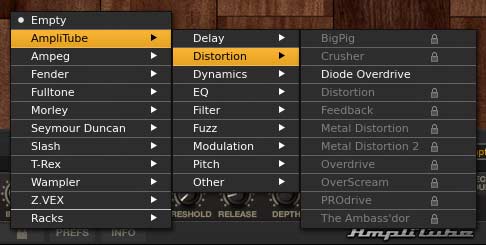 Each greyed out option can be tested out and purchased via the Custom Shop so if there's a piece of gear you know you're going to need, you can get it. But if you're like me and enjoy experimenting with different gear and effects, it's a bit disappointing that the 'full version' is so limited.
Other software
It's worth mentioning that the iRig isn't tied to AmpliTube. You can use it with any other app or program such as Guitar Rig 5 or BIAS FX.
When it comes to recording on PC/Mac, you simply plug the iRig HD 2 in via the supplied USB cable, load up your favorite DAW, and you're good to go. It's compatible with any DAW. If you use Windows, I recommend downloading and using the free ASIO driver ASIO4ALL.
For guitarists looking for a basic audio interface, this is a great option. Of course if you will need to record other instruments or vocals, you might want to look for a more appropriate audio interface. My Guide on Recording Guitar at Home explains different options for different needs.
Reliability/Quality
The iRig HD 2 is a nice solid build. It is quite light, which means it can get tugged around by your guitar cable. Although the casing does have a rubbery feel to it which gripped nicely to my desk. It's a unit designed to be portable, so the downside of having such a small device is that it will slide around more compared to larger audio interfaces.
I found the included microphone clip and velcro strap a handy way to mount the iRig in one spot while recording. If you have a music stand, you can sit your iOS device on the stand and use the supplied clip to keep it in place.
From a software point of view, it's been a breeze to use so far. Windows 10 took about 20 seconds to install drivers when I first connected the iRig HD 2 so it's good to know I can simply plug it in to any PC and be up and running in a matter of seconds. There haven't been any issues or hiccups so far.
I've only had the unit for a very short time so I'll report back if there are any issues down the track. But so far I'm pretty happy with the quality of the unit.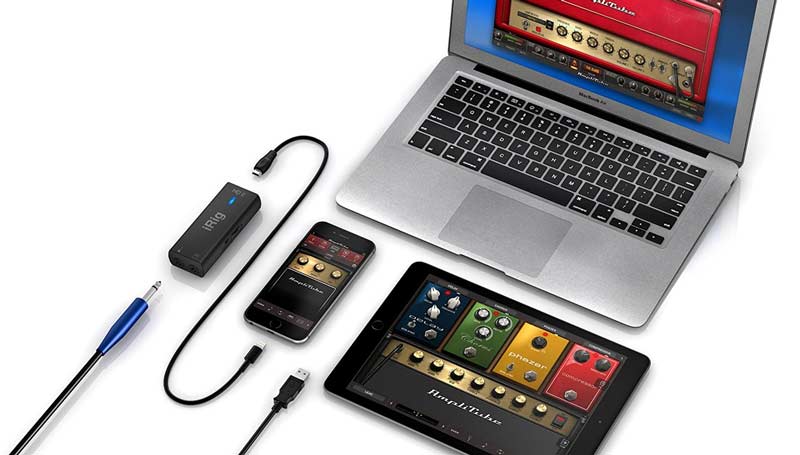 Overall impression
The first iRig HD provided much needed audio quality. The iRig HD 2 provides the same audio quality, but adds in some much-needed features. It's also a much more future proof device now that it doesn't require you to use your device's headphone jack for output. The amp output jack is also a brilliant feature as you can now use your iOS device as a pedalboard with apps such as AmpliTube or BIAS FX and continue to use your amp.
Overall, the iRig HD 2 is a very flexible device that will suit a lot of people. The fact that it comes with the full version of AmpliTube 4 (PC/Mac or iOS) makes that a great value device.
The main reason I recommend the iRig HD 2 is because of the overall value. You get a high-quality audio interface for a good price, but when you consider it comes with the full version of AmpliTube 4 (usually $150) and AmpliTube for iOS (usually $30), it's an excellent bundle. If you were thinking of getting AmpliTube, this is a great way to get it.
Pros
Fantastic studio level sound quality
Easy to use across different devices and software
Free full version of AmpliTube (PC/Mac/iOS) makes this an excellent value purchase
Amp and headphone/stereo output adds a lot of flexibility to how you use it
Cons
Not compatible with Android devices
Includes lightning cable, but not 30-pin cable for older iOS devices
Guitar only device – if you want to record via microphone, this isn't the right device
Read more on the iRig HD 2 including price and reviews here (link to Amazon).
Who is the iRig HD 2 for?
iOS device owners – the iRig HD 2 is compatible with a great number of iOS guitar related apps. You get the full version of AmpliTube for iOS which provides a nice range of effects and amps as well as a looper, recording studio and integrated drummer. But of course you can use the iRig with other apps such as BIAS FX, Garageband or any other. The advantage the iRig HD 2 has over other devices is the integrated headphone and amp outputs.
You can use your iOS device as a pedalboard along with your amp, or connect headphones to practice in silence.
Electric guitarists wanting to record music – if you only play electric guitar, the iRig HD 2 is perfect as you won't be paying extra for inputs you'll never use. It makes an excellent audio interface and is compatible with all DAWs. So if you're looking for a simple way to record yourself at a studio quality level, the iRig HD 2 fits the bill.
Anybody wanting to get AmpliTube 4 – if you were thinking about buying AmpliTube 4, it makes sense to buy the iRig HD 2. You get the full version and you will have the iRig HD 2 to use whenever you need it. When you consider that AmpliTube 4 costs $150 and the iRig HD 2 is $99, it makes sense to buy it this way.
Who isn't the iRig HD 2 or?
Guitarists who want to record multiple instruments – if you mainly play acoustic guitar, sing or want to record other instruments using a microphone, the iRig HD 2 probably isn't what you're looking for. You can definitely still use it with your electric guitar, but there are other options available for different inputs.
Android device owners – unless things change in the future, the iRig HD 2 isn't compatible with Android devices. I recommend checking out the iRig UA for an Android compatible device.
How to get the most out of the iRig HD 2
AmpliTube 4
Your starting point with the iRig HD is AmpliTube 4. It's an incredibly powerful and realistic guitar suite. Whether you use an iOS device or PC/Mac is up to you. Start with the presets and have fun jamming with them. Then start a new preset from scratch and jam with the different amps. Get a feel for each one to learn which amps you like and what styles of music they suit.
Once you get a feel for the amps, start experimenting with different mics, cabinets and rooms. Learn the difference between a dynamic and condenser microphone and learn how the placement of the microphone affects your tone. Try different combinations of microphones and rooms. The goal here is to learn how each component affects your final tone. This takes a long time to learn in the studio, so you have an advantage learning it in AmpliTube.
Read my review of AmpliTube 4 here to learn more it.
Guitar effects course
In this Guitar Effects Course, you'll see AmpliTube 4 in action. The course explains all common types of guitar effects and uses AmpliTube 4 to demonstrate how you can tweak and control effects as well as pedal positioning. If you want to learn more about using guitar effects, check out the course.
Recording
If you're new to recording guitar, the iRig HD 2 gives you a good starting point. While you can use AmpliTube's recording features, I recommend learning how to use a full DAW (Digital Audio Workstation) such as Cubase, Studio One or Pro Tools. My Beginner's Guide on Recording Guitar at Home explains different options so check it out if you want to get started with recording.
Try different configurations
The iRig HD 2 offers quite a lot of flexibility with how you use it. Here are a few different ways you can connect your iRig and use it:
Use headphones to practice or jam in silence
Connect your amp to the output jack and use AmpliTube (or other software such as BIAS FX or Guitar Rig) as a virtual effects pedalboard (with the FX setting on iRig)
Connect your amp to the output jack and send your unprocessed guitar signal (with the THRU setting on iRig) so you can hear your amp's regular tone, but record a dry signal to your PC/Mac or iOS device. This allows you to tweak and experiment with different amps and effects later on.
Connect the iRig to a stereo system or studio monitors
I recommend trying out these different configurations so you can easily switch between the most appropriate setup whenever you need it.
Live rig
If you plan on using the iRig HD 2 as part of your live rig with an iPad, I highly recommend getting a floor controller such as the iRig Blueboard. Having to tap on an iPad screen to change presets or enable/disable effects isn't ideal. The iRig Blueboard is a wireless Bluetooth pedalboard with inputs for expression pedals. While it works perfectly with AmpliTube, it is compatible with other apps thanks to MIDI.

I also recommend buying a stand designed for an iPad rather than sitting it on a standard music stand. You're going to feel much better knowing your iPad is secure. The iRig HD 2 comes with a clip and velcro strap, so you can mount it wherever you prefer.
Alternatives to the iRig HD 2
If you're looking for an audio interface that provides more input options, I recommend reading through my Guide to Recording Guitar at Home. In the guide, I cover different devices and which one may suit your situation. The iRig is a perfectly fine audio interface if you only want to record electric guitar. If you need more flexibility for other instruments or vocals, there are other options more suitable.
Summary
Reviewer
Review Date
Reviewed Item
Author Rating





Product Name