The FLAMMA FS06 Preamp is a low-cost pedal that packs in 7 preamp tones. If you're looking for a way to access a wide range of guitar tones for jamming at home, performing, or recording, you might find this pedal interesting.
In this review, I'll go through what the FS06 Preamp offers and different ways you can use it as a part of your guitar rig.
If you want to see more examples of FLAMMA pedals, check out my review of the FS02 Stereo Reverb here.
FLAMMA FS06 Preamp Features
Here are the main features of the FS06 Preamp pedal:
Seven preamp models
Two channels for each preamp
Preset storage for all seven preamps
Footswitch can act as on/off switch or channel selection switch
Built-in cabinet simulation for direct mixer/PA output
Check out the price and details of the FS06 Preamp pedal here (link to Amazon for details).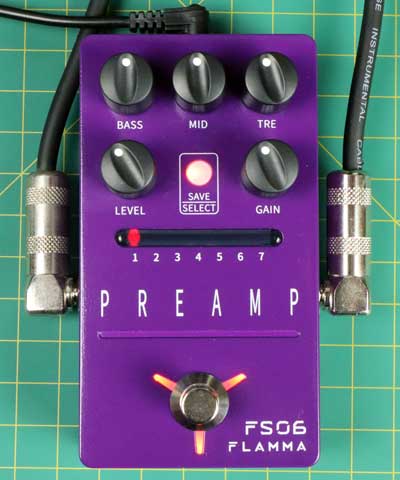 Here are the seven preamp models:
Deluxe Blue: based on Fender Blues Deluxe
AC31: based on Vox AC30
Coral Reef: based on Two Rock Coral
Plex 50: based on Marshall Plexi 50
Blue Eye 100: based on Friedman BE-100
MB 5th Gen: based on Mesa Boogie MARK V
HVE 5151: based on EVH 5150
The pedal lists the seven models on the side as shown below: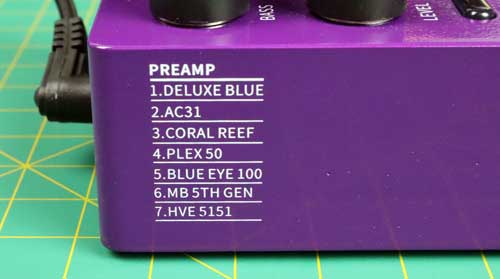 It's pretty easy to figure out what each of these model names is based on if you're familiar with guitar amps.
FS06 Ease of Use
All of the FLAMMA pedals I have tried out have been simple to use while still packing in a nice range of features.
I'll go through the main features so you can get an idea of what it's like to use the pedal.
Selecting Preamp Models
One of the features I like across FLAMMA pedals is the seven-segment display they all use. To change between different preamp models, you press the Save/Select button to scroll through the seven positions as shown below:

Each position is color-coded, so you can easily tell which model position you're in at a glance (once you get familiar with the order of the 7 models).
You're able to save a preset for each preamp, which is a fantastic feature. This means you can dial in the perfect settings you want for one preamp model, then save those settings. Then when you scroll through the preamps and arrive back to that preamp, it applies your saved settings instead of the current knob positions.
To save a preset, you simply hold down the Save/Select button and the LED will flash rapidly to let you know it has saved your settings.
If you turn any knob, the LED will blink to let you know that you have unchanged settings.
The only downside of this system is that there's no way to figure out what the saved positions are for the knobs. If you wanted to slightly tweak a saved preamp setting, there's no way to figure out what the saved positions are to start your tweaking.
Adjusting Tone
Once you choose a preamp model using the Save/Select button, you can set up your tone with the five knobs as shown below: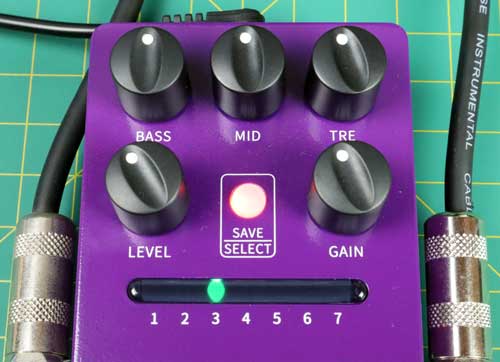 If you've spent any time playing around with tones on a guitar amp, this will feel completely natural to you. You get three EQ knobs (bass, mid, treble) just like most guitar amps. The level and gain knobs work exactly as you would expect on any typical guitar amp.
If you want to learn how to dial in the best tones from any guitar amp or a preamp pedal like this, check out my Ultimate Guide to Guitar Amp Settings. It covers everything you need to know about setting up good guitar amp tones.
Footswitch Function
The footswitch can be used in two different ways.
The first way is to turn the pedal on or off just like any other pedal. Hit the footswitch and you activate or bypass the preamp effect.
The other way you can use the footswitch is to switch between the two preamp channels for any of the preamps. When used this way, the pedal acts like an amp's channel selector.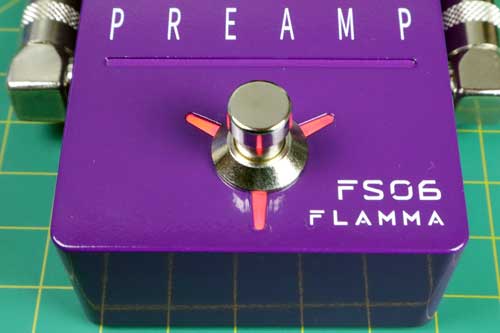 To switch between the different footswitch functions, you simply hold the footswitch down for a second or two. The footswitch LED will blink rapidly a few times to let you know the mode has changed.
Now when you press the footswitch, the pedal will switch between the two channels for your currently selected preamp model.
The footswitch LED and the Save/Select LED will turn red for the drive channel and blue for the clean channel. So at any time, you can tell which channel you are on for any of the seven models.
I think this is a fantastic feature. If you happen to like the sound of both preamp channels, it makes sense to use this switching mode rather than the typical footswitch on/off mode.
If you want to switch back to the on/off mode, hold the footswitch down again for a second. The pedal will stick to whichever channel you had on at the time. So if you were on the clean channel (blue LED), it will stick to only using the blue channels in the on/off mode.
This probably sounds confusing in writing, but it makes sense when you play around with the pedal. You can basically set it up to any way you want to use it.
Powering the Pedal
All FLAMMA pedals that I've seen require an external 9V 300mA power supply. The FS06 doesn't offer battery power and it doesn't come with a power supply.
Many guitar pedal power supplies only supply 100mA, so make sure you have one that can supply at least 300mA if you want to buy this pedal. If you plug this pedal into a power supply that only provides up to 100mA, you may experience issues.
The below photo shows an example of what to look for on any power supply: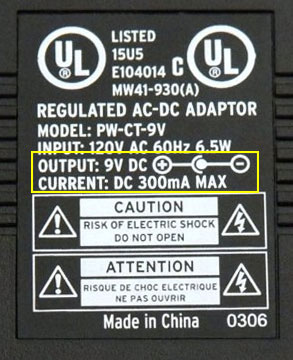 If you plan on adding one or more FLAMMA pedals to your rig, a power supply such as the MXR M237 Power Brick would be a good option to consider.
The MXR DC Power Brick has eight 9V outputs that can supply a total of 1200mA across the eight outputs. As long as you don't have many other power-hungry pedals, you can easily use something like this to power the FS06 with the rest of your pedalboard.
Find out more about powering guitar pedals and your different options here.
FS06 Sound Quality
This is where the FS06 really surprised me. When I looked at the price of the pedal, I didn't have high expectations when it came to the sound quality of the preamp models.
Sure it models some impressive and iconic guitar amps such as the Fender Blues Deluxe, the Marshall Plexi, or the Mesa Boogie MARK V, but how good can those digital models sound?
Amp Models
Sadly, I don't have the real amps this pedal models to do an A/B comparison. But I don't need to have the real amps to still enjoy the tones that this pedal produces.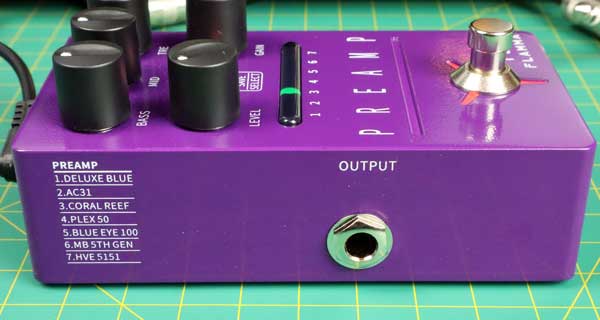 As you scroll through the different preamp models, you may recognize some of the tones. I instantly recognized the AC30, the Plexi, the Mesa Boogie, and the 5150 as I regularly use those amp models in plugins.
I'm sure if somebody did an A/B comparison you would clearly hear a difference, but that's not really the point of this pedal. The point in my opinion is to give you a range of good sounding preamps you can effortlessly switch between as you like.
The sound quality of the preamp models is perfectly fine and I would have no hesitation using them as a part of my normal rig. In fact, I really like the Mesa Boogie preamp model and have been using it a lot while jamming at home.
Cabinet Simulation
The FS06 includes an optional cabinet simulation if you want the pedal's output to go directly to a mixer or PA. This can be handy for recording or live performances if you wanted to use the pedal for your amp tone.
To enable cabinet simulation, you press the Save/Select button and the footswitch at the same time. The Save/Select LED will constantly blink to let you know the cab sim has been activated. If the Save/Select LED isn't blinking, you know cab sim is turned off.
I compared the pedal's cab sim to a few different cab sim models in BIAS FX and AmpliTube. While there was clearly a difference between the various cab models and the pedal's cab sim, it sounded perfectly usable. The pedal's cab sim didn't sound obviously worse than the cab models in the plugins, it just sounded like a different model.
It may not be anywhere as flexible as having a dedicated cab sim pedal with loaded impulse responses (learn all about impulse responses in this guide), it's a nice feature to have if you need it.
Overall Impression of the FLAMMA FS06 Preamp
I'm surprisingly impressed by the FS06 Preamp. Not only do many of the amp models sound fantastic, but it's also an incredibly handy pedal to have.
Being able to switch from a Marshall Plexi tone to a Mesa Boogie or a VOX AC30 any time you want with the press of a button is a great way to play around with different guitar tones and styles.
There are plenty of multi-effects pedals out there that include a range of great-sounding amp models. But this is the first time I've seen a variety of preamp models in a single low-cost pedal.
I can see some guitarists leaving their guitar amp set to a clean tone and using the FS06 for all of their amp tones. The ability to tweak and save presets for each of the seven models makes this a very well thought out pedal.
Check out the price and details of the FS06 Preamp pedal here (link to Amazon for details).
FS06 Preamp Pros
Good variety of preamp models to cover a range of guitar tones
Two channels per preamp model are handy to have
Cabinet simulation is a nice bonus
Great quality for such a low cost
FS06 Preamp Cons
Requires a 300mA power supply (not included)
No battery power option
No way to easily find a preset's saved settings after changing the knobs
Who is the FLAMMA FS06 Preamp for?
If you have an amp where you're not completely happy with the tone it produces, you may want to consider using the FS06 to access different tones instead of buying a different amp.
For example, you could set your guitar amp to a dry and clean tone, then use the FS06 to create an amp tone for you. You can dial in the EQ and gain settings as you like, then set the footswitch to toggle between the clean and dirty channels.
I did this with my guitar amp and it felt and sounded completely natural. The big benefit of using a preamp pedal like the FS06 is that you can use this setup to access a wider range of amp tones than what your amp can normally produce (unless you have a modeling amp).
Other guitarists who may find the FS06 handy include anybody wanting to record guitar or send a guitar signal directly to a mixer or PA. Yes there are other pedals such as the Line 6 HX range that can do this better, but the FS06 is a super-low price option that does a surprisingly good job.
Who isn't the FLAMMA FS06 Preamp for?
If you're happy with your guitar amp's drive and clean tones, you may not have a need for a preamp pedal. The big benefit behind the FS06 is that you can access a wide range of guitar amp tones all in one low-cost unit.
So if you like the drive tone your amp produces and you never feel the need to try something based on a Marshall, Fender, Mesa Boogie, or the other models used for this pedal, you probably won't have a need for the FS06.
How to Get the Most Out of the FLAMMA FS06 Preamp
There are two ways you can use the FS06 and I suggest experimenting with both ways so you can learn how to get the most out of it.
If you want to get the most out of this pedal, I suggest reading my Ultimate Guide to Guitar Amp Settings. While the guide talks about how to dial in a good guitar amp tone, all of the ideas apply to this preamp pedal.
Supplement your Guitar Amp
The first way is to plug it into your guitar amp and set your amp to a dry and clean tone.
Now you can use the FS06 as if it were your guitar amp. Set the EQ, adjust the gain, then choose the preamp model that suits you. Use the pedal as a guitar amp and leave your guitar amp set to a clean and dry pedal.
With this approach, you can get a wide range of tones just by switching between the different presets. Remember that you can set the footswitch to toggle between a clean and dirty channel for each preset, so you can use the pedal just like you would with a typical amp channel footswitch.
Direct to Mixer/PA/Computer
The other way to try using the FS06 is to remove your guitar amp completely. Having an 'ampless' guitar rig is becoming more popular as modeling technology rapidly improves.
The idea here is that when you activate the FS06's cabinet simulation, you can plug the output of the pedal directly to a mixer, PA, or audio interface to use on your computer. So you don't even need a guitar amp to produce a good guitar tone for recording or jamming.
To activate the cabinet simulation mode, press the Save/Select button and the footswitch at the same time. You'll see the footswitch LED blink.
Now you can use the pedal as your guitar amp and tweak the tone as you like.
Hear the FS06 Preamp in Action
I'm currently working on a video to showcase the range of guitar amp sounds the FS06 can produce.
Subscribe to my YouTube channel here for updates and new videos.
Alternatives to the FLAMMA FS06 Preamp
There are countless preamp pedals available, but not many that offer a wide range of preamp models in one unit.
The closest pedal I can think of that offers a decent range of amp models is one of the Line 6 Helix pedals. These pedals are mainly multi-effects units with amp models built-in, so if you're only looking for a pedal with preamp models, this might be overkill.
Check out my comparison of the different Line 6 multi-effects pedals here to learn about the amp models available in each one.
Summary
Reviewer
Review Date
Reviewed Item
Author Rating





Product Name