There were a lot of great guitar pedals released in 2019. In this guide, I want to highly a few stand-out pedals that offer something a little different than your standard pedal releases.
After reading through this guide, I highly recommend checking out the links to the best pedals of past years.
Dunlop Authentic Hendrix 69 Psych Series
Dunlop released four Jimi Hendrix inspired pedals in 2019. The four 'Authentic Hendrix' pedals are (links to Amazon for details):
As you can see below, the pedals are incredibly compact with some appropriately psychedelic artwork: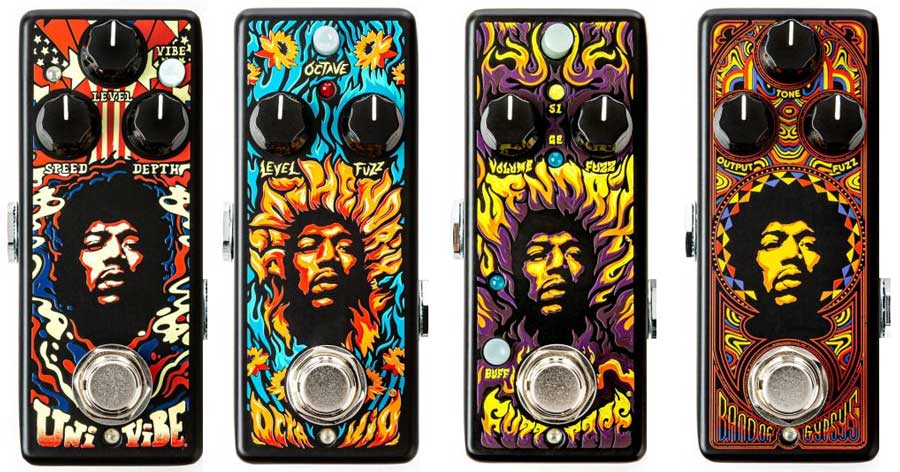 The Fuzz Face Distortion (JHW1) is interesting because it includes a silicon transistor as well as a germanium transistor.
The two LEDs you see in the center of the pedal (labeled SI and GE for silicon and germanium) indicate which transistor is active. The white button at the top allows you to switch between the two transistors.
As you might expect from a fuzz face style pedal, you have limited control over the fuzz with only volume and fuzz knobs.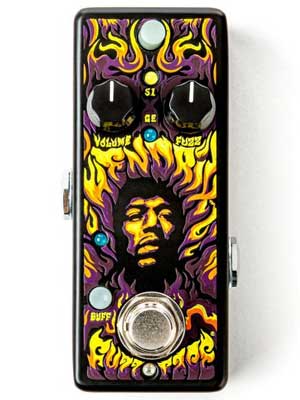 A BUFF button toggles between high/low input impedance. This is handy if you want to experiment with the placement of a wah pedal with the fuzz pedal. You can toggle between the two settings to suit whether you place the wah before or after the fuzz pedal.
If you're wondering why you would want to change the position of a wah and fuzz pedal, check out my Guitar Effects Course as I cover it in detail.
If you're interested in fuzz pedals, check out my Ultimate Guide to Fuzz for more pedal options as well as advice on how to get the most out of a fuzz pedal.
The Octavio Fuzz (JHW2) is a basic silicon fuzz pedal that mixes in an octave-above effect. Unlike other octavio-style pedals, this one includes a button to turn the octave effect on/off. This means you can use it as a normal fuzz pedal with or without the octave effect.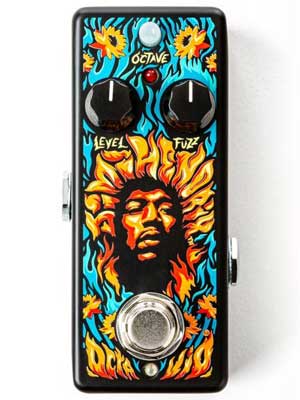 As you can see from the above photo, it's a basic pedal with only level and fuzz knobs.
The Uni-Vibe Chorus/Vibrato (JHW3) is a basic uni-vibe pedal with the standard controls you would expect to see on a uni-vibe.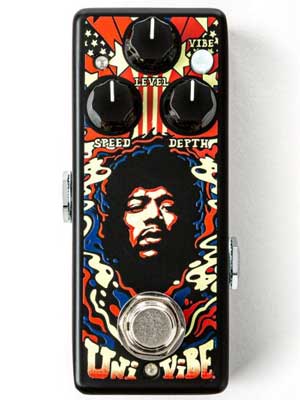 The default mode of the pedal is the chorus mode and there is a white 'vibe' button to switch to the vibrato mode.
Check out this Ultimate Guide to Uni-Vibe to learn what a Uni-Vibe pedal is, how to use it, as well as other pedal options to consider.
The Band of Gypsys Fuzz (JHW4) is a more aggressive fuzz pedal with a simple three-knob layout.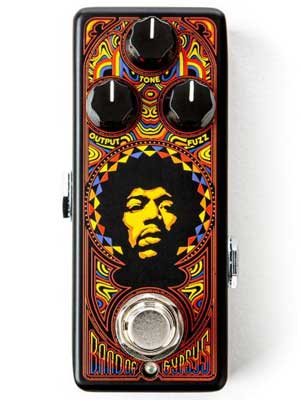 This fuzz was based on his Band of Gypsys performances in 1969 and 1970.
If you buy a fuzz pedal, check out this Guide on Songs Using Fuzz Distortion to see what different types of sounds you can get with a fuzz pedal.
All of these pedals take a 9V external power source and run with True Bypass.
If you're a Hendrix fan and are considering any of the above pedals, check out my Ultimate Guide to Jimi Hendrix to learn about his gear, effects, and tone tips.
The guide also includes alternatives to the above pedals.
Wampler Terraform
The Wampler Terraform (link to Amazon for details) is a beast of a pedal that packs in a surprising array of 11 modulation effects.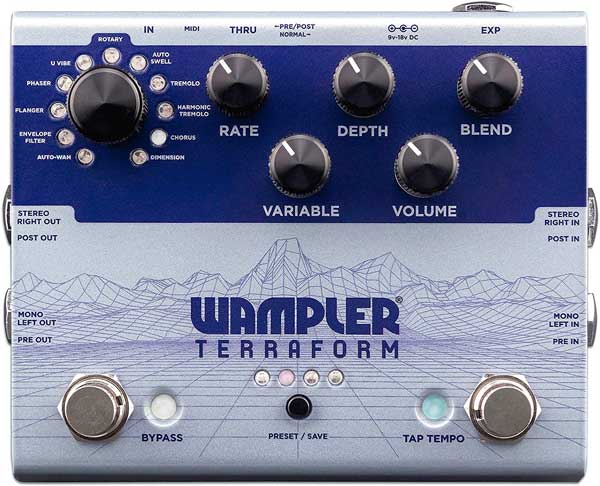 What makes this pedal interesting is the features it packs in. You get MIDI control, stereo input/output, a tap tempo footswitch, ability to save 8 presets, an external expression pedal jack, and five knobs to control each effect.
The expression pedal can be assigned to any of the five controls that you would normally control with the knobs, which gives you great flexibility.
The below photo shows the 11 different effects you can choose from: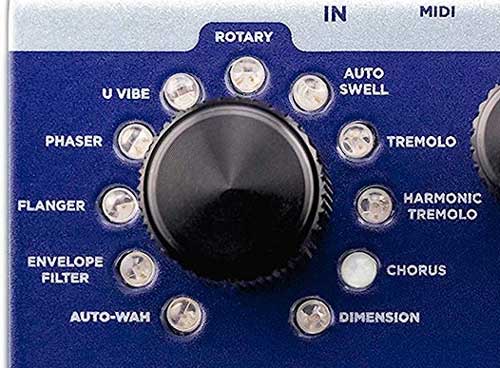 It's an impressive range of modulation effects that should suit a lot of guitarists.
If you're unfamiliar with the effects in the above photo, check out my Guitar Effects Course to learn about modulation effects.
It's clear that a lot of thought went into this pedal. The MIDI support will make a big difference to guitarists with complicated rigs. The pedal even supports advanced routing options I haven't wrapped my head around yet.
Check out the Wampler Terraform here for more details (link to Amazon).
EHX Super Switcher
For guitarists with large pedalboards, a switching system can make a huge difference in what your pedalboard is able to do.
The EHX Super Switcher is a 'programmable effects hub' that gives you a lot of control over your pedals.

If you've never considered using something like this before, the basic idea is that you connect all of your pedals directly into the Super Switcher (mono or stereo pedals supported).
Then you set the Super Switcher to route all of your effects in any way you want. You can then save that configuration in a preset to instantly recall at any time.
Then if you want to change to a different combination of pedals or tone, you save another preset.
If you find yourself tap-dancing on your pedals to turn different effects on or off all the time, it's hard to emphasize how useful this pedal can be for you.

I previously recommended the BOSS ES-8 (link to my mini-review), but the EHX Super Switcher is significantly lower in price, so it's worth considering.
Find out more about the EHX Super Switcher here.
Strymon Volante
The Strymon Volante released this year to much hype. Strymon makes some seriously impressive pedals and the Volante sounds like another beast worth considering.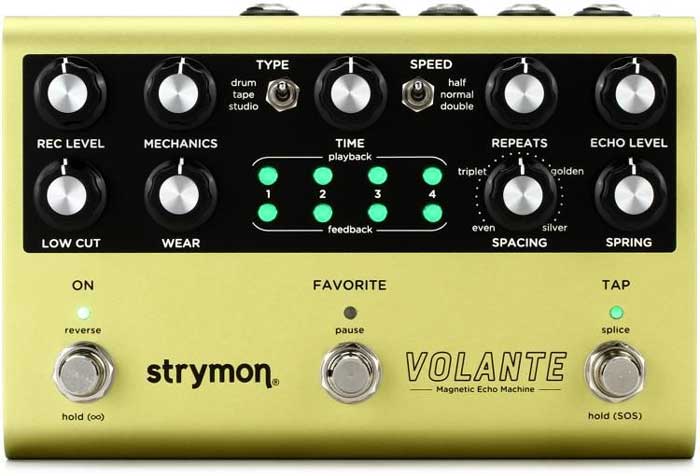 As you might expect from the style of the pedal in the above photo, the Strymon Volante focuses on some vintage tones.
The Volante is a 'Magnetic Echo Machine' that focuses on some vintage style echo effects.
There are three types of delay/echo effects: drum, tape, studio. You have a lot of control over each effect thanks to the broad range of knobs that control every aspect of the effect.
Being a stereo pedal, you can achieve some great tones if you run a stereo rig. A vintage spring reverb algorithm is included, so you can blend your echo effects with an appropriate level of reverb.
The below video from Strymon does a fantastic job at capturing the type of tones you can expect from the Volante:
The Volante crams in a lot of features and while I've only had the chance to try one out for a few minutes, it's surprisingly easy to use.
If you're looking for a full-feature delay pedal, check out my Ultimate Guide to Delay Pedals for some other options (including the impressive Strymon Timeline). The guide also explains different features to look for in a delay pedal.
If the price of the Volante is a bit much for you, the good news is that you'll probably start seeing a lot of used El Capistan tape echo pedals selling for some low prices.
Find out more about the Strymon Volante on the Strymon website.
EarthQuaker Devices Plumes
The EarthQuaker Devices Plumes is an all-analog Tubescreamer style overdrive pedal.
The Plumes is an incredible sounding tube-like overdrive with three different clipping voices controlled by a toggle switch.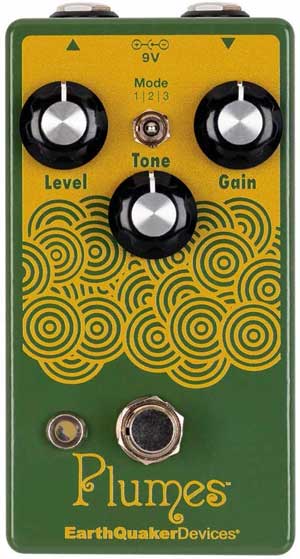 The three clipping modes are:
Symmetrical LED clipping to deliver more compression and drive
No Clipping for a OpAmp drive clean boost
Asymmetrical silicon diode clipping for more transparency
Being able to choose between three clipping types allows you to have far more control over what type of overdrive you want compared to other Tube Screamer-style pedals.
Considering this pedal sells for under $100, I won't be surprised if it finds its way onto a lot of pedalboards and replaces a lot of other Tube Screamer-style pedals.
Find out more about the Plumes here.
Seymour Duncan Dark Sun
The Seymour Duncan Dark Sun is a digital delay and reverb pedal designed in partnership with Mark Holcomb (Periphery).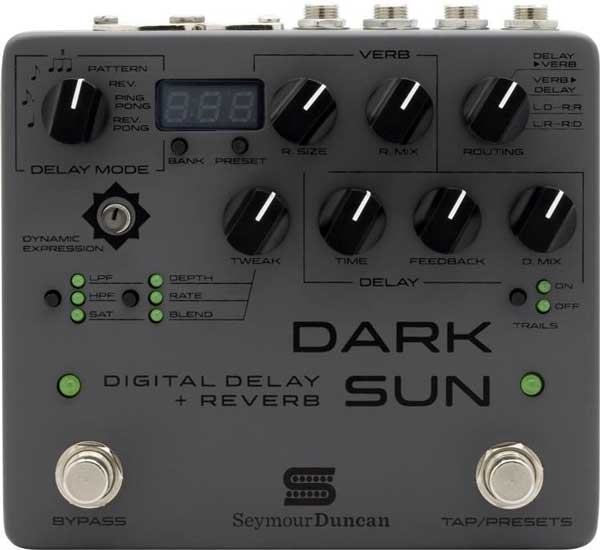 As you can see from the above photo, this isn't a basic pedal. The advanced routing options, MIDI capability, and ability to save up to 128 presets makes this a full-featured delay/reverb pedal.
There are separate mix knobs for the reverb and delay, so you're able to blend the two effects to achieve right level for each.
The routing allows you to change the order of delay and reverb, which is a great way to experiment and come up with some unique effects.
This is a stereo pedal so you can get some great ping pong style delay sounds bouncing back and forth if you run a stereo rig.
There is a low-pass and a high-pass filter which gives you a way of making sure a wet signal doesn't become a muddy signal.
The Dynamic Expression knob is a nice touch, but becomes disappointing when you realize there isn't an input jack for an actual expression pedal. Fortunately, the pedal is MIDI controllable, so if you really want to have precise control over the effects, you have that option.
Check out the Seymour Duncan Dark Sun here for more details.
Best Pedals of Previous Years
While buying the latest pedals is always great fun, there have been some amazing pedals released over the years.
Many of the pedals I've covered in previous years are still considered some of the best available today.
Check out my picks for the best pedals of previous years here:
Many of these pedals you can still buy new, but some you can pick up for great second-hand prices.