One of the advantages multi-effect pedals have over a pedalboard of single-effect pedals is the control over switching. With one stomp on a footswitch, you can enable and disable multiple effects at once.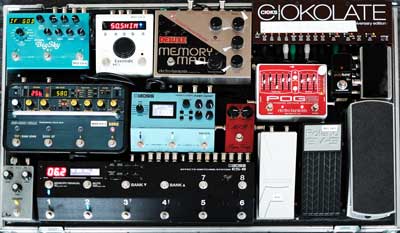 Imagine changing between these two sounds on a typical pedalboard:
Clean tone with a compressor, analog delay, and phaser
Drive tone with an overdrive pedal and an octave pedal
To change from one tone to the other you would need to step on all five pedals. Even if you're a fast tap-dancer, you're not going to be able to instantly change between the two tones.
If you have a large pedalboard and feel like you're tap-dancing on your pedals, this is where an effects switching system like the BOSS ES-8 can help you.
If you're wondering how this compares to a MIDI foot controller, check out this guide on MIDI Foot Controllers for Guitar.
What is the BOSS ES-8 Effects Switching System
The idea behind the BOSS ES-8 is simple: plug all your effects pedals into the ES-8, then you can route the effects any way you want and save them into different banks.

In other words, if you want to change between the clean and drive effects mentioned earlier, you plug all five pedals into the ES-8. Then you set up the compressor, analog delay, and phaser in one position. Finally, you set up the overdrive and octave pedals in another position. Now to switch between the two tones all you need to do is change between the two saved footswitches.
The below photo shows how flexible this device is:

In addition to plugging in up to 8 pedals to individually control, you're also able to use expression pedals and external foot controllers. MIDI I/O allows you to control your MIDI pedals and save important details such as tempo to each patch. For example, if your delay pedal is MIDI compatible you can assign different tempos for different songs.
Getting the most out of the BOSS ES-8
BOSS ES-8 Manual – if you're interested in how flexible the ES-8 is, check out the manual. It shows how to set up effects patches, how to connect your pedals, and other advanced features.
Here are some other tips to get the most out of the ES-8:
Read the above manual. I know some people hate it when people suggest this, but there's a lot of good info in the manual. In the past I was too stubborn to read manuals and it caused more frustration than needed. Read the manual and it'll make life a lot easier.
Update the firmware. The latest version adds a lot of handy features.
Use the ES-8 editor on PC or Mac. It's a lot easier to set up complicated rigs with a visual editor than it is using the ES-8's tiny screen.
If any of your pedals use MIDI, make the most of it and use the ES-8 to control those pedals. If you've never used MIDI before, it might seem confusing at first, but it's a great way to have more control over your settings.
If you have more than eight pedals, you can still use a switcher like the ES-8. Figure out which pedals you always have active at the same time and group them together. Then you can plug them into one input on the ES-8.
Think of the ES-8 as one position on your pedalboard. That means you can still place pedals before or after the ES-8. For example, you can place pedals such as a tuner, wah, or whammy before or after the ES-8 so you can easily activate them at any time. There's no point plugging a tuner into the ES-8 and taking up one of your effects slots, so think about which pedals you don't need in the ES-8. You may find you don't need the ES-8 and can use the ES-5 (covered below) instead.
You're going to need a lot of patch cables, so plan out your pedalboard to figure out what type of cables you need (eg: right-angled or straight).
Get a decent pedalboard such as one of the Pedaltrain boards. It'll tidy up your floor and make it easier to transport your gear.
Learn how changing the order of effects changes your tone. You can do this with trial and error by playing around with the settings, or you can learn through my Guitar Effects Course. If you've always followed the "rules", you might discover that breaking those rules can often give you a better result.
Check out the price and full details of the BOSS ES-8 here.
Alternatives to the BOSS ES-8
There are a few effects switching alternatives to the ES-8 worth checking out.
BOSS ES-5
If you like the features of the ES-8 but feel you don't need that many patches or inputs, the BOSS ES-5 might be a better option.

It's almost half the price of the ES-8 while still providing all the important features. Connecting up to five loops should be more than enough for a lot of guitarists.
Carl Martin Octa-Switch MK3
If you want something a bit easier to set up that doesn't use a little screen and menu buttons, the Octa-Switch MK3 is worth checking out. It's not as flexible as the BOSS switchers, but for many guitarists, it gives you enough control to make your life easier. The MK3 is basically the same system as the MK2, but in a more compact design.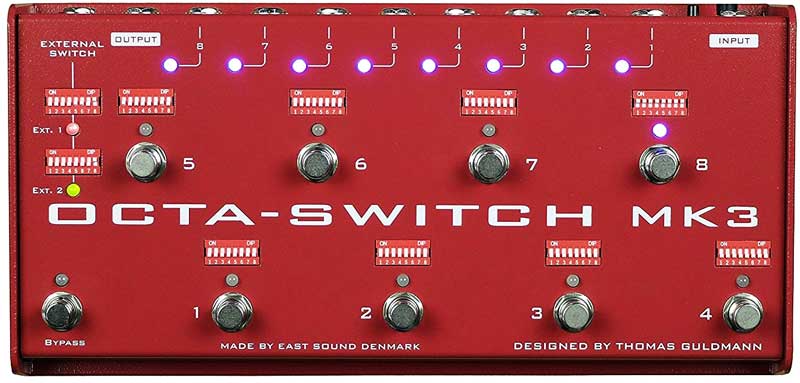 What I like about this design is how you set up the presets. Above each footswitch is a row of 8 dip switches. These switches represent each of the eight pedals you plug into the unit. You can set up any combination of pedals for each preset by adjusting the dip switches. The LEDs at the top also give you a quick idea which pedals are active at any time.
If you do get one of the above switching systems or a different one not mentioned above, let me know your thoughts on it here and any tips you have for other guitarists to get the most out of it.
Summary
Reviewer
Review Date
Reviewed Item
Author Rating





Product Name