Ed Sheeran has a simple guitar rig yet he's able to use his simple rig to entertain sold-out stadiums around the world.
While Ed has come a long way since releasing his hit song 'The A-Team' in 2011, you might be surprised to see how simple his rig is today.
In this guide, let's go through Ed Sheeran's guitar rig and what you can learn from it.
Ed Sheeran's Acoustic Guitars
Ed Sheeran has played a lot of different acoustic guitars over the years and will likely keep trying out different models in the future.
Let's focus this guide on the main guitars he has used over the years and the guitars he currently uses.
Little Martin LX1E
Ed is well known for playing Martin LX1E 'Little Martin' guitars as shown below:

These guitars have inbuilt Fishman Sonitone pickups (the 'E' in LX1E is for 'Electronics'), which Ed plugs into his wireless stage system.
The main thing to keep in mind with the above guitar is that it's quite smaller than a typical acoustic guitar.
3/4 size guitars are often thought of or sold as beginner's guitars or kid's guitars. But they're also incredibly popular as 'travel' guitars. The small body makes it much easier to transport compared to a full-size acoustic guitar.
Learn all about travel guitars in this guide.
3/4 size guitars also sound different as the smaller body produces a tighter tone without the booming bass and volume you would expect from a full-size guitar.
The below photo compares the Little Martin LX1E against a full-size Martin to give you a better idea of the significant size differences.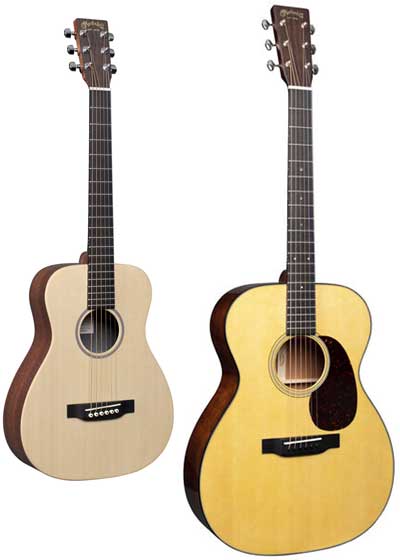 You can see that the LX1E's body is considerably smaller than a full-size acoustic guitar.
Learn about guitar sizes in this guide.
The Little Martin also has a shorter scale length compared to a typical guitar. The scale length of the Little Martin LX1E is 23″ while a typical acoustic guitar has a scale length of around 25″.
The shorter scale length combined with the smaller body makes this guitar feel very different to play compared to a full-size acoustic.
Learn all about guitar scale length and how it impacts playability in this guide.
There have been two Ed Sheeran signature Little Martin models: the X model and the DIVIDE model.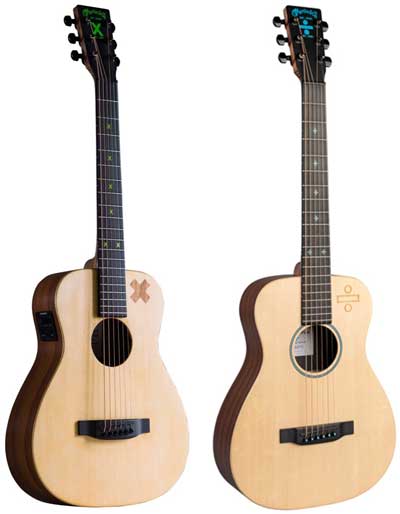 As you might expect, these guitars were released to match his albums (the X model was produced first and later replaced by the DIVIDE model). As these guitars are no longer produced, you can expect to see some high prices from second-hand models.
Lowden Guitars
In 2020, Ed Sheeran teamed up with George Lowden to produce a range of signature models. There are two main series of Sheeran guitars available in a range of different wood combinations.
There are currently four models in the S Series (S for small body) and four models in the W Series (W for 'Wee Lowden' as nicknamed by Ed) as of 2021.
Each model offers different combinations of wood for the top and back & sides including Cedar, Walnut, Sitka Spruce, and Indian Rosewood.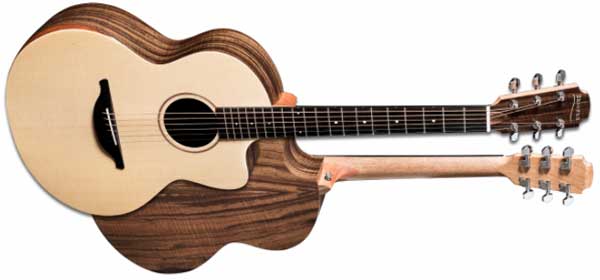 Two of the S models (S03 and S04) have a cutaway for easier access to the upper frets. Three of the S models (S02, S03, S04) have a bevel on the body where your arm rests against it as you can see in the above photo.
There are four models in the W Series (W for 'Wee Lowden' as nicknamed by Ed).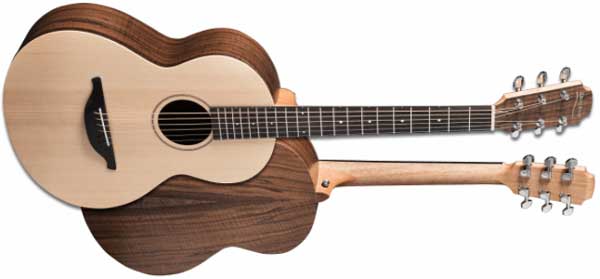 There are no W models with a cutaway and only one with the body bevel (W03). The W Series is based on the shape original designed specifically for Ed Sheeran, while the S Series was an already established size in the Lowden guitar range.
For full details of the current range and wood configurations, check out the Sheeran Guitars website.
Should You Buy a 3/4 Size Guitar?
If you're an Ed Sheeran fan and want to copy him, you might be thinking about buying a 3/4 size guitar.
While it might make sense to buy a 3/4 size guitar to copy Ed, make sure you try out a few reduced-size guitars before you decide on buying one.
You may like the feel and sound of a 3/4 size guitar or you may prefer sticking to a full-size guitar. It's all personal preference, so don't feel like you need to copy everything Ed uses perfectly to play his music.
The last thing you want is to buy a 3/4 size guitar and hate how it feels to play. If you have large hands or have trouble playing chords on a full-size guitar, then moving to a 3/4 size guitar may only make things worse.
Some guitarists will prefer the small feel, while others don't. Ed Sheeran obviously prefers small acoustic guitars as his signature models are all based on the LX1E.
Ed Sheeran's Electric Guitars
While Ed mostly plays acoustic guitar, he breaks out an electric guitar from time to time.
Ed Sheeran has played a few different electric guitars over the years. He regularly plays a Fender Stratocaster with custom artwork by artists John Crash Matos and Teddy M.
Other guitars he has played over the years include a PRS Hollowbody II, a Telecaster, a Les Paul, and a replica Eric Clapton Stratocaster.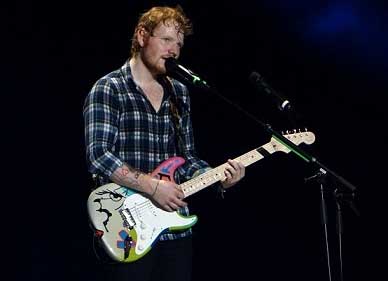 You can often hear Ed Sheeran play electric guitar in live versions of Thinking of You.
Ed's electric guitar tone is clean and incredibly dry. He runs his guitar through a VOX AC30 guitar amp as shown below.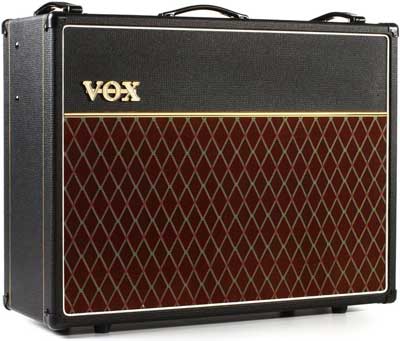 If you want to play Ed Sheeran's songs on electric guitar, use a single-coil pickup if possible and use the cleanest tone possible.
You can hear in his performances when he uses an electric guitar that he uses the dryest tone possible. This sounds fine in a big stadium because the large open space naturally adds a lot of reverb to his tone. But if you try to copy his dry tone at home, you'll probably be disappointed with how it sounds.
When playing at home, I suggest experimenting with using different types of reverb. A subtle hall reverb can help you get closer to what the audience hears at his concerts. Plus it'll make the dry guitar tone much more enjoyable when you're playing on your own.
Learn all about reverb in this guide.
Ed Sheeran's Guitar Accessories
Here are some of the main accessories Ed Sheeran uses with his guitars.
Keep in mind that many of these things may change over time as his preferences change and what suits Ed may or may not suit you. If you find you prefer a different set of strings, picks, or any other gear compared to what Ed uses, that's completely fine. Don't feel that you need to copy his rig 100% to be able to play his music.
Guitar Strings
Ed Sheeran uses Elixir Acoustic Nanoweb Light 12-53 guitar strings (link to Amazon).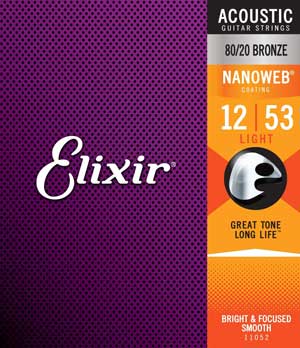 Keep in mind that the scale length on Ed's guitars is shorter (23″) than typical guitars (around 25″). This means the string tension on his guitars may feel completely different than what the same strings would feel on a full-size guitar.
So you may find that even if you buy these strings and use them on your guitar, you may or may not like how they feel.
Guitar strings are a very personal choice, so read this guide to learn everything you would need to know about string materials, gauges, coatings, and more.
Capo
Ed Sheeran uses a Dunlop Trigger Capo for many of his songs. You can use any capo you want, but trigger-style capos are quick and easy to move around between songs.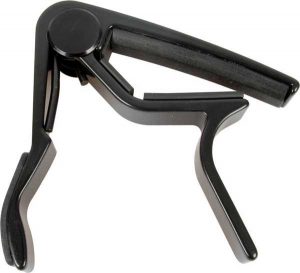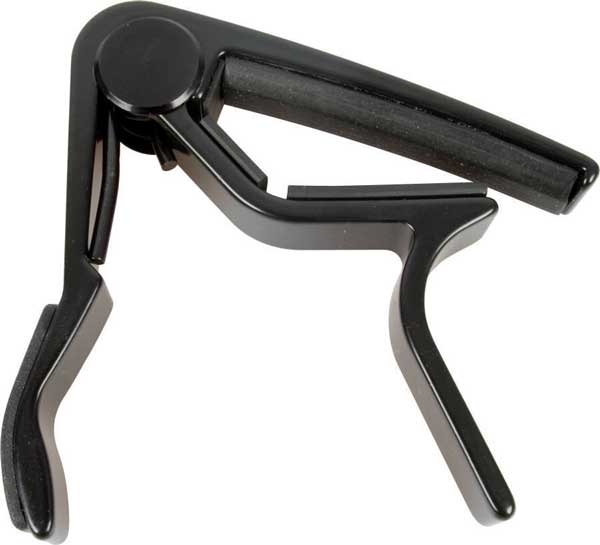 For an example of an Ed Sheeran song using a capo, learn how to play Tenerife Sea in this lesson on fingerpicking.
Learn more about capos in this guide as well as how to use them.
Guitar Picks
Some of Ed Sheeran's songs are played fingerstyle while in others he uses a pick. When he does need to use a pick in a song, he uses custom-made picks by Dunlop with artwork to match the current tour.

As these guitar picks aren't available to buy, I suggest buying a variety pack of picks to figure out what type of pick suits you best.
Read this guide on guitar picks to learn about different materials, thicknesses, and shapes and how they impact your tone and playability.
Tuner Pedal
The only pedal Ed uses on stage apart from his looper pedal (covered later) is a tuner.
The tuner pedal Ed Sheeran uses is a modified BOSS TU-3 (link to Amazon). The TU-3 is one of the most popular tuner pedals thanks to its simplicity.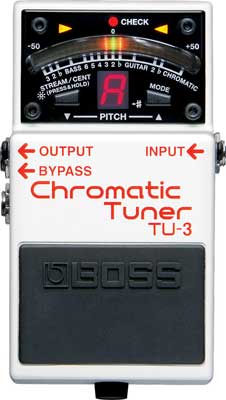 Ed runs a 100% digital signal on stage, so his crew needed to modify the pedal to work with the rest of his rig. The pedal was modified so when Ed hit the footswitch, it would send a signal to the rest of his rig to switch his signal to send to the pedal.
It's a complicated setup to have just because Ed wanted this specific tuner on stage.
If you want to replicate Ed Sheeran's guitar rig, any tuner pedal will work perfectly fine. You don't need to buy the TU-3 and there are arguably better tuners available you may want to consider instead.
Read this guide on guitar tuners to find out about different options as well as app and other non-pedal tuners.
Ed Sheeran's Loop Pedals
A key piece of gear in Ed Sheeran's rig is his loop pedal. If you want to sound and play like Ed Sheeran, you will need to get a looper pedal.
Any looper pedal will allow you to recreate many of the things Ed does on stage, but some looper pedals will be better suited than others.
Learn everything you would want to know about looper pedals along with the best options in this Ultimate Guide to Looper Pedals.
BOSS RC-30 Loop Station
For a very long time, Ed used the iconic BOSS RC-30 Loop Station as his main looper.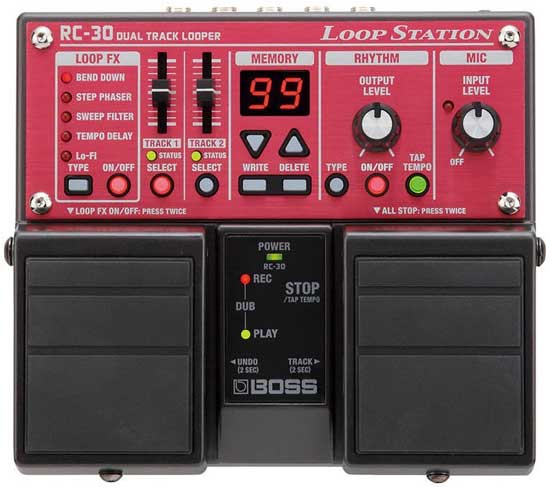 The RC-30 is one of the oldest and most well-known looper pedal in BOSS's Loop Station range.
For a very long time, the RC-30 was the go-to looper pedal for buskers and anybody wanting to experiment with loops during a performance.
What makes this looper pedal popular is that you can run two loop tracks at the same time. You can even plug a microphone in and run both vocal and guitar loops. If you also sing, you might want to get yourself a looper pedal that does something like this (many offer mic input).
BOSS has grown the range of loopers and there are far better options available today compared to this option, so check out my comparison of the BOSS Loop Station range to compare the different pedals. The guide will help you figure out which one may be right for you.
Chewie Monsta Looper
Ed Sheeran no longer uses the BOSS RC-30 as his looper pedal and instead uses a custom-built pedalboard.
The 'Chewie Monsta Looper' started out as a custom-built MIDI controller that would connect to a computer running a looper plugin.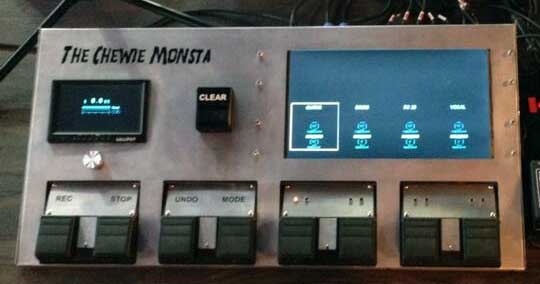 The important point to remember is that the above pedalboard isn't a looper pedal, it's only a MIDI controller.
MIDI controllers are generic pedalboards that send commands to other devices such as a computer. Learn everything you would want to know about MIDI Controllers in this guide.
The latest version of Ed Sheeran's custom pedalboard is the 'Chewie II' as famously shown first to the world during his 2017 Grammy Awards performance: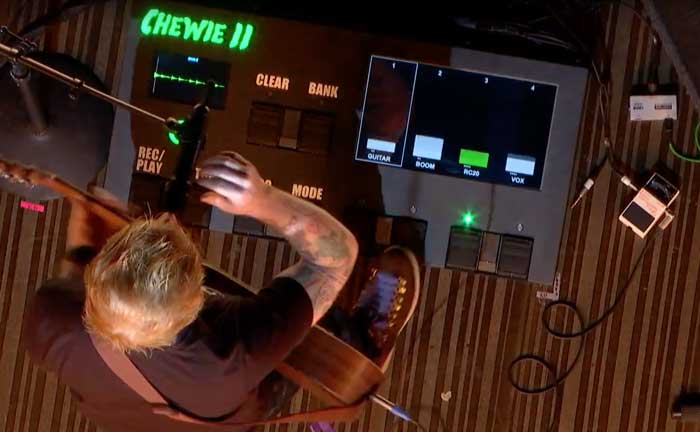 While it might look impressive (and massive), keep in mind that the above pedalboard is still a simple MIDI controller with two displays built into the unit. It's still running a looper plugin in the same way as the original Chewie Monsta.
You can see in the above photo that Ed is able to run four independent loops at the same time. The four loops are controlled with the four footswitches on the right where he is able to start and stop each loop as he likes. His microphone is also connected, which means he can create vocal loops as well.
The left footswitches control standard looper functions such as Rec/Play, Stop, Undo, Clear.
The screen on the far left shows the waveform of the current loop while the display on the right shows all four tracks and their current status.
Ed Sheeran's Chewie II pedalboard controls a VST looper plugin called Mobius 2.
Mobius 2 is a free looper plugin you can use with a DAW. Ed Sheeran uses Ableton Live as his DAW to host this plugin.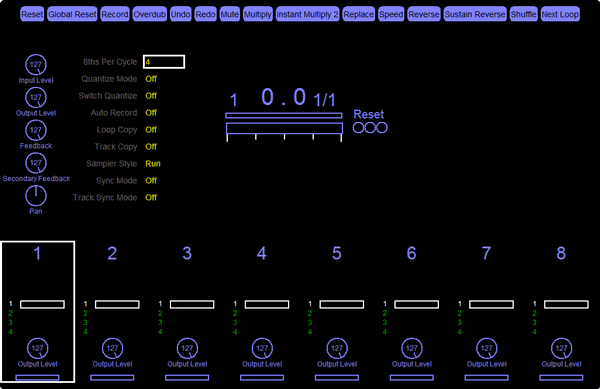 The big advantage of running a custom looper like this is that it gives Ed full control over his loops in a way that might not be available in a standard looper pedal.
If you try out the Mobius plugin, you'll quickly see how versatile it can be. There's a bit of a learning curve, but it packs in a lot of features for a free plugin.
Create Your Own Custom Looper
While you can't go out and buy a Chewie looper, you can create something similar that can do the exact same job.
You will need to connect a MIDI Controller to a computer, connect your guitar to your computer, then run a DAW such as Ableton Live or a looper plugin like Mobius 2 to create your loops.
Here are some useful guides if you want to create a similar setup at home:
Some Ed Sheeran fans have built their own replicas of the Chewie II and mounted a display to the unit to look exactly the same as Ed's.
If you do buy a looper pedal, it might take some time to get used to creating loops. Knowing how to properly set up and edit loops can make or break a performance.
Learn how to use a loop pedal in this lesson. The lesson teaches you the basics of looping with exercises to help you build up your rhythm and timing skills.
Ed Sheeran's Microphones
Ed Sheeran uses a variety of microphones for both his vocals and his acoustic guitar. Different microphones add different characteristics to the vocal or guitar tones.
While his acoustic guitars are able to be plugged in (he doesn't use microphones for his guitars during live performances), you can usually get a far better tone when recording acoustic guitar using a microphone.
You can regularly see photos of Ed Sheeran using an sE4400a condenser microphone to record his acoustic guitars as well as other instruments.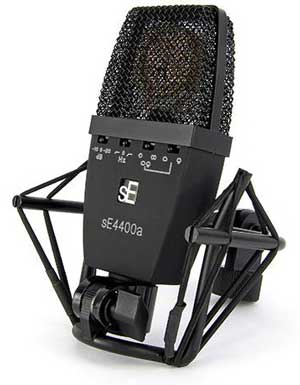 Ed Sheeran's producer, Jake Gosling, has said in interviews that he used a pair of these microphones to record Ed's guitars in his + album.
The advantage of using two microphones when recording acoustic guitar is that you can mix between the two to find the perfect tone.
For vocals, you can regularly see the sE Z3300A condenser microphone in action in the studio.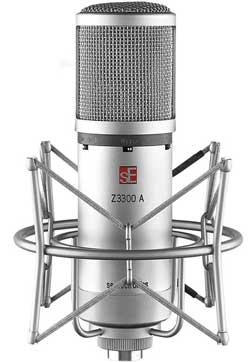 Another popular microphone Ed uses is the Neumann U87. This is a high-end microphone so don't expect to pick one of these up in a bargain bin at your local guitar store.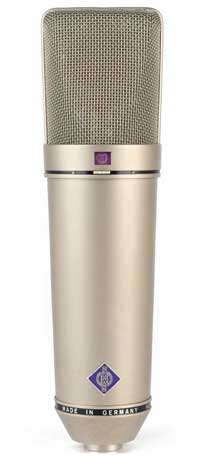 Keep in mind that most of the decisions on what microphones or studio gear come from the producer and any sound engineers working on an album.
I've read in interviews that Ed Sheeran isn't particular about his microphones, so don't feel like you need to buy specific microphones. Find one that you like the sound of.
Ed Sheeran's Headphones
It seems that every time Ed Sheeran is shown in a studio, he's using different headphones.
Some of the headphones he has used in the past include the AKG K121, the Beyerdynamic DT 770 Pro, the Sony MDR-7506, and even the Beats Solo 2.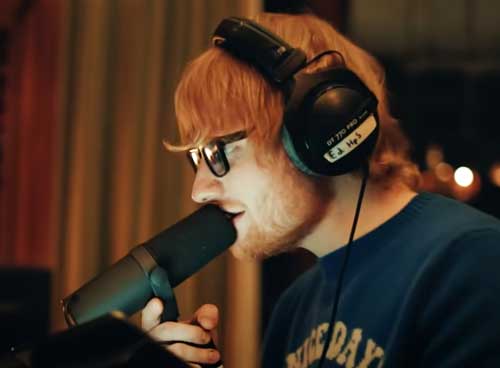 The fact that Ed seems to use different headphones all the time tells us that having a specific pair isn't important to him. Find a pair that suits you and don't worry about whether it's a model Ed has used or not.
Check out more headphones options in this guide.
What I Like About Ed Sheeran's Guitar Rig
While Ed Sheeran's guitar rig is incredibly simple compared to other guitarist guitar rigs that I have covered, there are some interesting lessons we can learn from how Ed uses gear in his music.
Here are some things I like about Ed Sheeran's guitar rig:
Flexibility
You can see that Ed changes pretty much every piece of gear he uses over time. The guitars, microphones, looper pedals, and studio gear all change from album to album and song to song.
This is a great approach to take and flies in the face of how a lot of guitarists think about gear. Some guitarists will stick to specific gear and never try anything different.
Being willing to try out different guitars or experiment with different gear is a great way to stay inspired and try new things. While the basics of Ed's guitar rig has stayed the same over the years, he's not tied down to specific guitar or hardware models.
You can expect that Ed will continue to use different guitars and gear in the future as he evolves as a musician.
Simplicity
When you look at some live guitar rigs, it's amazing that the guitar techs are able to keep everything running smoothly at all.
Take a look at one of David Gilmour's (Pink Floyd) live rigs from the past and you'll see how complex some musician's rigs can be.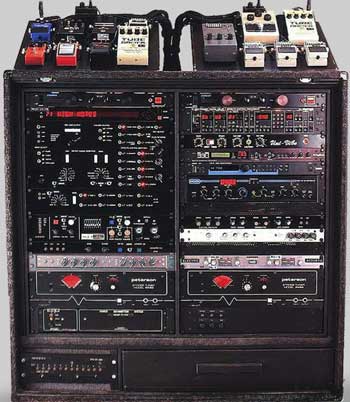 What I like about Ed Sheeran's rig is that it basically boils down to an acoustic guitar, a looper pedal, and a microphone. While his techs do have some complex setups behind the scenes, this is a simple rig to work with.
Having a simple rig may feel limiting in some ways. But the fact that Ed can entertain entire stadiums with this simple rig tells us that you don't need massive pedalboards or rack units to get a great guitar tone.
Versatility
Ed is well known for using his looper pedal to enhance his performances. It's a simple piece of gear, but it opens up his music to so many possibilities.
He's able to add elements to his one-man show to enhance songs in different ways. From laying down simple rhythms by hitting the body of his guitar, to adding and removing layers throughout a song, it's incredible what you can do with a simple looper pedal.
With Ed's looper pedal, he can plug in anything he wants such as a keyboard, and instantly take his music in different directions. Have a think about the versatility of your own rig and how you could incorporate loops in similar ways.
How to Sound Like Ed Sheeran
When you break Ed Sheeran's sound down to the basics, you end up with an acoustic guitar and a looper pedal.
While you might think that would make it easy for you to replicate his guitar tone, it's not that straightforward.
The key point to remember is that when you listen to one of Ed Sheeran's songs, you're not just hearing an acoustic guitar. You're hearing an acoustic guitar recorded through multiple high-quality microphones in a professional studio environment. Then that tone has been edited, mixed, and tweaked by the best audio engineers in the world.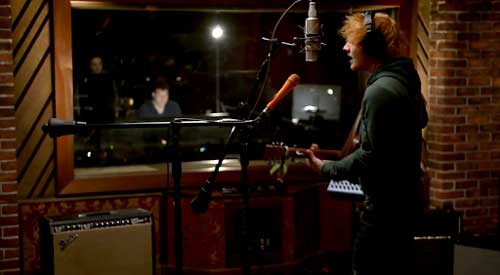 When you hear Ed in a live performance, you're still not just hearing his acoustic guitar. You're hearing his guitar pass through a lot of processing software and mixed by professional engineers. The end result will always be completely different than the tone you hear as you play your acoustic guitar at home.
So while Ed Sheeran's guitar tone is as simple as it gets, a lot of work goes into dialing in the perfect tone in the studio or on stage.
Don't get frustrated if the tone you hear from your guitar doesn't quite sound the same as what you hear in his albums.
The type of acoustic guitar you use will play a big role in how close you can get to his tone. Using one of his signature guitars will definitely help, but it won't guarantee you will replicate his tone. Don't expect to sound just like Ed just because you bought his signature guitar.
The key to sounding like Ed Sheeran is to regularly practice his songs and practice using a looper pedal in the same way he does.
Watch live performances of Ed playing a song and pay close attention to what he records on his looper pedal. Try to copy everything you see with your own looper pedal. Do this again and again for every song you learn.
Check out this beginner lesson on looper pedals to get you started.
With enough practice, you'll start to get a feeling for how Ed thinks about his music. You'll learn how he makes use of his looper pedal and you'll be able to start writing your own songs in the same way.
Buying a 3/4 size acoustic guitar and a looper pedal might get you 70% of the way to sound like Ed Sheeran. While nobody other than Ed can get all the way to 100%, you can get closer by analyzing his playing style and practicing his songs.
Ed Sheeran Guitar Rig FAQs
Why is Ed Sheeran's Guitar So Small?
Ed Sheeran's guitars are so small because he prefers the feel and sound of 3/4 size guitars compared to full-size guitars. The smaller body creates a different type of guitar tone which suits Ed Sheeran's style of music.
Find out all about guitar sizes in this guide.
Why Does Ed Sheeran Change Guitars?
Ed Sheeran regularly changes guitars during a live performance to access different tunings and different guitar tones. Many of his songs use different tunings so he has different guitars set to each tuning needed. Changing guitars keeps the performance running smoothly.
During a live performance, the tuning can go slightly out after a song. So even if the next song uses the same tuning, he may prefer changing guitars so his tech can fix the tuning.
Is It Easier to Learn on a 3/4 Guitar?
Some people find it easier to learn on a 3/4 size guitar due to the smaller body and fretboard. Guitarists with small hands tend to find it easier to play chords and stretch their hands on a 3/4 size guitar.
But for most people, learning on a 3/4 guitar isn't going to make much difference. Many beginners will find the smaller fretboard harder to play compared to a full-size guitar. If you have larger hands, a 3/4 size guitar will feel incredibly awkward and cramped to play.
Why Does Ed Sheeran Use a Loop Pedal?
Ed Sheeran uses a loop pedal to build up layers of sound that wouldn't be possible on his own. A loop pedal allows him to create rhythm tracks for him to sing and play over during a live performance without needing another musician to join in.
Learn all about loop pedals in this guide.
More Guitar Rigs Explained
The more you learn about different guitar rigs, the easier it will be for you to get the most out of your own guitar rig.
Here are a couple of interesting guitar rigs you might want to check out next:
If you found this guide helpful, subscribe to email updates here to stay up to date on new guides, lessons, and reviews.