The Roadie 3 is a tuner that can automatically change and adjust the tuning of your acoustic guitar, electric guitar, ukulele, mandolin, or banjo.
I reviewed the Roadie 2 in the past and this review looks at the brand new Roadie 3. Find out whether you might want an automatic tuner and what it's like to use.
Learn about different types of guitar tuners and the best guitar tuners in this guide.
Roadie 3 Automatic Guitar Tuner Features
Here are the Roadie 3's main features:
Motorized automatic tuning
Works with acoustic guitar, electric guitar, 7 string guitar, 12 string guitar, ukulele, mandolin, banjo
2x faster than the Roadie 2 with a speed of 120 RPM
Optional companion app via Bluetooth (can work fine without it)
Metronome mode
Works in quiet or noisy environments
Re-stringing mode to quickly remove and replace strings
Rechargeable battery with USB-C charging cable included
Color LCD screen
Capo setting to tune with a capo on
Listening accuracy 0.1Hz
100+ built-in tunings and space to save custom tunings
The long list of the above features might make it seem as if the Roadie is confusing, but it's a simple device to use and understand as I'll cover in this review.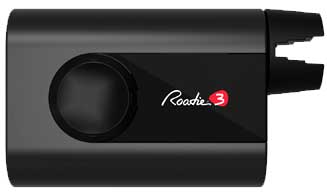 Ease of Use
I'll walk through how to use the main features of the Roadie 3 so you can get an idea of what it's like to use.
Setting Up Instruments
Because the Roadie 3 can tune a variety of different instruments and each type of instrument can have completely different tunings, you need to tell it what type of instrument you want to tune.
When you first turn the Roadie on by pressing the top button, it asks you to set up an instrument. In the future when you turn it on, it starts on whatever screen you left it on previously. It takes about one second for the Roadie to boot up.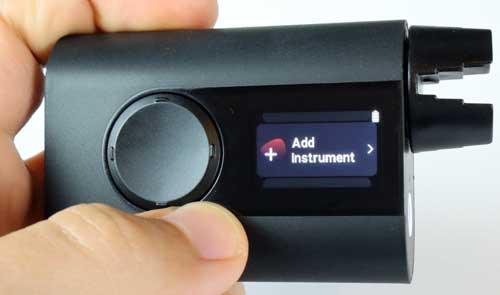 The big circle on the left is how you navigate the menu by pressing down, up, left, or right.
The way the screen animates as you move through the options makes it easy to understand which direction to press to go back or forward. For example, by taking a look at the above screen, you can see that if I want to add a new instrument, I would press right. To scroll through the different instruments I have added, I would press up or down.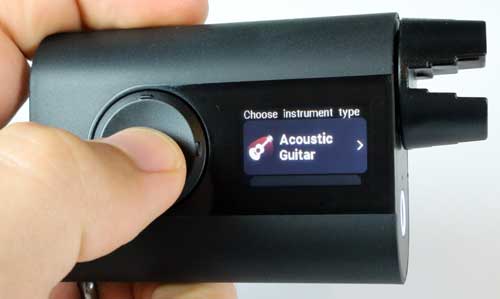 You then select what type of instrument you want to add to your list. Here are the options it displays:
Acoustic Guitar
Electric Guitar
Classical Guitar
Standard Ukulele
Concert Ukulele
Tenor Ukulele
Baritone Ukulele
Mandolin
Banjo
Once you select the type of instrument, it asks you to give it a name.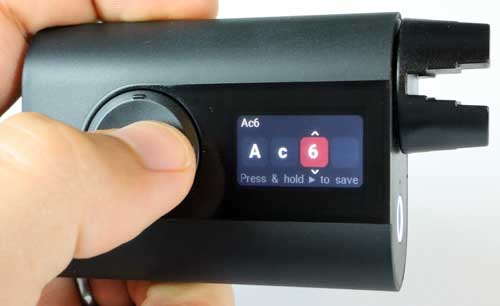 The idea behind naming the instruments you add is to make it quicker to jump into tunings you'll regularly use.
For example, let's say you have one guitar you always tune to standard tuning and another guitar you always tune to Drop C tuning.
You could set up one instrument on the Roadie and name it 'Standard' and set up another instrument and name it 'Drop C'.
Then you can easily choose between the two instruments whenever you want instead of having to go into the settings and changing the tuning back and forth.
Or you could name one 'Red' and the other 'Burst' to match the colors of your guitars. I set up one instrument as 'A7' which lets me know it's for my 7-string guitar I tune to A. You can use whatever naming you want.
Once you add a name, that instrument will show in the main list.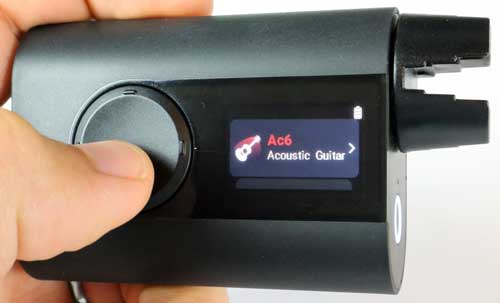 Select the instrument (press right) and it will immediately go into tuning mode.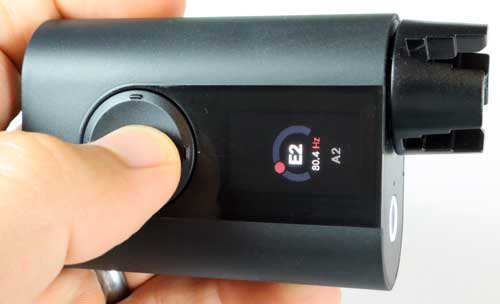 You can then hold the Roadie against your machine heads and start tuning. You can see in the above screenshot that it starts from the low E string.
If you want to change to a different tuning, Press down (while holding the Roadie sideways like in the above photo) to bring up the tuning menu.
From here, you can change to a different tuning, tune based on using a capo, or adjust the tuning pitch (if you're one of those people who can't accept that everybody else uses 440Hz 😉 ).
If you change to a different tuning (eg: Drop D), it will save that tuning for the instrument.
That means you have two ways to save custom tunings. You can either change between tunings in the menu as shown above, or you can create different instruments for each tuning you want to use.
For six-string guitars, there are 10 different tunings to choose from. If you want to add a tuning that isn't on the list, you can do it using the Roadie app.
Keep in mind that once you set up an instrument, it becomes quick and easy to jump right into tuning. It might feel a bit tedious to set up instruments (especially if you play a lot of different instruments), but it only takes a minute or two to set up a few instruments.
Tuning
Once your instruments are set up, it is a breeze to tune your guitars.
Select the appropriate instrument from your list, then you hold the Roadie 3 against your tuning pegs.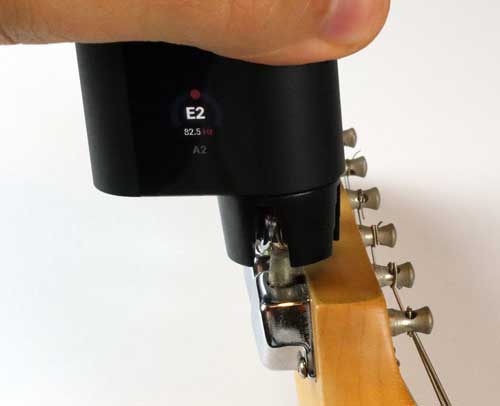 Pick the string and the Roadie will jump into action and adjust the tuning. The screen shows the current pitch and when the string is in-tune, it flashes green along with a beep and a vibration pulse.
This means you could tune your guitar in a noisy environment and easily know when the string is in tune.
If your string is almost in tune, you probably only need to pick the string once and the Roadie will tune it in one go. Otherwise, you may need to pick the string a couple of times. If the Roadie stops detecting the string's vibration, it stops adjusting the string.
It was immediately noticeable how much faster the Roadie 3 adjusts the string compared to the Roadie 2. I was already impressed by how well the Roadie 2 worked, so it's great to see that the Roadie 3 works even faster.
The other nice change from the Roadie 2 to 3 is the screen placement. When using the Roadie 2, I would rely on the light flashing and the vibration to know when the string was in tune, because the screen placement wasn't ideal.
With the Roadie 3, the screen is always in your view, so you can keep an eye on it as you tune.
Metronome
I didn't expect to see a metronome feature in the Roadie 3 (the Roadie 2 didn't have one), but it's there if you want it.
On the main menu if you scroll down past tuner, you'll see Metronome followed by Winder, then Settings.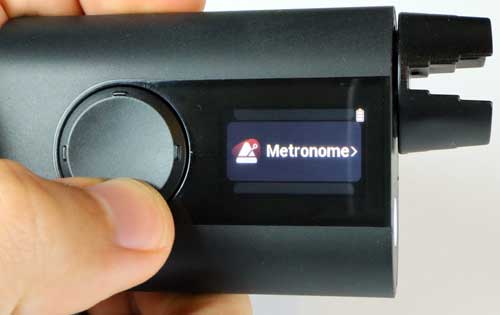 Go into the Metronome menu and it will immediately start counting using beeps and vibration pulses.
You can change all of the settings shown on the below screen: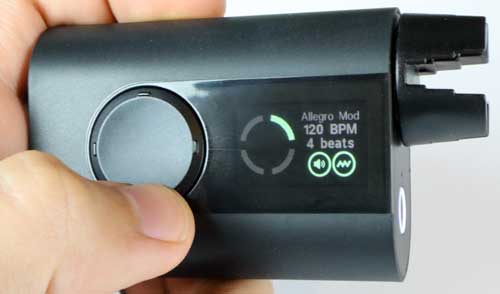 You can turn off the sound or vibration if you want, change the tempo, or change the number of beats between 2-16 (the first beat is emphasized).
While the sound may not be loud enough in a lot of situations, the vibration works surprisingly well. I've never used a metronome with vibration pulses before and it was perfectly useable. You could either rest it on your lap or put it in your pocket while practicing to feel the beat instead of listening for the click of a typical metronome.
Winder
One feature I really liked with the Roadie 2 was the string winder. This feature will constantly turn in one direction to either completely loosen your strings, or tighten them.
You can control the speed of the Roadie to either rapidly unwind a string, or slowly wind a new string up.
You've probably seen electric string winders like this one and this feature basically adds that into your tuner.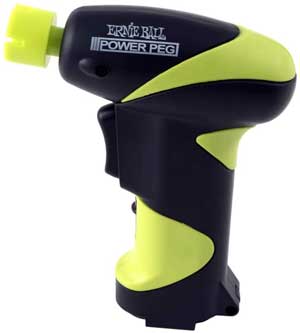 It's a nice feature to have when you want to change your strings and you remember you have it (I often only remember immediately after I finish changing a set of strings).
The string winder make it clear to me how much faster the Roadie 3 is compared to the Roadie 2. The Roadie 2's maximum speed was 60 RPM and the Roadie 3 is 120 RPM. So it should be no surprise that the string winder can go really fast.
At full speed, it completely slackened my low E string in 5 seconds.
If you update the firmware, you can even use the wind/unwind feature in the tuning screen. You hold down the left or right buttons to wind up or down, then let go to stop. This would be a handy way to tune up a new set of strings.
Reliability and Quality
I have been using the Roadie 2 since I reviewed it back in 2018. I have never had any issues with it and it still works fine.
The Roadie 3 does feel more premium compared to the Roadie 2. It has a soft rubber feel compared to the hard plastic of the Roadie 2.
The screen is bright enough and you can clearly read it at any time. It shows far more information than the Roadie 2's screen did and the color display is a nice improvement.
I like the four directional menu pad and once you get a feel for navigating the menus, it's easy to use.
I have only used the Roadie 3 for a few weeks, but it does feel solid and reliable. I'll update this review in the future if I encounter any issues.
Overall Impression of the Roadie 3 Tuner
The Roadie 3 is a nice upgrade over the Roadie 2, which was already an impressive tuner.
If you haven't used an automatic tuner before, you might not see the need for one. As someone who owns a lot of guitars and keeps them all in different tunings, the Roadie helps keep me sane.
I can pick up my guitar tuned to Eb Standard and check it is in tune in a flash. Then I can pick up my 12-string or my Drop-B guitar and quickly check and adjust them with a few clicks of the Roadie.
The Roadie 3 is easy to use, doesn't require the use of the Roadie app, and tunes guitars fast. Overall, I'm impressed with the upgrade and highly recommend it for anybody who regularly uses a variety of different tunings.
Roadie 3 Tuner Pros
Very fast tuning and easy to use
Great battery life (rechargeable)
Once you set up your instruments, it's quick to switch between tunings as you like
Display is clear and menus are easy to navigate
Roadie 3 Tuner Cons
Occasionally got confused on very low tunings (eg: Drop A on a 7-string guitar)
If a custom tuning isn't on the list, you need to use the app to set it up
Who is the Roadie 3 For?
If you use a lot of different tunings. If you regularly switch back and forth between different tunings, the Roadie 3 will make life easier for you.
I enjoy playing in a variety of tunings and it's nice to be able to slap the Roadie on to any guitar and easily tune it as needed.
If you have a lot of guitars. The Roadie starts to make a big difference the more guitars you have. If I pick up a guitar I haven't played in a few months, I can slap the Roadie on it and bring it back in tune in a few seconds. Of course, you can do this with any tuner, but the Roadie just makes it quicker and easier. If you're like me and find tuning guitars annoying, then using a tool like the Roadie to make that job faster is worth considering.
If you play 12 string guitars. 12-string guitars are annoying to tune. If I want to play my 12-string, I'll use the Roadie to quickly adjust the tuning. If you ever want to change my 12-string to an alternate tuning, then the Roadie makes life so much easier.
Who isn't the Roadie 3 For?
If you don't have a lot of guitars or you don't use many different tunings, then you won't get the full benefit of the Roadie 3. For example, if you only have one or two guitars and you always stick to standard tuning, you'll be perfectly fine using any other tuner.
The Roadie 3 really shines when you want to quickly change from Standard Tuning to something completely different such as Open G or Drop C. If you aren't interested in alternate tunings, then the Roadie 3 may not be for you.
As a side note, if you haven't experimented with alternate tunings before, I recommend you try it. Read this guide on alternate tunings and try a few out. The guide includes resources for popular alternate tunings including songs and TAB for each tuning.
Roadie 3 vs Roadie 2 Tuner
As I've covered in this review, the Roadie 3 is a big upgrade over the Roadie 2. I was impressed with the Roadie 2 when I first reviewed it in 2018. I continued to use it since then, but I'm really happy with how much better the Roadie 3 is.
The screen and menu system make the Roadie 3 far easier to use. The placement of the screen means you can see it at all times when tuning your guitar.
The Roadie 2 and 3 are similar in size, but the shape of the Roadie 3 makes it feel more compact.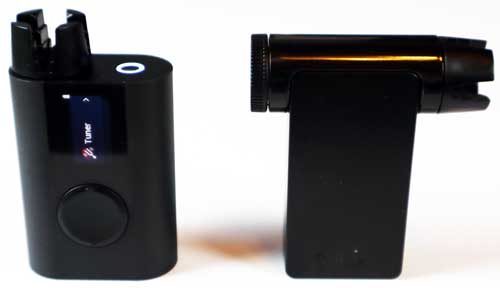 As I mentioned, the Roadie 3 can turn twice as fast, which makes unwinding strings ridiculously quick. It also means that the Roadie 3 can tune your guitar faster.
Alternatives to the Roadie 3 Tuner
While there aren't any other automatic tuners out there apart from the Roadie 2, there are plenty of different types of tuners.
Check out this Guide on Guitar Tuners to learn about the different types of tuners you can get and the best options for each one. You may find that a more traditional tuner suits you better or you may find that the Roadie 3 meets your needs.
If you want to get the most out of the Roadie 3, here are a few guides to check out:
Summary
Reviewer
Review Date
Reviewed Item
Roadie 3 Automatic Guitar Tuner
Author Rating





Product Name