The Dunlop Original Crybaby is the most iconic wah around – it even has a documentary dedicated to it. The original Crybaby was released in 1966. Jimi Hendrix and Eric Clapton popularized the wah to the point where it's still instantly recognizable today.
Here are a few guitarists who use/used the Crybaby wah: Slash, Kirk Hammett, Eddie Van Halen, Zakk Wylde, Dimebag Darrell, Jerry Cantrell, Joe Bonamassa. Note that all of these guitarists now have their own 'signature' Crybaby models so they may or may not still use the Original model.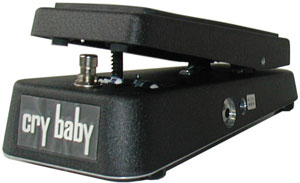 For other wah pedal options, check out my Buyer's Guide on Best Wah Pedals here.
Original Crybaby Features
The GCB95 – the 'original' Crybaby – is built to be faithful to the original 1966 Crybaby sound. While I don't have a 1966 Crybaby to compare it to – Dunlop claims that it is true to the original design. Here are the main features of the Original Crybaby:
Metal chassis
Rubber grip on the pedal
Toe on/off footswitch
9v powered or AC adapter
Pretty basic features, right? That's the point with the Original Crybaby – it's meant to be basic. Remember that this is how the wah was brought into the world so you can't expect any extra features seen on other wah pedals today.
Keep in mind that the Crybaby does not have True Bypass so even when it is bypassed it will affect your tone.
Ease of use
This is the easiest wah pedal to use. To activate the wah all you do is press down with your toe until it clicks the footswitch. That's it – there are no knobs to adjust, no settings or presets – just one footswitch and you're right to go. It can't get any simpler than the Original Crybaby.
Sound
The sound is the main reason why the Original Crybaby is still so popular today. It's incredibly versatile and works well with many styles. But the style where it really comes to life is rock. Listen to Jimi Hendrix's 'Voodoo Chile (Slight Return)' to hear the Crybaby used properly.
The Crybaby has a great sweep through the frequencies and sounds great either clean or with overdrive. Generally speaking, you should have the wah towards the start of your pedal chain to get the best sound. A nice overdrive and a tube amp will take you back to Hendrix's time and really gives an authentic classic rock feel. I cranked the amp up and used an A/B splitter to see if the pedal added any noise when it was not being used (but still activated) and didn't notice anything significant.
However, you might notice a small click when you activate the wah using the footswitch. If you're used to pedals that are completely quiet when switching on/off this might be a bit annoying – but it's only a minor issue.
While the Original Crybaby definitely delivers what it promises – an authentic and classic wah sound – it doesn't offer much else. When compared to a wah such as the Ibanez Weeping Demon, the Crybaby can seem quite limited. Without physically modifying the pedal, you cannot tweak your sound at all. So many Original Crybaby owners end up adding mods to their pedal because of this limitation. A quick Google search will reveal so many differents mods you can do to your Crybaby – from creating a True Bypass all the way to adding LED indicator lights.
While it's good to know that the Crybaby is easy to modify – it makes you wonder: if the Original Crybaby is so good, why do people feel the need to modify it?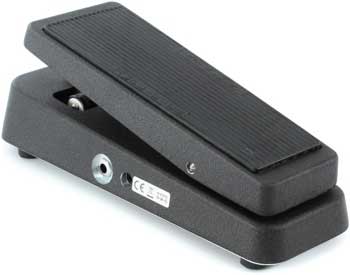 Reliability/Quality
The metal construction ensures that the Crybaby will last. If you open up the Crybaby you will see that there really isn't much to a wah pedal – a simple circuitboard and a pot – so it's highly unlikely that anything will break during normal usage. Guitarists have been gigging with the Crybaby for decades so it's definitely stood the test of time.
Overall impression
The Original Crybaby delivers what it promises – a classic wah sound. I really enjoyed the wah sound it produces (I reviewed a student's Crybaby) and my student enjoys how easy it is to use. If you like the sound of the Crybaby as is – I would highly recommend it. On the other hand, if after a few minutes you start to think "I wish it had more range" or "I wonder if there's a mod to ….." then I don't recommend it. Rather than modify the Crybaby to overcome any shortcomings, look for a pedal that will suit your needs without any extra modifications. You might find one of the many signature Crybaby models fit your needs perfectly. Don't buy this pedal just because of the name – buy it because you love the sound and don't want to change it.
Pros
Classic wah sound
Excellent quality
Simple
Cons
Zero versatility (without adding mods)
Who is it for?
This wah was recommended by several guitar bloggers in our Must-Have Pedals guide which shows how important a wah is to any guitarist. Regardless of what style you play, the wah will allow you to find new ways to express yourself. The bloggers who recommended this pedal recommended it because it delivers a high-quality wah sound and is incredibly easy to use.
If you enjoy playing songs by Jimi Hendrix, Eric Clapton or any other classic rock – then the Crybaby is a key component to consider. Of course, other wahs will achieve the same effect, but the Original Crybaby is set out to give you a classic sound.
Who isn't it for?
If you want versatility, then I don't recommend the Original Crybaby. Why spend time and money modifying the Crybaby when you can simply buy a more versatile pedal? Read my review on the Vox Joe Satriani Big Bad Wah to see how a versatile pedal gives you more freedom with your tone.
How to get the most out of the Original Crybaby
If this is your first wah pedal, I recommend following the exercises in this lesson: How to use a wah pedal. You will learn how to control the wah and different techniques to use. It's a good starting point for any guitarist.
While I don't really recommend adding mods to your Crybaby, here is a simple adjustment you can make that will change how your Crybaby sounds. The good news is all you need is a screwdriver. This adjustment can remove the high end of the wah's range so if you feel that it sounds too harsh when you rock the pedal all the way forward, this adjustment is for you.
The other recommendation is to try combining the wah with other effects one at a time. Experiment with how it sounds with different overdrive settings then see how it reacts to a phaser or chorus effect. Some effects will work better than others but the point is that you will learn what enhances the wah sound and what doesn't.
Alternatives to the Original Crybaby
There are plenty of alternatives to the Original Crybaby Wah. Some will offer a similar classic sound, while others will give you far more flexibility in tone and features. Check out my Ultimate Buyer's Guide to Wah Pedals to read about different options.
See information on pricing, availability and other reviews here.
Summary
Reviewer
Review Date
Reviewed Item
Dunlop Original Crybaby Wah
Author Rating





Product Name
Dunlop Original Crybaby Wah