There are a lot of guitar pedals available today. Knowing where to start is a hard task. What type of pedals will last you your entire lifetime as a guitarist? Over time your tastes and preferences will change so you don't want to spend a lot of money now to only find out a year from now the pedal you chose doesn't suit you anymore.
To help you get a good starting point and find useful pedals that you won't grow out of, I've contacted a lot of expert guitar bloggers. I asked each guitar expert to come up with three essential guitar pedals that should be suitable for any type of guitarist. This means it doesn't matter what styles you like or what your current skill level is – these pedals should suit almost everybody and will be useful throughout your entire lifetime as a guitarist.
Read through the great suggestions and comments provided by these experts and make note of the type of pedals they suggest. By the end you should have a clear idea which type of pedals to consider and you will have plenty of specific options to choose from.
Not only is this an innovative guitar tuner that allows players to detect the intonation of all 6 strings at once, it is also one of the few tuners that offers a 100% true bypass.
Using a compressor is a simple way to smooth out the dynamics of your guitar playing. The MXR is a simple pedal that can do wonders to the sound output you provide a sound tech.
3. Loop Pedals
My personal favorite is the Line 6 DL4, although there are others out there. These are especially helpful to guitarists who may not have the chance to play with other musicians often. These pedals allow you to loop your own playing, allowing you to practice soloing.
Check out the top looper pedal options here.
Jon at Guitarnoize.com
1. A good transparent overdrive
First of all I would say a good transparent overdrive pedal, no matter what amp you have it will come in useful to either add sustain for solos or enable you to add another layer to your tone by setting up a light crunch tone that cleans up with your volume control on your guitar and then kick in the overdrive for a higher gain tone.
There are a lot on the market that do this but my current favourite is an MI Audio Effects Super Crunch Box, this pedal has 3 different modes so you can use it as a transparent booster or a high gain super compressed distortion. Definitely worth the investment.
2. Delay
Secondly, every guitar player loves delay. I use delay pedals all the time even if it is just to have some subtle repeats. Again there are so many to choose from but if you are a beginner you don't want to be spending lots of money on a boutique pedal so get yourself a TC Electronic Flashback or Flashback X4 (compare the different Flashback options here).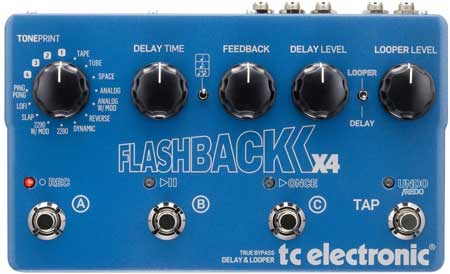 The toneprint features on this pedal mean you can use the free PC/Mac editor to create unique sounds and store them in the pedal which is a great added bonus and there is nothing else on the market that allows this kind of customisation at this price point.
3. Modulation such as Chorus, Flanger or Vibe
Lastly, I want to recommend some kind of modulation pedal but you might want to use Chorus or Flanger or Vibe… or all 3. Therefore my last suggestion isn't cheap but it will definitely last a lifetime and incorporates all 3 of these effects plus Tremolo, it is the Empress Nebulus. This pedal allows you to store presets too so you can set up a number of different modulation effects and recall them easily.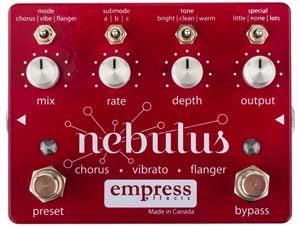 To me, the three pedals you absolutely need to have when starting out are (in the order you should get them, by the way):
1. A decent reverb
As Doug Doppler put it, "Reverb adds just a little grease to your tone." You don't need much to add expanse to your sound, but it's something that I rarely go without. I've been using the DigiTech Hardwire RV-7 Reverb since it came out a several years ago, and it has never done me wrong. The Lexicon models it uses are fantastic, IMO.
I also use the TC Electronic Hall of Fame Reverb for my acoustic guitar. There are others out there that are fancier (and more expensive) like some of the tube reverbs, but a decent digital one will give you a lot of mileage.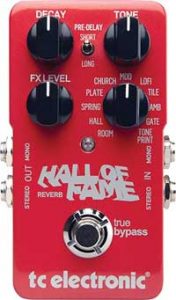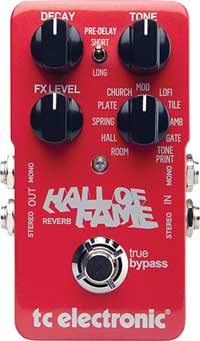 Learn about reverb and check out different reverb options here.
2. A transparent overdrive
Why didn't I do this first? Mainly because most beginners will either start out clean or get their grind from their amps. In fact, I'm a big proponent of learning to get overdrive from the amp first. And I feel a decent reverb pedal will help the most with tone-shaping when you're starting out. But with respect to the overdrive, notice that I specifically said, "transparent."
I personally started out with an original TubeScreamer, but soon found that I didn't care much for the mid-hump. A transparent overdrive can also be used as a booster to push the front-end of the amp. Then you can add gain to add a bit more grit to interact with the amp's signal. You get the best of both worlds then with a decent, transparent overdrive.
As far as transparent overdrives are concerned, there's none better – at least for me – than the Timmy. Yeah, you have to wait a few months to get one, but it's worth the wait, and at $129.00, its price is very hard to beat. You've probably seen my gear announcement on the EHX Soul Food, which is a Klon copy. At $62.00, it's another steal.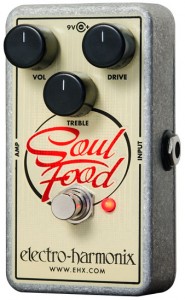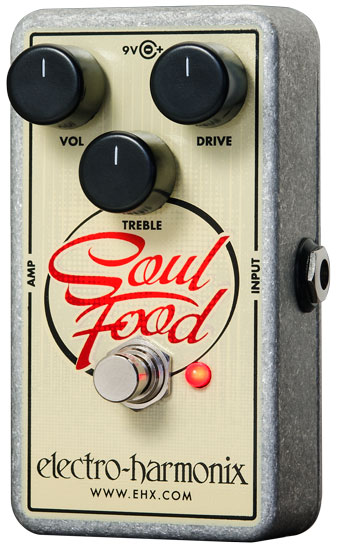 Another good one that I actually like a lot is another TC Electronic pedal, the MojoMojo. It's pretty transparent, though I'd recommend the Timmy over it any day.
All that said, finding an overdrive that you like is also the trickiest. I have about 10 or so (maybe more) that are collecting dust in my garage. Once I got my Timmy, my search pretty much ended, but I'm kind of addicted to overdrives, so I'll probably keep on getting them and testing them as interesting ones pop up.
3. The last pedal is actually a toss-up between two: delay and chorus – and I actually recommend getting both.
I have 4 delay pedals and 3 chorus pedals, and switch off between the different ones depending upon my mood. However, that said, I for acoustic guitar I use a Homebrew THC chorus, and my Vox Time Machine digital delay (which actually has a lot of analog characteristics). For electric, I use either my TC Electronic Corona Chorus or my vintage BOSS CE-2.
I also have a MXR Carbon Copy, and a Boss DD-3. Don't use the former ones too much, though the Carbon Copy is a very nice analog delay that can even get a chorus sound.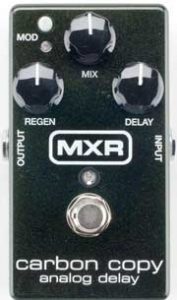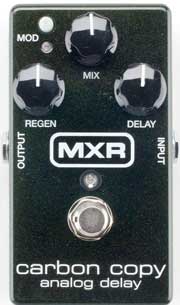 The reason for the toss-up is that I feel that you need to have the three main modulation effects covered out of the five modulation effects you can have; that is, Chorus, Flange, Delay, Reverb, Phase. I don't count Vibe in this because that's more or less a combo Chorus/Phase device. People might argue about the Chorus, but used subtly, it can also add depth to your tone without sounding too 80's. 🙂
Learn more about chorus and check out different chorus pedal options here.

1. Ibanez Tube Screamer
Any version, but the TS9 is great for beginners.
2. Any Delay
The Boss DD-3 is great for beginners
3. Any Tuner Pedal
I like the BOSS TU-3 or the TC Electronic PolyTune.
I can get through pretty much any gig with those three pedals. 🙂
There are plenty of other Cry Baby Wah Wahs, most of which include all sorts of adjustable bits and pieces to really help you nail your perfect wah tone. But the dead-simple GCB95 just gets on with it and sounds great.
A very adaptable distortion pedal with enough adjustability to be really flexible, but not so much as to be confusing and complicated to use. It'll give you a wide range of overdrive and distortion sounds that will suit many different genres, and you could cover a whole nights' worth of cover songs with this as your sole overdrive/distortion.
This one has several useful modes and plenty of delay time, and it also gives you 'sound-on-sound' capabilities which are fun for jamming at home or creating luscious soundscapes. And the stereo input/output and expression pedal jack mean that it can grow with your guitar rig.
I actually have two "must-have" pedals that I always recommend: A good Wah pedal and a delay. I got my Bad Horsie wah when I was 16 and I still use the same one (I'm 27 now) and I think that's critical to any pedal board. Delay is just an effect that is versatile and usable across a lot of different genres and platforms.
For the third one, I usually recommend a light distortion or chorus pedal, depending on the goals of the player and their stylistic leanings.
1. Dirt pedal of some kind
Basically, a pedal that pushes your signal, whether it be an overdrive or a fuzz. It will give you the boost and tone to do some wild solos and with much great ease since it will respond more to your touch versus a clean tone. As well, you can set these pedals for a variety of different tones from a slight boost with coloured cleans to an all out crazy feedbacking fuzz!
2. Wah Pedal
The wah pedal is classic and if used right, can give your guitar more of a talking kind of quality. As well, you can use the wah in many ways such as getting different guitar tones. This is done by keeping the wah on, but leaving the expression pedal in one position. This is great for soloing as wahs add extra layers of oscillation.
3. Tuner Pedal
This may seem like a dumb answer, but the biggest part of sound good is being well in tune. Never underestimate the power of a great tuner. Most of these pedals make your guitar silent, so you can easily tune up between songs without anyone noticing.
1. Overdrive
An overdrive isn't always essential, but good to have no matter what amplifier you play through. This will diversify your sound. Some amplifiers need that 'boost' to help push it over the edge. My vote goes to the Boss Super-Overdrive SD-1! These little guys are rugged and helps bring your amplifier to life.
Jimi Hendrix's solution was to crank the amp to 10 to drive your amp. With this little guy, you won't have to. You'll also find that many famous guitarist have one of these in their arsenal.
2. Fuzz
I'm a huge fuzz guy, I think you can create some unique styles of music with a fuzz pedal. Fuzz pedals are used from old classics (Cream) to heavy rock (Korn), you can really get creative! My vote goes to the Big Muff Pi!
3. Wah
I think Kirk Hammett of Metallica's use of his wah pedal demonstrates his belief that the pedal is essential and probably the most important piece of gear to have in your arsenal. While there are many important pedals to have, I definitely wouldn't disagree with Kirk. The wah is a must-have! Whether you play covers or you write your own stuff… or both, I think you'll find that there's a ton of music out there that makes use of a wah.
For me, I find that a wah can actually help me come up with some creative sounds; especially when used with the aforementioned pedals. My vote goes to the Crybaby 535Q!
It's hard to come up with just 3 pedals because some players love to have reverb, chorus, delay and other useful pedals. Some people find it easier to just buy a multi-effects pedal that has all the goodies built in, which I think is a great (cheaper) alternative. But, perhaps, not better…
1. Overdrive/Distortion
Most amplifiers will give you a dirty channel, variously called "lead," "gain," "overdrive," "distortion," or just plain "dirty." But unless you're rocking a fancy incredible tube amp, you can probably get more versatile and higher quality sounds from a pedal. One of the all-time classic options is the Boss DS-1. The operation is simple; it's distortion, and it rocks. Best for heavy stuff, like grunge, metal, punk.
2. Wah
If I had to guess the single most-used effect in the history of electric guitar, it would be the wah. Jimi Hendrix, Jimmy Page, Tom Morello, Slash, and Stevie Ray Vaughan are among its most notorious users. The effect is great for adding a vocal-like quality to your lead playing or embarrassing your roommate with a little "bow-chicka-bow-wow" as he leaves for a date. You can't go wrong with the classic, original Dunlop Crybaby.
3. Tuner
A guitar tuner pedal might not be as fun and wild as my first two, but its soothing convenience brings it to my top three. When you're in the middle of a show and realize you just bent your B string violently out of tune, you could bore your audience tuning by ear between songs, or you could step on a pedal and get it done perfectly in seconds. The best one out there is the Boss TU-3.
Aaron at Guitargearfinder.com
Of course I can't resist suggesting some pedals as well.
1. TC Electronic Flashback Delay
Delay is such an important effect for guitarists of any style. Adding delay to your sound can bring some new life to a dull and dry tone. The reason I recommend the Flashback delay is that you have 11 different types of delay available so you will always have the right type of delay available for any situation.
Over time your preferences will change so you're not going to outgrow this pedal. There are quite a few different options in the Flashback range, so compare them here to find one that suits you.
2. A looper pedal
As a guitar teacher I highly recommend every guitarist get a looper pedal – regardless of your current skill level. It's a great learning and development tool, a songwriting tool as well as a great way to jam along with yourself. My students use a looper to practice licks and to practice improvising over a chord progression and I use it as a way to work on new riffs and licks for songs. You will never outgrow a looper tool and it can make a massive difference to your skills and creativity.
I recommend the TC Electronic Ditto Looper because it's extremely simple to operate, has True Bypass and a maximum loop time of 5 minutes which means you will never outgrow it.
The wah is such an iconic sound to guitar and it's incredibly versatile across so many styles. The reason I recommend either of the two pedals above is simple – they give you a lot of flexibility. The Big Bad Wah (now discontinued) is basically two wah pedals in one and you can tweak your sound in so many different ways (read my review here) and the Weeping Demon has great tweaking options.
The main point here is that even as your preferences in tone change and mature over time, having a versatile pedal will ensure you will always find the tone you're looking for.
Some Notes On These Answers
Nobody suggested a multi-effects pedal
You might have thought that an easy answer would be to get a multi-effects pedal as it covers so many different effects in one. There are a few reasons why nobody suggested one. First, I asked for pedal suggestions, so most people would assume I meant single-effect pedals.
A big reason why I believe nobody suggested multi-effects units is because they can be a distraction at first. Instead of starting out with three simple pedals, you have hundreds of effects you can dig into and start tweaking. While that's great for experienced players, for beginners it can be a distraction. Learn how to get great tones out of one pedal before you experiment with 100+ effects.
Another possible reason is that multi-effects units are an all-or-nothing device. That means if you only like some of the effects and don't like other effects in the unit, you're likely to be unhappy. At some point you'll likely want to upgrade, which means replacing all of your sounds at once. But if you like all the sounds in the unit, you'll be set for a very long time.
For example, if you get a high-quality multi-effects unit like the Line 6 Helix, you'll be set for decades. The quality of the Helix is so good, you're highly unlikely to feel the need to upgrade for a very long time.
While I'm not suggesting you shouldn't get a multi-effects pedal, the point here is that when you're starting out, having only a few pedals will actually help you learn about tone faster and easier. Less effects to choose from means you will spend more time getting the most out of what you have.
Delay & overdrive
You might notice that many of the answers overlap – almost everybody suggested a delay pedal and an overdrive/distortion pedal. The reason is simple – these two types of pedals will have the biggest impact on your tone. Even if your amp already have great overdrive options, it's a good idea to get a standalone overdrive pedal as it gives you a lot of extra control over your tone.
Modulation
A few of the suggestions such as chorus, flanger, vibe and reverb all help you craft your tone in your own unique way. Adding a little bit of chorus and reverb can dramatically change the way you sound and can help you stand out above all the other guitarists with a dry tone.
Think of modulation pedals as a way to put your own unique stamp on your tone. Just like every guitarist's vibrato is unique in one way or another, the modulation you choose on your tone will give you a unique edge.
Tuner
I was actually surprised to see how many people chose a tuner as one of their three must-have pedals. This shows how important it is to be in tune – whether you're at home or on stage. When playing live there's an extra benefit to having a tuner pedal – you can use it as a way to mute your sound at an instant if you need to. So buying a tuner pedal is a smart choice that will last you your lifetime. When buying a tuner, the most important point to consider is whether it is True Bypass or not (read this guide for more details) because it can affect your tone – even when bypassed.
At the same time, I'll mention that if you're tight on budget or don't like the thought of dropping $100+ on a tuner, there are alternatives and you don't need to shell out your hard earned money on a tuner. You can easily download a free tuner app on your smartphone that will do the same job as a $100+ tuner pedal. You will notice that there are also some incredibly expensive tuners out there.
While staying in tune is important, it's important to know that the guitar is an imperfect instrument and it is impossible to be 100% in tune (Google 'Equal temperament' to find out why). So don't get fooled into thinking that the $600 tuner will do a better job as the $50 tuner to justify the cost because it won't.
How to Choose The Right Gear For You
Now that you have read through the recommendations, you should have an idea on the types of pedals suitable to you (eg: delay, wah, tuner, etc). Make a decision on what type of pedals you want to purchase then re-read through the recommendations on what specific pedals to consider. Read through why each person recommends a specific pedal and think about whether those reasons suit you or not. For example: do you need versatility or do you want something simple? Is price a concern? Think about these questions and find the recommended pedal best suited to you.
Each of the guitar pedals suggested above are excellent quality pedals and can easily be considered 'must have guitar pedals'. You can't go wrong with any of the above guitar pedals but the right one for you depends on your own personal needs and preferences. Read through my reviews to gain a stronger understanding of which guitar pedals suit you the most.
If you have an idea what type of pedals you want to get, a good starting point is to learn more about that effect/type and compare the top options. Check out my range of Buyer's Guides here to find the best pedals for each effect type.
If you want to learn more about each type of effect, how they work, and how to get good tones out of them, enroll in my Guitar Effects Course. You'll learn everything you need to know about guitar effects and tone with plenty of audio examples, diagrams, and explanations.
Found this guide useful? Please share it on social media to help support this site (if you use Pinterest, please pin the below photo).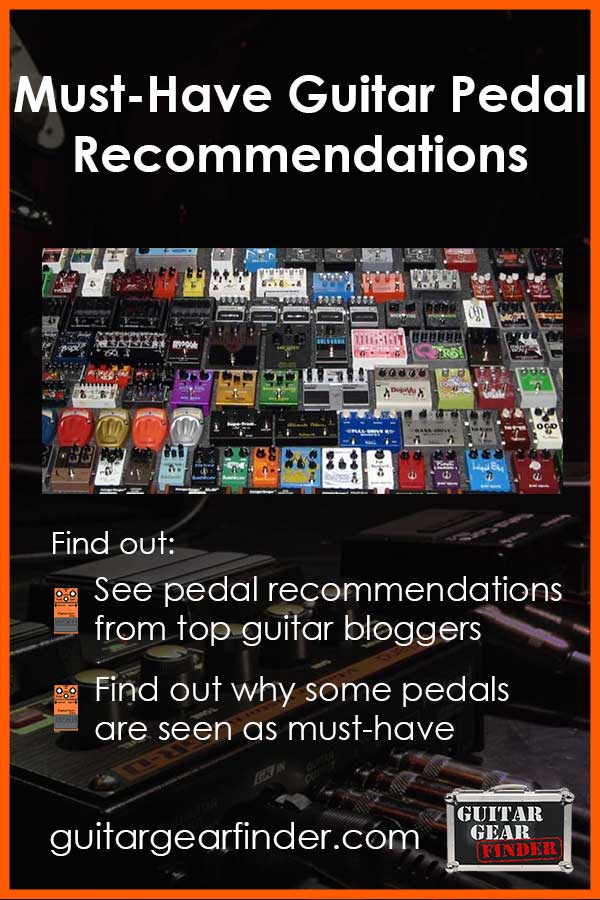 Related Guides and Lessons:
Summary
Article Name
Must Have Guitar Pedals Chosen By Top Guitar Bloggers
Description
Top guitar bloggers share their top three essential guitar pedals that will last you your entire lifetime as a guitarist. Find out what type of guitar pedals to consider and what they will do for you.
Author