There's always new pedals, amps, guitars, and gear coming out that promise to be better than everything that before it. Sometimes new gear does do a better job, but more often the hype dies down and it starts to fade away.
There's also a lot of old gear that doesn't hold up well today, but it carries with it so much nostalgia that it gets a free pass.
Somewhere between these two extremes is gear that was popular when it came out and is still popular today because it's good. Let's have a look at some must-have pedals and gear that has stood the test of time. The gear in this article are the go-to choices for many guitarists today. If you're looking for some reliable gear that is likely to continue to be the go-to choice in the future, this article is for you.
Shure SM57 & SM58
The chances are you've used one of these microphones before. If not, the music you listen to probably used them. The Shure SM57 and Shure SM58 are one of the most reliable and preferred microphones out there.
While there are plenty of better microphones, the popularity of these microphones continues today. You can expect to see several of these microphones in any decent recording studio and in live performances.
The main difference between the SM57 and the SM58 is the grille. The Shure SM58 (below right) was designed for vocals which is why it has a ball grille on the end. The SM57 (below left) was designed for instruments which is why it has a square grille.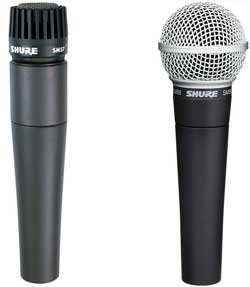 The SM57 is perfect for recording your guitar amp. The small grille allows you to place it wherever you want to get the right sound.
If you also sing, you might prefer the SM58 as the ball grille is more suitable for vocals. It will allow you to add on foam shields as needed. Both mics will give you the same quality recording, so you just need to decide which one suits you best.
If you want a solid microphone that will last a long time and produce great quality recordings, it's hard to go past the SM57 & SM58.
Dunlop Crybaby Wah Pedal
The iconic wah pedal has been around since the 60s and is still incredibly popular. The original Dunlop Crybaby is still the go-to choice for countless guitarists.
While there are plenty of alternatives available with a wide range of features (check out some alternative wah pedals here), the original Crybaby is a solid choice. It's a simple pedal that gives a simple wah sound. Some guitarists like to mod their Crybaby and there countless signature Crybaby pedals out there that are basically mods to the original.
If you don't have a wah pedal, I highly recommend getting one. You can read more about the Original Crybaby in my review here to find out if it's the right one for you.
Extra tip: if you've just bought a wah pedal and want to get the most out of it, check out these 10 wah pedal songs for some interesting ideas.
Focusrite Scarlett Audio Interface
The Scarlett range of USB audio interfaces is the best selling range in the world and still seems to be popular today. The Scarlett 2i2 is one of the more popular models out of their range but for guitarists, I recommend the Scarlett 2i4 model as shown below.

The 2i4 model has a pad button for each input which is an easy way to avoid clipping when recording loud guitars. The two mic preamps are great for acoustic guitarists wanting to record two mics at the same time.
The reason this range is so popular is that it produces great quality audio (up to 192kHz / 24 bit) with super-low latency (advertised at 2.74ms at 96kHz) at a low price (compared to other options).
If you do buy one of these interfaces, make sure you buy the newer 2nd generation models which came out in 2016.
If you're thinking about learning how to record music, check out this guide to get you started with recording guitar at home.
After you get all the equipment needed, check out this tutorial for step-by-step advice on how to record your first song.
PolyTune Tuner by TC Electronic
Before the first PolyTune came out, the BOSS TU-2 was king. You were almost guaranteed to see it on a guitarist's pedalboard. If the PolyTune never came out, I'm sure it would still be the top choice today (or more likely the TU-3 would be).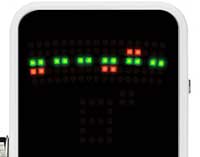 The PolyTune changed things thanks to its clever design. It allows you to instantly see which strings are out of tune by strumming all of them.
The photo on the right shows the polyphonic tuning mode. After strumming all strings, you see six indicators. In this example you can see that the low E and G strings are flat, the B string is sharp and the other strings are in tune. After instantly seeing this with one strum, you can then adjust the three strings that are out in a normal 'needle' tuning mode or strobe tuning mode.
The PolyTune 3 is the current version but the PolyTune 2 Mini is often the preferred choice thanks to it's tiny size.
If you play acoustic guitar, you can get the same polyphonic tuning feature in the PolyTune Clip.
Ibanez Tubescreamer
There are countless drive pedals that have been around for a long time. We could look at the EHX Big Muff Pi or the BOSS DS-1 as they're both solid choices that have stood the test of time. But let's have a quick look at the Ibanez Tubescreamer.
Since 1979, there have been many different versions of this classic green drive pedal. The two most popular versions are the TS9 and the TS808. Each has their own following of loyal guitarists. Many love one type and hate the other. So it's hard to suggest one because anything I say will instantly divide Tubescreamer fans.
If you want a safe choice, check out the Ibanez Tube Screamer Mini.
It's a compact pedal that gives you a classic Tubescreamer tone. It's also cheaper than most other Tubescreamers. If you're not sure what all the fuss is about, it's a solid pedal to add to your collection.
There are plenty of other guitar pedals and gear that have been around for a long time. But the point of this guide wasn't to list old gear. The above pedals and gear are all solid choices for any guitarist. If you need a microphone, you can't go wrong with the Shure SM57. If you're looking for a tuner, the PolyTune has a huge following who love using it.
Some of the gear coming out today may eventually earn its place in a list like this. But the above pedals and gear are likely to still be as popular as they are today. If you think any of the above gear might suit you, you're likely to be very happy with the results.
If you're after more highly recommended guitar pedals, check this list of Must-have pedals by top guitar bloggers.