Check out the best 2022 Black Friday sales and offers for guitarists in this short guide.
Disclosure: This page contains some affiliate links. Buying anything through some of these links earns me a commission at no extra cost to you. Thank you to everybody who buys through my affiliate links to help support the future of this site.
Some sites offer various discounts leading up to Black Friday while others start their sale on Friday.
Guitar Pro – 20% Off (Extra 10% Off With Discount Code)
If you don't already have Guitar Pro, it's one of the most useful guitar tools you can get. I have been using Guitar Pro since I was a beginner and it has been my go-to source for learning songs, writing songs, or jamming on ideas.
Guitar Pro 8 is 20% off for Black Friday and Guitar Gear Finder readers can get an extra 10% off using the discount code 'guitargearfinder' during checkout.
Check out Guitar Pro 8 Black Friday sale here. Ends on December 5th.
Get Guitar Pro 8 with an Extra 10% Discount
If you want to get Guitar Pro 8, Guitar Gear Finder readers can get Guitar Pro 8 with an extra 10% discount here.
Enter guitargearfinder as the promo code at checkout to get an extra 10% off.
This is an affiliate link, which helps support this website.
Guitar Pro 8 gives you a full transcription and Guitar TAB suite where you can find TABs online to jam along with, learn the parts, or write your own songs.
Version 8 is a big step forward over previous versions with the most exciting feature being able to import audio tracks into your Guitar Pro files.
So if you've been using GP7 or earlier, now might be a good time to upgrade (there's a discounted price on upgrades).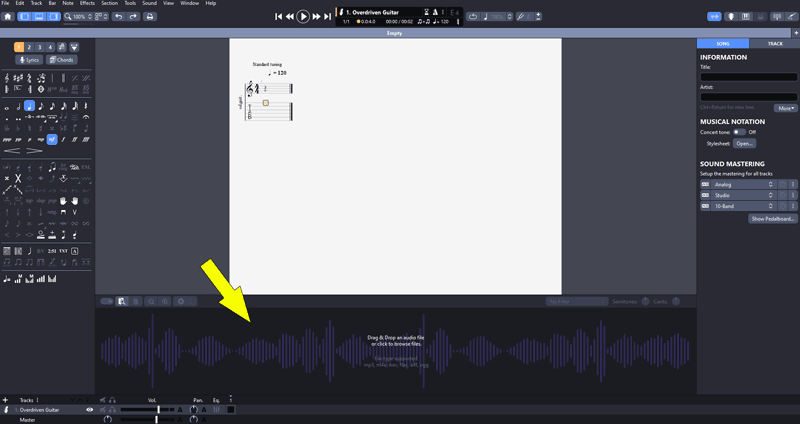 Learn more about Guitar Pro 8 in my full review here.
If you do get Guitar Pro, here are some guides to help you get the most out of it:
Sweetwater – Black Friday Sale Now Until November 27
If you live in the US, check out the current Black Friday deals at Sweetwater here.
Sweetwater's 2022 Black Friday sale has already started and ends November 27.
This year's Black Friday sale is much better than previous years and a nice range of guitars, amps, and pedals are discounted.
Sweetwater has a wide range of instruments on sale for Black Friday, so be sure to select the 'Guitars' or 'Amps & Effects' category to narrow the options down.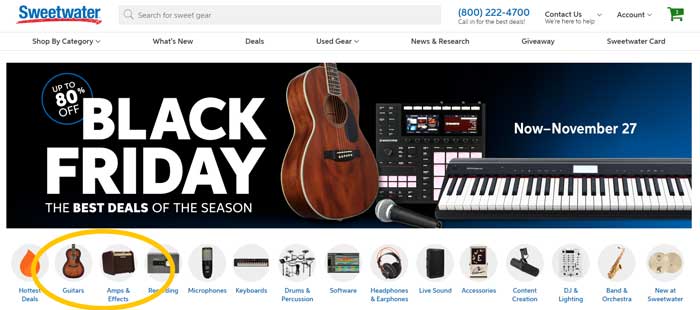 More deals are likely to pop up over the next few days, but there are already quite a few guitars with $200 off.
Check out the Black Friday deals at Sweetwater here.
Here are some of the offers worth checking out:
BOSS Katana Amp Range
The range of BOSS Katana amps have discounts from around $50-100 off as well as other BOSS products such as the BOSS RC-600 Loop Station and the BOSS GT-1000CORE multi-effects pedal.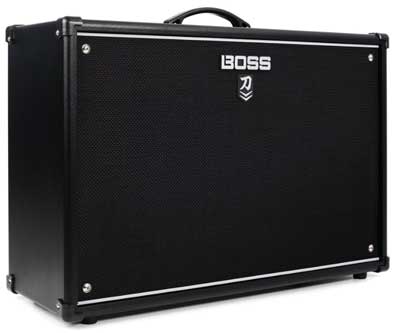 The BOSS RC-600 Loop Station is also on sale, which is the flagship loop station from BOSS. See how it compares to other BOSS Loop Station pedals here.
Check out the offers on BOSS products here.
JHS Pedals
All of the JHS pedals on Sweetwater are 20% off. With 57 listed pedals, there are plenty of ways you can add something new and interesting to your pedalboard.
Two popular pedals worth looking at are the JHS Bonsai is a great Tubescreamer-style pedal with 9 different modes ($50 off) and the JHS Morning Glory V4 is a popular transparent overdrive ($40 off).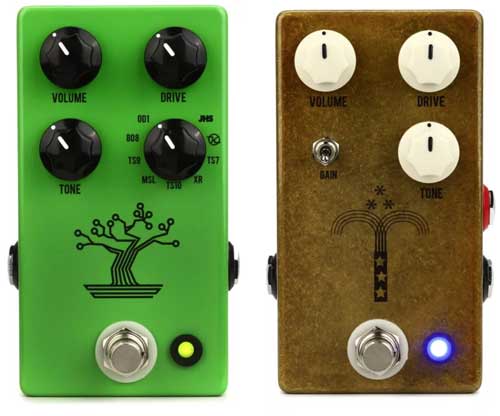 If you're looking for something in a lower price range, check out the JHS 3 Series pedals (they're all white).
Check out the offers on JHS Pedals here.
TC Electronic Plethora X5
While there are discounts on quite a few of TC Electronic's pedals here, the Plethora X5 stands out as one of the more interesting options worth considering: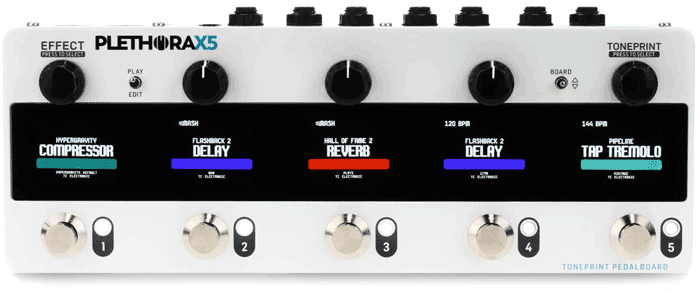 Being able to access TC Electronic's range of digital effects and load up to five at once in one pedalboard is a great way to experiment and learn about different effects.
Check out the deal on the Plethora X5 here.
Recording Software – DAW & Plugins Black Friday Deals
If you're looking at getting into recording, you might want to check out the Black Friday deals on the most popular DAW (Digital Audio Workstation) options as well as some great guitar plugins.
Learn about each of these options in my Ultimate Guide to DAW for Guitarists (with tutorials).
Learn all about guitar plugins in this guide.
Studio One 6 – Now Until 29th November
Studio One is my go-to DAW for recording guitar and for recording my podcast. The latest version, Studio One 6 is on sale on the Sweetwater website.

Studio One 6 Professional is $100 off for Black Friday.
If you're interested in Studio One, check out my tutorial on how to record guitar in Studio One to see what it's like to use. The tutorial will give you a good idea of the layout and basic features as well as how it compares against other DAWs.
Check out the Black Friday deals on Studio One 6 at Sweetwater here.
AmpliTube 5 MAX Plugin
AmpliTube 5 is one of the best guitar plugins available today and the MAX version is $500 off.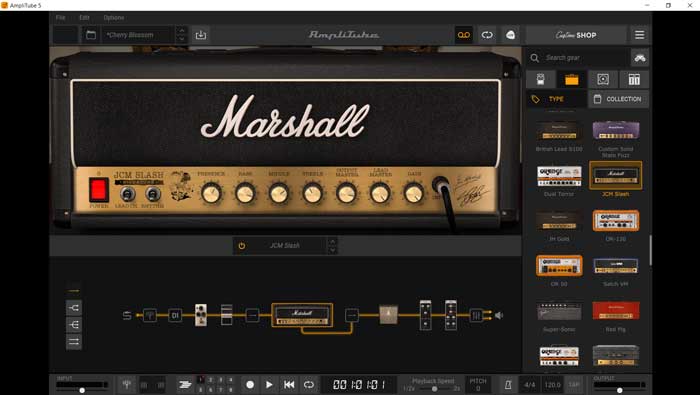 Learn about AmpliTube 5 in my review and tutorial here.
The MAX version is the highest version of AmpliTube and includes a massive range of amp and effects models.
Get AmpliTube 5 MAX for $500 off at Sweetwater here.
Line 6 Plugins
All of the Line 6 plugins are 50% off on Sweetwater.
This includes the popular Helix Native plugin (there are different prices if you already own a Helix pedal), the Metallurgy plugins, and the Echo Farm plugin.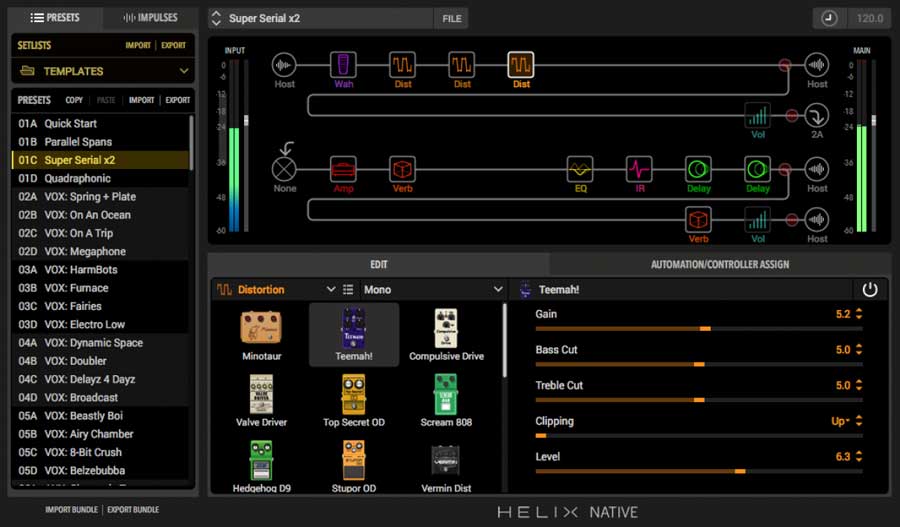 Check out the Line 6 plugins at Sweetwater here.
Other Sites
There are plenty of guitar sites that will have some form of sale in the next week or two, so make sure you have a search around before you buy from any one site.
Here are some popular guitar stores that have Black Friday sales:
Guitar Effects Course
If you want to get the most out of any effects pedals, amps, or guitar plugins you buy, you might be interested in my Guitar Effects and Tone Course.
Here are some things you can learn in the course:
Learn how every type of effect works and hear examples of all effects in action
Learn how to combine different effects
Hear what happens when you change the order of effect pedals and why following typical rules isn't always the best
How to set up different guitar tones from scratch (you never need to look up presets)
Learn how to hear the difference between similar-sounding effects
The Guitar Effects and Tone Course is 40% off, so check it out here.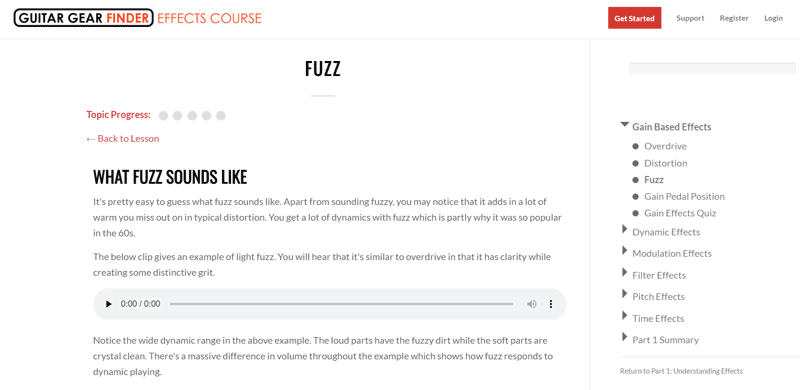 Thank you to everybody who buys the course as it helps support this site.
If you find a Black Friday guitar deal worth adding to this page, let me know here.