If you've started learning guitar in 2021 like so many other people, the good news is that Black Friday this year has some great offers.
A lot more stores are turning to online sales this year, so you can expect to see a lot of discounts and offers this Black Friday, Cyber Monday, and later in December leading up to Christmas.
Disclosure: This page contains some affiliate links. Buying anything through some of these links earns me a commission at no extra cost to you. Thank you to everybody who buys through my affiliate links to help support the future of this site.
Some sites offer various discounts leading up to Black Friday while others start their sale on Friday.
Here are a few of those sites worth checking out and I'll be updating this page over the next week as new guitar deals start.
Note: Keep in mind that it is early, so there will be more deals closer to Friday.
Guitar Pro – 20% Off (Extra 10% Off With Discount Code)
If you don't already have Guitar Pro, it's one of the most useful guitar tools you can get. I have been using Guitar Pro since I was a beginner and it has been my go-to source for learning songs, writing songs, or jamming on ideas.
Guitar Pro 7.6 is 20% off for Black Friday and Guitar Gear Finder readers can get an extra 10% off using the discount code GGF10 during checkout.
Check out Guitar Pro 7.6 Black Friday sale here. Ends December 5th.
Get Guitar Pro 7.6 with an Extra 10% Discount
If you want to get Guitar Pro 7.6, Guitar Gear Finder readers can get Guitar Pro 7.5 with an extra 10% discount here.
Enter GGF10 as the promo code at checkout to get an extra 10% off.
This is an affiliate link, which helps support this website.
Guitar Pro 7.6 gives you a full transcription and Guitar TAB suite where you can find TABs online to jam along with, learn the parts, or write your own songs.
Version 7.6 is a big step forward over previous versions, so if you've been using GP6 or GP5, now might be a good time to upgrade.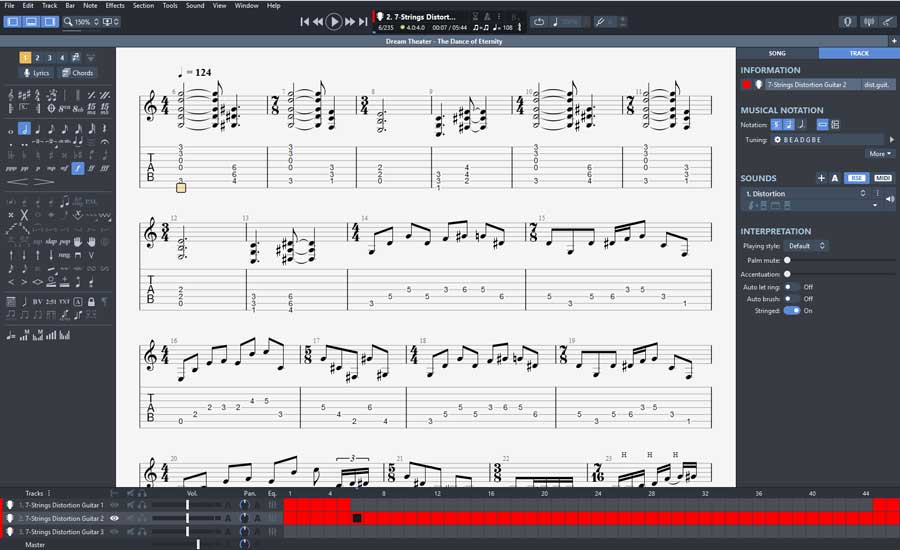 Learn more about Guitar Pro 7 in my full review here.
If you do get Guitar Pro, here are some guides to help you get the most out of it:
Sweetwater – Black Friday Sale Now Until November 27
If you live in the US, check out the current Black Friday deals at Sweetwater here.
Sweetwater's 2021 Black Friday sale has already started and ends November 27.
Quite a few guitar pedals are 30-40% off as well as recording studio gear.
They sell gear for all types of musical instruments, so if you want to narrow the listings down, you can select one of the categories as shown below: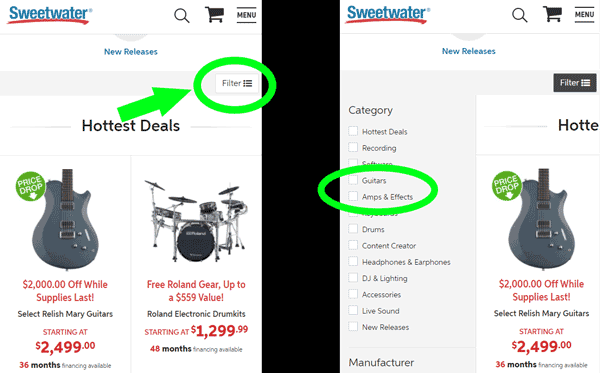 More deals are likely to pop up over the next few days, but there are already quite a few guitars with $200 off.
Here are some of their offers worth checking out:
BIAS FX Plugins
Most of the BIAS FX plugins are now on sale for 60% off.
Check out the BIAS FX deals here.
If you haven't tried BIAS FX 2 before, it's one of the best guitar effects and amp modeling plugins available today.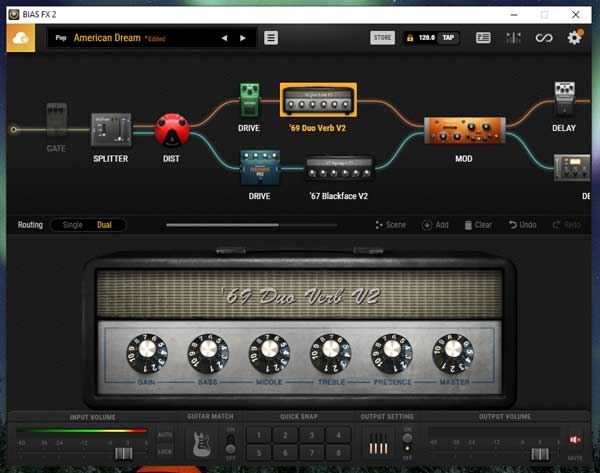 Compared to other plugins such as Line 6 Helix Native, I feel BIAS FX has the best layout and interface. See how it compares to other options in my Guide to VST Guitar Plugins here.
TC Electronic Plethora X5
While there are discounts on quite a few of TC Electronic's pedals here, the Plethora X5 stands out as it is their latest offering that packs in a lot of classic TC Electronic effects: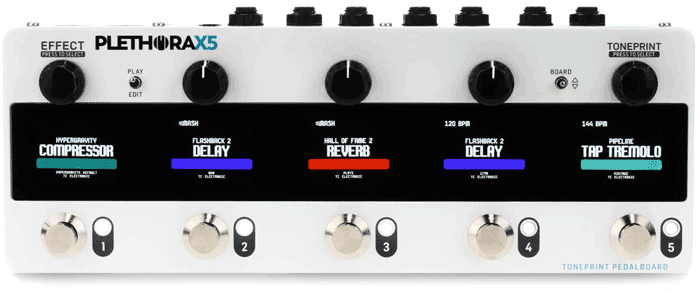 I've been wanting to get my hands on one of these since it released to do a full review, but sadly haven't had the opportunity. This one pedalboard basically gives you access to TC Electronic's full range of single effect pedals and you can chain them together as you like.
Check out the deal on the Plethora X5 here.
Positive Grid Amps and Plugins
Positive Grid's impressively versatile SPARK practice amp is $75 off and includes a free gig bag now.
Check out the SPARK deal on the Positive Grid website here.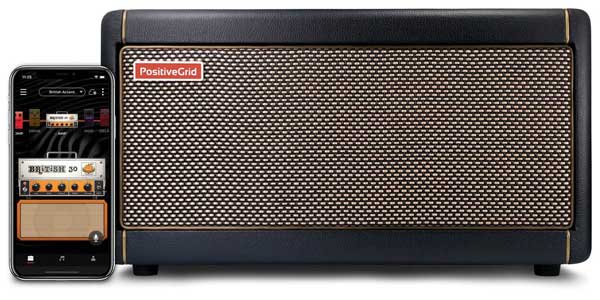 If you haven't heard of the SPARK amp before, think of it as taking the amp models and effects from the BIAS FX plugin and packing everything into an amp you can control with an app.
Here are a few interesting features about this amp:
Electric, acoustic, or bass: as well as electric guitar, you can plug in a bass or acoustic guitar and use amp and effects models for those instruments
40W full-range speakers: allows you to have crystal clear playback of any backing tracks as well as better guitar and bass tones
Wide variety of amp and effects models: BIAS FX has some of the best amp and effects models and SPARK uses the same technology
Smart Jam: the amp listens to your playing to generate drum and bass parts to accompany you
Home recording: use the amp as an audio interface to record to any PC/Mac
Auto chords: when playing along with a song, the app detects and displays chords used in the song as well as gives you extra control over playback speed or looping
The SPARK is an impressive amp that would be ideal for at-home practice or jamming. If you like the idea of being able to dial in a wide range of tones and pretty much any type of effect you want, you might want to check the SPARK out.
Get the SPARK with $75 off and a free gig bag on the Positive Grid website here.
BIAS FX 2 and other Plugins
As mentioned earlier under the Sweetwater section, the range of BIAS plugins are on sale with up to 60% off. You can check out the discounts directly on the Positive Grid website here.
Recording Software – DAW Black Friday Deals
If you're looking at getting into recording, you might want to check out the Black Friday deals on the most popular DAW (Digital Audio Workstation) options.
Learn about each of these options in my Ultimate Guide to DAW for Guitarists (with tutorials).
Studio One 5 – Now Until 29th November
Studio One is my go-to DAW for recording guitar and for recording my podcast. The latest version, Studio One 5 is on sale until the 29th of November.

Studio One 5 is 30% off for Black Friday. There are a few different editions of Studio One, so I suggest reading my guide on DAWs to learn about the different options.
If you're interested in Studio One, check out my tutorial on how to record guitar in Studio One to see what it's like to use. The tutorial will give you a good idea of the layout and basic features as well as how it compares against other DAWs.
Check out the Black Friday deals on Studio One 5 at Sweetwater here. Alternatively, you can get the same deals at Plugin Boutique here.
FL Studio
FL Studio isn't a common choice for guitarists as it was designed more for electronic musicians. But many guitarists like the different approach this DAW offers over the typical track-based interface seen on most other DAWs.
If you're a songwriter, you may find FL Studio becomes a handy tool to help you flesh out song ideas quickly. Watch one video on YouTube of somebody composing an entire song in FL Studio and you'll see why it's such a popular songwriting tool.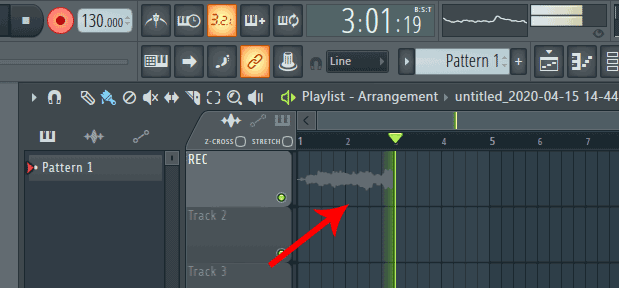 While the three main editions of FL Studio aren't discounted, there is an 'All Plugins' edition with bonuses available on the FL Studio website for Black Friday.
This is FL Studio's most expensive option, but if you use a lot of plugins, you may appreciate the savings it offers you.
If you haven't tried FL Studio before, I highly suggest trying out the demo before buying it to see if it suits you or not. Check out my tutorial on how to record guitar in FL Studio to see what it's like to use.
Amazon
As someone who buys a lot of gear from Amazon, I'll be keeping a close eye on any Black Friday guitar deals they have.
You can check out the current offers on their Black Friday page here.
At the moment, there are only a few deals on microphones, headphones, guitar strings, and other accessories. Amazon's Black Friday sales are usually hit-or-miss, so don't expect a wide range of deals.
Other Sites
There are plenty of guitar sites that will have some form of sale in the next week or two, so make sure you have a search around before you buy from any one site.
Here are some popular guitar stores that have Black Friday sales:
Guitar Effects Course
If you want to get the most out of any effects pedals, amps, or guitar plugins you buy, you might be interested in my Guitar Effects and Tone Course.
Here are some things you can learn in the course:
Learn how every type of effect works and hear examples of all effects in action
Learn how to combine different effects
Hear what happens when you change the order of effect pedals and why following typical rules isn't always the best
How to set up different guitar tones from scratch (you never need to look up presets)
Learn how to hear the difference between similar-sounding effects
The Guitar Effects and Tone Course is 40% off, so check it out here.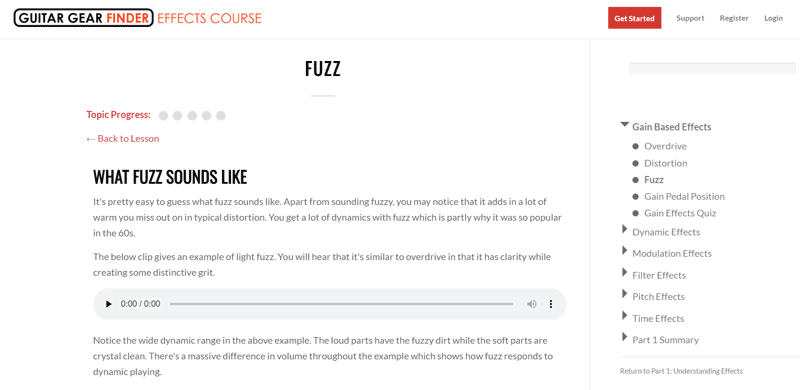 Thank you to everybody who buys the course as it helps support this site.
If you find a Black Friday guitar deal worth adding to this page, let me know here.