You've probably already heard about the EHX Soul Food a lot before reading this review as it has been a massive hit since it came out in 2013. I've known about it and heard people raving about it, but only recently managed to get my hands on one. If you have been considering buying a Soul Food or are on the fence, this review was written for you.
EHX Soul Food vs Klon Centaur
I may as well get this out of the way now. If you have only just found out about the Soul Food, you may have also heard about another pedal: the Klon Centaur. The Soul Food is a clone (or 'Klone' in this case) of the Klon Centaur.
Why have EHX made a clone of another pedal? The simple explanation is that the Klon is hard to get and a ridiculously expensive pedal that has been praised for an incredible quality overdrive.
A quick look on eBay and you might find a few Klon Centaurs on auction for literally thousands of dollars. Because of the hype behind the Klon and the demand for that style of overdrive, Electro-Harmonix have created the Soul Food. The Soul Food is supposedly essentially identical in terms of sound to the Klon.
Some guitarists claim they aren't anywhere near the same and there are even modding options out there to bring it closer to the Klon sound. Just a quick search for EHX Soul Food schematic and you'll see how seriously some guitarists take this pedal and the Klon.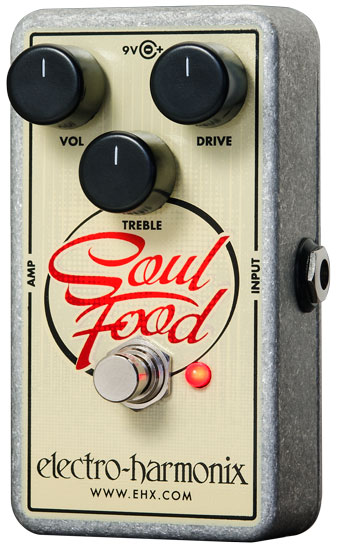 If you're interested in learning about the hype and crazy prices behind the Klon Centaur, read this article.
The important question to ask yourself at this point is: should you care that the Soul Food is a copy of another pedal?
My personal answer is: no. I don't care about the hype behind the Klon and I don't feel you shouldn't care either. Does it really matter how close the Soul Food replicates the Klon sound?
What you should care about is whether the Soul Food is a good pedal on its own right and if you would find it useful.
For the rest of this review, forget about the Klon Centaur. I'm going to review the Soul Food just like any other pedal and that's the way you should assess your potential gear.
It doesn't matter if the Soul Food does or doesn't replicate the Klon sound perfectly. What matters is if this is a good sounding pedal.
Soul Food Features
The EHX Soul Food is quite light on features because it is designed for one main goal: a clean high-end boost and overdrive.
Three knobs: Vol, Drive, Treble
The Soul Food goes back to the basics with the minimum controls you should expect on an overdrive pedal. Many guitarists use the Soul Food as a booster so having a Treble control comes in handy for this usage.
True Bypass or Buffered Mode
This is a great feature that more pedal makers should consider. There is an internal switch (shown below) that allows you to change whether the pedal operates in True Bypass or Buffered mode. If you don't know the difference of why it's important to understand, read my guide here. Keep in mind that this is an internal switch so you're not going to be changing it often.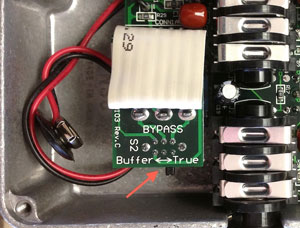 Boosted Power Rails
It's been a long time since I half attended electronics classes back at school so I'll have to pass on the technical explanation behind boosted power rails. The result of this electronic sorcery is an improvement to headroom and definition. In non-techno babble it means less noise and more tone. It's a good thing.
9.6DC-200 Power Supply included or 9 Volt Battery
Quite often on less expensive pedals the manufacturer doesn't include a power supply to save costs. It's incredibly frustrating to get a pedal only to find out you have nothing to power it – especially when some of the smaller pedals don't even run on batteries! It was a nice surprise to find that EHX also send out a power supply with the Soul Food. You can alternatively run it on a 9V battery so it's nice to have this flexibility in such a low cost pedal.
EHX Soul Food Dimensions:
Dimensions in inches: 2.75 (w) x 4.5 (l) x 2.1 (h)
Dimensions in mm: 70 (w) x 115 (l) x 54 (h)
Ease of use
It doesn't get much easier to use than this. It's a simple overdrive pedal meant for those who like a simple tone. Overdrive and booster pedals work best with a valve amp so if you own a solid state amp, this may or may not suit your needs. You will know for sure whether this is the right pedal for you by listening to the tone in the video later.
It was pretty easy to play around with the settings and set it up for different uses. For example, if you're looking to use it to give your clean tone a bit of a boost to drive your valve amp, then keep the DRIVE knob low and adjust the TREBLE and VOL knobs to suit your personal tastes.
The TREBLE knob basically acts like a tone control. The midpoint is neutral so start from there and adjust based on whether you want a bassy or treble heavy tone. This style of overdrive does give a very treble heavy tone so I found myself rolling it back quite often.
Overall it's incredibly easy to use and it wouldn't take much adjusting in EQ on your amp or other pedals to fit the Soul Food into your pedalboard.
Sound
The Soul Food is often called a 'transparent' overdrive. If you read the recommendations given in the guide Must Have Guitar Pedals Chosen by Top Bloggers, you will notice the Soul Food recommended and you will see the term transparent overdrive used a few times. The reason many guitarists prefer transparent overdrives is because they allow you to retain the general feel of your tone.
It becomes clear why transparent overdrives are worthwhile only after you try an overdrive pedal that isn't transparent. If a pedal dramatically changes your tone either by rolling off the high and low frequencies or by giving the mid frequencies a big boost, it can make it feel like you're playing a different rig – which could be good or bad. Think of transparent overdrives as a way to enhance your existing tone rather than dramatically changing it.
So how does the Soul Food sound? Have a listen to the type of tones produced in this video before continuing.
It should be clear after listening to the pedal switched on and off what is really meant by 'transparent'. The tone isn't dramatically changed. What you notice is an overall enhancement to the tone. Harmonics, overtones and sustain all add to your tone and give it a richer feel. You can hear that it's quite a bright sound compared to other overdrive pedals that roll off the high frequencies.
The difference between a Tube Screamer and the Soul Food would be night and day in an A/B test.
I enjoyed jamming with the Soul Food and the rich overtones definitely suit the style of playing you hear in the video. It's an amazing sound for such a low cost. To be honest, if this pedal cost $200 instead of under $70, I'm sure people would still buy it as it definitely deserves the recognition it has achieved.
When I test out overdrive pedals, I start out by seeing how the pedal changes the tone with the gain knob all the way down, neutral tone and setting the volume to a level that matches the bypassed level. So I set the Soul Food with the GAIN all the way down, the TREBLE set at neutral (pointing up) and volume to match my bypassed level. My amp was set to clean so I could hear exactly how transparent the Soul Food really is.
If you try this, you will notice that it adds a slight sparkle or brightness in the high frequencies and if you play hard you notice it brings out the overtones slightly. It's a subtle change but it still adds a bit of edge or enhancement to your tone. Of course then when you dial in some gain or adjust the treble you really bring those overtones out, but it was nice to see that even on a very clean sound it does add subtly to your tone.
Of course, overdrive pedals like the Soul Food are designed to be used with a valve amp and to push those tubes and produce a warm tone. But I wanted to see how it would go on solid state amps. It still produced a fantastic tone, but that could also be due to the fact that solid state amps today are light-years ahead of solid states from the past.
I was still happy jamming away on a solid state with the Soul Food but switching over to a valve amp did compliment the Soul Food as would be expected.
Reliability/Quality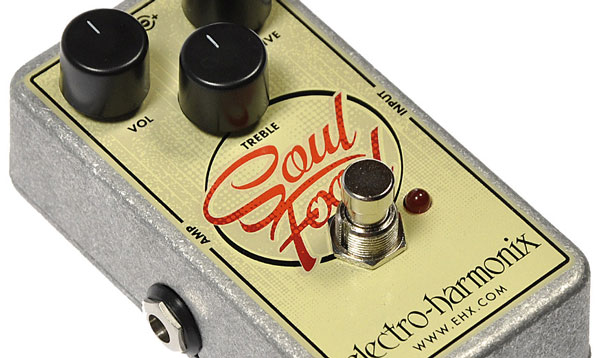 It's a nice size pedal with nice chunky knobs that don't feel like they will snap off any time soon. I love the fact that the Soul Food gives guitarists the choice between True Bypass and a Buffer and that's a level of quality I didn't expect from such a low priced pedal. I haven't heard of any other guitarists having problems with the Soul Food and I don't expect any problems. It's a simple pedal in a rigid housing.
Overall impression
There has been a lot of hype over the Soul Food – maybe not as much hype as the Klon Centaur, but still enough hype to become skeptical. I haven't played the Klon Centaur and I'm not interested in trying it. The Soul Food is a fantastic sounding pedal at an amazing price. I'm still surprised that EHX decided on such a low price because it could easily sell at a higher price point.
But their goal was to give guitarists a cheaper option than the Klon and they have succeeded.
If you have a valve amp and enjoy playing the styles this type of overdrive is suitable for (eg: if you're a metal player, this isn't the pedal for you), then this is a no-brainer. Even if you have a solid state amp I still feel it's a great pedal worthy of most guitarist's pedalboards.
Check out EHX Soul Food's price, details, and other reviews here on Amazon.
Pros
Great price
Excellent quality
Rich overtones and harmonics
Works very well as a booster
Comes with a power supply
Ability to choose whether you prefer buffer or true bypass
Cons
It would have been great to see a separate bass and treble control similar to what you see on the Timmy
Who is it for?
If when you watched the video earlier you enjoyed what you heard, the Soul Food is for you. The styles covered in that video best represent the styles of playing suitable for this type of overdrive. If you enjoy that style of playing then there's no reason to not get the Soul Food.
The fact that it's a transparent overdrive means that you're not going to completely change or mess up your existing setup like a less transparent pedal would. You can easily add it to your pedalboard and it will compliment your tone.
Who isn't it for?
This type of overdrive doesn't suit all guitarists. I usually prefer a more rounded out tone rather than a bright and sparkly tone. I do enjoy using the Soul Food, but for a lot of what I play, it doesn't suit my tone needs. If you're a metal guitarist or any style that doesn't fit what you hear in the video earlier, then this type of overdrive might not meet your needs.
How to get the most out of the Soul Food
If you decide to get the Soul Food (and there are not many reasons not to buy one), here's what I recommend to get the most out of it:
Start with a clean tone. Set the DRIVE knob almost all the way down and match the VOL knob to your bypassed volume level. Now experiment with the TREBLE knob to get a feel for the range that you enjoy. Start with the TREBLE knob in the neutral position (pointing up) and move it back and forth to see if you prefer more or less high frequencies.
Now gradually raise the DRIVE knob and get a feel for the level of grit it adds to your tone. Find the sweet spots where you enjoy the tone and what type of playing it suits. This is a very dynamic pedal so the position of the DRIVE knob should really reflect what you are doing. Once you find a DRIVE position you enjoy, adjust the TREBLE knob to find the position you enjoy the most.
Finally, try using the Soul Food as a booster. Use your amp or another pedal as your main overdrive/distortion and play around with the Soul Food as a way to boost your tone during a solo or section you want a bit extra grit. Many guitarists use the Soul Food this way so it's worth experimenting with.
Alternatives to the Soul Food
The obvious alternative to the Soul Food is the Klon Centaur – but at its ridiculous price, I would never recommend it. Check out the following blind test comparison to see why the Soul Food vs Klon Centaur comparison is pointless:
The fact that the two are so similar is a good enough reason not to waste your money on a second-hand Klon.
If you're after some Klon alternatives, check out my guide on the Klon Centaur here. I explain the history behind the Klon Centaur and give a few alternatives to consider (one of which is the Soul Food).
A more interesting comparison would be the Soul Food vs Timmy or Soul Food vs OCD. The Timmy and the OCD are both excellent overdrive pedals with a lot of support by guitarists. Rather than compare a clone to the pedal it's trying to copy, you're better off comparing different overdrive pedals to figure out which one suits your tastes as a guitarist.
So here are some other overdrive pedals I would recommend considering if you don't think the Soul Food is for you:
Paul Cochrane Timmy Overdrive
Joyo JF-02 Ultimate Overdrive – an OCD clone (read the review for another discussion & comparison on a clone pedal)
To be honest, I was so impressed with the Soul Food that I would recommend it to everyone just based on the price. It's a great bargain for such a high-quality overdrive pedal. The Soul Food was so popular that EHX created a similar pedal for bassists.
The Bass Soul Food aims to bring the same Klon style overdrive for bassists and guitarists looking for more low-end definition.
See information on pricing, availability and other reviews here.
Summary
Reviewer
Review Date
Reviewed Item
Electro-Harmonix Soul Food
Author Rating





Product Name
Electro-Harmonix Soul Food