This review covers Line 6's AMPLIFi 75 amplifier which is rated at 75 watts. There is also a 150-watt version available – you guessed it – the AMPLIFi 150. You can read through this review even if considering the 150 watt version as the features are essentially identical.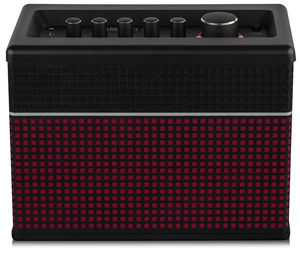 AMPLiFi 75 Features
The easiest way to describe this amp is that it's a mix between a guitar amplifier and a Bluetooth full range stereo speaker system controlled by an iPhone/iPad (Android compatibility coming in the future). This is really a unique amp as you can see from these main features:
Five speakers
This is what brings the AMPLiFi to life – having five speakers allows the amp to deliver a full spectrum of sound. The main speaker is a standard 8 inch Celestion speaker (or a 12 inch in the 150 watt version) you see in pretty much any amp. In addition there are two tweeters and two mis-bass drivers. These extra four speakers allow the amp to produce the full range of frequencies just like a stereo system. As explained later, this is why the AMPLiFi stands out compared to other guitar amps.
Bluetooth control
Rather than tweak all the settings using actual amp knobs, the AMPLiFi is designed to be used with an app on your iPhone or iPad. Android compatibility is not yet available but Line 6 have said it will be coming soon. The Bluetooth integration means you can control your amp wirelessly. In reality, this means you can tweak your tone while sitting on the couch or even use your iPhone to control what song is being played during a party.
75 watts (or 150)
The AMPLiFi 75 delivers 75 watts while the AMPLiFi 150 is (obviously) 150 watts. Both are 100% solid state. The AMPLiFi was designed to be a home use product, but with the 150-watt version you could easily take this to band practice or possibly gigs.
iOS or Android App and Cloud
The free iOS or Android apps allow you to remotely control your amp and effect tones and save your patches. The app is integrated with your device's music library which means if you load up a song from your iTunes or music on Android to jam with, the app will search the cloud library for user-created tones that match that song. Any tones you save will also be available and you can save tones for specific songs. The app currently has over 70 amp models, over 100 effects and over 20 speaker cabinets. This will surely grow over time. Up to eight effects can be used simultaneously.
Please note that Android users may need to update the amp's firmware for the app to work. So if you're having trouble connecting, make sure your amp's firmware is at least version 2.0.
Ease of use
The main point to remember with the AMPLiFi is that you need to use the app to control your amp. Which means if you currently don't have an iOS or Android product, you won't be able to use the AMPLiFi at all. Here's a top-down view of the AMPLiFi 75: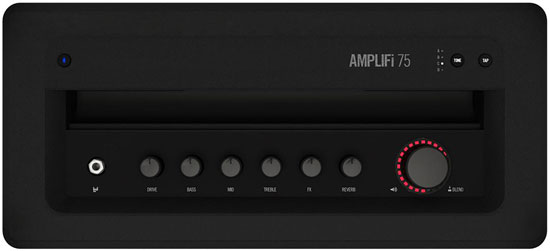 As you can see it only includes the absolute basics. The top right buttons allow you to cycle through four saved presets – however without configuring them on the app first, you won't have much to play around with. While that sounds negative I just want to make it crystal clear that without using the app the amp is close to useless. Yes you could use the app to set up your tones then just use the buttons or a Line 6 MKII footswitch to switch between different presets (sold separately), but you would be missing out on the entire point of having an app-controlled amp.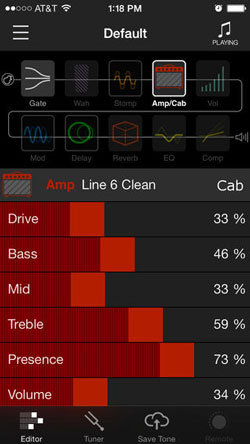 So how easy is it with the app? It's surprisingly intuitive. The iOS app is well designed and looks very different to the standard amp modelling apps you normally see (eg: AmpliTube). The main difference is that instead of rendering knobs in the app that looks like a real amp, the AMPLiFi app uses simple sliders. It's much easier to use these sliders then to try to control knobs on a touchscreen.
Now that I've used this app it has become obvious why controlling a knob on a touchscreen is a really dumb idea that needs to die. While I admit apps like AmpliTube looks a lot cooler and gives you a more authentic guitar vibe, the AMPLiFi app is better from a usability point of view. The sliders make it very easy to use on the smaller screen of an iPhone or Android.
When you load up a song from iTunes, the app searches the cloud to find relevant tones for the song. So if you load up 'Steve Vai – For the Love of God', the app will search for any user-created tones that match that song. This is a great feature when you just want to get the basic tone without having to figure it all out yourself.
Simply load up the song and try out the tones suggested. You can easily favorite or save the ones you like and any tones you create can easily be saved to the cloud. This is a great feature – especially for beginners not sure how to tweak your tone yet.
I've had many problems with Bluetooth enabled products before and was expecting a lot of problems when I first tried to connect my iPad to the AMPLiFi. Fortunately, it connected straight away without any problems. Once the app was connected it was really simple to choose the type of stompboxes or amp and tweak the tone.
The advantage to having an app to control the amp is that Line 6 can always add more effects or improve the quality of the effects in the future and roll them out to the app.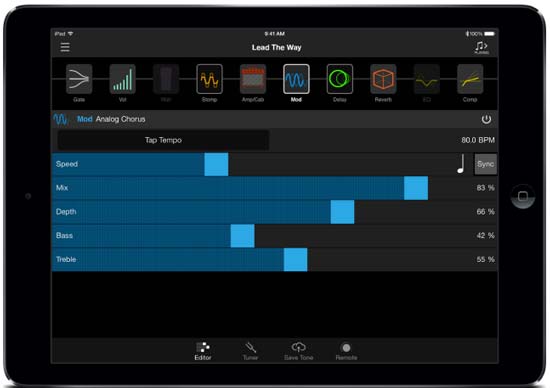 The only negative aspect I found in terms of usability is that once you start playing a song, changing tones while playing becomes an issue. You could set up the iOS device on a stand in front of you and simply tap it to change tones – but when you're used to using your feet to switch tones this becomes a hassle.
If I were to use the AMPLiFi with a band or at a gig, I would definitely get an FBV MkII Foot Controller to change between tones.
Sound
This type of amp must really give the vintage purists the shivers. There's that much digital technology crammed in that it's a valid concern whether it will give a nice warm sound or not. But in Line 6's defense, this is their strong area of expertise. Line 6 have been working on modelling technology since the first POD. They have come a long way and my review of the POD HD500X shows that the technology has reached the point where the differences between 'the real thing' and a modeled version are so minor that most people don't really care about the differences.
Here is where the extra four speakers give the AMPLiFi a different edge. Now it's possible to use the extra full range speakers with effects such as reverb without it sounding muddy like a standard guitar amp would. The amp controls the wet and dry effects independently which means your tone ends up clearer with the effects more pronounced. When I loaded up a chorus effect for the first time it was immediately obvious how the extra speakers added extra clarity to the tone. Now when I go back to using chorus on a standard guitar amp, all my ears hear are the muddiness not present with the AMPLiFi.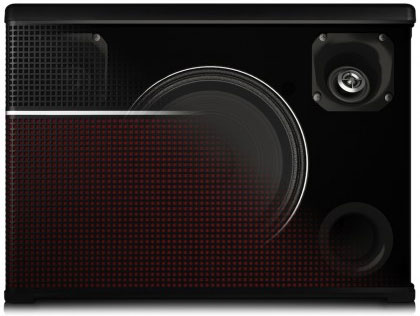 The full range speaker system also means that you can use the AMPLiFi with an acoustic guitar and achieve a full range just like an acoustic amp would. There are a few amp models designed to work with acoustic guitars and they sound great. I set my Variax to the acoustic sounds and the difference it made was stunning.
This amp works well with a Variax because now when you choose other instruments such as an acoustic, banjo or sitar, you don't have to worry about switching between a guitar amp and a PA system. You can also select 'no amp' in the app to turn the AMPLiFi into a full range amp that sounds great with acoustics. Adding a bit of reverb created a rich full range sound.
It is worth mentioning though that the AMPLiFi is based on XT/X3 technology so the quality isn't quite at the same level as the POD HD range. I set up an A/B test between a POD HD500X and the AMPLiFi and loaded the same effects, amp models, etc. and the difference was clear. While the AMPLiFi in no way sounds bad, it's just clear that it's based on older technology. It would have been nice to see the AMPLiFi use the POD HD modelling technology, but I can understand why they haven't.
Reliability/Quality
This is a combo amp and as it is solid-state there are no tubes to worry about. The 75 looks very small and is fairly light. I would have no problem taking this to band practice and don't see any problems taking it to a gig to. This amp was designed for home use so I wouldn't expect it to last long if regularly taken to gigs. There are other amps better suited for gigs and this amp really should live at home.
Overall impression
This is the first amp of it's kind and after hearing the quality tones it can produce as well as the way it doubles as a stereo system, I would expect similar types of amps to be available in the future. It's an excellent idea and works really well. I have loaded up my collection of Steve Vai's Naked Tracks (which are backing tracks to Steve Vai songs) and they sound fantastic through the speakers while I play. This is an excellent amp for an at home jamming tool. You can easily play along with any songs in your iTunes library and have access to a huge number of effects and tones. If I were a beginner starting out, this is the amp I would buy. It gives you a lot of flexibility and with future app updates, it's likely to improve over time.
In summary, the AMPLiFi is very impressive thanks to the full range speaker integration. Effects sound enhanced and the flexibility to load backing tracks to play through the amp is very useful for home use. I highly recommend the AMPLiFi for home use.
Pros
Doubles as a full range stereo system
iOS/Android app is incredibly easy to use
Ability to load songs from iTunes and find suitable guitar tones from the cloud
Effects sound fantastic thanks to the extra full range speakers
Can stream music from any Bluetooth device (eg: Android/iOS/PC/Mac)
Cons
Does not come with a foot controller (but you can buy one separately)
Uses older XT/X3 modelling technology
Who is it for?
Beginners – this is the amp I recommend for beginners just starting out on guitar. The reason is that it will give you all the flexibility you need without having to purchase extra pedals or being stuck with an amp sound you don't like. Being able to play along with any song in your iTunes library and find suitable tones in the app makes it a fantastic jamming amp.
Casual players – if you only play for fun at home and don't need an amp for gigs then this is an ideal choice. It's so easy to set an iPad on your lap and play around with different effects while sitting on the couch. Having one device to control your entire tone (apart from wahs or other expression pedals) means you don't have to worry about batteries, adapters or cables everywhere. The 75-watt version has plenty of volume for home use and the fact that it can double as a stereo system makes it useful for other people in the house. I regularly use mine to play music in the background by simply loading up the app.
Who isn't it for?
Performing musicians – while the AMPLiFi could be used in gigs, there are so many better choices available. The main reasons to get this amp are due to the full range speaker system and the app. It's very unlikely you will have a strong need for either feature in gigs. You definitely don't want to be changing tones using an iPhone or iPad during a gig and the fact that it doesn't come with a footswitch means it's an extra cost to buy one. This amp is best suited at home. If anything you could use this amp when you're at home and have a different amp for gigging use – but I wouldn't use the AMPLiFi as your main gig amp.
How to get the most out of the AMPLiFi 75
Here are a few tips to get the most out of your AMPLiFi:
Load up your music library on your iOS/Android device
Start with your favorite songs and look at the tones other AMPLiFi users have created to match those songs. Look at what amp models they chose, what effects and what settings were used. Not all of the tones you find will be good (some of them will be terrible) but you can learn from them. Find out what amp models you like the sound of and what effects are used most often. If you notice good quality tones from a certain user, keep an eye on them for other tones. The big benefit here is that you can learn how to create great sounding tones by checking out how other people create their tones.
Listen to each effect separately at first
While the amp can load up to eight effects simultaneously, start out by having a clean signal path and use only one effect. Go through the effects and figure out which ones you like the sound of on their own. That way when you start combining effects you can focus on using the ones you like the most.
Get backing tracks to play along with
While you could load up album versions of songs and jam along, you get the best experience when you can find good quality backing tracks with the guitars removed. For example, the Naked Tracks series by Steve Vai contain the actual album recordings with the guitar removed. They sound fantastic played in the AMPLiFi. Load up as many backing tracks as you can so you can instantly play along to one with one tap. It's a great feature not available with any other amp (yet).
Alternatives to the AMPLiFi 75
At the moment there are no direct alternatives to the AMPLiFi from other brands as this is the first blend between a stereo and guitar amp.
Out of the AMPLIFi range, there are a couple of alternatives that may suit you more or less depending on your situation:
AMPLIFi 150
As explained earlier, this is simply a larger and more powerful version of the AMPLIFi 75. Find out more about the AMPLiFi 150 here.
AMPLIFi FX100
Line 6 have created an alternative for those who want the flexibility of a full range speaker system but want to continue using your own amp – the AMPLiFi FX100. The FX100 is a floorboard pedal that offers the same features as the AMPLiFi amp such as the app with the difference that you can select multiple outputs. You can connect a guitar amp as well as a full range speaker system.
AMPLIFi TT
There's also the AMPLIFi TT which turns any stereo speaker system you already have into a guitar amp. The idea here is that if you already have a stereo or surround system, instead of buying another speaker system (a guitar amp), you can simply plug the AMPLIFi TT into your stereo and use it as your guitar amp. Whether this option suits you depends completely on the type of speakers you have at home. Plugging into a nice big home theater surround sound system sounds like a good idea to me, but a small crappy stereo might not be as fun.
AMPLIFi 75
See information on pricing, availability and other reviews on the AMPLIFi 75 here.
Summary
Reviewer
Review Date
Reviewed Item
Author Rating





Product Name