Relay G10 Features
The Line 6 Relay G10 is a wireless transmitter and receiver compatible with any amp. Here are the main features of the G10:
24-bit uncompressed digital sound quality
2.4GHz wireless
50-foot indoor signal range
No setup required – just plug in
Up to 8 hours play time and 200 hours standby
Recharge transmitter in receiver dock
XLR & 1/4″ balanced and unbalanced outputs from the receiver
Check out the price and full details of the G10 here (link to Amazon).
Ease of use
This has to be the biggest strength of the G10 – it's incredibly easy to use. You simply plug the transmitter unit in your guitar and connect the receiver to your amp.
If you have a Spider V (60 or higher), it's even easier to use. The Spider V 60, 120 & 240 all have inbuilt wireless receivers so you simply need to plug the transmitter in your guitar and it will automatically connect to the amp.
You don't need to select a channel or configure anything. It's literally plug and play.
To charge the battery, simply plug it into the receiver or the Spider V input jack as shown below: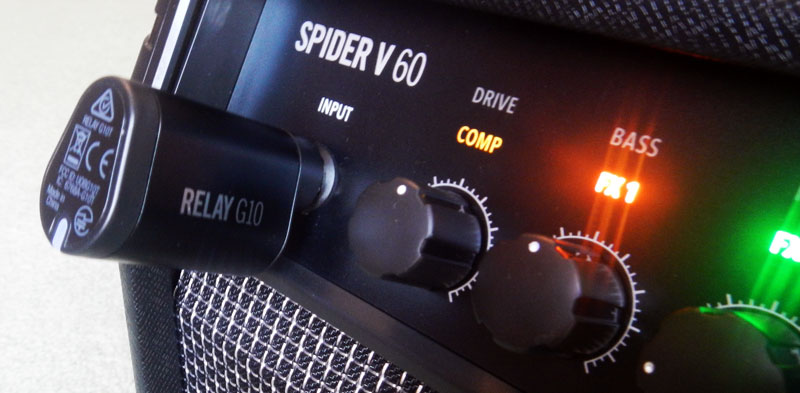 Sound Quality of the G10
Audio quality
Some guitarists tend to freak out whenever they see the word 'digital' on a guitar product. They immediately assume it will sound cold, sterile and digitized. I did an A/B blind test with several musician friends and nobody could accurately tell the difference between wireless and wired playing. I'm sure there are audiophiles out there that insist there is a big difference, but for normal musicians using the G10 is the same as using a cable from a sound quality point of view.
For the technically inclined, the G10 offers a >110dB dynamic range.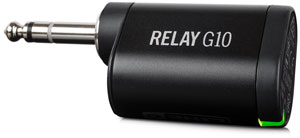 Latency
The Relay G10 is rated with latency less than 2.9ms. In practical terms this is so low you won't notice any latency at all.
If you want to hear what 2.9ms of latency sounds like, move your ear to 1m (3 foot) from your amp's speaker. At that distance, it takes 2.9ms for the sound to leave the speaker and reach your ear. If you move to 2m (6 foot) from your amp, the latency jumps up to almost 6ms. So the difference between using a cable and the G10 is the same as standing an extra 1m (3 foot) away from your amp.
In short, you don't need to worry about latency with the Line 6 Relay G10 because it's so insignificant you won't notice it at all. You're already getting more latency than what the G10 produces now unless you play with your ear against your amp.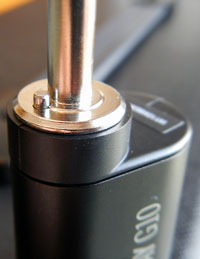 Auto-muting

A really nice feature I didn't expect is the auto-muting as you plug your guitar in. When you plug the G10 into your guitar, you will notice there's no pop or noise as you would get plugging a cable in. The G10 mutes the signal for about half a second when you first plug it in to prevent any popping or noise.
It's the same when you remove the G10 – no popping or noise.
The way this works is that there is a little pin/button that depresses only after the transmitter is fully inserted into the guitar (see photo to the right). So the transmitter only turns on after you have fully plugged it into your guitar.
It's a really nice feature to know that you can switch guitars without needing to mute anything first.
Reliability/Quality
Wireless range
The first thing I think everybody who buys a wireless unit does is walk around to test the limits of the range. The G10 is rated at 50-foot line of sight. I placed the Spider V 60 amp in one room of the house and began playing while walking towards the other end of the house. At no point did the signal cut out.
The G10 worked perfectly fine through a few walls. The only time it cut out was when I stepped outside and moved behind a brick wall.
Interference
Other wireless units require you to select a channel for the unit to transmit. The G10 automatically selects from up to 14 channels which makes setup very easy. I wanted to see whether the G10 would be affected by other wireless devices the 2.4GHz frequency it uses is the same for WiFi. I tested holding the transmitter against a laptop, smartphone and WiFi router with no change in signal.
While part of me was hoping to experience a Spinal Tap-style moment with a radio station taking over my guitar playing, I'm glad that's not possible with the G10.
The G10 selects a channel when the transmitter is docked in the receiver (or in the Spider V). So if you take your amp to a different location, it's a good idea to first dock the transmitter so the G10 can select a suitable channel before you use it. The white LED on the receiver will flash three times to confirm a channel change.
Build quality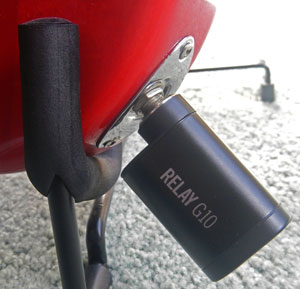 It's still early for my testing, but so far I'm confident that the unit will last. The transmitter feels sturdy when plugged into a guitar. While it would have been nice for the shell to be completely metal instead of part metal and part plastic, it does feel solid.
But even if it were all metal, the unit is exposed. All of my guitars have the input jack on the body's edge so it is in a vulnerable position compared to guitars with the input jack on the body's face. So if I accidentally drop my guitar and it happens to land on the transmitter, the entire weight of the guitar is likely to cause damage to the G10.
Fortunately, I haven't had any issues with the transmitter bumping into objects or while resting on a guitar stand (shown to the right). It's quite a compact unit so it's out of harm's way most of the time.
A reader sent me a message to let me know he had issues with the USB socket on his G10 receiver. He sent me a link to this forum thread of other G10 users experiencing the same issue. If you have an issue with the USB socket, read through that thread for a solution.
Battery & Sleep mode
The G10 transmitter will go into sleep mode when it doesn't receive any sound from your guitar for 4 minutes. This means if you set your guitar aside for a while, you don't need to worry that it's going to chew through the battery. With up to 200 hours of standby time, you don't need to constantly charge it (unlike smartphones).
The green LED on the transmitter lets you know it's connected and has at least 30 minutes left in battery time. When the battery drains to the point where it will die within 30 minutes, it will flash red. When charging, the flashing LED will turn steady green when it is fully charged.
Overall impression of the G10
I never thought wireless units would make their way into the average guitarist's reach. Nor did I think I would have a use for a wireless unit. But as soon as I plugged the G10 into my guitar, I was surprised by how much I loved not having a cable running around my room.
For a performing guitarist, a wireless unit like the Line 6 Relay G10 is a great way to tidy up your rig and give yourself some freedom on stage.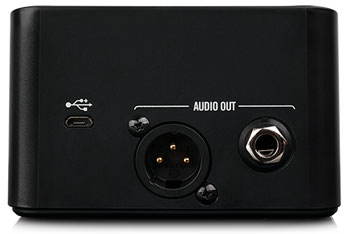 For an at-home guitarist, the G10 is a nice luxury. It allows you to place your amp anywhere you want and not need to worry about cables running around the house.
Relay G10 Pros
Ridiculously easy to use
Excellent sound quality
Quick charging and long lasting battery
Relay G10 Cons
Some guitars will require use of the right angle adapter
Some guitars with non-standard jacks will need a mono adapter*
Some people are having issues with the build quality of the USB socket on the G10 receiver
*It's worth mentioning that because the G10 uses a TRS connector (find out about different audio cables here), a tiny number of guitars will experience issues. The easy fix for this is to use a TS female to male adapter. It's not ideal, but only a very slim number of guitars will have issues with the G10.
Who is the Relay G10 for?
Live performers – while we're all used to being tethered to a cable, it's so liberating to go wireless. Even if you perform on a small stage and won't be stage diving or running around, going wireless means you won't need to worry about standing and tugging on your lead.
Spider V owners – if you own a Spider V (not the 30 model) or any future Line 6 amp that has wireless compatibility, make the most of it and get yourself a G10T. The G10T is the transmitter which you can buy without also buying the receiver. Because the Spider V has an inbuilt receiver, you can save a lot of money by purchasing the G10T. The only time I recommend buying the entire G10 system (with the receiver) is if you also want to use pedals with your amp. The G10T works by connecting wireless directly to the amp, so if you want to add some pedals to your rig, you will need to buy the full G10 system.
Who isn't the Relay G10 for?
I was going to say professional touring guitarists here, but I don't see why it wouldn't be suitable. When you change guitars, you simply move the G10 to the new guitar. The auto muting feature ensures you're not going to get any pop as you switch.
The only time I would say the G10 won't suit you is if you want the extra control and features offered in a unit like the G30. So if you want to be able to manually select a channel, the G30 may suit you better.
Alternatives to the G10
Line 6 G30 – if you need to be able to manually select a channel (eg: multiple guitarists in your band all using wireless systems) and you want a more suitable receiver for a pedalboard, check out the G30.
Line 6 G10T – if you own a Spider V amp (60 or higher), remember that you can buy the transmitter on its own as your amp has an inbuilt receiver. If you plan on using the amp's effects rather than stompboxes, this is a good choice to go for.
Useful links for the Line 6 G10
Relay G10 Manual – this is the 'pilot's guide' you receive with the G10
Line 6 Dealers – use this to find locations of Line 6 dealers in your area
Check out the price and full details of the G10 here (link to Amazon).
Summary
Reviewer
Review Date
Reviewed Item
Line 6 Relay G10 Wireless System
Author Rating





Product Name
Line 6 Relay G10 Wireless System