Need to buy a gift for a guitar player but have no idea what they will like or need? This guide gives you gift ideas that guitar players will actually appreciate and find useful. I've explained under each idea why it's a good gift. So if your budget is under $50, check out these great gift ideas for guitarists. Alternatively, if you want to spend a bit more for a great gift, check out gift ideas under $100.
Guitar Maintenance Kit ($20-30)
What is it: all guitars need regular maintenance. The more expensive the guitar, the more important the need for good maintenance. Maintenance includes cleaning the fretboard from dirt build-up, polishing the guitar, cleaning parts, etc. A typical maintenance kit will include fretboard oil, polish, microfiber cloth and sometimes useful tools such as string winders.
Why is it a good gift: As a guitar teacher I can verify that only a small minority of guitar players actually buy their own maintenance kit. So the chances are high that the guitar player you're buying a gift for doesn't already have one.
The main reason why this is a great gift idea is that keeping the strings and fretboard clean using these products actually increases the lifespan of a set of strings. That means the strings will sound better for longer as well as feel better. Make sure you tell this to the guitar player you're buying it for so they understand why they should use it.
Options:
Dunlop System 65 Guitar Maintenance Kit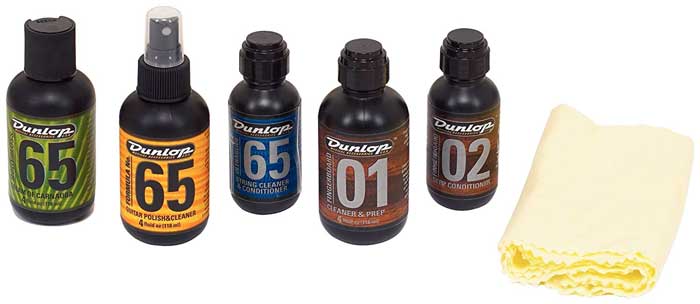 Dunlop is a well-known guitar accessory brand and they make good products. This is a great kit as it includes five different cleaners for different purposes. It also includes relevant cloths and instructions which is handy for guitarists who have never cleaned their guitars before.
Check out the Dunlop System 65 Kit price and details here on Amazon.
Music Nomad Premium Guitar Care System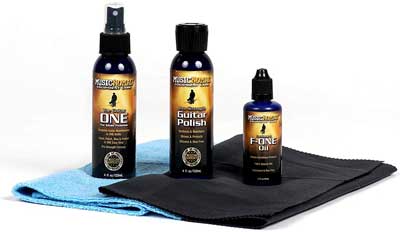 This kit is more expensive but it does use high-quality polishes and oils. If the guitarist you're buying a gift for owns expensive guitars, they will likely appreciate a kit with the word 'premium' on it.
Check out the Music Nomad Premium Guitar Care System here.
Gibson Gear G-CAREKIT1 Stringed Instrument Care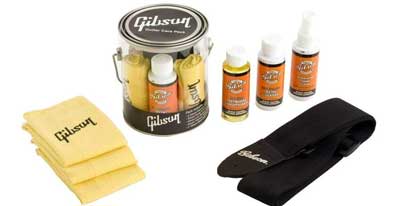 The last option I'll mention is by Gibson which is a guitar maker. If you see the Gibson logo on any guitar the person you're buying for owns, then this might be a good option as guitar players who own Gibson guitars tend to stick to the brand. If they don't own a Gibson guitar, one of the other two kits will be a better choice.
Check out the Gibson Gear G-CAREKIT1 here.
Vox amPlug ($40-50)
What is it: the amPlug (read: amp plug) is a small device that plugs into an electric guitar that allows the guitarist to play guitar with headphones. The amPlug simulates a real amp and the sound quality is really impressive for such a small unit (read my review here). A CD/MP3/iPhone can be plugged into the amPlug which means the guitarist can jam along with backing tracks.
There are a few different models you can choose from and the right choice depends on what type of music the guitarist you're buying the gift for plays. If you're unsure, buy the AC-30 model. Other models include Acoustic, Classic Rock, Lead and Metal which are suited to those music styles.
Why is it a good gift: there will be times when a guitar wants to jam but can't crank the amp up (eg: middle of the night with a sleeping family). The Vox amPlug allows that guitarist to get a similar sound to a real amp without the volume. It's also incredibly handy for any guitarist who travels for work and wants to take their guitar with them. The unit is tiny and packs away easily in any guitar case/bag. If you live with a guitarist then this is a great way to get some silence.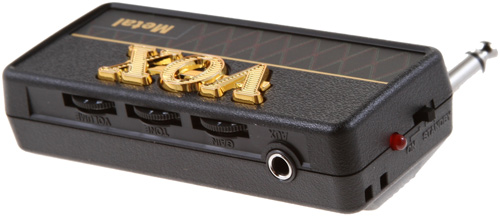 There are a few different options to choose from in the VOX amPlug range. Check out the options and current price here.
Planet Waves Circuit Breaker Cable ($20-30)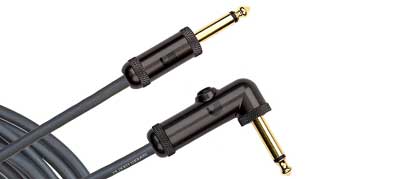 What is it: guitar cables are essential for electric guitar players but for some reason, we tend to avoid buying them (I've cut and re-soldered my own cables many times over instead of going out and buying a cable that will last). Planet Waves produce some of the most reliable and long lasting cables out there. The difference with this cable to regular cables is that this one has an inbuilt circuit breaker. What this means is that there is a mute switch on the cable the guitarist can press to instantly mute their guitar. Muting the guitar is useful when playing live and needing to switch guitars and it's useful at home when connecting or disconnecting a guitar.
Why is it a good gift: the Planet Waves Circuit Breaker cables are in the top range of cables in terms of price and quality. The person you're buying for won't be disappointed by receiving a cable because they will recognize the quality and find it incredibly useful. The circuit breaker is also surprisingly useful. The main reason this is a good gift is that the cable will last a lifetime. Quite often guitarists keep the cheap cables that come with an amp so this will be an upgrade for almost every guitarist.
Check out the price and different length options of the Circuit Breaker Cable here.
Note: there are a few options to consider. First, I recommend the 20-foot length as 30 foot is too long for most guitarists. Second, you can choose between a right-angled plug or a straight plug. The type you choose depends on the type of guitar the person you're buying for owns. An easy way to figure this out is to simply look at the type of plug the guitarist is currently using. If in doubt, choose a right angle plug.
More Gift Ideas
If you're willing to spend a bit more, the quality of the gifts you can give shoot up. Check out gift ideas under $100 for some unique gifts that essentially every guitarist will enjoy and appreciate.
For more advice on buying gifts for guitarists, check out my gift buying guide here.
Found this guide useful? Please share it on social media to help support this site (if you use Pinterest, please pin the below photo).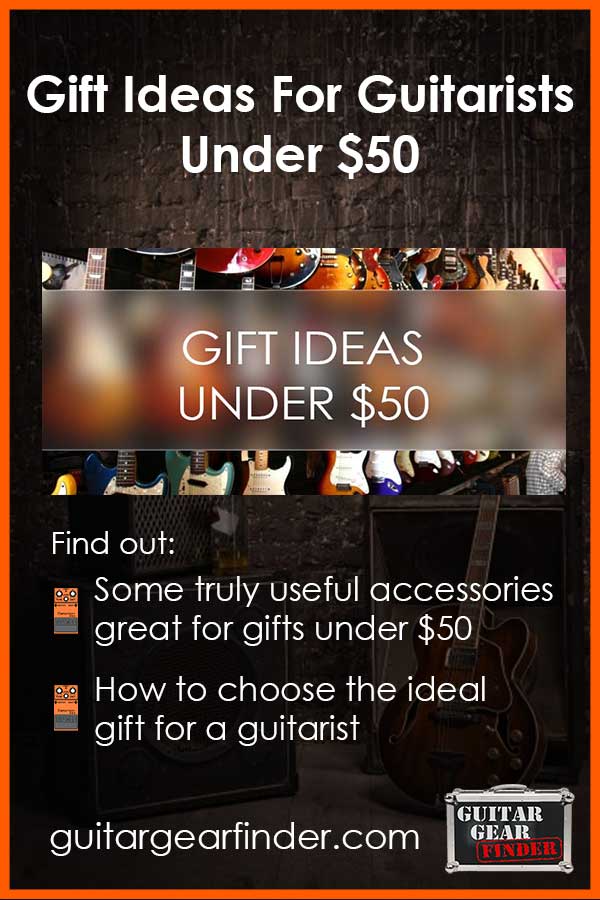 Summary
Article Name
Gift Ideas for Guitar Players under $50
Description
Looking for gift ideas for a guitar player under $50? Find out the most useful and appreciated gifts you can buy.
Author