Guitarists are often subject to some of the most gimmicky and tacky presents you could imagine.
While a small number of guitarists will like the typical gimmicky presents, there are so many better gift ideas.
If you're looking for a seriously impressive gift idea, a guitar-shaped ice cube tray just isn't going to cut it.
In this guide, I'll go through four incredible gift ideas that guitarists will actually love.
These gift ideas are perfect for milestone birthday gifts, wedding gifts, Christmas gifts, or a special gift for your spouse.
After you check out these gift ideas, read this guide on what type of gifts to get or avoid for guitarists.
Custom Pressed Vinyl Record
This is the perfect gift idea for any guitarist who writes and records their own music.
With this gift idea, you give the guitar player a custom vinyl record pressed with their own music.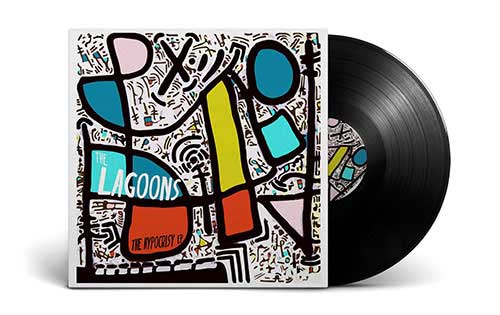 This gift is ideal if the guitarist also has a collection of vinyl records. Being able to include their own record in the collection is a show stopper.
If the guitarist doesn't have a record player, you could give this gift. The idea would be for them to display it framed on a wall rather than use it.
I can think of a few of my guitarist friends who would love to put a custom record of their music on the wall to show off to other people.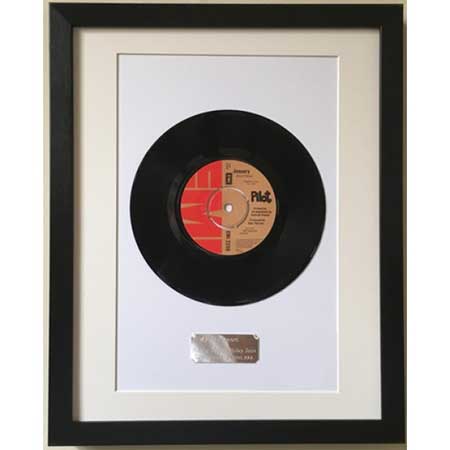 So I suggest considering this gift idea whether or not they have a record player. You'll probably know whether the guitarist would like it or not.
If the guitarist writes and records their own music, this is a seriously impressive gift.
How to Get This Gift
This gift is a bit more involved compared to other gift ideas in this guide. But you end up with something seriously impressive.
There are a few optional steps you might want to consider if you really want to step up how impressive this gift will be.
Step 1: Get your hands on the guitarist's music files. You'll need the digital audio files to send to the vinyl pressing people.
This should be easy enough as all you need to do is ask for a copy to listen to.
Step 2: Find somewhere to press the vinyl.
The good news is that it's pretty easy to find places that press vinyl records.
Here are a few options to check out:
While some of the above options have worldwide shipping, I suggest searching in Google for 'custom vinyl records' to see what shows for your country if you need shorter shipping times.
If you are researching other companies, be aware that there will be a big difference in price between companies that press vinyl (meant for large order sizes) and cut vinyl (for small numbers).
The cheaper option for a once-off gift is to find a place that cuts vinyl using laser or lathe.
Step 3: Choose the size of the record.
Vinyl records come in three sizes. Some places will only offer one of the smaller sizes while other places will give you the option of all three to choose from.

The size of the record depends on how much music you want to have on it.
7″ records hold up to 5 minutes of music per side at 45rpm
10″ records hold up to 12 minutes of music per side at 33rpm
12″ records hold up to 18 minutes of music per side at 33rpm
Some places will give you the option of 33rpm or 45rpm (the speed the vinyl plays), which affects how much music it can hold per side.
Step 4: Choosing artwork
Depending on what place you go to, they may have options on what artwork to display on the sleeve cover or the label in the middle of the record.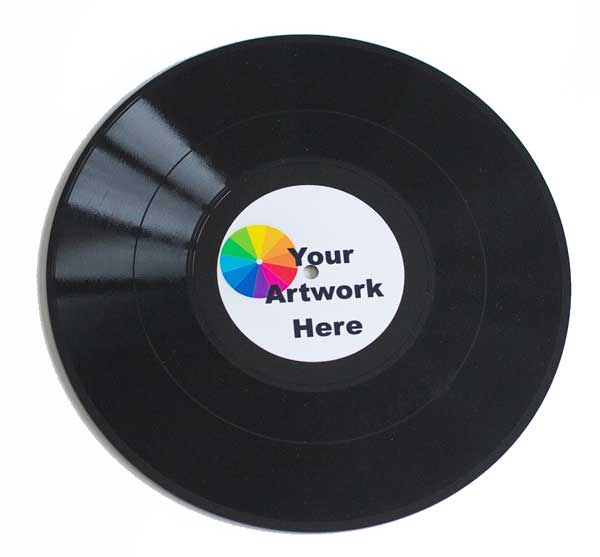 You have a few options, depending on how much effort you want to put into this gift and depending on whether the guitarist already has artwork you could use.
For example, if the guitarist has already released music and has artwork for that music, you could use that artwork to print on the cover.
If the guitarist doesn't have any artwork you could use, you can either go with a plain design or hire somebody to design it for you.
A plain label on the record is completely fine in many cases. If you want to frame the record, the artwork isn't as important as knowing that the guitarist's music is actually on the record.
If you want to hire somebody to design the artwork, you can find somebody for a low cost on sites such as Fiverr (cheap) or 99 Designs (more expensive but better quality).
For a small price, you can get professional-looking artwork on the label or cover.
If this is for a big present such as a milestone birthday or event, I suggest spending the extra time and effort to get artwork for the record.
Who does this gift idea suit
This gift is one of the most impressive things you could do for a guitarist who writes and records their own music.
This gift takes more effort on your part compared to the other options in this guide, but it will show. One of my friends received a custom vinyl with his music on it for his 21st and it was all everybody talked about that night. He still has it on his wall today (10+ years later).
Custom Guitar Pedal Kit
If the guitarist you want to buy a gift for plays electric guitar and might feel comfortable or interested in a bit of soldering, this is a great gift to consider.
Many electric guitarists love collecting and using guitar pedals. Guitar pedals allow electric guitarists to access a wide range of sounds and effects.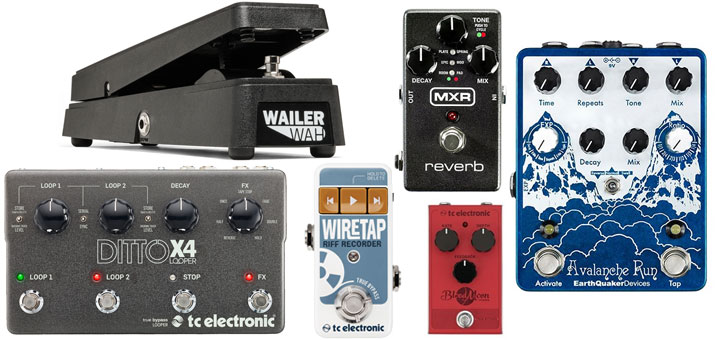 While you could go and buy a normal guitar pedal (I have a lot of guides explaining the different pedals you can buy), there's another option you might want to consider.
Buying a custom guitar pedal kit is an incredibly unique and interesting gift that will impress a lot of guitarists.
Not many guitarists can say that they've built their own guitar pedal, so this gift idea is a great way of giving the guitarist something fun to do that they can also use.
Many guitar pedal kits are available like the one shown below: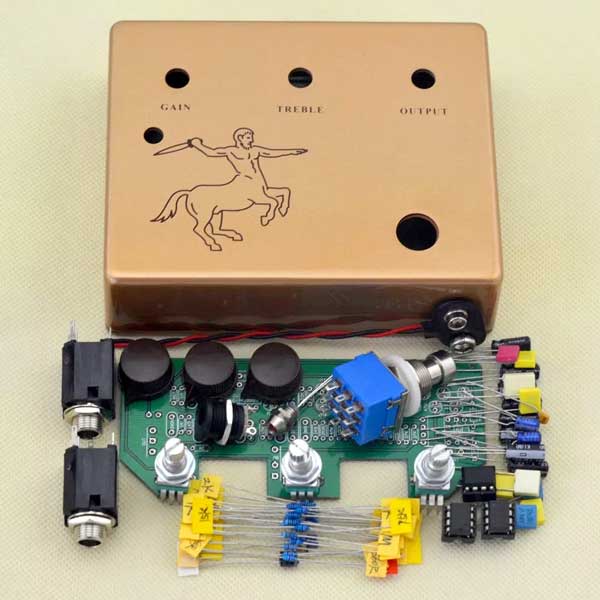 The basic idea is that the guitarist needs to put the kit together, then they have a fully functional guitar pedal they can use just like any other pedal.
What Kit to Buy
What makes guitar pedal kits a great present idea is that you can buy a kit based on one of many famous guitar pedals.
These 'clones' allow the guitarist to build a pedal that replicates the sound of vintage or classic pedals that are either incredibly expensive to buy for real or just not available.
For example, the below guitar pedal, the Klon Centaur, is an iconic pedal that sometimes sells secondhand for over $2000.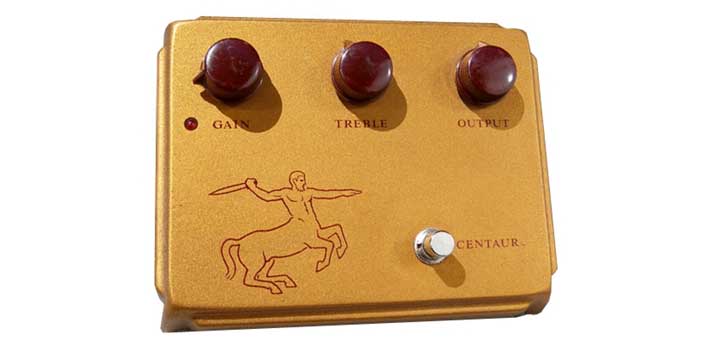 It's one of the most famous guitar pedals as I cover in this guide. But you can buy this Klon pedal kit (link to Amazon) that replicates this iconic pedal and the same classic design for less than $50.
Usually, I don't recommend buying guitar pedals as gifts, because finding the right pedal to buy can be tough.
But things change when you buy a guitar pedal kit. Almost any pedal I mention below will be a fantastic choice for any guitarist.
I recommend buying a guitar pedal kit that is a clone of a well-known guitar pedal.
That way, the guitarist you buy the gift for will know what it is based on, yet they will be able to brag to other guitarists that they built it.
Here are some well-known guitar pedals that you can easily find clones for:
Ibanez Tubescreamer (green overdrive pedal)
Klon Centaur (classic overdrive pedal)
BOSS DS-1 (orange distortion pedal)
MXR Phase 90 (orange phaser pedal)
Fuzz Face (vintage fuzz pedal)
When people sell kits, they usually avoid directly mentioning the brand or pedal name. So instead of saying "Ibanez Tubescreamer clone kit", they may label it as "guitar screamer pedal kit". Or they may say something like "classic green pedal", which guitarists know means a Tubescreamer.
If you see any words in their descriptions that match in any way the above pedal names, you can bet it's a clone of that pedal.
Here are some guitar pedal kits to check out:
If the guitarist doesn't already have a soldering iron (handy for electric guitarists), consider buying a soldering iron and solder to include with the gift.
Once a guitarist builds one pedal, they'll quickly get into building or modifying pedals, changing pickups, or rewiring their guitars. So they'll make great use of the soldering iron.
Why Guitarists Love These Gifts
While some guitarists might be intimidated by the thought of soldering, most guitarists love getting guitar pedal kits as gifts.
There's a really important reason why this gift can be far better than buying a typical guitar pedal – guitarists tend to prefer the sound of a pedal they build over other 'better' pedals.
One of the most common things I've noticed in reviews on guitar pedal kits is that guitarists keep saying they prefer the sound of their pedal over the original pedal it's based on.
This is a well-known psychological bias and it works in your favor as the person who buys the gift. People become invested in the things they build, so the pedal they build from a kit will be seen as more valuable to them over a pedal you could buy from the shelf.
An added benefit with many kits is that the guitarist can paint or create their own design for the pedal enclosure.
If you are buying a gift for a guitarist who plays electric guitar, I highly recommend this gift idea.
Build a Custom Guitar
Building a custom guitar is one of the most impressive things a guitarist can do. While having an expensive guitar to play is the dream for most guitarists, having something truly unique is on another level.
As I mentioned above with building a guitar pedal from a kit, people value the things they build higher than comparable products bought from a store.
This means a guitarist is going to value a guitar they build much higher than a similarly priced guitar you could buy them from a store.
Whether the person you want to buy a gift for plays acoustic or electric guitar, there are options that you might want to consider.
Guitar Building Classes
If this option is within your budget, I highly recommend it. If somebody bought me a voucher for a guitar building class, I would be over the moon. That's how good of an experience it can be even for somebody who has too many guitars.
Walking into a guitar making class and walking out with a unique and hand-crafted guitar cannot be beaten.
In addition to truly building their own guitar, they will learn some new skills and valuable insights in how to wire and properly set up a guitar.
Guitar building classes are designed to make the process as easy as possible, so even people who have no woodworking experience can get enough guidance to successfully build a guitar.
These classes are normally spread over a few days and the prices can vary depending on the type of guitar (eg: acoustic or electric) and quality of materials.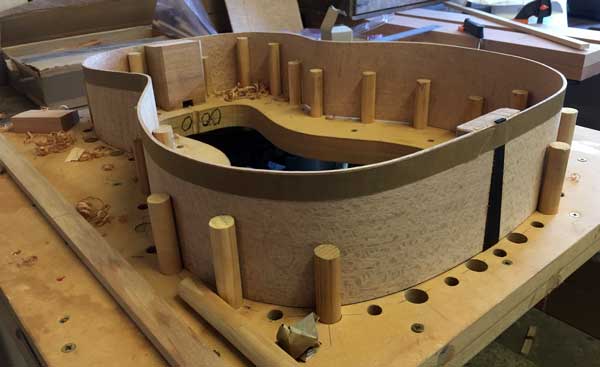 With this gift, it's not just about the guitar – it's about the experience. The person you buy this for gets their hands dirty and build their own custom guitar while enjoying the process with other guitarists.
If you want to research this gift option, here's how to get started:
Search for local guitar building courses to get an idea of what is available in your area
Find out if the person you will be buying this gift for would want to build an electric or acoustic guitar
Find out whether the course/class is suitable in terms of required skills
A course for building an acoustic guitar will be significantly more involved than building an electric guitar, so keep this in mind when considering budget and skill level.
Kit Guitars
Buying a guitar kit is like buying a lego kit – they're not really building a guitar, but it's close enough where they can tell people that they did build it.
This is a great option if you have a lower budget or if the person doesn't feel confident with woodworking skills.
As you can see in the below photo of a typical kit, you get everything you need and simply need to put it all together: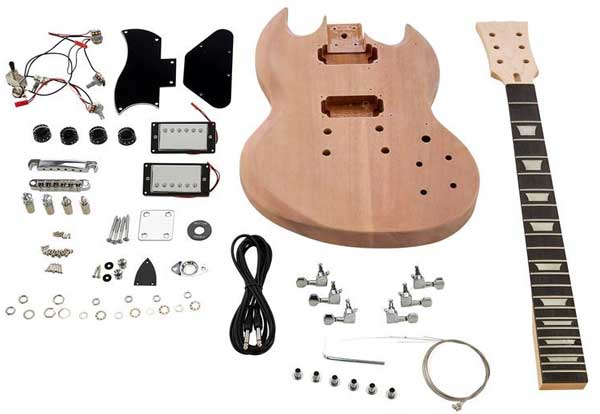 The person you buy it for doesn't need to learn how to start with blank slabs of wood and carve a guitar out of them.
Anybody can put a kit guitar together. They're also able to paint or customize the look of the guitar in any way they like.
Buying a guitar kit can be a fun weekend or multiple weekend project for them to work on, then by the end, they have a guitar they can enjoy playing.
There is a wide range of guitar kits available both in quality and in types of guitars.
You could buy a cheap guitar kit from eBay, or you could spend more to buy a high-quality kit from a guitar luthier such as the well-known Crimson Guitars.
Before you buy somebody a guitar kit, find out:
The type of guitar body the person will like (eg: do they like Les Paul guitars, Stratocasters, PRS body shapes. etc.)
If they have any preferences in wood (some guitarist are really serious about wood)
How many strings they play (most guitarists play 6-string guitars, but some like 7 or 8 string guitars)
How much have they spent on their current guitars (eg: if they spent $2000+ on each guitar, a cheap eBay kit guitar isn't going to cut it)
I've had a few friends build guitars from kits and none of them had difficulties. So this is a great idea for any guitarist as it teaches them a lot about how guitars work and allows them to build something special.
Custom Guitar Amp Kit
I only recently found out that this option was possible and as a gift idea, it is seriously impressive.
There are kits you can buy where a guitarist can put together an actual guitar amp that will sound just as good as an expensive vintage tube amp from a store.
In the below photo, you can see a popular guitar amp kit from Mojotone that replicates a classic vintage tube amp: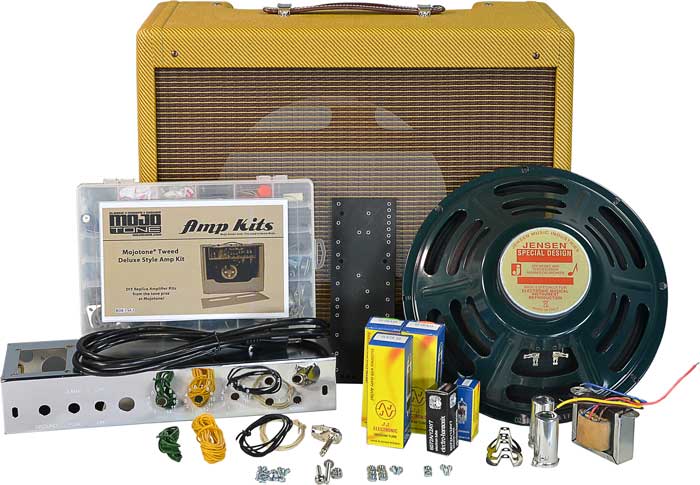 There are kits based on many different iconic and vintage guitar amps and each kit can be customized.
Safety Notice
It's important to point out that building a guitar amp is a big step up compared to building a guitar pedal or a guitar kit.
Wiring up a guitar amp involves dealing with potentially high voltage. An incorrectly wired amp could be life-threatening.
I would only consider this gift idea for guitarists who also have a decent level of electronics, soldering, or wiring in general.
This may be intimidating for many guitarists, but if the person you are buying the gift for is confident with following wiring diagrams, this would be an incredible gift to get.
If you know that the person would love to build their own guitar amp, but don't feel comfortable with them doing it on their own, look into guitar amp building courses such as this one by Mojotone.
If I lived in the US, I would instantly sign up for one of these courses. This would be an unbeatable gift for almost any guitarist.
What impresses me about these kits is the quality and the price.
The brand-name versions that these kits are based on sell for significantly more (literally thousands for some vintage amps). But because the circuitry in the 'real' amps is basic and the schematics are well known, these kits can be just as good in terms of guitar tone.
Note: If enough readers are interested in seeing me review and write a step-by-step tutorial on building one of these kits, please let me know and I'll contact a few guitar amp kit companies and try to organize something special.
If you're considering this gift idea, here are some tips to decide if it's the right option:
Find out how confident the person is with wiring, soldering, and electronics
Take a look at what amps the person already owns. Most kits focus on vintage or classic amps, so make sure the guitarist is into those style amps
Find out if the guitarist has a preference between Fender, Vox, or Marshall amps (this gives you an idea what type of kit to look for)
If you're unsure what kit amp to get, contact one of the amp kit companies and tell them about the guitarist you're buying the gift for. They'll tell you which type of amp may be the best match
Here are some guitar amp kit companies to check out:
There are plenty of other companies that produce guitar amp kits, but the above options are very well known and a good starting point for your research.
As you can see, the above four options are seriously impressive gift ideas. These gifts take more effort on your part, but they can have lasting impacts on the person receiving them.
I don't remember who bought me the gimmicky guitar-shaped spatula or the guitar ice-cube tray, but I would definitely remember the person buying me a guitar/pedal/amp kit, a custom vinyl with my music on it, or a voucher for a course. Those are incredible gifts that people will appreciate.
Looking for gift ideas on a lower budget? Check out this guide on buying gifts for guitarists for more tips and advice.