If you've had a look at Line 6's range of current amps, you might find it a bit tricky to figure out which one might suit you the best. What's the real difference between a Spider V or an AMPLIFi? They both have access to a massive range of amp models, effects and have an editor app, but they're still very different amps.
In this guide, I'll give you a quick run-through of Line 6's current amp ranges and help you figure out which range might suit you best.
Alternatively, you may want to consider using one of Line 6's multi-effects pedals to set up all your effects and tones and use a basic amp or speaker system. Have a read through my comparison of Line 6's multi-effects pedals to get an idea of how this would work.
Catalyst (New in 2022)
Note: the Catalyst has just been announced (February 2022), so I'll continue to update this section as I learn more about the amp.
The Catalyst range of amps is Line 6's newest amps (announced February 2022) and takes on a more traditional style of amp while including some handy modern features.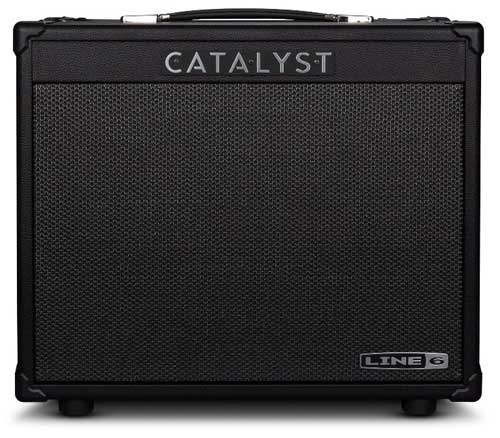 While amps like AMPLIFi or Spider V give you a wide range of amp models and features to play around with, Catalyst takes a different approach. You get six amp models and two amp channels. There's no digital screen and menu system to dig into – you set everything up with traditional knobs and buttons.
Catalyst Features at-a-glance:
Available in 60, 100, 200 watt combos
Power dampening (full power, half power, 0.5 watts)
Two amp channels
Boost toggle with control knob
Six HX amp models (Clean, Boutique, Chime, Crunch, Dynamic, Hi Gain)
18 HX Digital effects (Delay, Modulation, Pitch/Filter)
6 types of Reverb with dedicated Reverb knob
I/O options (FX Loop, Aux In, Headphone out, XLR out, Power Amp In, MIDI, Footswitch)
USB Recording
Catalyst Edit software (PC, Mac, iOS, Android)
The above features should make it clear that while the Catalyst is meant to be a more traditional amp, it still packs in a lot of modern features. The controls on the amp may be basic, but the ways you can connect and use your amp offer a lot of different options.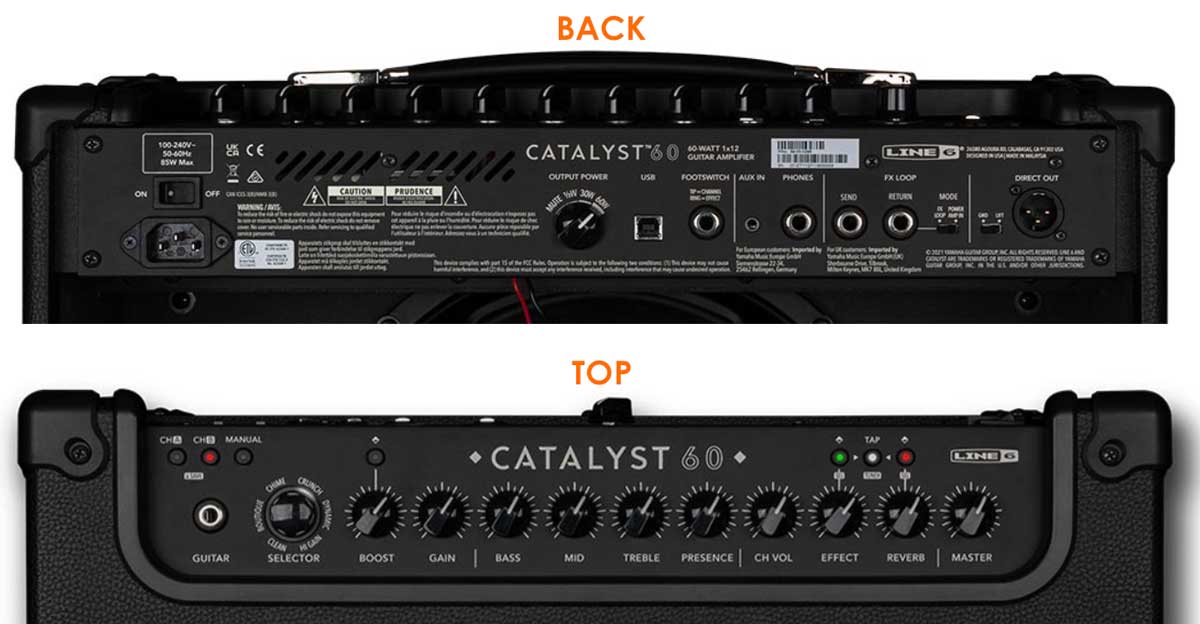 For example, the Power Amp In feature allows you to connect pedalboards such as the HX Stomp (check out Line 6's multi-effects pedals here) directly to the power amplifier, which gives you a crystal clear tone for your amp modeling. So you can use your pedalboard's amp models without the Catalyst coloring your tone.
On the back of the amp (shown above), you can see a knob in the middle where you can adjust the power output. You can switch between full power, half power, 0.5 watts, or mute the amp completely. This can be handy for somebody who performs live as well as wants to use the amp at home. At home, you can set the amp to half-power or 0.5 watts, then when performing live you can use full power.
Here are the main ways you can use the Catalyst amp in your rig:

Standard: Plug your amp or any pedals directly into the main amp input and use as a traditional rig. You can also plug in a footswitch to toggle between the amp channels or turn effects on or off. When performing live, you can send an XLR output directly to the mixer which includes cabinet simulation.
4 Cable Method: the 4 cable method is a way you can get better tones out of some guitar pedals (learn about the 4 cable method here). With this setup, you can plug your guitar as well as pedals into the main amp input, then connect any other pedals or modelers into the fx loop.
Modeler Direct In: this is a great feature for anybody who has a pedalboard that includes amp modeling. Instead of plugging your guitar and pedal into the main amp input, you can connect your pedalboard into the amp in a way that bypasses the Catalyst's amp models and effects. As explained earlier, this means you get a crystal clear tone as the starting point for your pedalboard to work with.
PC/Mac Recording: you can plug the Catalyst into a PC/Mac via USB for recording or for practicing with headphones (learn about playing guitar with headphones here). You can use the Catalyst Edit software to set up your tones, or you can load up a DAW or any amp plugins to jam or record with.
It should be clear from the above descriptions that the Catalyst does offer some flexibility to the type of rig you want to set up compared to other traditional combo amps.
Who is the Catalyst for: if you want a simple amp with good quality tones, the Catalyst is worth comparing against other popular combo amps such as the BOSS Katana. The six amp models are the same level of quality as the amp models on the HX range of pedalboards.
If the other amps in this guide seem too complicated or packed with features you won't use, the Catalyst may suit you better. There's no screen or menu to navigate, although you can choose to use the Catalyst Edit app to set up and save your tones.
If you have a modeling pedalboard and you want to use the pedal's amp tones, the Catalyst is worth considering thanks to the Power Amp In feature (explained above). Being able to completely bypass an amp's tones so you can solely use your pedalboard's tones is something missing on most other amps.
Who isn't the Catalyst for: the Catalyst is designed to be a simple and traditional amp experience. If you like the idea of the extra connectivity or flexibility the other amps offer, the Catalyst may not suit you. There's a big difference between the experience you get from the Catalyst and something like the AMPLIFi.
Spider V MkII Series
Line 6's Spider amps have had a difficult history. The latest range of Spider amps was a big step forward – so much so, in my review, I explained why I felt Line 6 should have created a new name for the range instead of continuing the Spider name.
Technology has improved significantly since the first Spider was released and the Spider V offers a lot of modern features not available before.

Spider V Features at-a-glance:
Available in 30, 60, 120 & 240 watt combo (15 watt 'classic' also available)
Also available in 240-watt stack
Over 200 amps, cabs and effects
Wireless guitar G10T compatible (60-watt models and higher)
Android and iOS editor app compatible (USB only)
Inbuilt drum patterns, metronome, tuner & looper
Full-range speaker system
As of 2021, if you buy a new Spider V amp, be aware that Line 6 has updated the Spider V range with the MkII series.
Here are the main changes you'll find in the MkII series amps:
New 20 watt combo model (in addition to the other options)
New presets
'Classic Speaker' mode
Full-Range Speaker mode for acoustic guitar and jam tracks
If you think the Spider V is for you, consider pairing it with a FBV 3 foot controller. While it's perfectly fine to use the app or the amp to change between presets and turn effects on or off, a foot controller gives you so much more flexibility.
It will also allow you to make use of the expression pedal so you can use wahs, pitch shifters, and control effect parameters as much as you want.
Check out the Spider V range here for more details, prices and more reviews.
Who is the Spider V for: if you're a beginner and are interested in learning about effects, the Spider V gives you access to all effects you're likely to use. Being able to chain effects together and tweak your own presets on the Spider Remote app is a great way to learn about amps and effects.
It's important to mention that you do not have to use the smartphone app to control the amp. All of the presets can be controlled using the amp's menu. So if you want an amp with a full range of effects and models, but don't want to use a smartphone to control it (like the AMPLIFi requires), the Spider V is a better choice.
Who isn't the Spider V for: while the Spider V can produce some great tones, more advanced guitarists may find it lacking compared to other amp ranges. For example the Firehawk 1500 is an all-round better option for live use thanks to it's extensive I/O and 6 speaker setup. The DT series would better suit advanced guitarists who want great tube amp tones.
Check out my review of the Spider V 60 for a thorough look at all the features the Spider V has to offer.
AMPLIFi
One look at the AMPLIFi and you can tell there's something different about it. It doesn't look like a typical guitar amp and has a home stereo look and feel to it.

That's exactly what Line 6 were aiming for when they created the AMPLIFi. Think of it as a hybrid guitar amp and stereo system.
Check out the price and full details of the AMPLIFi 30 here.
AMPLIFi Features at-a-glance:
Full range stereo speaker system
Available in 30, 75 & 150 watt combo
Bluetooth compatible for editor app or music playback
iOS AMPLIFi Remote editor app compatible via Bluetooth
Over 200 amps, effects and speaker models via the app
Automatic cloud-based tone matching via app
The key component of the AMPLIFi is the iOS app. The app allows you to set up your effects and tones, jam along with tracks and find suitable tones. Without the app, you're missing out on most of the AMPLIFi's best features.
The Spider V gives you the option of using the app to control settings or the amp's physical controls. The AMPLIFi doesn't. If you don't have a compatible iOS device, the AMPLIFi isn't for you.
Who is the AMPLIFi for: if you have a compatible iOS device and like the idea of having an amp that doubles as a Bluetooth home stereo system, the AMPLIFi will likely suit you. It suits guitarists of all skills levels who play guitar casually at home.
Who isn't the AMPLIFi for: If you don't have a compatible iOS device, the AMPLIFi isn't for you. You're going to miss out on most of the AMPLIFi's features if you don't use the app. Also, if you play in a band or perform, other amps may suit you better as the AMPLIFi is best as an at-home guitar amp. While the 150-watt version could be used for live performances, you're likely to find a better fit with one of the other amp ranges.
Check out my review of the AMPLIFi 75 here.
AMPLIFi TT
The AMPLIFi TT is bit of the odd-one-out in this range of amps. It's not quite an amp in itself when compared to the other amps in this guide, but it can be used as an amp.

The idea behind the AMPLIFi TT is that you connect it to any home speaker system to turn that speaker system into a fully-featured guitar amp with inbuilt multi-effects.
If you have a decent home stereo or surround sound system, instead of buying a guitar amp, you can simply connect an AMPLIFi TT to it.
Then you can use the app to set up different effects, amp, and cabinet models as you like. You can also stream music through the speakers so you can jam along with whatever you play.
To properly use this amp, you need to use the app. As you can see from the above photo, you have limited control over effects and tones using the controls. Set up your tones and effects using the app, then you can save four presets to quick selection buttons on the amp (all other presets can be easily accessed from the app).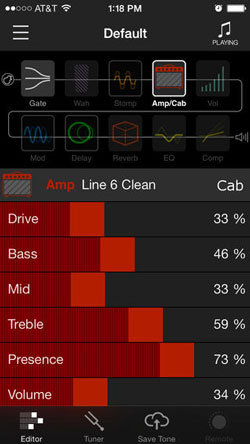 Who is the AMPLIFi for: only a small number of people will find that the AMPLIFi TT suits them. First, you need to have a good sound system at home. Without one, the TT isn't going to be much good to you (although you can use headphones). If you have a good speaker system at home, you only play at home, and you don't want an extra amp sitting around, then the AMPLIFi TT may suit you.
Who isn't the AMPLIFi for: the AMPLIFi TT only suits people who play at home and want to use their home speaker system instead of buying another amp. If you want to play anywhere out of home or you don't have a good speaker system to use, one of the other amps in this guide will be a far better choice.
Find out more about the Line 6 AMPLIFi TT here.
DT
The DT range is designed to add more flexibility than a typical tube based amp. The DT range is the only amps in this guide featuring tubes so if you rather the real thing instead of digital modelling, the DT may be more suitable for you. These amps were created in partnership with Reinhold Bogner.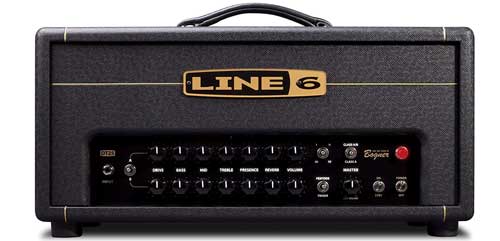 Check out the price and availability of the DT25 here.
DT Features at-a-glance:
Available in 25W/10W combo or head & cab
1x 12AX7 & 2x EL84 tubes
Four guitar amp voicings: classic American clean, British crunch, Class A chime, Modern high-gain
12″ custom Celestion G12H90 speaker
Integration with POD HD via L6 LINK
To really get the most out of the DT range, it's recommended to connect a POD HD series multi-effects pedal to it via L6 LINK. The POD HD series can control the amp to adjust the tube bias, output class as well as integrating all of the POD HD's effects.
For example, you can set up any effects in a virtual effects loop without needing to use the 4 cable method. Combining a POD HD pedalboard with the DT gives you access to 30 HD amp models.
On it's own, the DT is built for quality. When combined with a POD HD pedalboard, it gives you ultimate control over your tone.
Who is the DT for: if you're serious about your tone and want a tube amp, the DT is a top choice. It will give you plenty of flexibility over all aspects you would want from a tube amp. As it doesn't have inbuilt effects, you can choose to use stompboxes or other options. If you're considering the DT, consider pairing it with a POD HD500X for ultimate control.
Who isn't the DT for: tube amps aren't for everyone. While they can produce amazing tone, they're not for beginners. If you don't know anything about tube amps, take that as a sign that you might not be ready for one. If you're an at-home guitarist, you may find that flexibility may be more important to you than high-end quality. You may find you enjoy an amp like the AMPLIFi more, even though the DT produces better tone.
The other reason you may not want a DT is if you want an all-in-one amp that can give you effects as well. The DT doesn't have inbuilt effects like all the other amps, so you would need a pedalboard or stompboxes. This may suit a lot of guitarists, but if you want a simple setup that does everything, the other amps may suit you better.
FIREHAWK 1500
The Firehawk 1500 stands out compared to the rest of the amps in this guide as there's only one model available at the moment: a 1500 watt, 6 speaker stage amp.
The Firehawk FX multi-effects pedalboard has been extremely popular for its high-quality modelling and flexibility. The Firehawk 1500 takes the same features and packs it into a monster amp designed for live use.
You can use the Firehawk 1500 as a normal guitar amp, in stereo/mono or wet/dry at any volume level. Live guitarists could use it as a stage monitor, in place of an ISO cab or as a full range amp system. As it's a full range speaker system, it works perfectly fine with acoustic guitars as well as electrics.
Check out the price and full details of the Firehawk 1500 here.
Firehawk 1500 Features at-a-glance:
1500 watt stage amp
6 speaker full range system
Firehawk Remote app on iOS or Android via Bluetooth
A lot of I/O flexibility (see photo below)

To get the most out of the Firehawk 1500, you should consider getting an FBV 3 foot controller. The color coding system is a fantastic design and makes it a breeze to switch effects on/off and move through presets.
Who is the Firehawk 1500 for: serious live performers. The Firehawk 1500 has been designed specifically for live performance, so if you're looking for an amp to use live, this should be one of the main choices to consider across all brands. It gives you a wide range of modern features and excellent quality tones.
Who isn't the Firehawk 1500 for: if you don't perform live, the Firehawk 1500 isn't for you. There are other options that will suit you better depending on what you want from an amp. You're not going to need a 1500 watt guitar amp if you only play at home or only occasionally play in small venues.
Still stuck?
It's hard to give solid recommendations of one amp over another as there's a lot of overlap between the features across these amps. You may find that two different types of amps suit you really well or you may find none fit quite right.
Here's a quick summary of which amps may suit different types of guitarists:
At-home beginner:
The Spider V 60 or 30 or the AMPLIFi 30 will likely suit you best as they're the lowest cost amps and offer a wide range of amp models and effects. If you don't have an iOS device or don't want to use one, the AMPLIFi won't suit you.
The DT or Firehawk are both great amps, but aren't the right fit for beginners.
Beginner/intermediate in a band:
If you want an amp you can use in gigs, band practice and at home, the Spider V is likely to suit you best followed by the AMPLIFi 150. Again, if you don't have an iOS device, the AMPLIFi is out.
While the DT or Firehawk are excellent amps for live usage, they're far more expensive and complex to deal with.
Casual guitarist:
If you like jamming at home on occasion and don't take guitar too seriously, the AMPLIFi 30 or 75 is a great option as it doubles as a Bluetooth enabled home stereo system. Other people in your home can use the amp to play music without needing to know anything about guitar amps.
Serious at-home guitarist:
When I say 'serious', I mean when it comes to tone. If you care about what type of tubes or speakers are in specific amps, that's a sign the DT25 is right for you. It will give you a simple tube amp with a lot of flexibility. You'll get a high-quality amp that can still perform well at low volumes. If you perform live as well, it's a solid live amp.
Serious performers:
The Firehawk 1500 was designed to be a serious guitar amp for live performers. It offers plenty of options to suit any live situation. Acoustic, electric or Variax guitars with a full range speaker system and plenty of amp models and effects.
Alternatively if you feel like you need to have a tube amp, consider a DT25 and a POD HD500X connected via L6 LINK. That combination will give you ultimate control over your tone in ways other amps and pedalboards can't come close to.
As Line 6 create more amps, this guide will be updated. Make sure you check out the comparison of Line 6's multi-effects pedals to see whether those options suit you better than the amps in this guide.
Summary
Article Name
Description
A comparison of Line 6's current amp range and which amps might suit different guitarists. Compare their current range to figure out which one is best for you.
Author