The Fender Mustang I V2 is a small 20-watt amp suitable for beginners at home. The modelling technology and the ability to connect it to your PC/Mac makes this handy little amp a great choice for a first-time guitarist.
Check out full details and price of the Fender Mustang I V2 here (link to Amazon).
Check out the Fender Mustang I V2 at Sweetwater here.
Features
The 'I' in 'Fender Mustang I' means it is the smallest amp in the Mustang series (not counting the Mustang Mini). The I is a 20-watt combo amp with an 8-inch speaker. The Mustang II is a 40-watt amp with a 12-inch speaker. The line goes all the way up to V which is a 150watt head with 4×12 inch speaker cabinet. This review looks at the Mustang I but all the main features are similar across the Mustang series.
The 'V.2' indicates that the Mustang series has had an upgrade which simply means there are more amp choices to choose from when setting your tone. There are five additional amps, five additional stompboxes and pitch shifting.
Here are the main features worth looking into:
USB connectivity
We finally have a modelling amp has had the common sense to include a USB port to connect to a PC/Mac. Modelling amps have been around for years and while amps have been very reluctant to include a USB port, multi-effect pedals have been including them for years and it works really well (see the review on the Line 6 HD500X).
Fender FUSE
So why should you connect the Mustang to your PC/Mac? The answer is the Fender FUSE software. The software allows you to edit and save your presets as well as download presets online from other users. It's an incredibly simple program to use and it makes the job of customizing your tone a breeze. The main issue I have with modelling technology is that it's always a bit annoying needing to go through menus and using little buttons on pedals or amps. While the controls on the Fender Mustang are fairly straightforward, it doesn't compare to the software.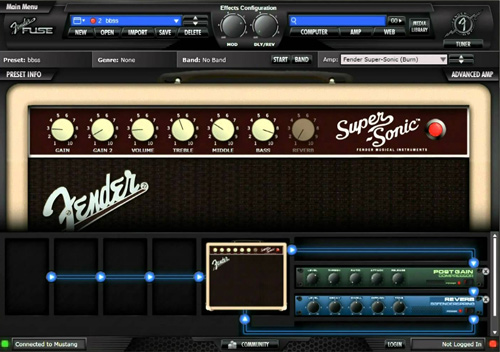 Amps and effects
There are 17 modelled amps available which range from vintage Fender amps such as the '65 Twin Reverb to British and American style amps. As with most modelling technology, you will probably find around 3-5 amps you like the sound of and the rest will suit styles you're not very interested in. Almost all players will find amps that fit the style they want to play.
In addition to the 17 amps, there are 44 available effects split into four categories. The categories are: Stompbox (typical pedal style effects such as overdrive, distortion, compressors and wahs), Modulation (such as chorus, flanger, tremolo, pitch shifter and filters), Delay (a few different types of delay such as ping-pong, tape, reverse, stereo) and Reverb (small hall, large hall, plate, ambient, spring). The Stompbox effects are only accessible through the Fender FUSE software so if you don't connect your amp to your PC/Mac, you will only be able to adjust the other three categories of effects.
Each effect can be fully tweaked to achieve the sound you're looking for. So for example, if you choose an overdrive stompbox, you can adjust the level, gain, low, mid and high. Connecting to Fender FUSE is the best way to control your effects as you have more flexibility and can access additional effects.
Presets
The Fender Mustang allows users to save up to 24 presets directly on the amp. There are an additional 12 factory presets that can only be overridden using the Fender FUSE software. This means if you use a PC/Mac, you can save up to 36 presets. This is far more than what most beginners will ever need. When you consider that many other amps only have up to four presets/channels, having up to 36 available tones you can quickly load up is extremely flexible.
When playing around with the early Line 6 Spider amps I felt frustrated that I could only save four presets – a beginner today will have plenty of freedom with the Fender Mustang. The Fender FUSE software also lets you download custom presets created by other Mustang users. It's a great way to try out different sounds and learn what makes a good tone.
Optional footswitch
The Mustang I allows you to connect an optional 1-Button FootSwitch to switch back and forth between two chosen presets. While it's handy being able to change between presets while playing, a single footswitch doesn't give you many different options. The Mustang III, IV & V amps allow more flexibility with footswitches so if you play in a band and will need to change presets often during songs, you may want to consider a different amp (or use effects pedals). The III, IV & V models also allow the use of an expression pedal which makes the most of effects such as wah and pitch shifting.
AUX Input and Headphones
There are convenient AUX and Headphone jacks on the top of the amp, which is far better than many other amps. AUX IN allows you to use your guitar amp as a speaker to jam along with music. The headphones jack allows you to play your electric guitar with headphones in silence, which is great for practicing at night.
Ease of use
The controls are fairly straightforward on the amp however if you don't use the Fender FUSE software, you're missing out. Simply connect your amp to your PC/Mac using a USB cable and download the free software. It's so much easier to tweak your sounds and change effects on your presets. For example, if you wanted to tweak a setting on an effect, the only way you can know what the current setting is before you change it is to use the software. This can be annoying but is very simple when using the software.
So basically if you're not planning on using the Fender FUSE software, the amp will be a bit frustrating to use and won't give you much flexibility. But if you do connect it to your PC/Mac, you will find it easy to adjust and save your presets quickly.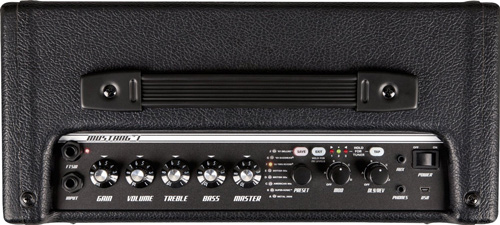 Sound
The quality of this amp surprised me. I've heard quite a few budget amps before as my students often bring their amps into lessons for me to explain how to use them. Quite often the tone sounds cheap (eg: I have vivid memories of hearing the then-new Marshall MG series and the ridiculously horrible sounds it spat out). The quality of this amp was a pleasant surprise. The effects were actually very high quality and very surprising. Quite often budget amps have poor sounding effects that feel very digital. The effects with the Mustang were actually very usable.
Some of the modelled amps sounded great such as the Fender ones (no surprise there!) while others sounded a bit cheap (eg: the 'Metal 2000'). This amp tends to sound great for blues or rock styles but didn't really suit high gain styles such as Metal. Although one of my students who owns this amp is very happy with the Metal sounds he gets out of it. Remember that tone is all about personal taste so your taste in tone might be different to mine. The unit is quite loud considering it is only 20 watts and will suit beginners fine. You will find it is just enough to get you started in your first band without completely distorting.
Reliability/Quality
The amp doesn't feel too heavy and feels quite well made. Being a small amp you're less likely to cause serious damage if you drop it. My students who own this amp have never reported any issues with the amp or with the software.
Overall impression
This is a fantastic first amp for a beginner. The ability to easily connect the amp to your PC/Mac via USB sets this amp above other budget range amps. Having a wide range of modelled amps, effects and presets gives you plenty of flexibility. The only time you will outgrow this amp is when you need something louder or you move to styles that require more gain for styles such as metal. The quality of the effects and the Fender style modelled amps are excellent and suit players interested in that type of tone.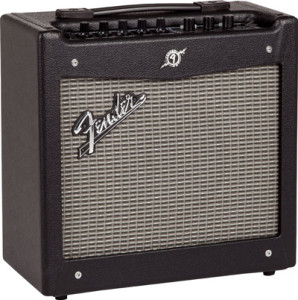 Pros
Great quality effects
Great quality Fender modelled amps
USB connectivity
Up to 36 presets
Fender FUSE software
Cons
Some modelled amps didn't sound too flash
Not the best for high gain amp sounds
You must use the Fender FUSE software if you want to apply the Stompbox effects
Controls on amp aren't very useful
Check out the Fender Mustang I V2 at Sweetwater here.
Who is it for?
If you are a beginner first getting into electric guitar, I highly recommend this amp. Out of all the beginner practice amps I have seen, this one is so far my favorite. It has allowed my students to not only start out with a great basic tone but allowed them to learn about different effects and learn to tweak their tone to their liking. The quality of the tones seem to be much higher than other similar modelling practice amps and for the price, it's great value.
If you plan on using the Fender FUSE software, this amp is a great choice.
Who isn't it for?
If you don't plan on using the Fender FUSE software, this amp is not a great choice. You won't have as many effects to play around with and you will have trouble tweaking your tone to your liking. If you do not plan to connect your amp to your PC/Mac, I don't recommend this amp. Also, if you're only interested in modern, high-gain amp sounds for metal, this amp won't suit you.
How to get the most out of it
Use the Fender FUSE software. Learn to use the software to tweak your sound and learn how each effect changes your overall tone. Here's the general process to follow to achieve a good tone:
Create a new preset without any effects
Play through all 17 amps and pick the one you like the best
Tweak the amp settings to your liking
Add and remove one effect at a time to learn how it changes your overall tone
Only keep effects that you feel add to your tone
Save various presets with different combinations of effects
Jam with them
Alternatives
There's a growing number of similar modelling practice amps available today. At the moment I recommend checking out the Peavey Vypyr VIP 1 as it's very similar to the Fender Mustang I V2.
See information on pricing, availability and other reviews on the Fender Mustang I V2 here.
Summary
Reviewer
Review Date
Reviewed Item
Author Rating





Product Name