It's possible to find great bargains when buying a used electric guitar. But to make sure you get a good deal and don't end up with a lemon, in this guide I will give you everything you need to know when buying used electric guitars.
I've even included a handy checklist you can use to make sure the used guitar you're considering is worth getting.
Should You Buy a Used Guitar
It's important to properly understand the choice between a new or used guitar.
While I covered this topic in detail in this Guide on New vs Used Guitars, here is a quick summary.
Buying a New Guitar Pros and Cons
Pro: zero wear and tear
Pro: usually includes warranty and extra benefits
Con: costs more than equivalent second-hand guitar
Pro: should come with proper setup and adjustments
Buying a Used Guitar Pros and Cons
Pro: can save some serious money
Pro: able to find guitars not available in stores
Con: used guitars can have issues or wear and tear
Con: may pay too much if you don't know the guitar's proper value
Con: some sellers aren't honest
For most people, the biggest factor when buying new vs used guitars is price. If you're happy to pay a bit extra to get a guitar in perfect condition, then buying new makes sense.
On the other hand, if you're willing to put the extra effort in with buying a used guitar, you can save some serious money or buy a higher-tier guitar that would be way out of your budget if bought new.
Where to Buy Used Electric Guitars
The places you look for used guitars play an important role in how much caution or effort you need to put in.
Here is an overview of the main platforms to consider and what you need to keep in mind for each one.
eBay
eBay will be the biggest source of information on used guitars and as you will see later, we can use eBay to do a lot of research.
You will find a massive range of options for used guitars on eBay locally as well as further away.
A big advantage with eBay is the seller rating system. You're able to see the history of a seller and their feedback. While issues can happen with any seller, eBay can step in to help resolve problems – which is more than some other platforms.
Facebook Marketplace
Facebook's local selling groups and their marketplace is becoming a major player in the second-hand market.
While it is still going through growing pains, it is worth looking at.
The advantage here is that you can limit yourself to used guitars within your area so you can view them for yourself.
The potential downside of buying a used guitar through Facebook is that unlike eBay, Facebook doesn't care if you encounter any issues in the sale. Facebook doesn't get anything out of the sale, so they don't provide any services to resolve problems.
Reverb
Reverb is a large platform for used gear and because it is focused completely on musical instruments, they have a good range of used guitars.
The biggest difference between eBay and Reverb is the type of sellers. The type of sellers you see on Reverb are likely to be music stores and guitarists with a good understanding of what they're selling.
This is very different to eBay where anybody might sell a guitar whether they know anything about it or not. This means you can expect far more accurate listings on Reverb.
The downside is that you're unlikely to find a bargain on Reverb, while bargains show up all the time on eBay due to the seller not knowing the proper value of the guitar.
Physical stores
Used guitars find their way into a number of different stores. You can find guitars in pawn shops or even in Guitar Center.
The biggest consideration here is the type of store. Is the store dedicated to musical instruments? Or is it just a second-hand store that may not know anything about guitars?
The type of store will impact the value of anything you find for sale as well as the level of service you will get before and after the sale.
Researching What a Guitar is Worth
Take a look at the two guitars below and think about how much each one is worth: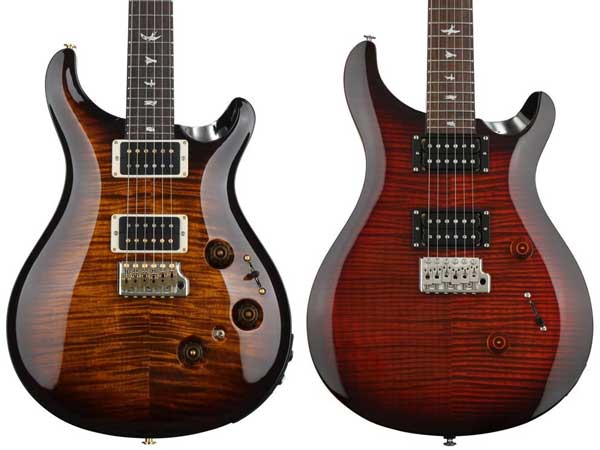 Unless you recognize the two models and know their value, you might be surprised to hear that the one on the left is worth five times the one on the right.
If somebody tried to sell the cheaper version used and pretended it was the more expensive version, an unaware buyer could easily get ripped off.
On the other hand, if the seller didn't realize that the one on the left is worth around $4500, you may end up with an incredible bargain.
Knowing the real value of a used guitar for sale is crucial to making sure you don't get ripped off.
Here's how to research the value of used guitars.
As an example of this process, let's research the second-hand prices of a Squier Affinity Stratocaster (read my review of Squier strats here).
1. Check the new price (if still in production)
If the guitar model you are considering is still in production, find out what it currently sells for when brand-new.
This is the baseline price we can use to judge the value of any second-hand guitar.
For example, if you know a brand new guitar sells for $1000 and you see a second-hand listing for $900, you should expect it to be in almost perfect condition. If it has some damage or obvious wear and tear, you know the price isn't right for what it is.
If you find the same model for sale for $400, you should expect it to be heavily used or have some wear and tear.
For our example, I checked a few sites and a Squier Affinity strat sell new for around $199 as shown below: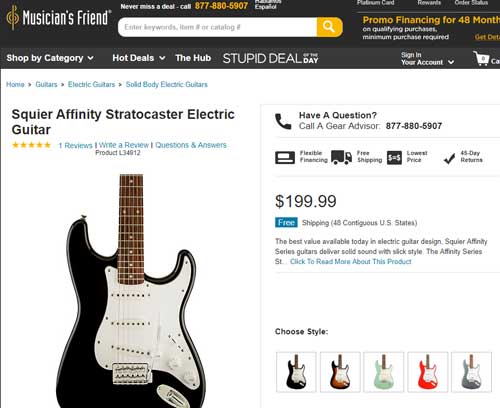 Going to a physical store will give you a better idea of the new price as stores are more likely to offer discounts.
If the guitar isn't in production, you have less information to work with. The best you can do is find a near-new guitar in perfect condition and use that guitar's price as your baseline.
2. Research eBay Completed Sales
eBay has a great feature where you're able to see what past listings sold for.
This is a fantastic way to determine the value of second-hand guitars for any model you are considering.
To do this, search for the model guitar you want to buy. Select 'Used' under 'Condition' to limit the search to used guitars. Then select 'Sold Items' to only display items that have been sold.
Here are the results for sold used listings for 'Squier Affinity Stratocaster':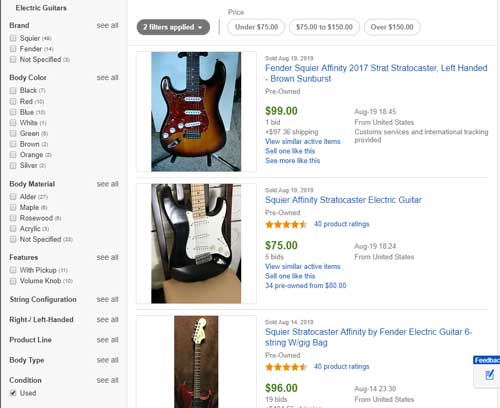 By looking through the results, you can quickly get a good idea of the 'market value' of a used guitar.
When I looked through the sold results, the prices ranged from $60 – $140 depending on the pickup configuration, whether there were upgrades and the overall condition of the guitar.
Try to find three different levels of used guitars from these results:
Near-new condition: find listings that say the guitar is unplayed or only used a couple of times
Good condition: these listings should say the guitar has been owned for a few years and you might notice signs that it has been used such as dirty fretboard or dust under pickups
Bottom price: find the listings with the lowest prices and figure out why those listings sold for such a low price. This will give you an idea of the limit on the price to look for
From my search, a near-new Squier Affinity sells for about $110-130, a good condition used Affinity sells for $70-100, and the bottom price is around $40 (the photos didn't show any damage or issues).
3. Assess any guitars for sale
Now that you have built up a good understanding of the price range of your guitar model thanks to eBay's sales information, you can use it to assess any current listings.
Used Guitar Example 1
For example, here is a current listing on eBay for a used Squier Affinity: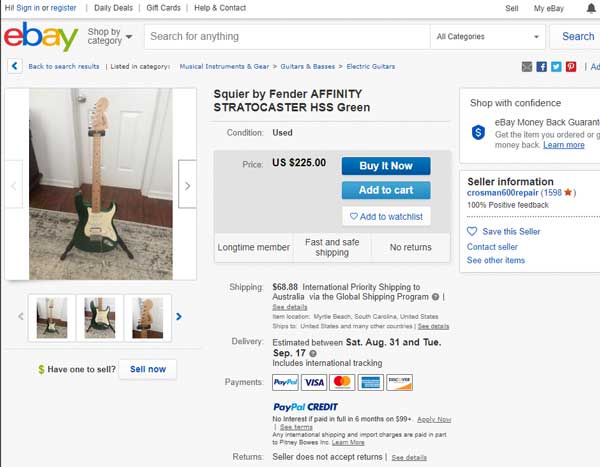 What do you think of this listing?
Here are a few thoughts:
The seller has a good rating with a high number of transactions
Going through the seller's history revealed no guitar-related sales
The price seems unreasonably high
The description (not shown) was vague: "plays great stays in tune all electronics work"
This seems to be an example of a seller not knowing anything about what he is selling.
The price is higher than what it would cost brand new from a store. The vague description and the seller's history indicates that he doesn't know anything about guitars.
If the price of the listing was $90-110, it might be worth it, but there's no way this guitar is worth $225.
Used Guitar Example 2
Here's another listing on eBay for a used Affinity: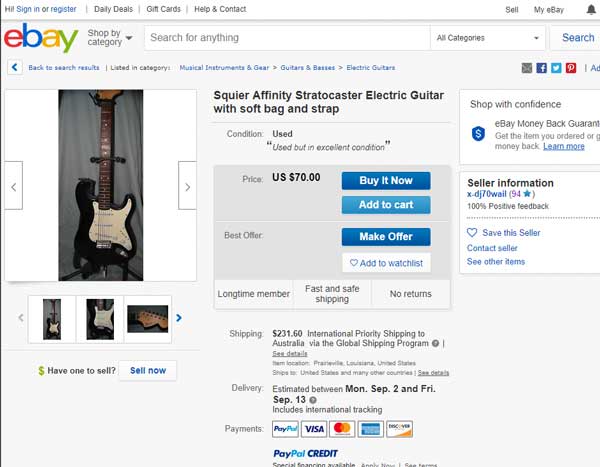 Here are some thoughts on this listing:
The seller has never sold anything before (all feedback is from purchases)
Purchase history shows many guitar and music-related listings, so the seller does play guitar
One of the photos clearly shows a dirty fretboard from usage
The price is reasonable assuming there aren't any problems not mentioned
Being able to visit this seller to inspect the guitar up-close would tell you whether $70 is fair or not. The listing shows a 'Make Offer' option, so after a visual inspection, you may be able to convince the seller of a more realistic price.
The key point with the above examples is that the research you put in helps you get a better idea of the true value of any listing.
If you find a suitable listing and the seller agrees for you to visit and inspect the guitar, use the below checklist to properly assess the guitar.
What to Look For When Buying a Used Guitar
If the seller agrees for you to go and inspect the guitar, it helps if you know exactly what to look for.
Use the below checklist to assess a used guitar:
Frets: look for dents or scratches on the frets or any wear and tear. If you see worn down areas on the frets, play those notes to see if they buzz
Neck: look down the edge of the fretboard from the headstock to check how straight the neck is. If it isn't straight, see if you can adjust the truss rod. Read this guide to learn how to adjust truss rods.
Headstock: feel each machine head to make sure each one is appropriately tight and holds the strings properly
Nut: look for signs of wear caused by high gauge strings or damage
Bridge: check each saddle for damage and rough edges. If the guitar has a tremolo system, use it to see if the guitar holds tune
Jack: plug a lead in and listen for connection issues. Feel if the lead is held in position or if it moves around loosely
Volume and tone knobs: slowly adjust each one back and forth and listen for any signal issues caused by dirt in the pot
Pickups: listen to each pickup with clean and gain sounds. Listen for any excessive hum or intermittent noise. Use the pickup selector and listen for any unusual sounds as you switch between pickups
Guitar body: look over the entire body for scratches, dents, or cracks. Pay close attention to the neck joint
If you notice any issues with the above items, think about whether you're able to fix them or not.
As an example, if you looked at how straight the neck was and you saw something like the below photo, could you fix it?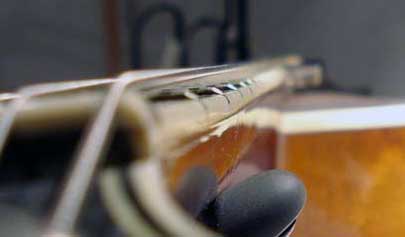 For example, a loose jack can easily be fixed by tightening the nut, but a crack in the neck joint isn't something you can fix.
If you notice any modifications to the guitar, ask the owner about it so you can decide whether the modification has value to you or not. Watch out for sellers removing good quality pickups and replacing them with cheaper pickups.
If you're unsure of what to look for with any of the above checklist items, spend some time reading up on them before you go to inspect the guitar.
How to Negotiate a Better Price on Used Guitars
If you are looking at saving money on a guitar purchase, it is possible to save even more money but negotiating a better price on used guitars.
Online Listings
If you are buying online, many listings give the option for you to make an offer. Depending on how eager the seller is to get rid of the guitar, you may find that you can easily save $50-100 by making a decent offer below the asking price.
If an eBay seller lists the option to make an offer, it's a good sign that they're willing to accept a lower price. Otherwise, why would they enable that option?
On the other hand, if the seller clearly states on the listing that the price is firm, don't go offering a low price. The seller may ignore you completely and go out of his way to ensure you don't get the guitar at all.
Negotiating Price
The best way to negotiate a good price on a used guitar is to first have a solid understanding of the value of the guitar (as explained earlier).
If you know what other similar guitars have sold for, you can use that information to negotiate a better price.
After you go through and inspect the guitar, highlight any problems or issues you see. Even if they're minor problems, let the seller know. When you finally make an offer, you can use all of the minor issues to give your offer more weight.
Even something as simple as pointing out that the strings are worn out and need to be replaced can be enough for the seller to either throw in a set of new strings for you or be willing to drop the price slightly.
If you are respectful and don't make a ridiculously low offer, most sellers will be happy to slightly lower the price. Don't try to be pushy or arrogant or it may backfire – people don't like to feel like they lost in a negotiation.
How to Avoid Scams and Dishonest Sellers
While most people are honest, there are sellers out there who will try and rip you off or outright scam you.
Here are some common tactics scammers use when advertising dodgy used guitars:
Generic photos of the guitar. Scammers often use generic guitar photos rather than take photos of the actual guitar. This is often used by cheap knockoffs to give you the impression you are getting the real thing. They post photos of a real Fender Stratocaster or a real Ibanez JEM, but you end up receiving a cheap clone
Seller doesn't want you to inspect the guitar. Some people are naturally hesitant to have strangers enter their home to inspect the guitar, but sometimes this is because the seller knows they're selling a dud. If you've found a great deal but the seller gives you excuses on why you can't inspect it or pay when you collect it, be cautious
Too good to be true: sometimes you find a great deal because the owner doesn't know the real value of the guitar. Other times it's a scam. If you see a listing that looks like a steal, maybe it is.
While you're unlikely to come across actual scammers with in-person sales, they are common online.
Take a look at the below guitar and decide for yourself whether it's a fake or real Ibanez JEM: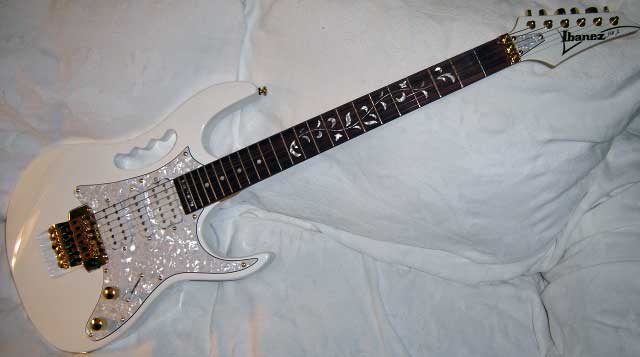 Countless guitarists have been scammed over the years because they were unable to tell the difference between the real item and a cheap knockoff. They only find out that they were burned when they realize how poorly the knockoff guitars play and sound.
The point to remember is to know the guitar you want to get to the greatest detail before you take action on any listing.
What to Do After Buying a Used Guitar
Here is a quick checklist of what to do after you buy a used guitar:
Spend time playing the guitar to make sure you haven't missed anything important. If there is something seriously wrong, you may be able to bring it back to the seller if you return it immediately. Nobody would accept a return if you hold off for a week or two
If you are happy with the guitar, remove the strings and give the entire guitar a good clean. Clean the fretboard if you notice any build-up and wipe down the entire guitar
If the guitar has had heavy usage, give the frets a good polish. This also gives you an opportunity to deal with any worn down or uneven frets
Restring the guitar and check the straightness of the neck. Make adjustments to the truss rod if needed (read this guide for advice on truss rods)
Adjust the intonation and action to suit your preferences
If you properly researched the guitar and followed the above advice, you should be happy with your new purchase.
While you may be able to avoid a lot of potential issues by buying a new guitar, there are some great opportunities out there when buying a second-hand guitar. So use this guide as a reminder of what to look for any time you're considering buying a used guitar.