Ibanez is one of the most popular guitar brands and has been used by countless guitarists over the decades.
Ibanez is also one of the most confusing guitar brands with different sub-brands, series, and labels.
There are so many different Ibanez models, series, and labels available that it can quickly become confusing trying to understand your different options.
This guide will explain Ibanez electric guitars and compare the different models.
By the end of this guide, you'll understand the different quality-levels and ranges of Ibanez guitars.
Note: Ibanez has a long history and a ridiculous number of models – too many to cover in one guide. This guide will focus only on the current range you can buy.
Ibanez Sub-Brands Explained
The first thing to understand about Ibanez guitars is that each series (eg: RG series, S series) are split into sub-brands.
Think of these sub-brands as quality levels or tiers. The great thing about these sub-brands is that you can find an Ibanez shape you like, then find one in the sub-brand that fits your budget level.
J. Custom
J. Custom is the top-tier sub-brand in terms of quality and price. You can easily identify a j.custom Ibanez from the headstock logo.

The J. Custom name tells you that these are custom models produced in Japan by their top luthiers.
As you might expect from a Custom guitar, they use exotic tonewoods and are produced in very small numbers.
In the early 90s, Ibanez also offered USA Custom guitars, so you may still find second-hand models out there.
Ibanez Prestige
The Prestige sub-brand is the highest quality Ibanez guitars you can buy (apart from J. Custom).
The Prestige models can be identified by the clear 'Prestige' logo on the headstock.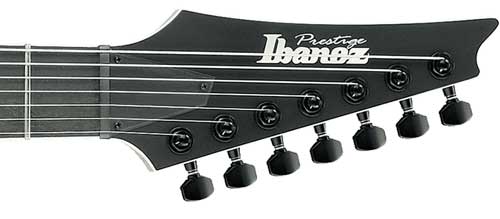 Ibanez has been building Prestige guitars in Japan since 1996.
Looking for the Prestige logo on an Ibanez headstock is a quick way to identify the top quality guitars in any Ibanez series. While you may struggle to find j.custom models, you'll always see plenty of Prestige models available.
Ibanez Premium
The Premium sub-brand is slightly more affordable than the Prestige guitars as they are produced in Indonesia instead of Japan.

They still offer higher quality materials and craftsmanship but at a lower cost.
Premium guitars have been available since 2011 in most of Ibanez's guitar series.
Ibanez Axion Label
The Axion Label sub-brand has only been available since 2019 and offers hyper-modern features.
These guitars are designed more for metal guitarists and use unique features such as the Ibanez Nitro Wizard five-piece neck, luminescent side dots, Schaller strap lock pins, Sustainiac sustainer, multiscale necks, and other aftermarket features.
Another interesting feature with Axion Label guitars is that they use 'Sub Zero Treated Frets', which have been temperature treated to harden the frets.
You'll notice in the below photo that the headstock logo doesn't identify the guitar as an Axion Label.
Look for an 'AL' in the model number on the back of the headstock if you're unsure whether a guitar is an Axion Label model or not.

The above RGA model guitar should immediately tell you how different Axion Label models can be. Custom hardware options such as the strap locks, pickups, and the lack of a tone knob make this guitar instantly stand out.
Ibanez Iron Label
The Iron Label sub-brand has been produced since 2013 and offers bare-bones styled guitars designed purely for metal guitarists.

You'll notice these guitars don't use a tone knob, use a 3-way pickup selector, and have super-thin Nitro Wizard necks.
Most Iron Label guitars don't use fretboard dots or inlays but all models have side-dots.
Ibanez Standard
With so many other sub-brands, it doesn't seem right to call the Standard sub-brand the 'normal' Ibanez tier.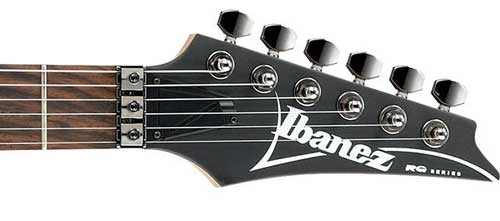 The great thing about the Standard sub-brand is that there are so many different styles and features available to choose from.
While the Prestige and Premium sub-brands tend to only have a few models to choose from under each series, there are usually far more variety in the Standard sub-brand.
Ibanez GIO
The Gio is Ibanez's budget sub-brand, which started as the RX, AX, and EX series.
The Ibanez GIO GRX40 was my first guitar and you may notice in photos and videos that I still use it today.

The GIO sub-brand is easy to identify with the big 'GIO' on the headstock.
As you can see from the above list of sub-brands, there are quite a few options to choose from. Keep the above sub-brands in mind as you go through the different Ibanez series below.
Ibanez Signature Guitars
Ibanez has a massive range of signature guitars from some iconic guitarists.
If you've seen a famous guitarist play an Ibanez, the chances are they'll have their own signature models available.
Some artists only have one or two models, while other guitarists (eg: Steve Vai) have a wide range of models to choose from.
Here's a list of some of the guitarists with Ibanez signature models:
Steve Vai
Joe Satriani
Paul Gilbert
Kiko Loureiro
Tim Henson
Nita Strauss
Mårten Hagström
Andy Timmons
Paul Stanley
Munky
Yvette Young
I could go on, but you get the idea. A lot of guitarists have their own signature Ibanez guitars.
The Ibanez JEM is possibly the most recognizable and best-selling signature model:

Designed in partnership with Steve Vai in the late 80s, it helped Ibanez rise to the massive brand they are today.
If you want to find out more about Steve Vai's signature guitars, check out my Ultimate Guide to Steve Vai here.
Ibanez RG Series Guitars
The RG series (RG stands for Roadstar Guitar) is the most popular Ibanez range and is what most people associate with Ibanez.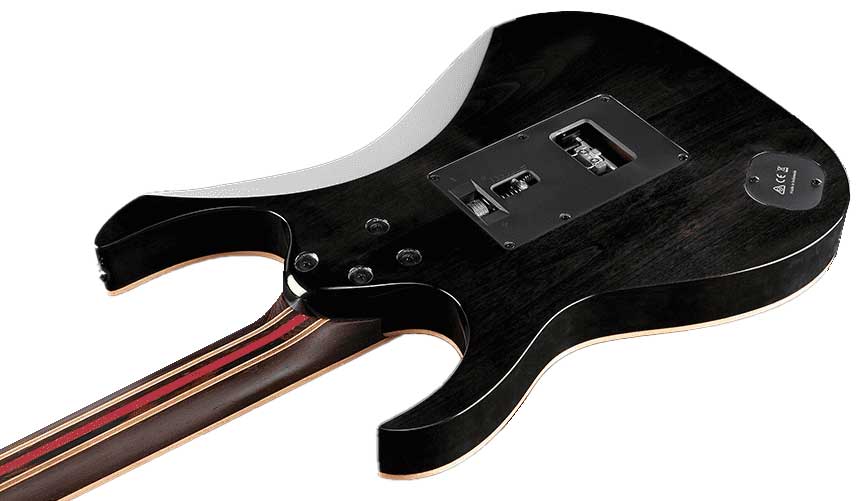 The RG shape is iconic and while there are plenty of different RG models to choose from, they all have a similar style and features such as 24 frets, a thin Wizard neck, and dual humbuckers.
RG Series
The RG series has been produced since 1987 when it was offered as a budget alternative to Steve Vai's signature JEM.
The very first Ibanez RG was the RG550 as shown below:

You can see how new RG models still retain most of the features in the above guitar.
While the iconic shape has remained the same over the years, there are so many different styles and feature variations to choose from.
For example, RG models used to only offer floating tremolo bridges, but there are now models with fixed bridges available such as the below 7 string.

There is a wide range of 6, 7 & 8 string models available in the RG range as well as multi-scale necks (learn about multiscale necks here).
The RG series offers models in the J.Custom, Prestige, Premium, Genesis Collection, Axion Label, Iron Label, Standard, and GIO sub-brands.
This should make it clear how many different features and styles you'll find under the RG umbrella. If you like the basic RG shape, you'll definitely find a model suited to your tastes in one of these sub-brands.
RGA Series
The RGA series takes the iconic RG shape and adds some contouring to the edges.

The 'A' in RGA standards for the Arched top these guitars offer.
The RGA series started in 2005 with a Prestige-model fixed-bridge but gradually introduced other sub-brands.
Today, you can find models in the Axion Label, Standard, and GIO sub-brands.
RGD Series
The RGD series keeps the iconic RG shape but adds in some interesting contours to give the guitar a slightly better feeling while playing.

In the above photo, you can see how the RGD keeps the same RG shape while adding ergonomic contours to the cutaways. The above model is an Axion Label, which is why it has some custom features such as fanned frets and Fishman Fluence pickups.
The 'D' in RGD stands for Drop-tuning, which is what this guitar was designed for (although you can play in standard tuning).
These guitars offer a longer 26.5″ scale length (learn all about guitar scale length here) to suit down-tuning and metal.

While there are six-string models in the RGD range, you can also find a few 7-string models like the one shown above.
Ibanez S Series Guitars
While the RG guitars have a blocky shape, the Ibanez S (S stands for Saber) is incredibly thin and contoured.
S series guitars have been available since they were introduced in 1987.

There have been many different features available in S series guitars over the years from most of the sub-brands.
Today, you can find S series models in the Prestige, Axion, and Standard sub-brands.
These models vary in pickup combinations and bridges while all offering a smooth and lightweight body shape.
SA Series
There have been a few different S-based series produced over the years. Ibanez currently only offer the SA series outside of the main S range.
The SA series is marketed as a versatile option suiting a wide range of music styles.

While past models were available in the Prestige and Premium sub-brands, today the SA series focuses more on the more budget-focused Standard and Gio sub-brands.
These models all offer a basic tremolo with SSH pickup configuration and 22 frets.
Ibanez AZ Series Guitars
The AZ series was only introduced in 2018 and it has already grown in popularity so much that there are many signature models available.
Guitarists such as Andy Timmons, Martin Miller, Tim Henson, and Tom Quayle already have signature AZ models available.

The AZ series takes a more traditional style with a thicker neck and a standard tremolo system.
While the RG series is clearly focused on rock and metal styles of music, the AZ aims for a broader range of styles.
The body has a smoother look compared to the RG. Even the headstock modifies the classic Ibanez style and rounds it out for a more mellow look.

Most new Ibanez series start by offering high-end models in the Prestige and Premium sub-brands.
As of writing this in 2020, you can only buy Prestige or Premium AZ models.
Over time, expect to see models in other sub-brands as the series branches out to more budget-conscious guitarists.
Ibanez FR Series Guitars
The Ibanez FR series guitars were introduced in 2008 and are clearly different in style compared to the other series such as RG and S.
It's obvious that the FR series was inspired by the classic Telecaster shape. I personally think of the FR as a modernized version of the Tele.

Some modernized changes over the classic Tele include 24 frets, a super-thin Nitro Wizard neck, high-output humbuckers, and aftermarket hardtail bridges.
There have only been a handful of FR models over the years across most of the sub-brands. As of writing (October 2020), there is only one model listed as in production on Ibanez's website.
With the wide range of styles available in other series, the FR models are subtle. Most models have been some type of grey, black, or white. Only a few brighter wood-grain finishes have been produced.
Ibanez AR Series Guitars
The Ibanez AR or Artist series has been produced on and off since 1974.
The shape and design of the AR series was one of Ibanez's first original designs instead of them producing copies of other designs.

To call this an original design does seem to be a stretch though. You can clearly see the basic shape is a Les Paul with a symmetrical double cutout. The AR even uses a set-neck joint (learn about different neck joints here).
While Ibanez tends to use the RG and S series for more modern styling, the AR series is where Ibanez focuses on classic styling.
Most of the finishes over the years have used some sort of burst along with other finishes that are clearly inspired by Gibson.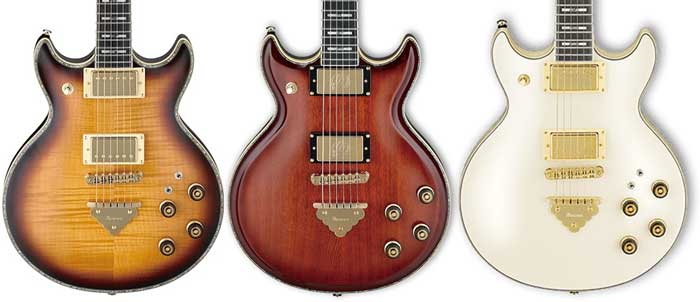 Because this series has been produced on and off for over 40 years, there are a lot of models out there.
At the moment, Ibanez only produces AR models in the Standard sub-brand.
Ibanez Artcore Hollowbody Guitars
Ibanez have a very popular range of hollowbody and semi-hollowbody guitars including signature models from George Benson, Pat Metheny, John Scofield, and Eric Krasno.

The Artcore or AS series may not be as variety as Ibanez's solidbody electrics, but there are still plenty of series to choose from.

These classic-styled guitars were only introduced to Ibanez's lineup in 2002 and have been in production ever since.
The Artcore series also has sub-brands such as the ARTSTAR, Artcore Expressionist, Artcore Vintage, and Artcore.
Here is a quick summary of the different Ibanez Artcore series:
AS: semi-acoustic models with double-cutaways and a sustain block behind the pickups
AF: big traditional styled hollowbody without any sound blocks
AG: traditional hollowbody in a smaller size
AM: smaller body in an original Ibanez design from the 80s
AFS: full-sized hollowbody with a thinner body depth. Includes vintage vibrato systems
AGS: slim mid-size semi-hollowbody
The Artcore series has plenty of hardware variations and designs with a traditional look.
Discontinued Ibanez Series
There have been so many different Ibanez models over the years and sadly a lot of them are no longer in production.

Some notable series you may find secondhand include the Iceman, X series, the Destroyer series, and AX series.
It's possible that some of these classic Ibanez shapes will come back into production at some point. I'd personally like to see the Iceman or the AX series come back in more interesting finishes, but at the moment it feels Ibanez is really pushing the AZ series.
Ibanez Model and Serial Numbers Explained
Ibanez name their models using a confusing combination of letters and numbers.
To say their model numbers are confusing is an understatement. There are literally 30+ minute videos on YouTube explaining Ibanez's model numbers.
Understanding Ibanez Model Numbers
Here are some reasons why understanding Ibanez's model numbering is confusing:
Ibanez has changed model number systems a few times over the years
Different series or sub-brands often use slightly different systems
The model numbers include details on hardware configurations
To show how confusing this can get, let's look at the below guitar that one of my students own:

Here's the model number for this guitar: RG652AHMNGB
What a horrible mess! While there are some guitars with simpler model numbers such as the original RG550, newer model numbers pack in a lot of information.
Here's what the model number RG652AHMNGB means:
RG: Body Type (RG stands for 'Roadstar Guitar')
6: Number of strings
5: Series number
2: Pickup configuration (2 for HH configuration)
AH: body material (AH for Ash)
M: fretboard material (M for Maple)
NGB: Finish type (NGB for Nebula Green Burst)
So to properly understand Ibanez model numbers, you need to know all the different codes for each part of the number.
While the above model number is ridiculously confusing, it does give you a lot of information about the guitar. From the model number alone, you can find out all the details about the guitar down to the finish used.
Some guitars add in other codes such as the j.custom sub-brand (adds JC at the start of the model number) or the GIO sub-brand (adds G to the start of the model number).
Fortunately, not all Ibanez models have confusing numbers. Older models often use simple model numbers, but the number won't tell you anything about the woods used, number of strings, or guitar finish.
For example, here's the model number for my Ibanez GIO: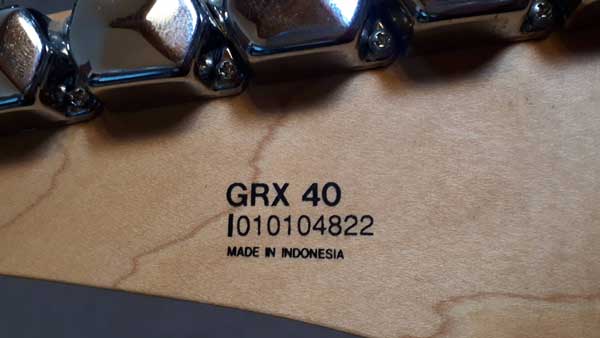 From looking at this model number, here's what you can tell about the guitar:
G: GIO sub-brand
RX: RX series
40: HSS pickup configuration
If you want to find the specific codes to decode any Ibanez model number, check out this handy guide on the Ibanez Fandom Wiki.
Understanding Ibanez Serial Numbers
As you might expect, Ibanez serial numbers can be confusing. The serial numbers can tell you where the guitar was built, who built it, and when it was built.
This guide on the Ibanez Fandom Wiki explains how to decode a serial number depending on how many digits it uses.
For example, here is the serial number for my Ibanez GRX40: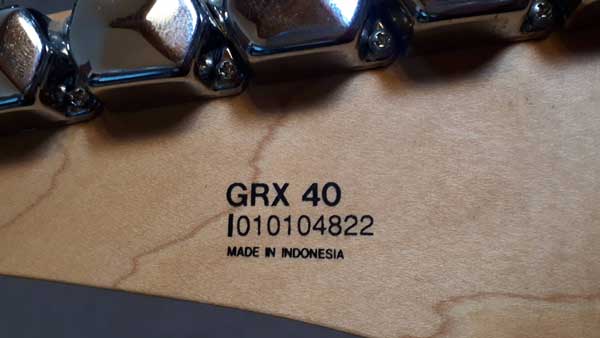 Here's what this serial number means:
First letter: factory code
First two digits: year
Second two digits: month
Last digits: production number
So this serial number tells me that the guitar was built in Indonesia (I) in the Cort Guitars factory in January 2001.
Guitars from different sub-brands, series, or years can have completely different numbering systems.
Ibanez Guitars FAQ
Here are some common questions you might have about Ibanez guitars.
How Do I Know What Model my Ibanez Is?
On the back of your guitar's headstock or neck plate (on some older models), you will see a model number and a serial number. The serial number starts with a letter followed by numbers. The model number will be a combination of letters and numbers.
Use the above guide to understand what these numbers mean.
What is the Best Ibanez Guitar?
The best quality Ibanez guitars are from the j.custom sub-brand. These guitars are built by expert luthiers in Japan using the highest quality hardware and exotic woods.
The best Ibanez guitar for you depends on the style of music you play and what features you want in a guitar.
Is Fender Better Than Ibanez?
Both Ibanez and Fender produce a wide range of guitars at various budget levels. There are some Ibanez guitars that are better to Fender and some Fender guitars that are better than Ibanez.
This makes it very hard to compare Fender and Ibanez. Instead of worrying about which is better, find a guitar you like the feel, sound, and look of. Don't focus too much on brand name as both brands can produce excellent quality guitars.
Why Are Ibanez Guitars Cheap?
Ibanez offers affordable guitars under the GIO brand by cutting down on production costs. Having guitars manufactured in Indonesia allows Ibanez to produce cheaper guitars.
Keep in mind that while some Ibanez guitars are cheap, they also have high-end guitars that are expensive. Read the section in this guide about the different sub-brands to learn about these options.
What is the Best Ibanez Tremolo?
Ibanez offers a range of different tremolo systems that vary in quality. The higher end tremolos are the Edge, Lo-Pro Edge, Edge Pro, Edge Zero, and ZR tremolos.
The lower quality tremolos include the Edge Pro II, Lo-TRS, and Edge III.
This can be confusing as you would expect something like the Edge Pro II to be an upgraded version of the Edge Pro, but often these models are low-cost versions of the original models.
How Old is Ibanez?
The Ibanez brand as we know it today was founded in 1957 in Japan. The brand is owned by Hoshino Gakki – a Japanese company that also own Tama drums.
Before 1957, Hoshino Gakki manufactured guitars named after the Spanish luthier Salvador Ibáñez.
What Does Ibanez Mean?
The guitar brand name Ibanez comes from the Spanish luthier Salvador Ibáñez. The Hoshino Gakki company initially sold guitars under the brand name Ibanez Salvador, then eventually shortened this to Ibanez.