The PRS SE SVN is a well-made 7 string electric guitar that offers something a little bit different to the typical 7 string. While this isn't the first PRS SE 7 string, it's a massive improvement over the last attempt.
If you're interested in getting a 7 string guitar, read through this review, then check out some other 7 string guitars in this guide here.
Learn more about PRS guitars in this guide.
PRS SE SVN Features
Here are the main features of the PRS SE SVN:
Mahogany body with maple top and flame maple veneer
'Wide thin' maple neck
26.5″ scale
24 frets rosewood fretboard
PRS 85/15 S humbuckers with 3-way selector
Push/pull coil-tap on tone control
Solid string-through plate style bridge
Available in Gray Black or Black Cherry
Check out the price and full features here (link to Amazon).
Ease of use
Comfort and playability are incredibly important with 7 string guitars. The wider neck can feel uncomfortable if it uses a fat profile. I compared this guitar back-to-back against a few Ibanez 7 strings, because I wanted to see how the PRS 'wide thin' profile stacked up. While I could feel that the Ibanez necks were thinner, I actually preferred the feel of the PRS. It felt only slightly thicker but incredibly comfortable.
After testing 6-7 different 7 string guitars, I was surprised that I actually preferred the PRS. I even preferred it over a 7-string that was twice the price.
This isn't the first PRS SE 7 string to come out. Earlier 7-strings used a 25″ scale length. The problem with a 25″ scale length is that it creates low tension in the strings, which can be a problem on the low B string. Increasing the scale length to 26.5″ completely changes the feel of the guitar. Rhythm parts feel tighter as the higher tension gives you more control over your picking. Find out more on how scale length affects playability in this guide.

The earlier PRS SE Custom 24-7 looks almost identical to the SVN. The easy way to tell them apart is from the headstock. The newer SVN models have Paul Reed Smith's signature (as shown above) whereas the older models have the older 'SE Custom' logo.
The only area where I feel the PRS SVN falls short in terms of comfort is in the upper register. When you're used to the easy access of an Ibanez, switching to a PRS feels awkward. The neck's heel is even worse and feels horrible. The neck feels fantastic all the way up to the 20th fret, then you hit a wall.
When you compare the upper fret access of an Ibanez Universe against this, it's embarrassing. But I ended up buying the PRS SVN, so that should tell you how much I like the rest of it.
Sound
One of the reasons why the PRS SVN appealed to me was that it doesn't look like a typical metal 7 string guitar. All of the other 7 strings I compared to the PRS were black or puke green (it's a popular model, so I guess I'm in the minority on not liking it). I like the idea of having a 7 string guitar that wasn't built just for metal.
The coil-tap on the tone knob doubles the tone options from 3 to 6. More importantly, those extra three tones give you single-coil sounds – which sound great. Being able to change from heavy riffing to bluesy licks was something I couldn't do on the other 7 strings I tried out. On the PRS it sounded completely natural.
The PRS 85/15 S 7 string humbuckers are nicely voiced if you're looking for a versatile instrument. While they don't have the punch or bite that you would get from a 7 string aimed towards metal players, they still sound good. The tight string tension thanks to the 26.5″ scale length definitely helps.
The below video gives a good overview of the different sound options available on the PRS SE SVN:
While I did feel the pickups were good quality for the price of the guitar, I upgraded mine as explained in this guide. The stock pickups are perfectly fine, but I had different needs for my guitar and upgrading was the right choice for me.
Reliability/Quality
If you're unfamiliar with PRS, the 'SE' is their budget range. I was initially worried that it wouldn't hold up against other similarly priced guitars. But when comparing the fretwork and hardware quality, it held up well and even surpassed some other guitars.
The guitar holds tune extremely well and the tuners feel solid. There were no imperfections in the finish of the guitar, unlike a couple of other similar priced 7 strings I tried out. I'm not a fan of glossy neck finishes, but it feels nice and smooth.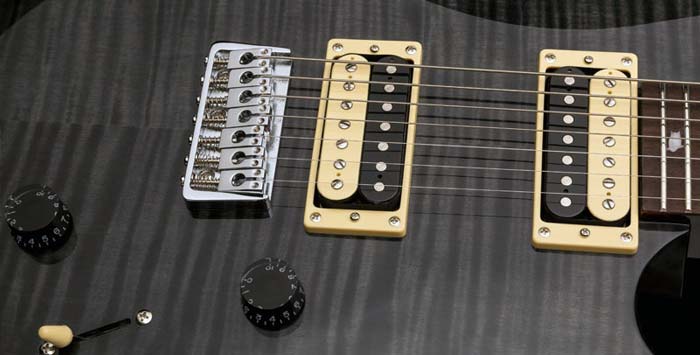 The bridge is incredibly comfortable and feels rock solid. The solid plate style bridge feels smooth when palm muting – which was a big improvement when comparing it to a multiscale guitar in the same price range.
The PRS SE SVN I bought is built in South Korea. Future models may or may not be built in Korea as PRS seems to be shifting their SE manufacturing more to their Indonesian factory.
Find out more about where PRS guitars are made in this guide.
Overall impression of the PRS SE SVN
If you're interested in exploring what a seven string guitar can do and you play a range of different music styles, the PRS SVN is a solid choice. While you can get some solid and heavy tones out of it, it can also give you mellow tones for clean parts and nice bluesy single-coil tones.
The 26.5″ scale length is a massive improvement over the past PRS 7 strings with a 25″ scale length. The low B string feels tight and responsive. Not as tight as a multiscale guitar, but enough for a lot of players.
This is an incredibly comfortable guitar to play (apart from the last few frets) and sounds great. While some seven-string guitar necks can feel overwhelming, this one feels completely natural to me. The fact that I preferred it to an Ibanez neck should tell you how much I love it.

Check out the price and full details of the PRS SE SVN here.
PRS SE SVN Pros
26.5″ scale length is ideal for 7 string guitars
Excellent build quality
Versatile tones thanks to coil-tap
Smooth bridge feels very comfortable
PRS SE SVN Cons
Cramped access to upper frets
Awkward neck heel
The cream color of the pickups and rings isn't for everyone
Who is the PRS SE SVN for?
If you play a variety of styles or you want to explore what a 7 string can do, this is a good choice. The comfort makes this a great way to get a feel for what 7 string guitars are capable of.
The coil-tap gives you access to a nice range of tones and the pickups are surprisingly good for a budget model guitar.
Who isn't the PRS SE SVN for?
The style of the guitar should immediately tell you if it's not right for you. One of the reasons I bought this guitar was because it didn't look like a typical 7 string. While I love playing metal, I wanted a 7 string that wasn't designed purely for metal. That means if you want a guitar built for metal, there are better options out there.
If you don't have a use for the coil-tap to produce single-coil tones and you don't care for the look of the guitar, the SVN probably isn't for you.
How to get the most out of the PRS SE SVN
If you're new to 7 string guitars, check out these 7 string exercises. Run through those exercises to get used to the neck and extra string.
To see what you can do with a 7 string guitar, check out these 7 string songs. Try to learn as much of the riffs I've included to get comfortable with the guitar. The songs I've included cover a good range of playing styles, so they will give you a good idea what direction you might want to take your 7 string playing.
See information on pricing, availability and other reviews on the PRS SVN here.
Summary
Reviewer
Review Date
Reviewed Item
PRS SE SVN 7 String Guitar
Author Rating





Product Name
PRS SE SVN 7 String Guitar